It was no surprise to see Career Opportunities actress Jennifer Connelly at the 6th Biennial UNICEF Ball held at the Beverly Wilshire Four Seasons Hotel.
Jennifer Connelly wears her hair in a messy updo at the 6th Biennial UNICEF Ball
Making her film acting debut in the 1984 crime film Once Upon a Time in America, prior to her role in Career Opportunities she also appeared in movies such as the 1985 horror film Phenomena and the 1986 musical fantasy film Labyrinth.
Starring as the affluent but mistreated Josie McClellan, she falls in love with an overnight janitor named Jim Dodge (Frank Whaley) at a local Target store.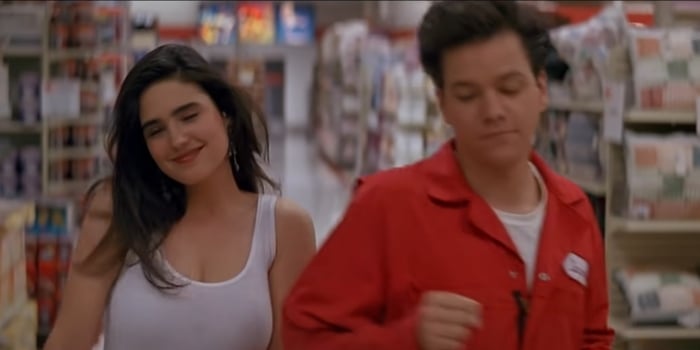 Frank Whaley as Jim Dodge and Jennifer Connelly as Josie McClellan in Career Opportunities
The movie was shot at a Target store located at 4000 Covington Highway in Decatur, just outside of Atlanta. Principal photography began on November 13, 1989, when Jennifer Connelly was 18-years-old.
Born on December 12, 1970, in Cairo, New York, she turned 19 on December 12, 1989. Her co-star Frank Whaley turned 26 on July 20, 1989.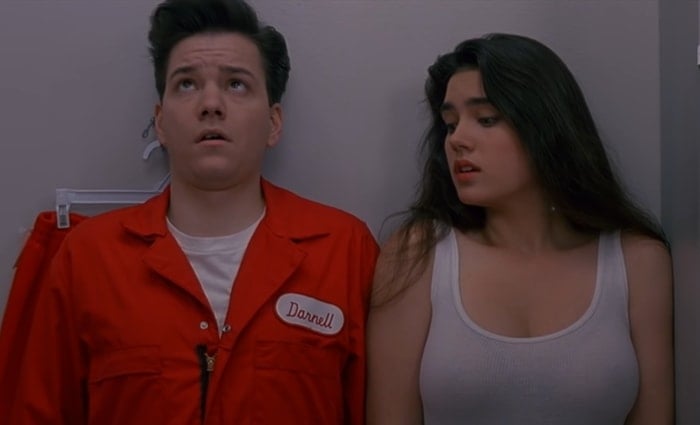 Frank Whaley and Jennifer Connelly were 26 and 18 when they started filming Career Opportunities
Panned by film critics, the American romantic comedy film was released on March 29, 1991, and was a box office disappointment. The movie was also criticized for a sexualized scene featuring Connelly riding a mechanical horse in the store.
Jennifer Connelly told Rolling Stone in August 1991 that she regretted that scene: "One of my professors came up to me at school and said, 'Jennifer, Jennifer, I went to the movies the other day and I saw this…poster of you. This sort of…mechanical poster of you. This sort of…life-size mechanical poster of you.' Now I'd never seen this poster, but some of my friends told me about this…thing that was prominently on display in Cinema One Too Many where Career Opportunities was playing. As my friends explained it, you see me rocking back and forth on a mechanical horse, and then you see the face of Frank Whaley [her love interest in the movie], and the ad line goes something like 'He's about to have the ride of his life!' Now, I don't know about anyone else, but that wasn't something I felt all that comfortable about. That sure as hell wasn't a subject that I was dying to learn about from my professor."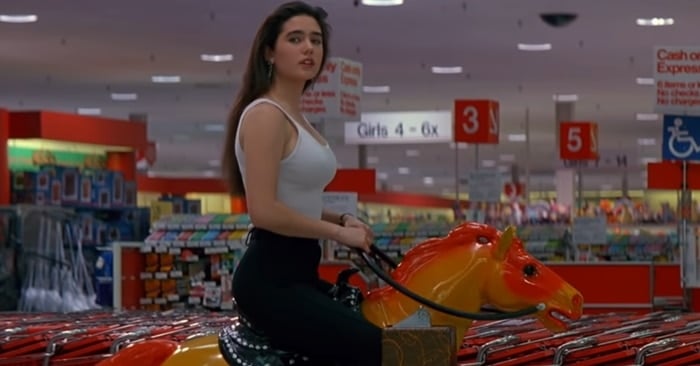 Jennifer Connelly wears a sexy tank top while riding a mechanical horse in Career Opportunities
When there is an event involving Louis Vuitton, you can bet you'll see the actress there in full LV gear. As expected, Jennifer wore a custom sequined Louis Vuitton gown.
Jennifer Connelly wears a custom red Louis Vuitton dress on the blue carpet
The bright red cold-shoulder gown featured embellishments along the collarbone and down the sleeves.
Joined by her husband, English-American actor Paul Bettany, her floor-length dress also featured a mock-neck design and a thigh-high slit.
Actors Paul Bettany (L) and Jennifer Connelly attend the Sixth Biennial UNICEF Ball Honoring David Beckham and C. L. Max Nikias presented by Louis Vuitton at Regent Beverly Wilshire Hotel on January 12, 2016, in Beverly Hills, California
She paired her custom creation with lace-up booties and a clutch also by the same brand. Even her rings were from Louis Vuitton.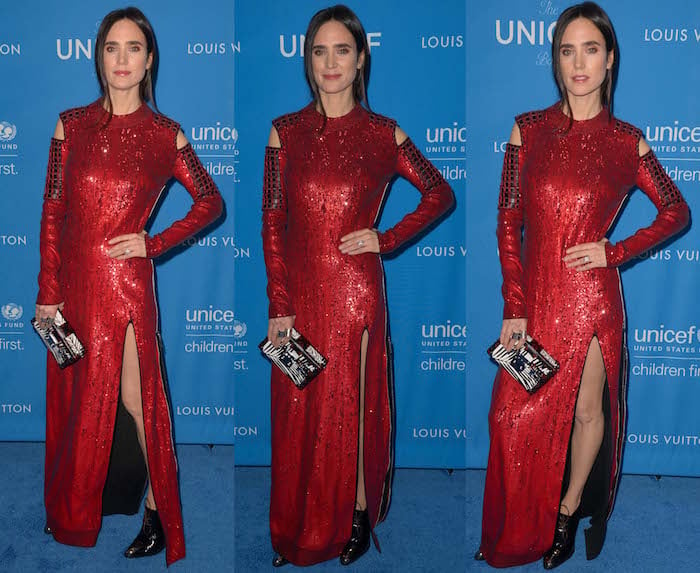 Jennifer Connelly wears a full Louis Vuitton ensemble, including a dress, boots, rings, and clutch
Jennifer's Oxford-style Louis Vuitton booties featured heels and a lace-up design.
Jennifer Connelly wears Louis Vuitton rings and holds a Louis Vuitton clutch
We love the shoes but we don't think they went with her dress. She should have picked a different pair.
Jennifer Connelly wears lace-up Louis Vuitton Oxford-style shoes
Jennifer #MadeAPromise along with husband Paul Bettany to help children in need at the gala. Other celebrities such as Selena Gomez, Alyssa Milano, Miranda Kerr, and Mariah Carey also made a promise at the event.
Credit: FayesVision/ Charlie Steffens / WENN