As a successful American actress, producer, and screenwriter, Jada Pinkett Smith has tackled her career head-on.
Famous for her work in The Nutty Professor, A Different World, and Girls Trip, Jada also made her mark playing Niobe in 3 of The Matrix films.
Eddie Murphy as Professor Sherman Klump / Buddy Love and Jada Pinkett as Carla Purty in the 1996 American comedy film The Nutty Professor (Credit: Universal Pictures)
As such a global hit, this woman has managed to shape her own talent and success, demonstrating that a small height doesn't get in the way of your dreams if you want something hard enough.
How Tall Is Jada Pinkett Smith?
Being on the short side, Jada is only 5'0" compared to the US women's average of 5'4".
Jada also appears on the shorter side when placed next to her immediate family. Being married to American actor, film producer, and rapper Will Smith would make most women appear short, but this is particularly the case with Jada.
Willow Camille Reign Smith is much taller than her short mom Jada Koren Pinkett Smith (Credit: Featureflash Photo Agency / Shutterstock)
Being 6'2", Will towers over his wife in photos, but this height difference didn't appear to be a problem in this couple's blossoming romance.
In a classic tale of love, it is said that Will was immediately attracted to Jada on first seeing her.
Will Smith towers over his much shorter wife Jada Koren Pinkett Smith (Credit: Featureflash Photo Agency / Shutterstock)
The husband and wife's two children, Willow and Jaden Smith, both come in between their parents' heights at 5'7", a height which still looks fairly tall when placed next to Jada.
Further still, Trey Smith, Will's son from his first marriage, stands even taller than Willow and Jaden at 6'0".
Has Jada's Height Impacted Her Career?
Jada's lower-than-average height didn't appear to hold her back, with her starring in countless shows and films, the first big break being her 1991 role in A Different World.
She then went on to extend her career further as a director of music videos, a singer-songwriter for Wicked Wisdom, and an author of Girls Hold up This World.
Jada Pinkett-Smith and her band Wicked Wisdom during Fuse Fangoria Chainsaw Awards on October 15, 2006, held at Orpheum Theatre in Los Angeles, California (Credit: S_Bukley / Shutterstock)
Expanding herself into so many different genres of art has allowed Jada to earn her millions despite having a short height. However, it is claimed that most of Jada's net worth is due to her marriage to Will Smith.
Being short in Hollywood
From Jada's example, it's clear to see that being short in Hollywood isn't too much of a problem. Short people are easier to fit in camera frames without much adjustment time.
Jada Pinkett Smith is shorter than the average US woman and looks petite next to Trey Smith, Willow Smith, and Will Smith (Credit: DFree / Shutterstock)
Saying this, women shorter than 5'3" do tend to wear high heels, stand on platforms, or are shown a few feet away from other actors to cover up the obviousness of their height.
Those who are incredibly short are sometimes harder to cast if they are profoundly shorter than the other featuring actors, however, high heels usually do the trick.
Short celebrities in Hollywood
It's not just Jada who has such a short height in Hollywood, with celebrities like Dolly Parton, Kylie Minogue, Dawn French, and Hayden Panettiere also being 5'0".
If this wasn't enough, some women stand even shorter than Jada, with singer and actress Kristin Chenoweth being just 4'11".
Despite her little stature, Jada Pinkett Smith has managed to make a big statement in Hollywood, showing women all over the world that it is okay to be short.
In April 2016, Jada Pinkett Smith hit the red carpet with Hailee Steinfeld during CinemaCon held at The Colosseum of Caesars Palace in Las Vegas.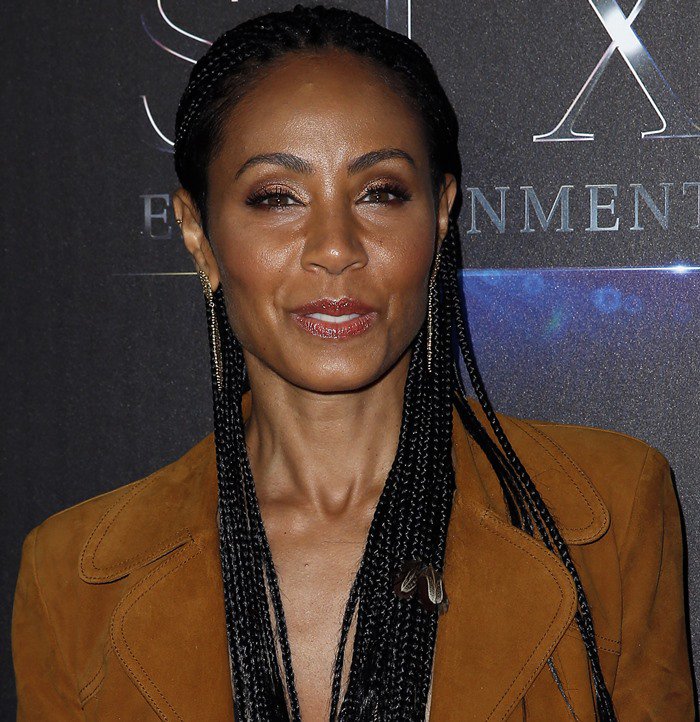 Jada Pinkett Smith wears her hair in braids at CinemaCon held on April 12, 2016, at Caesar's Palace Resort and Casino in Las Vegas (Credit: Judy Eddy / WENN)
Mila Kunis, Matthew McConaughey, Sylvester Stallone, Kristen Bell, Christina Applegate, Kyra Sedgwick, and Gugu Mbatha-Raw also made appearances at the industry event.
Jada Pinkett Smith wears a suede-on-suede ensemble at CinemaCon (Credit: Judy Eddy / WENN)
Jada flaunted her slender legs in a pair of thigh-skimming suede shorts styled with a matching military-style suede blazer and a low-cut black bodysuit.
Jada Pinkett Smith wears a suede shorts suit on the red carpet of CinemaCon (Credit: Judy Eddy / WENN)
The then 44-year-old American actress, singer-songwriter, and businesswoman completed the body-baring outfit with a pair of brown Francesco Russo pony fur-trim sandals.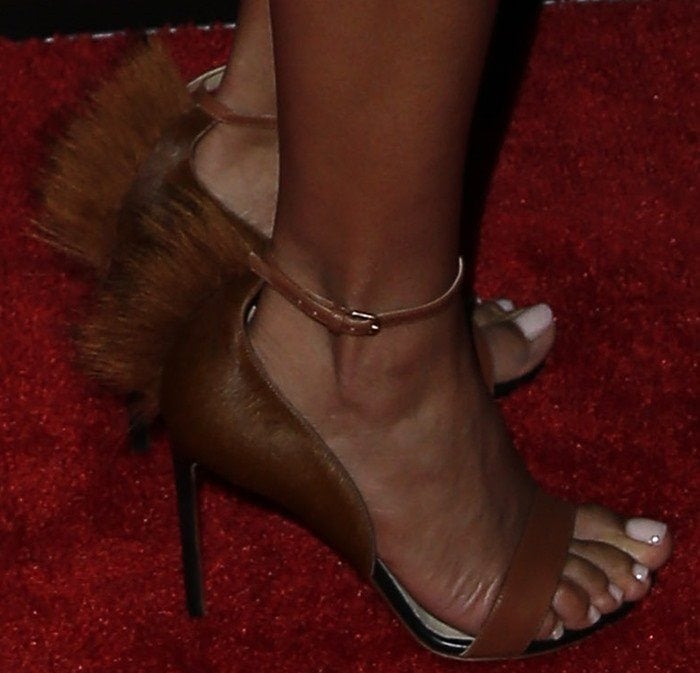 Jada Pinkett Smith's feet in brown Francesco Russo pony fur-trim sandals (Credit: Judy Eddy / WENN)
Do you think Jada's sandals from the French shoe designer ruined or made her outfit?
This style has unfortunately sold out, but you can browse more recent styles from the same brand at Farfetch.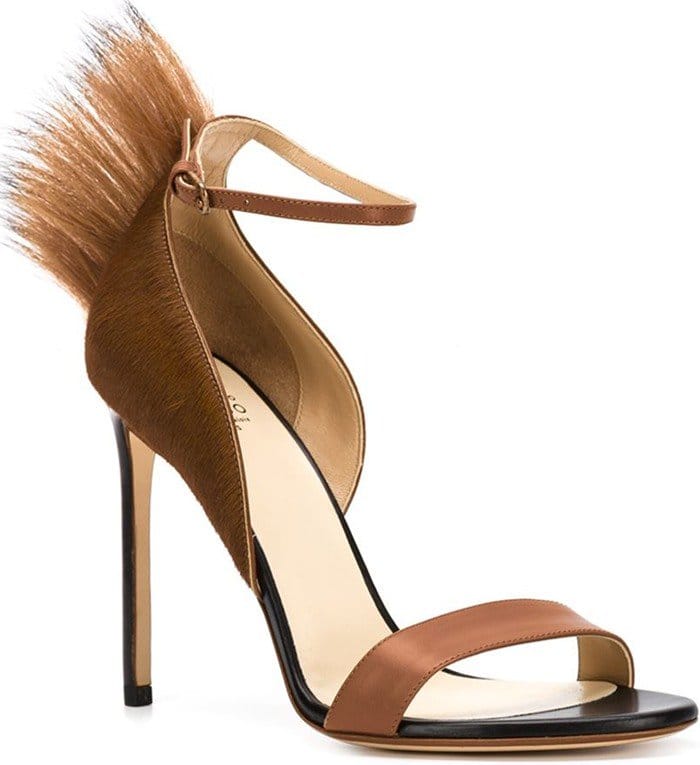 Francesco Russo Brown Pony Fur-Trim Sandals, $1,623