In February 2016, Gotham actress Jada Pinkett-Smith struck a pose with her mom Adrienne Banfield-Jones at Debbie Allen's "Freeze Frame" gala held at The Wallis Annenberg Center for Performing Arts in Beverly Hills.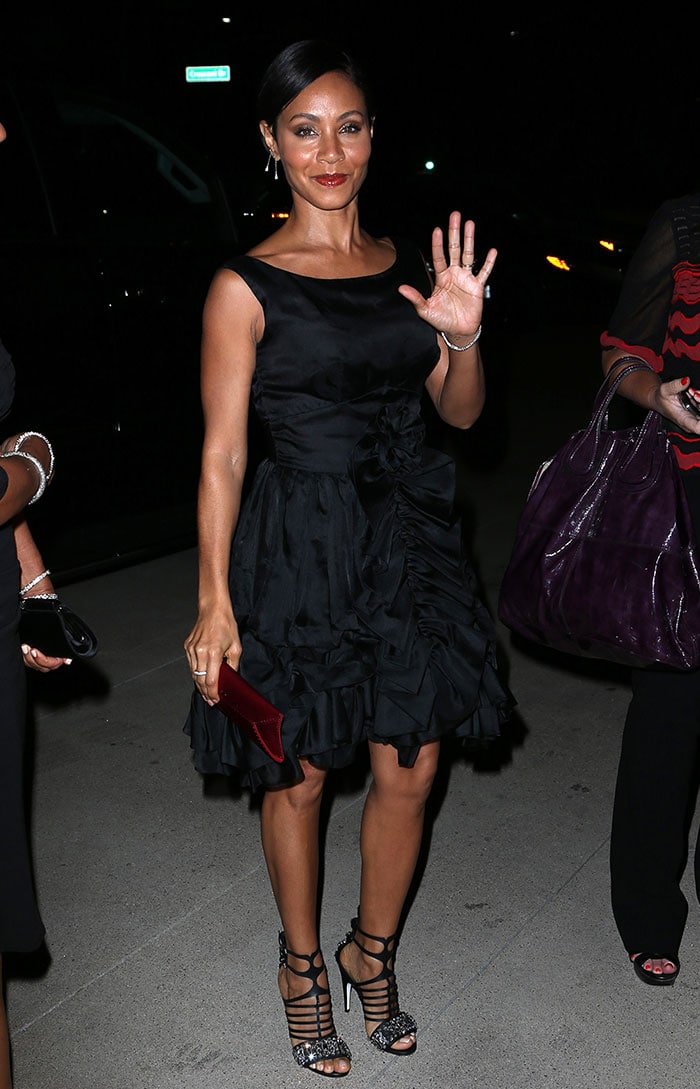 Jada Pinkett-Smith wears her hair back as she arrives at the "Freeze Frame" Gala held on February 4, 2016, in Beverly Hills
2 years earlier, she made her first appearance as Maria Mercedes "Fish" Mooney in the television series Gotham.
Portraying a former member of the Falcone crime family and the owner of Mooney's Nightclub, her character dies after being dropped off the side of a tall building by Penguin (Robin Lord Taylor).
(L-R) Actors Donal Logue, Jada Pinkett Smith, and Ben McKenzie attend the "Gotham" Series Premiere at The New York Public Library on September 15, 2014, in New York City
Fish Mooney is resurrected and appears recurrently in the second and third seasons of the series. Jada's character makes her final exit in "Destiny Calling," the twenty-first episode of the third season.
"I was shocked; I wasn't expecting it. The plan was that Fish would only be there for a year," Jada told The Root in an exclusive interview about playing Fish Mooney for more than one season.
"It was really sad when it was time for her, but when they told me they wanted to resurrect her, it was such a blessing. I didn't realize how much I would enjoy playing her. I've learned I'm really nice compared to Fish Mooney. Some of the places I have the freedom to go with the character, Jada will never go. My value systems are totally different. Fish Mooney has absolutely no regard for any of that. She only values what she desires, and what she desires is not a great thing to have." she added.
Cast as Fish Mooney in February 2014, Jada Pinkett Smith had just turned 43 when the series premiered on Fox on September 22, 2014. Born on September 18, 1971, in Baltimore, Maryland, Jada was 42 when filming the first season.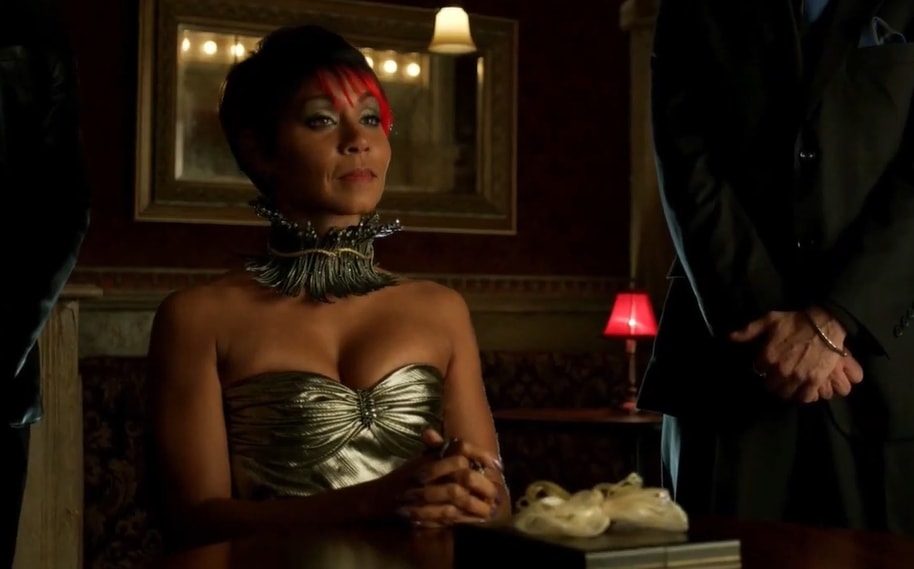 Jada Pinkett Smith was 42 years old when filming the first season of Gotham as Maria Mercedes "Fish" Mooney
"Freeze Frame" is said to take the audience on "a rollercoaster ride through some of L.A.'s toughest streets where gangs, poverty, violence, and drugs are an everyday reality."
"It's like all these souls keep speaking to me and it's like we've got to do something about it," Emmy Award-winning choreographer Debbie Allen told THR.
"Yeah, people should be able to have guns. But let's do it in a safe way. Let's be reasonable and let's give some more education and opportunity, and help people that are in need who become desperate."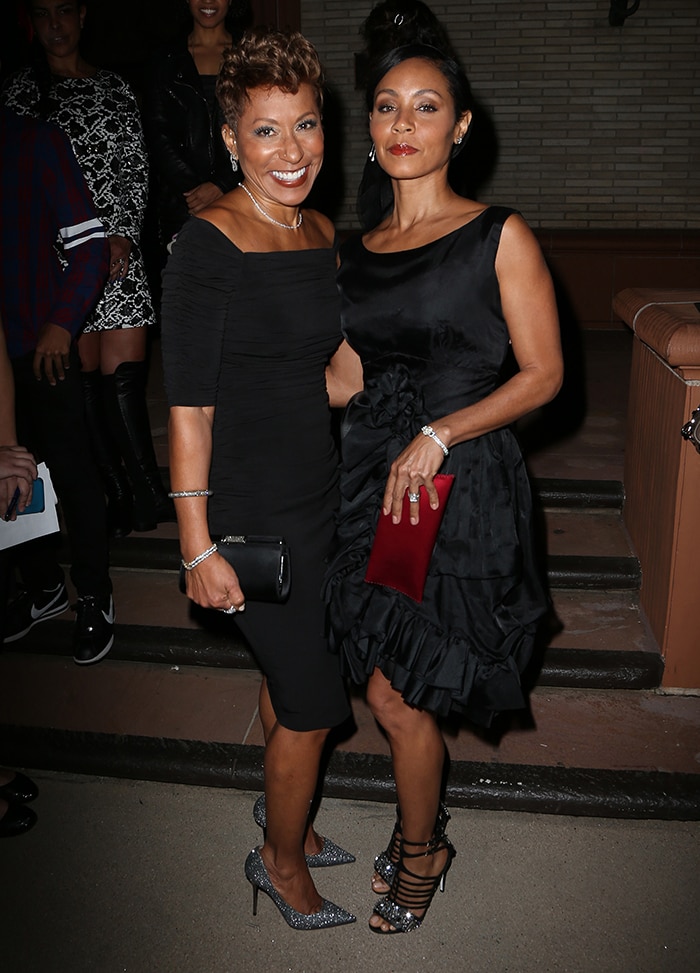 Adrienne Banfield-Jones and Jada Pinkett-Smith pose for photos at the "Freeze Frame" Gala
The then 44-year-old Collateral actress took the girly route for the event, choosing a sleeveless LBD with an ultra-feminine silhouette and ruched and ruffle detailing around the skirt.
Jada Pinkett-Smith wears a ruffled black dress at the "Freeze Frame" Gala
Jada wore a bangle, a couple of earrings and rings, and a pair of crystal-embellished heels to give the little black dress a touch of sparkle.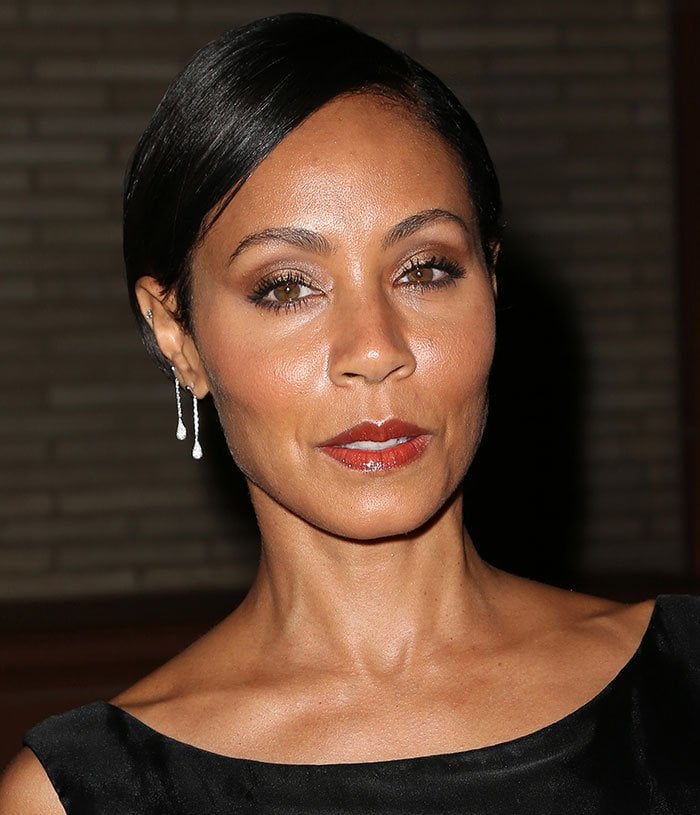 Jada Pinkett-Smith wears red lipstick and crystal earrings with her black dress
A red satin clutch that matched her lipstick added a pop of color to her dark outfit, and side-parted raven locks completed her look.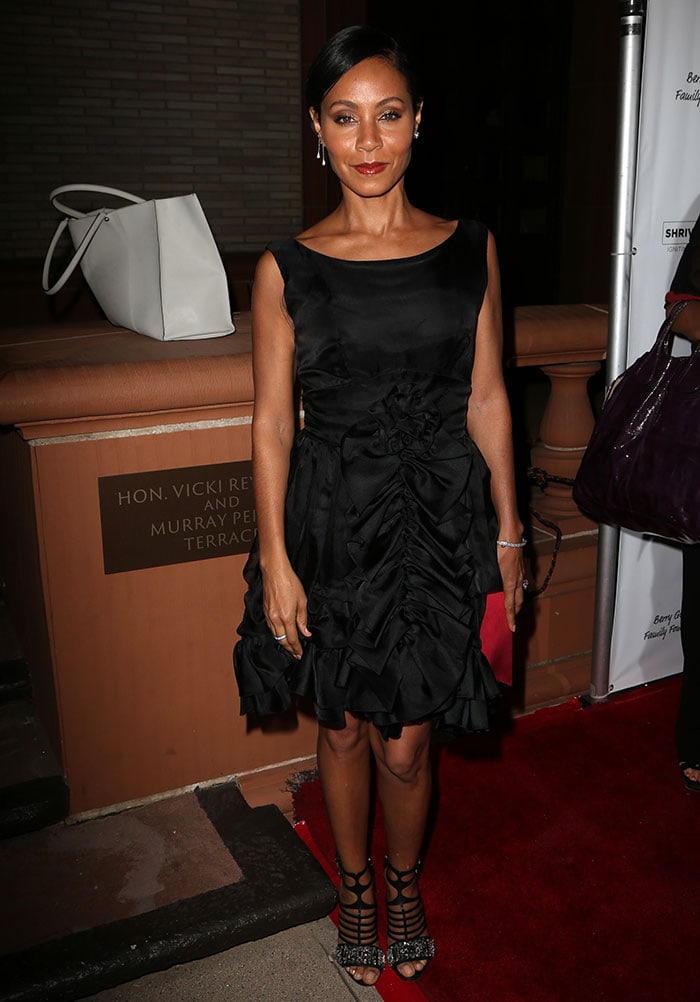 Jada Pinkett-Smith was an executive producer on the American medical drama television series "Hawthorn"
Jada rounded out her look with a pair of strappy sandals from Fendi's Spring 2015 collection, which feature a modern caged silhouette.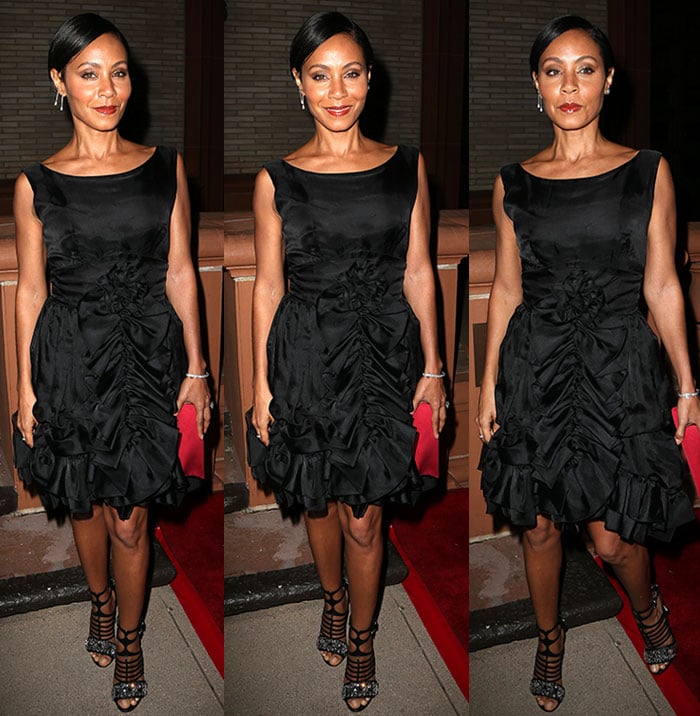 Jada Pinkett-Smith attending the U.S. premiere of Debbie Allen's Freeze Frame
They also have crystal-embellished front straps and crocodile back panels, double adjustable ankle straps, open toes, and 4.15-inch cutout lacquer heels.
Jada Pinkett Smith shows off her pretty feet in crystal-embellished Fendi heels
These Fendi sandals are no longer available, but a flatform version can still be purchased at Farfetch and Saks Fifth Avenue.
Fendi Crystal Leather Cage Sandals, $2,200
Fendi Silver Crystal Crocodile & Leather Cage Sandals, $2,335
Credit: Guillermo Proano / FayesVision / WENN / Ivan Nikolov