All you sports lovers and workout junkies better keep your eyes glued to what we have in store for you!
Ever since more and more people have become health conscious, various sporting brands have capitalized on bringing all the things that these people need to accompany their more active lifestyle.
And not only have these brands come up with practical and useful products, but they've also created pieces that are very appealing when it comes to the style department as well.
Adidas by Stella McCartney "BA Tennis" Bag in Bright White, $200
A perfect example is a collaboration that happened between one of the giants in the sports industry, Adidas, and a noteworthy women's fashion designer, Stella McCartney.
After the successful collaboration of Adidas with the funky and eccentric Jeremy Scott, it seems like they opted to go softer and cater to a more feminine and ladylike target audience.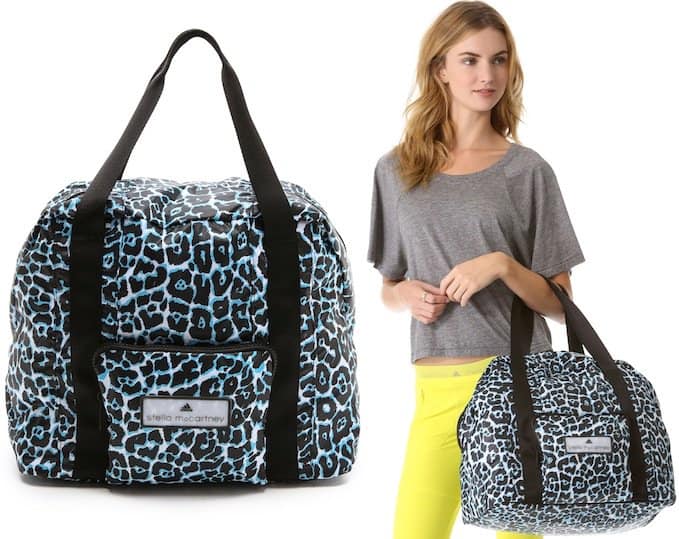 Adidas by Stella McCartney "PR Carry On" Bag in Black/White/Water Blue, $150
Aside from the stylishly gorgeous workout clothes, we're really loving the bag collection as well!
So much so that we've already picked out a couple of our favorites at Shopbop and Farfetch that we're sure you'd love to carry around during your workouts and other sporting activities.
Adidas by Stella McCartney "Beach Fun" Bag in Blue and Fuchsia, $38
If you browse through our picks below, you'd see a certain feminine touch infused with these bags, which come in different styles to suit your needs, may it be in the form of a touch of neon color, some prints, different textures, and so on.
Adidas by Stella McCartney Neoprene Backpack in Sharp Gray/Rich Green, $127
Stella McCartney and Adidas first partnered up in 2005 to transform activewear through great design, playful prints, and a contagious sense of energy.
In each collection, the English fashion designer translates her signature tailoring and soft femininity into high-performance and hard-working pieces for women in a wide range of disciplines.
From tennis dresses and yoga tops to workout leggings and running sneakers, Adidas by Stella McCartney brings inspiration to a woman's workout routine.
Adidas by Stella McCartney Big Bag in Lizard/Black, $182
Can't you just imagine yourself carrying any of the bags when you hit the gym? Who says you don't have to look fabulous while working out, right?
Adidas by Stella McCartney Quilted Bag in Sharp Gray, $200
Don't waste time in getting your hands on any of these chic workout bags, and make sure to check out the rest of the Adidas by Stella McCartney collection at Adidas and Zappos!