In an interview with Amy Schumer for Interview Magazine's April 2020 issue, Selena Gomez discussed her height and the constant media scrutiny she is under.
"My intention was never to become a tabloid…it got out of control. And then I was like, 'Wait, none of this is true.' The way the media has…tried to explain things has made it sound really bad when in reality there's nothing wrong with the fact that I needed to go away or that I fell in love. I had to start opening up because people were taking away my narrative and it was killing me. I'm so young and I'm going to keep changing, and no one has the right to tell me how my life's going."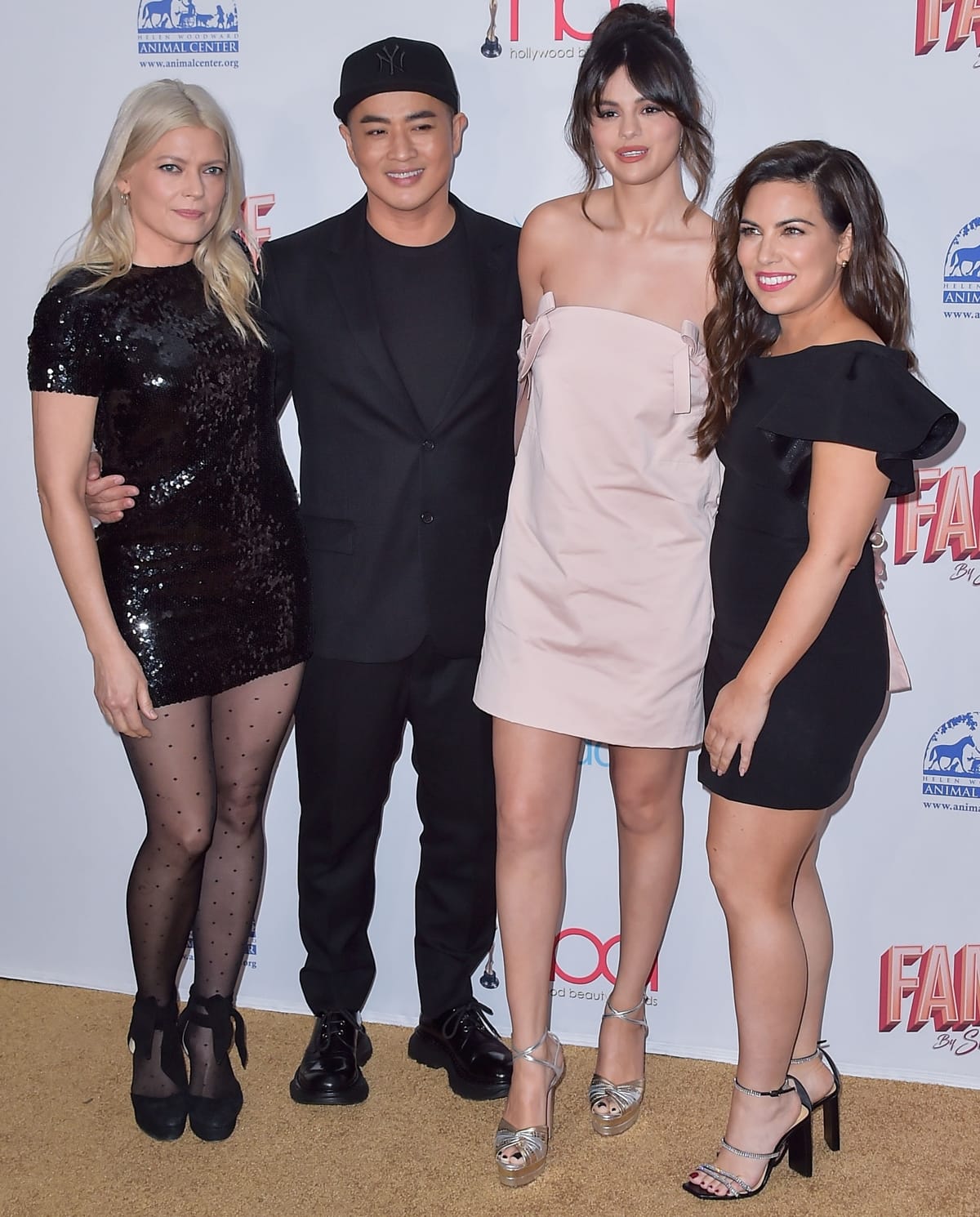 Selena Gomez looks taller than Kate Young, Hung Vanngo, and Marissa Marino at the 2020 Hollywood Beauty Awards held at the Taglyan Complex on February 6, 2020, in Hollywood, Los Angeles, California (Credit: Avalon / WENN)
"What has kept me afloat is that I know eventually it'll be someone else—and I don't mean that in a negative way. Sometimes it's been bad for my career, but other times it's like, "Now I can talk about things like my depression and anxiety, things that I've struggled with and which I'm totally open about because I believe in seeking help." But other than that, what keeps me grounded is that I do my best to avoid it. It's not like I don't live my life," she says about keeping afloat amid the intense media scrutiny.
"I've read a few, especially because I hadn't released an album in five years. My friend sent me a couple of good reviews, and it felt amazing, because not all of my albums have been seen that way. I didn't go beyond that because I know what happens to me. Getting into an internet spiral? I can't do it," Gomez added about reading the reviews for her third solo studio album Rare.
Selena Gomez claims her height of 5'5″ is just about average (Credit: MEGA / WENN)
"I wrote it at the beginning of last year and had just gotten out of treatment. It was a moment when I came back and I was like, 'I'm ready to go into the studio with people I trust and start working on songs.' There was an air around it where people were very happy, because it was like I was going to finally be me. When I wrote the song, I was basically saying that I needed to hit rock-bottom to understand that there was this huge veil over my face," she said about her self-love anthem Lose You to Love Me.
Is Selena Gomez considered tall?
When asked about American rapper Kid Cudi's height, Selena Gomez claimed he is three inches taller than her.
"My memory is that you're not that tall," Amy Schumer responded. "I'm 5'5,″ Selena quipped, adding, "That's average, right?"
"I don't want to height-shame you, but that's not tall," Schumer argued. The average height for a woman over the age of 20 raised in the United States is 5 feet 4 inches, which would make Selena Gomez slightly taller than average if her real height is 5′ 5″ (165 cm).
Selena Gomez boosted her height with high heels to look taller than Justin Bieber (Credit: Adriana M. Barraza / WENN)
Scott Ramon Seguro Mescudi, better known by his stage name Kid Cudi, has claimed on Twitter to be 5′ 10″, making him much taller than his close friend Selena Gomez.
It's difficult to gauge her real height as the Disney star is usually seen in high heels. On the red carpet, she could even look taller than her ex-boyfriend Justin Bieber, who's believed to be 5′ 9″.
Selena Gomez Flaunts Her Long, Slim Legs in High-Waisted Denim Mini Skirt at Louis Vuitton Paris Fashion Week 2016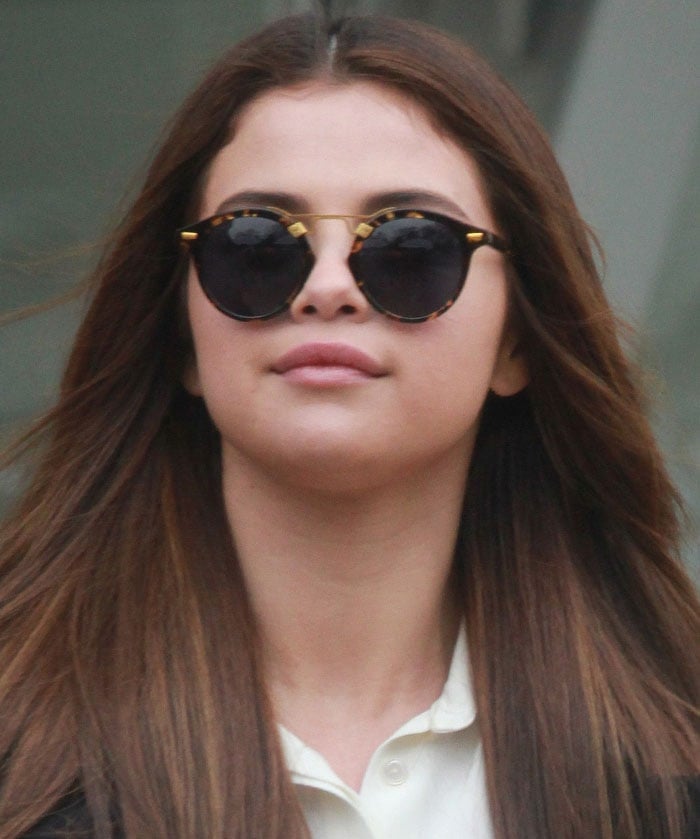 Selena Gomez wears her hair down as she arrives at the Louis Vuitton fashion show presentation held on March 9, 2016, during Paris Fashion Week (Credit: WENN)
In March 2016, a slew of stylish celebrities and models — including Selena Gomez — attended the Louis Vuitton runway presentation held during Paris Fashion Week.
The singer and actress flaunted her long, slim legs in a high-waisted denim mini skirt, giving the fashion industry's finest a run for their money.
She paired the skirt with a white long-sleeved chiffon blouse and a navy peacoat that helped keep her warm.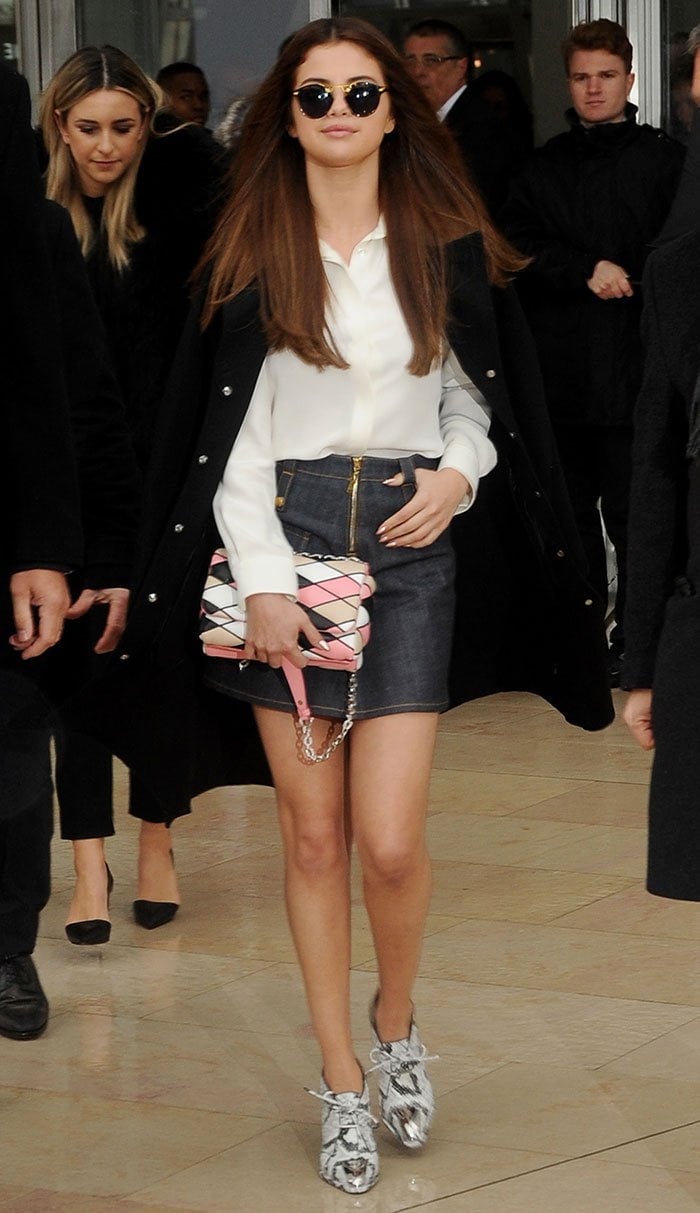 Selena Gomez wears a high-waisted denim mini-skirt to Paris Fashion Week (Credit: WENN)
The then-23-year-old Wizards of Waverly Place star accessorized with a Louis Vuitton Go-14 PM bag, trendy Krewe Du Optic "St. Louis Bengal" sunglasses, and a pair of Louis Vuitton snake boots.
Selena Gomez carries a Louis Vuitton bag and covers up with a peacoat in Paris (Credit: WENN)
Selena finished her look with a pair of "Cosplay" low booties from Louis Vuitton's Spring/Summer 2016 collection.
These boots are crafted from python leather and feature a pixel motif, slingback straps, lace-up ties, metal toe caps with engraved LV Circle, and four-inch monogram flower-shaped heels.
Selena Gomez's feet in python leather Louis Vuitton booties (Credit: WENN)
These booties are available in Louis Vuitton stores for a whopping $3,150 price tag.
Louis Vuitton "Cosplay" Low Boots, $3,150