Selena Gomez has been working her ass off for the past year, and it looks like that has taken a toll on the young starlet.
According to sources, she has canceled her tour in Australia to take some time off and "work on herself" — most probably her health. Either that or she's still not over Justin Bieber and is going through emotional issues that are making her unfit to perform.
Selena Gomez wearing a gold Julien Macdonald dress and glittered Jimmy Choo peep-toe pumps at the 2013 MTV Movie Awards in Los Angeles on April 14, 2013
Speaking of the 'Wizards of Waverly Place' cutie, we hear Madame Tussauds Hollywood recently unveiled a Selena Gomez wax figure for the very first time. The museum replicated the stunning look Selena put together when she attended the MTV Movie Awards in April.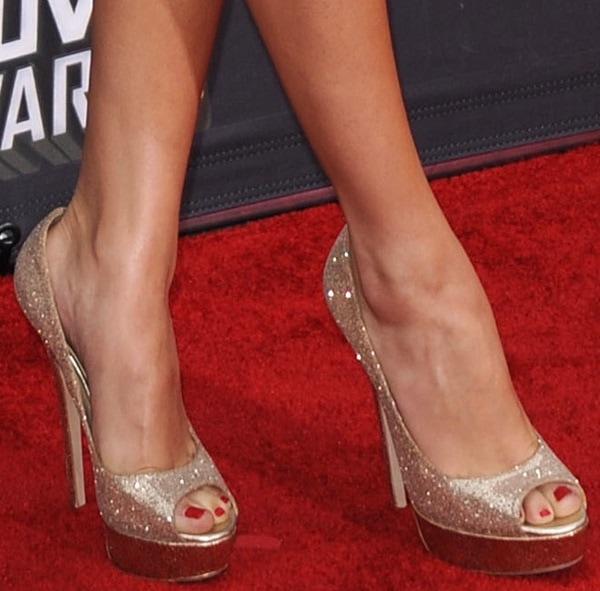 Selena Gomez shows off her sexy toes in glittered Jimmy Choo peep-toe pumps
Selena wore a really exquisite dress from Julien Macdonald paired with glittered Jimmy Choo peep-toe pumps. Madame Tussauds certainly managed to create a Selena look-alike (down to the tips of her hair). However, they somehow failed to mirror the Jimmy Choo heels Selena wore with the dress.
Selena Gomez shows off her feet in Jimmy Choo shoes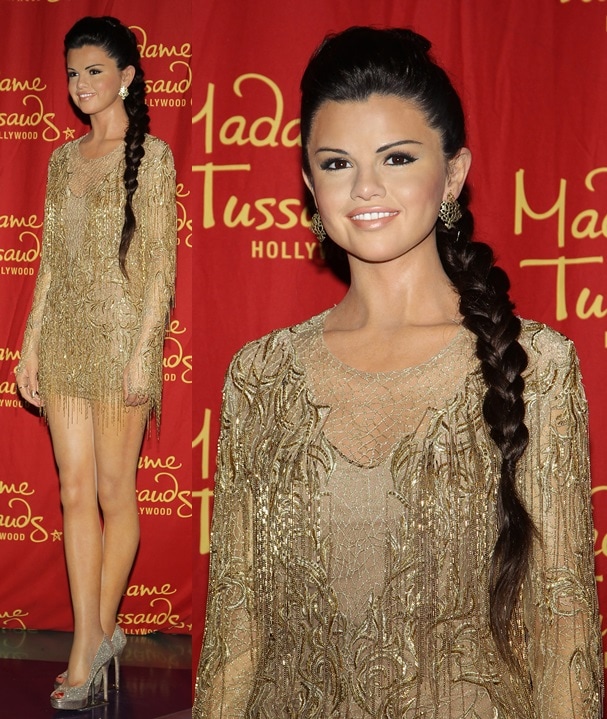 The Selena Gomez wax figure wearing Jimmy Choo heels and a Julien Macdonald dress unveiled at Madame Tussauds Hollywood on December 19, 2013
Selena Gomez wax figure feet and legs in glittering shoes
So, what do you think? Are those the same Jimmy Choo shoes or not?
Selena's actual heels look like they're made of much finer (glittered) fabric, while the ones on the wax figure look like they're crafted from a grainier (or more textured) type of material, a style that is very similar to the Jimmy Choo "Crown" pumps that you will find at Nordstrom.
Jimmy Choo Crown Pumps, $695 at Nordstrom
Glittering, textured fabric styles a peep-toe pump lifted by a lofty wrapped heel and platform.
Did Madame Tussauds fail to copy Selena's shoes, or is it just the camera playing tricks on our eyes? You be the judge.
Just so you know, there is another variant of the Crown pumps that actually look very similar to Selena's heels. It's also made of much finer material, though a little darker in shade.
Credit: Apega / FayesVision / WENN