Disney presents such a family-friendly image that sometimes, it's easy to forget that the entertainment giant's stars are people, just like us.
It looks like former Disney Channel sensations Selena Gomez and Demi Lovato have stopped the feuding and made up.
Selena Gomez leaves her New York hotel in an all-black look on August 20, 2015
Selena was recently spotted leaving her New York hotel, giving some love to her awaiting fans on the way out.
The feud started when Demi unfollowed Selena's social media accounts a year ago.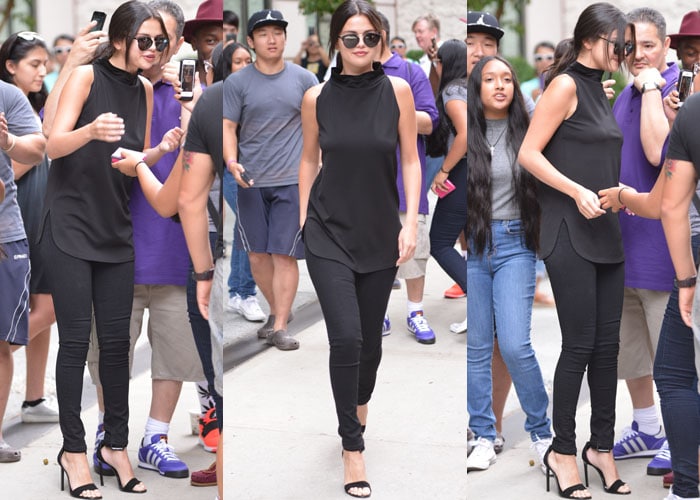 Selena Gomez pauses to chat with fans waiting outside her hotel in New York during a two-day stay
"I think it's just one of those things where people change," she said. "People grow apart."
People were quick to assume that "one of those things" Selena's ex-boyfriend Justin Bieber, who wasn't exactly the best influence on the former "Wizards of Waverly Place" star.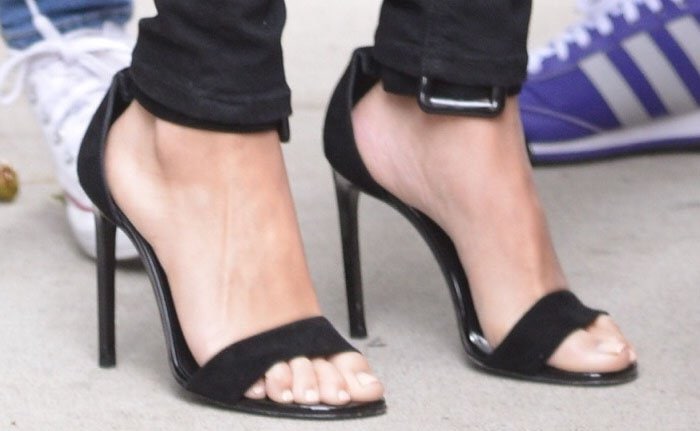 Selena Gomez's sexy feet in Saint Laurent shoes, which she wore back-to-back on both days of her hotel stay
Selena left her hotel at night in patterned loose trousers, which she wore with a loose button-down shirt.
The next morning, the star emerged from the hotel wearing an all-black ensemble comprised of skinny jeans paired with a long boat-neck top.
Selena wore her Saint Laurent Jane ankle cuff sandals on both occasions.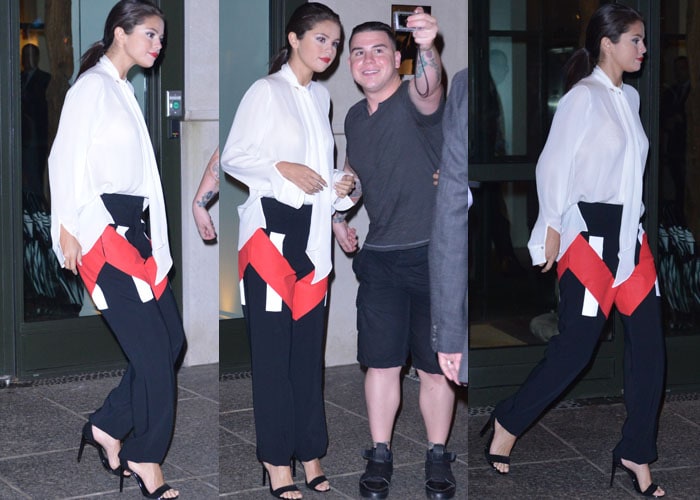 Selena Gomez leaves her New York hotel on the evening of August 19, 2015, in patterned pants and a button-down
Luckily, the feud didn't last too long. Demi eventually re-followed Selena on Instagram, and the reunion was affirmed by a cheesy exchange between the two BFF's on Twitter.
Selena wished Demi a happy birthday, and Demi replied with an equally cheesy message.
Selena Gomez shields her face from cameras as she strolls out of her New York hotel, accompanied by her security detail
While we love this rekindled friendship as much as anyone, we need to pause and talk about Selena's Saint Laurent heels.
She wore them twice in a row, and it's easy to see why. They're classic and sophisticated, yet give off a vibe of independence and total female dominance. It sounds exactly like Selena's personality.
Selena's exact pair is no longer available online, but you can pick up a similar version with a thinner ankle strap over at Farfetch.
Saint Laurent Jane Ankle Cuff Sandals
Saint Laurent Jane Suede Sandals, $895
Credit: Demi Lovato's Twitter / Selena Gomez's Twitter / Gomez Island's Twitter / TNYF / WENN