Selena Gomez turned heads in a stunning custom-made scarlet Louis Vuitton cape dress while walking the red carpet for the Los Angeles ceremony.
The gown itself was the perfect combination of classic elegance and modern edge, with a keyhole revealing cut out and a silhouette that hugged Gomez's beautiful figure.
Selena Gomez was red hot in a Louis Vuitton custom gown at the 27th Annual Critics Choice Awards at Fairmont Century Plaza on March 13, 2022, in Los Angeles, California (Credit: Tinseltown / Shutterstock)
A gorgeous train held together with crystal cuff detailing flowed behind Gomez, as she glided by on the red carpet dawning a pair of silver Gianvito Rossi strappy heels that you can buy at Nordstrom and Farfetch.
Her shoes were perfectly visible through the leg-baring high slit of her dress and were a tame complement to her fiery gown.
Gomez's Boucheron Jewelry complemented the silver finish of her shoes and included a diamond bracelet, a Quatre Radiant Edition ring, a Fleche single stud earring, and diamond-set white gold Serpent Bohème ear studs.
Selena Gomez wears a Boucheron Fleche single stud earring featuring a white gold arrow paved with round diamonds which pierces the ear with a vibrant stroke (Credit: Tinseltown / Shutterstock)
Gomez was nominated for Best Actress in a Comedy Series for her role on the show, Only Murders in the Building. The hit Hulu series was also nominated for best comedy, with Steve Martin and Martin Short both also being nominated for best actor in a comedy series.
Season 2 of the Hulu show is currently in the works, where Gomez will reprise her role of Mabel, starring alongside comedic icons Steve Martin and Martin Short.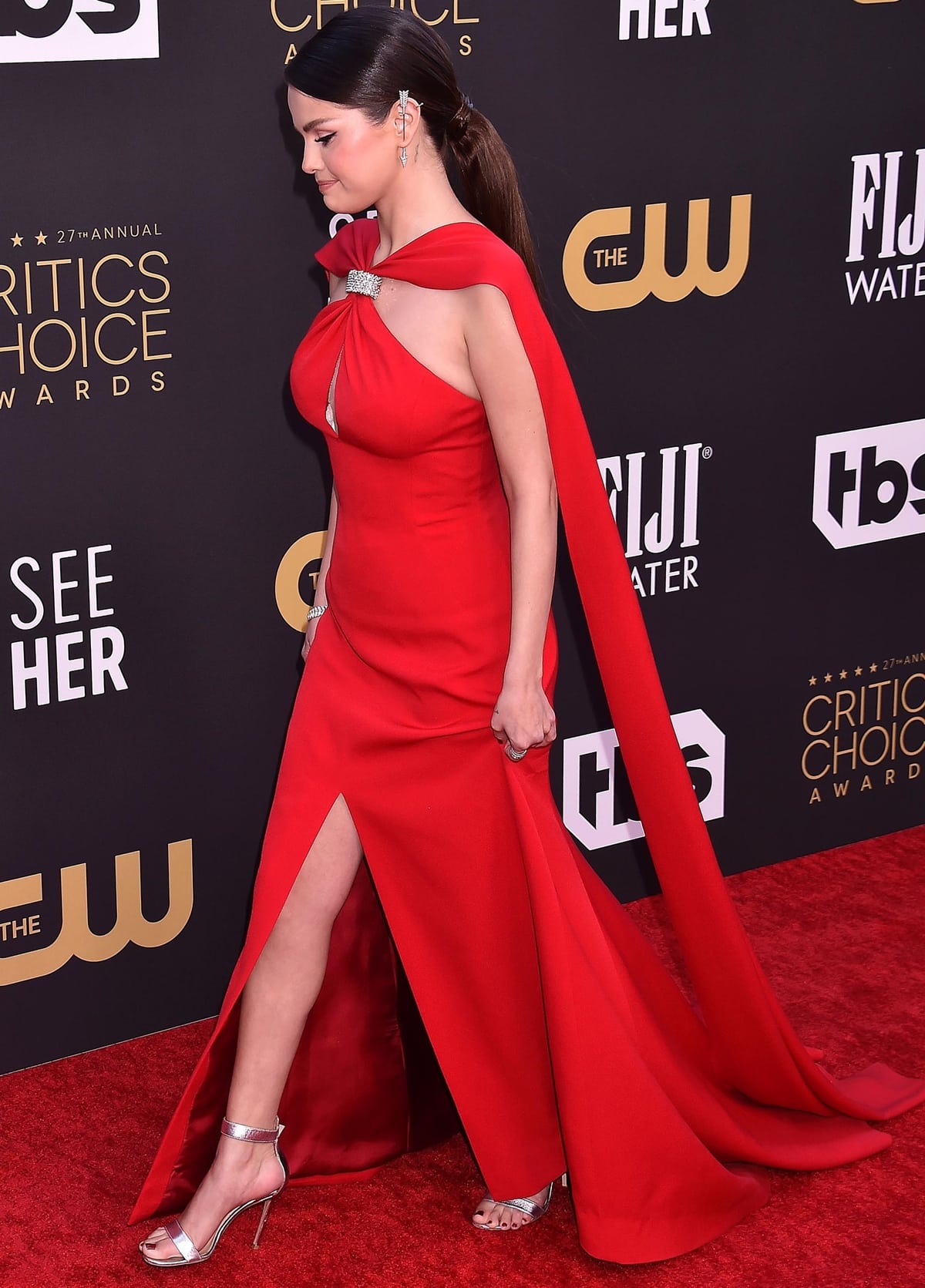 Selena Gomez styled her red dress with silver metallic Gianvito Rossi Portofino sandals (Credit: PAPIXS / INSTARimages)
Gomez is also reported to be working as an executive producer, alongside legendary producers Tanya Saracho and Gabriela Revilla Lugo, to develop a new comedy series that will reimagine the 1985 rom-com, Sixteen Candles.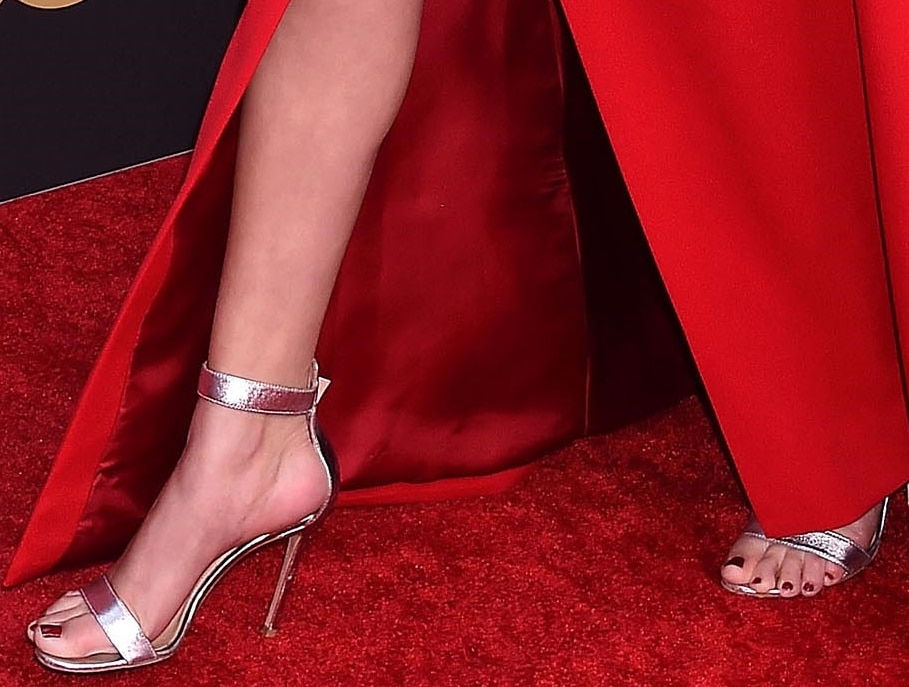 Selena Gomez showed off her feet in silver sandals featuring a higher strap and a covered buckle enhancing the line and strengthening femininity (Credit: PAPIXS / INSTARimages)
Titled 15 Candles, the show will follow four Latina teenagers as they enter high school and explore what it means to no longer be a child as they approach their quinceañera.
The half-hour series will air exclusively on Peacock and a release date has not yet been confirmed.
Selena Gomez on Jimmy Kimmel Live at the ABC Studios in Los Angeles, California, on August 1, 2013 (Credit: ABC)
Although it would've been cool if Selena Gomez also wore her Jimmy Choo sandals to Jimmy Kimmel Live — the same ones she wore to go shopping at a GAP store, attend the 2013 Young Hollywood Awards, and accept two trophies for her album Stars Dance all within the span of one day — in August 2013 she decided to give them a rest for her interview on the late-night show.
Selena switched from strappy sandals to black suede pumps, the metal heels of which you can see glinting in this screengrab.
Here is a side-view angle (with a bonus shot of Jimmy Kimmel):
Selena Gomez appeared on Jimmy Kimmel Live and revealed details about her 21st birthday party (Credit: ABC)
"I had a really big party. It was really fun. I wanted it to feel like you were in a genie's bottle, so I had the blue curtains and pink curtains, candles, and belly dancers. I had girls that were dressed up like mermaids. And I was so fascinated by them. I basically spent my whole party with them the whole night," Selena told Jimmy about her birthday. She turned 21 on July 22, 2013.
We'd recognize those metal heels on Selena Gomez's shoes anywhere. Selena's Jimmy-Choo-combo-breaking shoes are undoubtedly the celebrity- and YNS-favorite Giuseppe Zanotti "Frida" pumps.
You can also watch Selena Gomez's outfit in more detail in the following video:
We've already extensively covered the colors and places where you can get these super popular pumps, but we haven't shown you these great look-for-less versions yet!
The pair from British multinational fashion retailer Topshop is a dead ringer, and the ShoeDazzle pumps only come in metallic colors, but they're our favorite because they're only $10.
Black Lipstyck Metallic Heel Pumps, $109.95
Kristina Metallic High Heel Pumps, $10
Topshop Steel Metal Heel Pumps, $100