Selena Gomez sure was the popular lady in Hollywood yesterday while she displayed her pretty feet in towering stiletto heels.
After stopping by the 2013 Young Hollywood Awards to accept a couple of awards for her album Stars Dance, she had to quickly make her way across town to the ABC Studios for a guest appearance on Jimmy Kimmel Live! that very same evening.
Selena Gomez arriving at the Jimmy Kimmel Live! studios in Los Angeles on August 1, 2013
And Selena did all that running around in towering 5-inch heels. The Disney star was spotted outside the Jimmy Kimmel Live! studios after taping her segment with the comedian/talk show host.
Selena seemed to be in high spirits as the cameras caught her smiles while exchanging greetings with some people, even waving to her awaiting fans before she boarded her car.
The actress arrived in a GAP collared top and sweater, paired with denim cutoffs and strappy black heels. Before leaving, she exchanged her cutoffs for a pair of jeans and silver pumps. Her long red nails were complemented with bold red lips.
Selena wore a shrunken boyfriend top covered with cute little seahorse prints – a quirky go-to top that's formal yet relaxed enough for a casual day out. It is made out of 100% cotton, which makes it breathable enough to be paired with a pullover.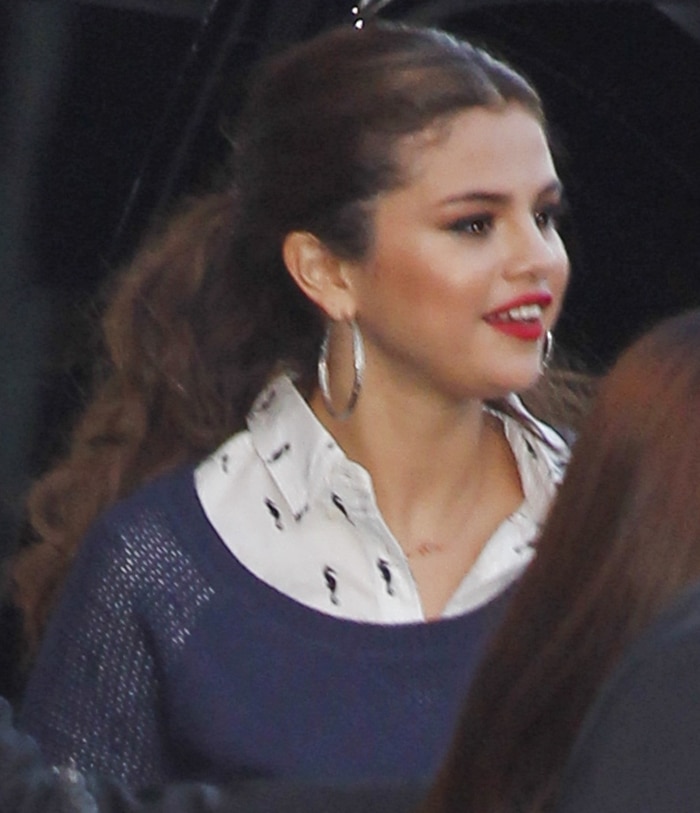 Selena Gomez wore a cute seahorse print top
We love how Selena's printed collar and cuffs peek out from beneath a bold-colored sweater because it breaks the solidness of the blue. The seahorse print injected a youthful quirky vibe into the look. The top comes in other colors and prints for more layering options.
Selena Gomez wearing jeans with a GAP collared top and sweater
This is perhaps one of the times we're glad we're not celebrities — we can attend to our duties in the comfiest, flattest, and even ugliest shoes in existence and no paparazzi, celebrity gossip sites, or fashion sites would call us out on them!
So, kudos to Selena for maintaining top style form in Jimmy Choo "Madison" sandals despite her hectic schedule. You can shop the latest Jimmy Choo shoe collection at Net-A-Porter, Farfetch, Mytheresa, Nordstrom, and Saks.
Selena Gomez showcasing the Jimmy Choo "Madison" sandals on her feet as she steps out of an SUV
This shoe kind of looks like a strappier version of the Jimmy Choo "Myth" sandals we spotted on Kate Beckinsale, don't you think?
Credit: RHS / WENN