Nicole Elizabeth Polizzi might not be a name that you are very familiar with, but you would have to be living under a rock to not know this celebrity's iconic nickname: Snooki.
Nicole 'Snooki' Polizzi boosts her height with black suede boots for her Good Morning America appearance on February 26, 2020, in New York City (Credit: MEGA / WENN)
While many celebrities are tall and waifish — often getting their starts with a modeling career — Snooki stands at a delicate 4'8", making her one of the shortest household names.
Of course, Snooki is in great company in terms of height, as comedy genius Danny DeVito is only 4'10" and legendary country artist Dolly Parton stands at a mere five feet tall.
Snooki, best known for her antics on MTV's reality show Jersey Shore, has managed to carve out great success for herself despite her humble beginnings and diminutive stature.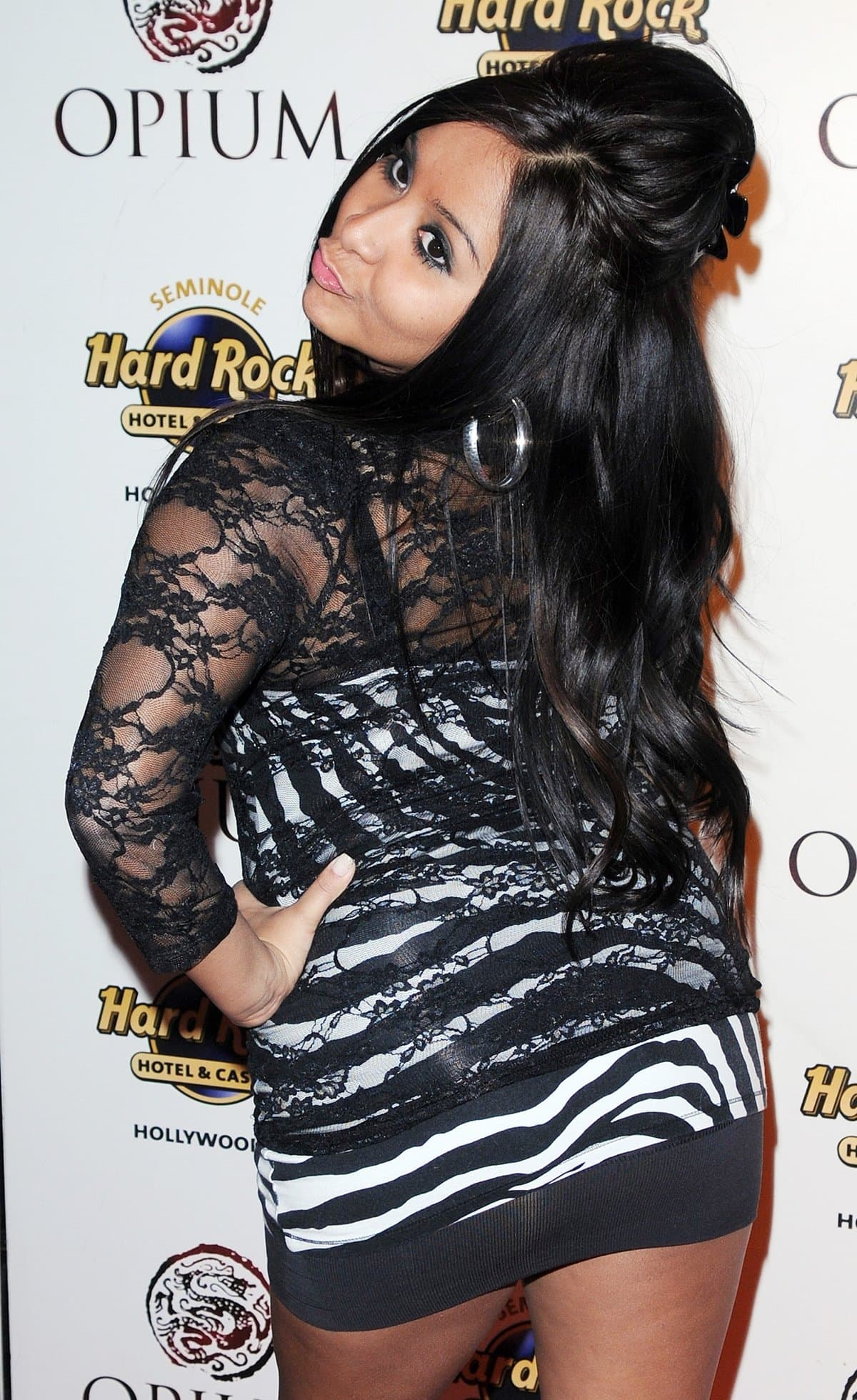 Nicole 'Snooki' Polizzi from the reality show 'The Jersey Shore' appears at Opium nightclub within the Seminole Hard Rock Hotel and Casino in Hollywood, Florida, on January 9, 2010 (Credit: Jeff Daly / WENN)
Now, the reality star boasts an impressive net worth of $4 million. As Snooki continues to lend her likeness to new advertising campaigns and business deals, this number is certain to grow.
Snooki's Early Life and Rise to Fame
Despite her well-known reputation as a guidette, you may be surprised to know that Snooki was actually born in Santiago, Chile.
She was adopted by her Italian-American parents when she was just six months old, and she was raised in New Jersey.
Due to being adopted at such a young age, Snooki did not know much about her biological parents or her genetic makeup. Her adoptive parents, Andy and Helen Polizzi, encouraged her along the journey to learn about her roots.
During this time, Snooki took two different DNA tests. The first revealed that she is of Romani and Iberian ancestry, while the second stated that she was Native Chilean and European.
Nicole "Snooki" Polizzi with her much taller friend, Jenni "JWoww" Farley, at Spike TV's 7th Annual Video Game Awards at Nokia Theatre L.A. Live on December 12, 2009, in Los Angeles, California (Credit: Jody Cortes / WENN)
Because of the conflicting information these DNA tests showed, Snooki has stuck with the identities of her adoptive parents, identifying with the Italian-American household she was raised in.
Snooki's iconic nickname was in place long before she found fame on Jersey Shore. In fact, her friends gave her the nickname in middle school, after a character in Save the Last Dance, allegedly due to the fact that she was the first person in their friend group to kiss a boy. From then on, it was history, and Snooki has been "Snooki" ever since.
Snooki was always popular — at least, not in the way she wanted. She describes her school days as being very difficult and riddled with cruel comments from bullies. "Snooki" was not her only nickname, as bullies would call her "Stinkin' Incan" in reference to the country she was adopted from.
Nicole 'Snooki' Polizzi was adopted when she was six months old and was raised by Italian American parents (Credit: Michael Wright / WENN)
These classmates made Snooki's life a "living hell," sadly telling ScreenRant, "They made up a rumor that I had got it in the a** by one of the seniors."
She got her first taste of the spotlight in 2009 when she appeared in an episode of Is She Really Going Out with Him?
The show highlighted a new couple each week, focusing on girls who had terrible and annoying boyfriends. She appeared with her then-boyfriend, Justin. While Justin didn't find his way back to the silver screen, Snooki caught the eye of a casting director at MTV.
Snooki apparently had a very memorable audition for the show, allegedly showing up drunk. "Nicole showed up in a miniskirt and literally did cartwheels and flips," said casting director Doron Ofir.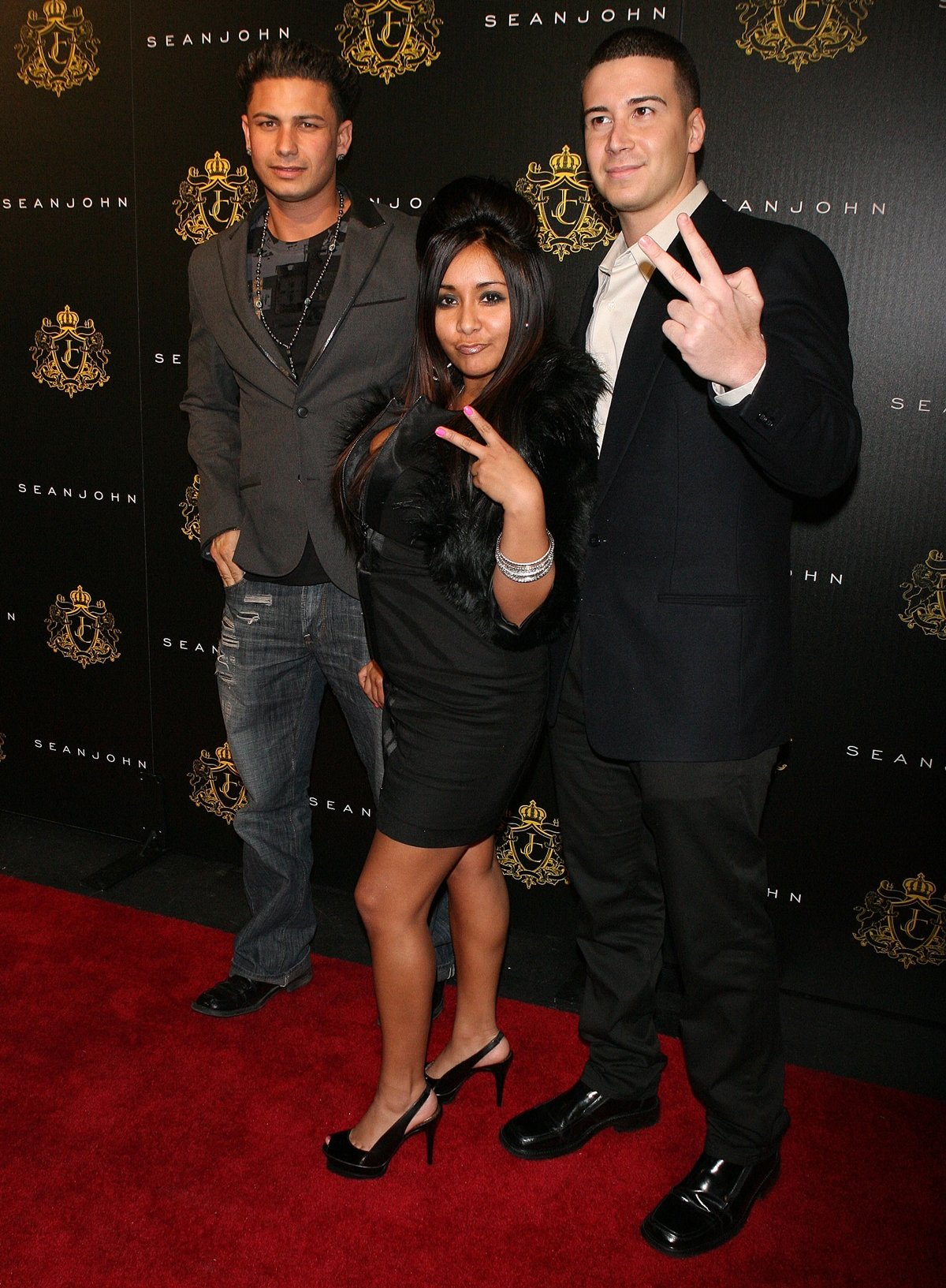 Nicole 'Snooki' Polizzi with her Jersey Shore co-stars Paul D. DelVecchio Jr. and Vincent J. Guadagnino attend JUSTIN DIOR COMBS celebrates Sweet Sixteenth Birthday at M2 Ultra Lounge on January 23, 2010, in New York City (Credit: PNP / WENN)
"She was extraordinary. Her application was smudged with fingerprints from her bronzer to the point that I was like, 'What happened to her application? What spilled on it?'"
The next year, Snooki joined the inaugural cast of Jersey Shore, becoming a household name almost overnight.
She quickly became one of the most popular cast members, endearing fans with her goofy antics and sincere, heartfelt moments. Snooki's impact was so tangible that she was one of the most popular celebrity Halloween costumes by 2010.
Though she was relentlessly teased by her classmates, Snooki's school bullies have nothing to laugh about now! Well, they might — but now the reality star can wipe her tears with all the money she makes.
Snooki Gets Arrested
One of Snooki's most infamous moments occurred on July 30, 2010. After a long and wild night of partying in Seaside Heights, the reality star was arrested for disturbing the peace, disorderly conduct, and criminal annoyance.
Of course, the whole ordeal was caught on camera by the Jersey Shore crew, making for one of the most memorable episodes of the show.
Few images are as iconic as the one of Snooki being dragged away by police while wearing a teeny miniskirt and a shirt emblazoned with the word "SLUT."
Snooki and South Park
In 2010, Snooki and her Jersey Shore castmates found their likenesses appearing in a different kind of television show: South Park.
The raunchy cartoon is known for parodying celebrity culture, and Snooki was not immune to being poked fun of on the show, as a monster version of herself was featured in the South Park episode, "It's a Jersey Thing."
Thankfully, neither Snooki nor the rest of the Jersey Shore cast took offense to the way the cartoons portrayed them. In fact, they were rather excited that they were featured.
Nicole 'Snooki' Polizzi appears in "It's a Jersey Thing," the ninth episode of the fourteenth season of the American animated television series South Park (Credit: Comedy Central)
After the episode aired, Snooki tweeted, "Snooki want smoosh smoosh. im going to have nightmares tonight lmao!!! we've officially made it."
"It was funny and scary," Snooki said in an interview.
"It's just an honor to be a South Park episode," Pauly D noted, and Vinny agreed, saying, "If you're on South Park, you've made it."
Some celebrities that South Park has poked fun at are less than happy with the way they are portrayed, but the Jersey Shore cast had no issues with it at all.
Snooki's Friendships with her Jersey Shore Castmates
Though all of the regular cast of Jersey Shore went through dramatic ups and downs with one another, one relationship that remained rock-solid was the friendship between Nicole "Snooki" Polizzi and Jenny "JWoww" Farley.
JWoww says she was not sure about Snooki at first, but a traumatic moment early in the show's run made her realize just how much she cared about the little "meatball."
During the first season of Jersey Shore, Snooki was brutally assaulted by a man named Brad Ferro during a night out at Beachcomber Bar and Grill.
Nicole "Snooki" Polizzi has been open about her decision to get breast implants and a breast lift (Credit: Adriana M. Barraza / WENN)
Snooki had purchased a round of shots for her and the other castmates, which Ferro had mistakenly picked up and given to his friends. Snooki was obviously frustrated and expressed this to Ferro, who responded by punching the tiny woman in the face.
JWoww and the other cast members immediately came to Snooki's aid, and JWoww says that this is when she realized she truly cared for Polizzi.
"I realized she was the love of my life [that night] and we would be together forever, because I loved her," JWoww said during a YouTube chat. "I don't think I would have [known] that love for her if that traumatic experience didn't happen."
After that incident, Snooki and JWoww were inseparable, becoming the most iconic duo on Jersey Shore, inspiring a spin-off show featuring the two called Snooki & JWoww.
Michael Paul Sorrentino, also known as The Situation, and his Jersey Shore co-star Nicole "Snooki" Polizzi backstage at the annual Inner Circle Gala held at the Hilton Hotel in New York City on March 27, 2010 (Credit: Joseph Marzullo / WENN)
The pair are still friends and can be seen frequently interacting with one another on social media.
The rest of the cast has had a bit more difficulty staying in touch. The show's reboot, Jersey Shore: Family Vacation led to new drama, but not the same kind of drama that was in the original show.
After only a year of the show's release, Snooki made the decision to leave Jersey Shore: Family Vacation.
"I have to do what's best for me at the moment, and I am retiring from Jersey Shore," she said on the podcast she shares with her husband, It's Happening with Snooki & Joey. "I hate being away from the kids. I don't like partying three days in a row. It's just not my life anymore."
"We talked to her every single day, even when we're filming," said Paul "DJ Pauly D" DelVecchio during an interview with Us Magazine. "She has, like, super FOMO. She's in the loop on everything. So, to me, it feels like she didn't quit. She's there!"
Nicole "Snooki" Polizzi with her much taller friend, Jenni "JWoww" Farley filming for MTV's reality show 'Jersey Shore' on location in South Beach in the city of Miami Beach on April 29, 2010 (Credit: Johnny Louis / WENN)
While Snooki was still a part of the show, Snooki did accidentally create some drama during Angelina Pivarnick and Chris Larangeira's wedding.
Alongside Deena and JWoww, Snooki served as one of Angelina's bridesmaids. During their bridesmaid speech, the trio decided to do a lighthearted roast of the bride, which eventually backfired.
Though the bridesmaids did not have malicious intentions, they were booed by the other wedding guests and Angelina was in tears, crying, "That was so f**ked up!"
Despite this unfortunate event, it seems that Snooki has still managed to remain friends with the majority of the cast (or at least on good terms) as the reality star still follows every single one of her former Jersey Shore castmates on Instagram.
Snooki's Romantic Relationships
Despite being the littlest "meatball" of the bunch, Snooki has managed to find more than her fair share of romance and heartbreak both on and off screen.
During the first season of Jersey Shore, Snooki made a strong impression when she hit on her co-stars Ronnie and The Situation, but soon searched for more meaningful romantic relationships.
Television personalities Vinny Guadagnino, Jenni 'JWoww' Farley, Mike 'The Situation' Sorrentino, Paul 'Pauly D' DelVecchio, Deena Cortese, and Nicole 'Snooki' Polizzi attend MTV's "Jersey Shore Family Vacation" New York premiere party at PHD Rooftop Lounge at Dream Downtown on April 4, 2018, in New York City (Credit: Derrick Salters/WENN)
In March of 2010, Snooki met her then-boyfriend Emilio Masella on Facebook. Like many online relationships, it was not meant to last, and the pair split after just two months together.
Later that year, Polizzi gets involved with Jeff Miranda, but their romance quickly goes the way of the dodo. Clad in nothing but fatigue pants, boots, and a hat, Miranda poses on the cover of Steppin' Out magazine, with a headline that reads, "Jeff Miranda has a question for Snooki. Will you marry me?" Snooki later tweets that she is single, meaning that she was not swayed by the very-public proposal.
In September 2010, Snooki hooked up with Jersey Shore costar Vinny and had some pretty naughty things to say about his manhood.
The next month, Snooki begins dating none other than Jionni LaValle. The pair first met during a night of clubbing at Karma, and Snooki says she was not exactly taken with LaValle at first. Nonetheless, the two went home together for an evening of canoodling that led to a blossoming romance.
Nicole Snooki Polizzi and Jionni LaValle started dating in the third season of Jersey Shore (Credit: C.Smith / WENN)
The couple's party-filled lifestyle led to many dramatic spats and quarrels which were well documented on the show, but Snooki and LaValle did their best to pick up the pieces each time they argued.
After a short breakup, the couple was back together again, and Snooki revealed that she was pregnant with her first child with LaValle in February 2012. The next month, LaValle proposed to his little love.
The pair welcomed their son, Lorenzo Dominic LaValle, on August 26, 2012. Two years later, on September 26, 2014, Snooki gave birth to their daughter, Giovanna Marie LaValle.
Finally, Snooki and Jionni were married on November 19, 2014, in East Hanover, New Jersey, in front of their closest family, friends, and castmates during a beautiful and sincere ceremony.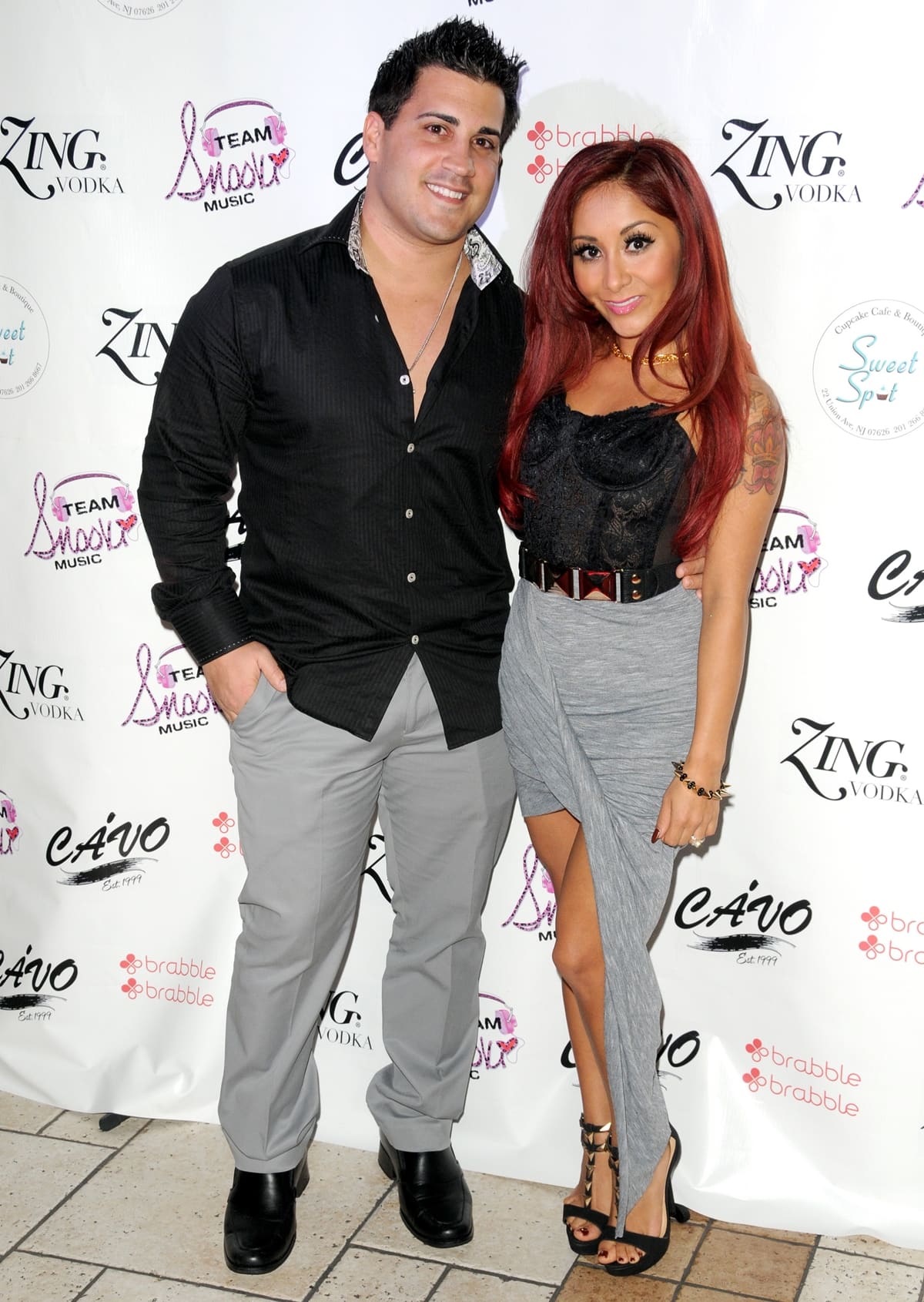 Jersey Shore's Nicole 'Snooki' Polizzi is married to Jionni LaValle and they have three children (Credit: Ivan Nikolov / WENN)
Unfortunately, the couple's drama-filled past returned to rear its ugly head in 2016. Reports surfaced that Jionni had been using Ashley Madison, a dating website that caters to those looking for affairs and "discreet married dating" when the website's data had been publicly exposed. Snooki publicly defended her husband, and the pair remained a united front for the media in the wake of this scandal.
The same year, Nicole "Snooki" Polizzi talked openly about her decision to get breast implants and a breast lift.
"In previous interviews, I told everyone I want to wait to do my boobs until after I'm done having kids, but I could be 50 by then," she revealed in a video shared on Oct 15, 2016. "I'm in my prime right now. I'm going to be 29 and I want to be as hot as I can."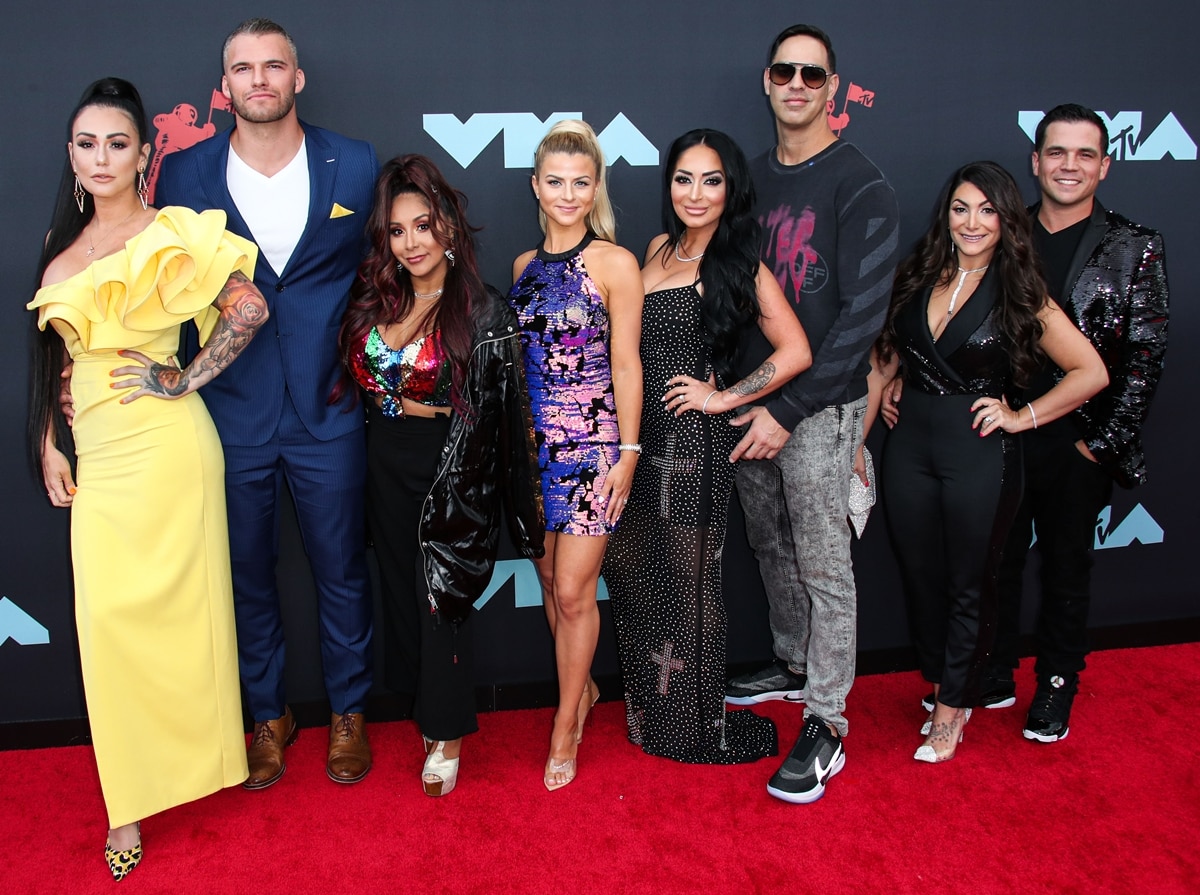 Jenni 'JWoww' Farley, Clayton Carpinello, Nicole 'Snooki' Polizzi, Lauren Sorrentino, Amy Paffrath, Angela Pivarnick, and Deena Nicole Buckner of Jersey Shore arrive at the 2019 MTV Video Music Awards held at the Prudential Center on August 26, 2019, in Newark, New Jersey (Credit: Avalon / WENN)
"Being a mom, your boobs are destroyed after having kids, especially breastfeeding," she added. "I want to be hot for my husband, but I also want to feel great about myself, and it was an insecurity that I had."
"I didn't want to have JWoww boobs, because she's the porn star, and I'm just the regular cute person," she joked and claimed to be a "nice full C."
"I've been working my ass off at the gym for three years now, trying to lose weight and be a fit mom and have a healthy body, but you can never change your boobs, because once your boobs sag, it's just like, that's it," she added about her workout regimen.
"I feel so confident in myself as a woman, as a wife, as a mom, so I kind of feel complete now," MTV's Jersey Shore star said.
"I just want to feel good about myself, and I want to feel sexy and I want to feel pretty, so anybody that has anything negative to say about me getting my boobs done – why do you care? It's not you, it's me, so why do you care?"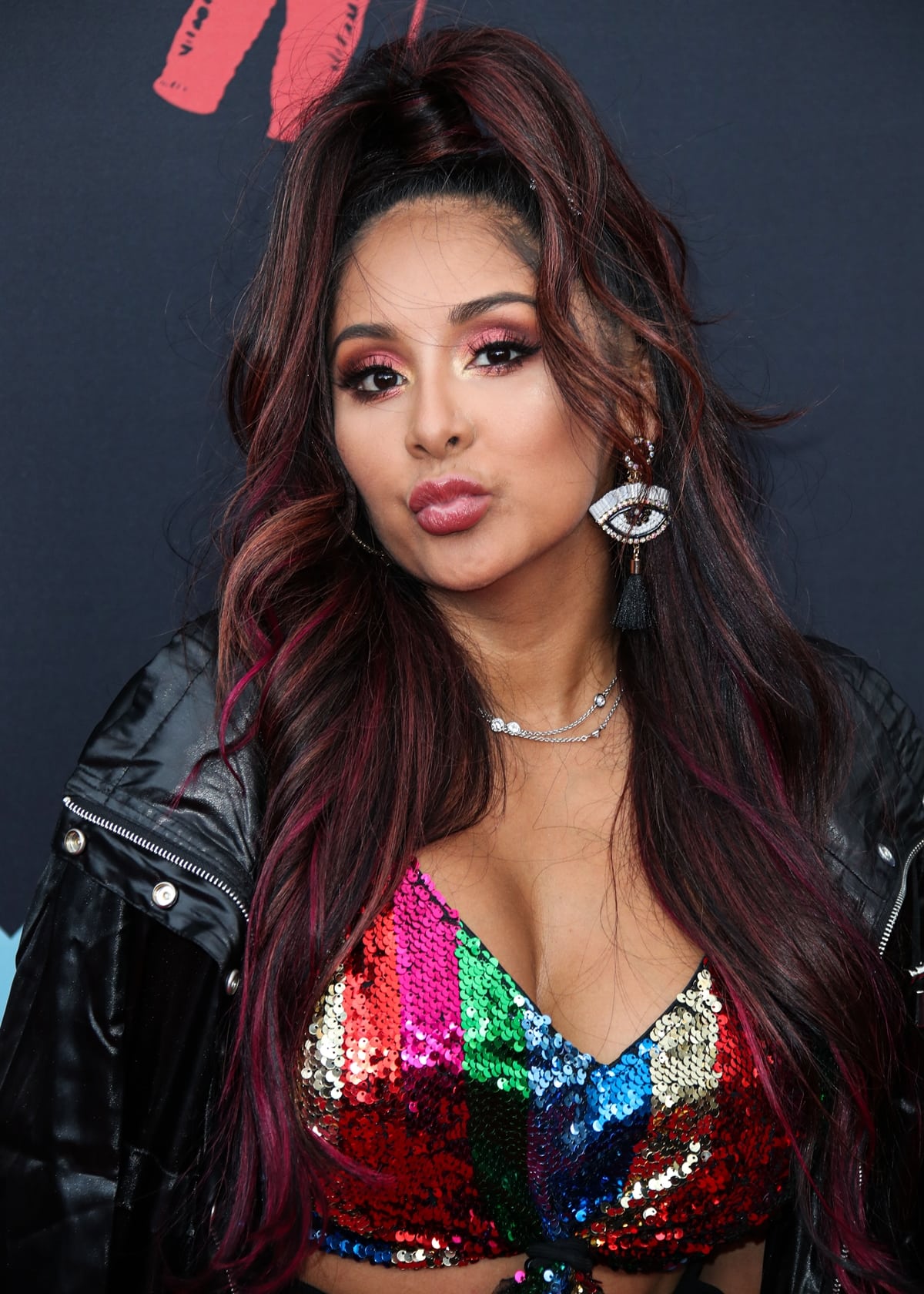 Nicole 'Snooki' Polizzi is believed to have a net worth of $4 million (Credit: Avalon / WENN)
On May 30, 2019, the pair welcomed another son, Angelo James LaValle. It was after her son's birth that Snooki left Jersey Shore: Family Vacation to focus on her life as a wife and mother and give up the party girl lifestyle for good.
Since then, Snooki and Jionni have appeared to live a charmed life together, and the two can be seen posting adorable photos of themselves and their children on social media — a far cry from their former "GTL" days.
In April 2013, Jersey Shore's very own Snooki was spotted out in a bold pair of gold heels in NYC. Nicole Elizabeth "Snooki" LaValle had lost about 40 lbs since the birth of her son, Lorenzo Dominic Lavalle, and she was showing off her fabulous new figure.
Nicole "Snooki" Polizzi flaunts her legs in a sexy black dress (Credit: Kyle Blair / WENN)
The American reality television personality, author, dancer, and professional wrestler attended the WWE Superstars for Sandy Relief event at Cipriani Wall Street in a black dress with gold heels and accessories.
Nicole "Snooki" Polizzi with straight loose locks and bangs at the WWE Superstars for Sandy Relief at Cipriani Wall Street in New York on April 4, 2013 (Credit: Kyle Blair / WENN)
In the hair department, Snooki opted for straight loose locks and bangs.
In my opinion, she'd look better without the bangs (and oversized hoop earrings). Nonetheless, she looked really great in comparison to past appearances.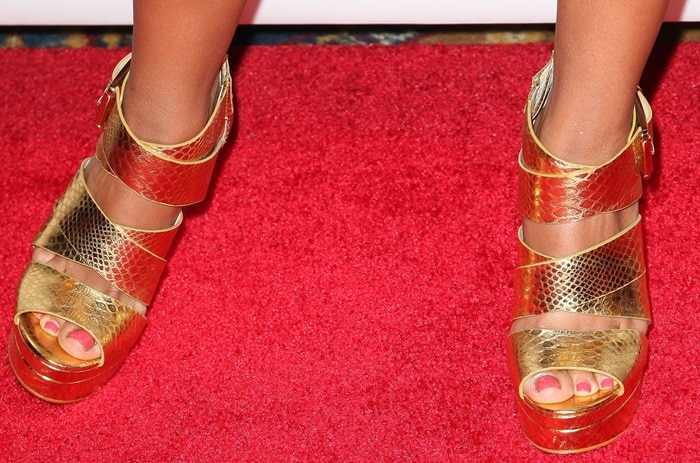 Nicole "Snooki" Polizzi shows off her feet in gold heels (Credit: Kyle Blair / WENN)
Snooki is a great bargain shopper, so my guess is that these heels aren't designer or overpriced. However, I can't seem to locate the same exact style that she was rocking.
Nonetheless, I dug up a couple of great gold heels that could create the same effect as Snooki's shoes if paired with an LBD and coordinating accessories.
They're both priced under $200 a pair and available at Zappos. Take a look, and tell us if you'd dare to wear a pair of glam gold heels like Snooki's!
Diane Von Furstenberg 'Zia II' Heels, $164.99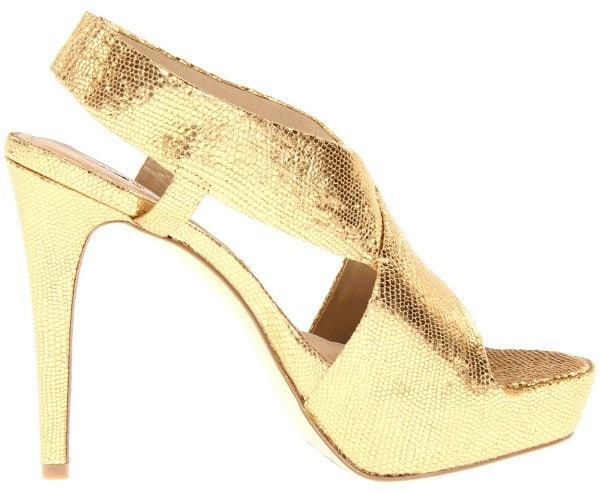 Madden Girl 'Willardd' Wedges, $17.99 – $80.00