To promote her internationally co-produced thriller series Ragdoll, petite actress Lucy Hale boosted her height with Giuseppe Zanotti's Notte 105mm pumps ($436 at Farfetch) for an early morning appearance on Live With Kelly and Ryan in New York City.
Short actress Lucy Hale signs an autograph for a much taller fan outside Live With Kelly and Ryan in New York City on November 10, 2021 (Credit: MEGA / WENN)
Measuring just 5ft 1 (154.9 cm), she often looks tiny when posing next to more spatially-gifted actresses. However, Skeet Ulrich's ex-girlfriend told InStyle that in contrast to her Katy Keene character, she doesn't normally wear high heels to look taller.
"I love pink, but I don't wear a lot of it. I'm way more casual, way more laidback, and I probably never wear heels, whereas Katy is always in a skirt and heels, just running around the city. Every time we're filming outside, I'm literally the only one wearing pink, while everyone's in a black trench coat and flats."
Lucy Hale's classic black coat from Jason Wu heads in a Western direction with its swingy fringe, while the faux leather fabrication delivers all the buttery goodness of the real thing (Credit: MEGA / WENN)
"In my early twenties, late teens, oh my god — I was just so hard on myself. The way I looked, how much I weighed, the food I was eating, my skin, anything. And I think that's normal," she added about being sensitive about her appearance.
"But it is nice to be of an age where I'm accepting of the body I'm in, and I'm accepting of myself, and I love myself, you know? Like, it takes a while to get to this point where you're like, 'Oh my god — I actually like who I am."
"I'm 5'2″, so I am pretty small, but I usually always wear flats or flat boots during the day. I love a great pair of pumps though. Definitely heels on the weekend and at nights," she wrote several years ago.
Lucy Hale boosts her height with black high heels and carries a Fendi Peekaboo mini bag (Credit: MEGA / WENN)
"Contemplated dressing up as a leprechaun at the airport since my height is very fitting," Lucy joked about her height.
The 32-year-old actress styled her black pumps with a circle-print Monosuit Monoskin catsuit, a suede fringed mini skirt, and a Jason Wu trench coat made from supple faux leather lined in satin for smoothness.
Available for $995 at Nordstrom, her black coat features oversized lapels and a D-ring belt. She toted Fendi's iconic small Peekaboo bag made of black Cuoio Romano leather
"I love Elvis, I am from Memphis, Tennessee, I am proud of it, my family is all there," Lucy Hale told co-hosts Kelly Ripa and Ryan Seacrest about her connection to the late singer Elvis Presley.
Wearing Nike Air Zoom Pegasus 36 sneakers, Lucy Hale walks her dog, Elvis, in Los Angeles on October 19, 2019 (Credit: MEGA / WENN)
"I named my dog after Elvis, I have Elvis tattooed on my body: it is in honor of my dog who is named after Elvis. My grandma worked in the accounting building where Elvis' business manager had an office and, according to her, Elvis kissed her on her cheek once… good for her."
Aside from being a singer and an actress, Lucy Hale is also a fashion designer. In August 2014, the Pretty Little Liars star launched her clothing line for Hollister at the Westfield Century City mall, where she also met some fans.
Lucy Hale at the launch of her clothing line for Hollister at the Westfield Century City mall in Los Angeles on August 9, 2014 (Credit: Nikki Nelson / WENN)
The collaborative collection featured feminine, laid-back outfits that "reflect a Southern Californian lifestyle."
For the event, the then-25-year-old actress modeled some pieces from her clothing line, including a gray lacy sweatshirt and a flirty pink skirt.
Lucy Hale displays her pretty toes in black open-toe booties (Credit: Nikki Nelson / WENN)
She styled the outfit with layers of gold necklaces and a selection of gold rings and bracelets. Her ombré locks in soft curls, dark eye makeup, and pink lips made the rather casual look gorgeous.
A pair of DV by Dolce Vita booties rounded out her chic but relaxed getup. They are made of leather and feature peep toes, zipper fastenings on both sides, and about 5-inch block heels.
Lucy Hale boosts her petite height with DV by Dolce Vita booties (Credit: Nikki Nelson / WENN)
DV by Dolce Vita's ankle booties are also available in suede. Check them out on Amazon: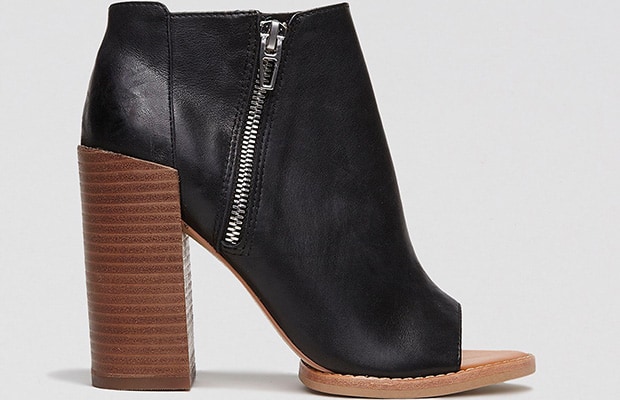 DV by Dolce Vita "Mercy" Booties in Black Leather, $129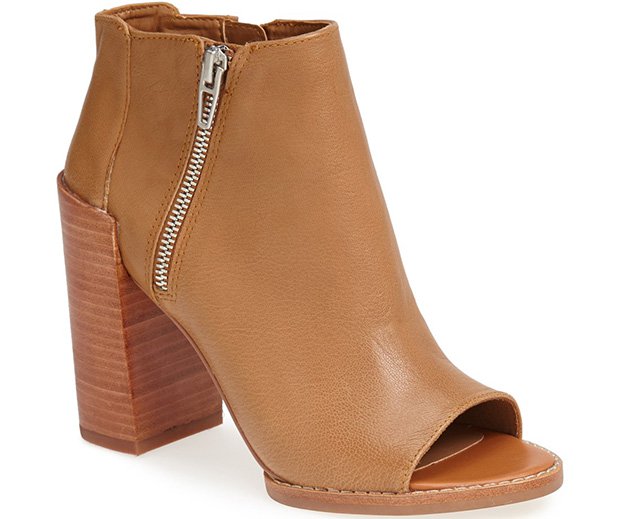 DV by Dolce Vita "Mercy" Booties in Honey Leather, $128.95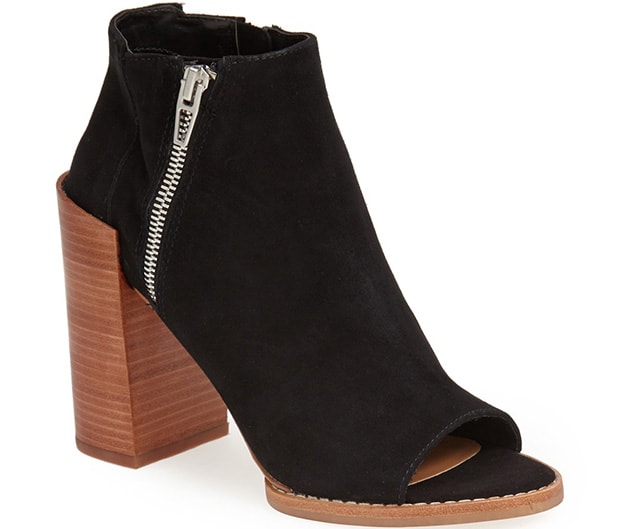 DV by Dolce Vita "Mercy" Booties in Black Suede, $128.95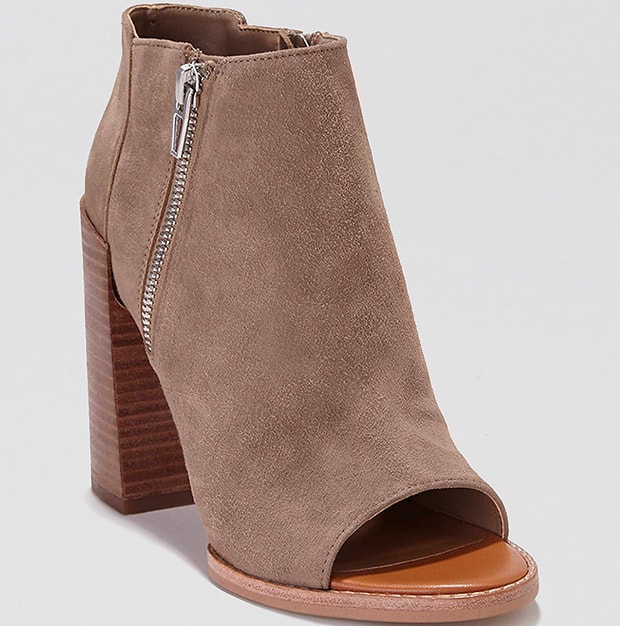 DV by Dolce Vita "Mercy" Booties in Gray Suede, $129