Joelle Joanie "JoJo" Siwa took the world by storm when she stole our hearts as a strong-willed, sassy contestant on the hit reality show "Dance Moms," as JoJo Siwa.
According to People, JoJo was especially known for not being afraid to talk back to her coach, Abby Lee Miller.
Still, JoJo had a good relationship with her saying, "She's tough, but I love her. She makes me cry a lot, but you kind of just have to grab some tissues and go back in."
American cartoonist Thurop Van Orman and entertainer Jojo Siwa at the Premiere Of Sony's "The Angry Birds Movie 2" held at the Westwood Regency Theater on August 10, 2019, in Los Angeles, California (Credit: Sheri Determan / WENN)
Ever the entertainer, upon completing two seasons with "Dance Moms," JoJo created a YouTube account where she quickly blew up even greater than before.
Now with over twelve million subscribers, JoJo is making waves as a singer, performer, merch icon, Nickelodeon star, and more. There is nothing that JoJo can't do, and we are excited to watch her explode across platforms.
From fashion and merchandise to Angry Birds voice actor for Jay/Kira and A-List babysitter extraordinaire for Kim Kardashian, JoJo Siwa is quickly becoming a name everyone knows.
JoJo Siwa and Kylie Prew split in the fourth quarter of 2021 after nearly a year of dating (Credit: MEGA / WENN)
On August 26, it was announced that JoJo Siwa would be making history as the first female Dancing With The Stars contestant to be paired with a female dancer.
"I am so excited to be a part of this year's Dancing With the Stars Season 30," the 18-year-old superstar said in a video statement."
"And to be dancing with a girl – I think it's so cool. My puppy Buddy, are you excited, boy? He's so pumped up. It's going to be the best ever. I can't wait to dance every single week. I can't wait to meet my partner. There are so many things I'm excited for!"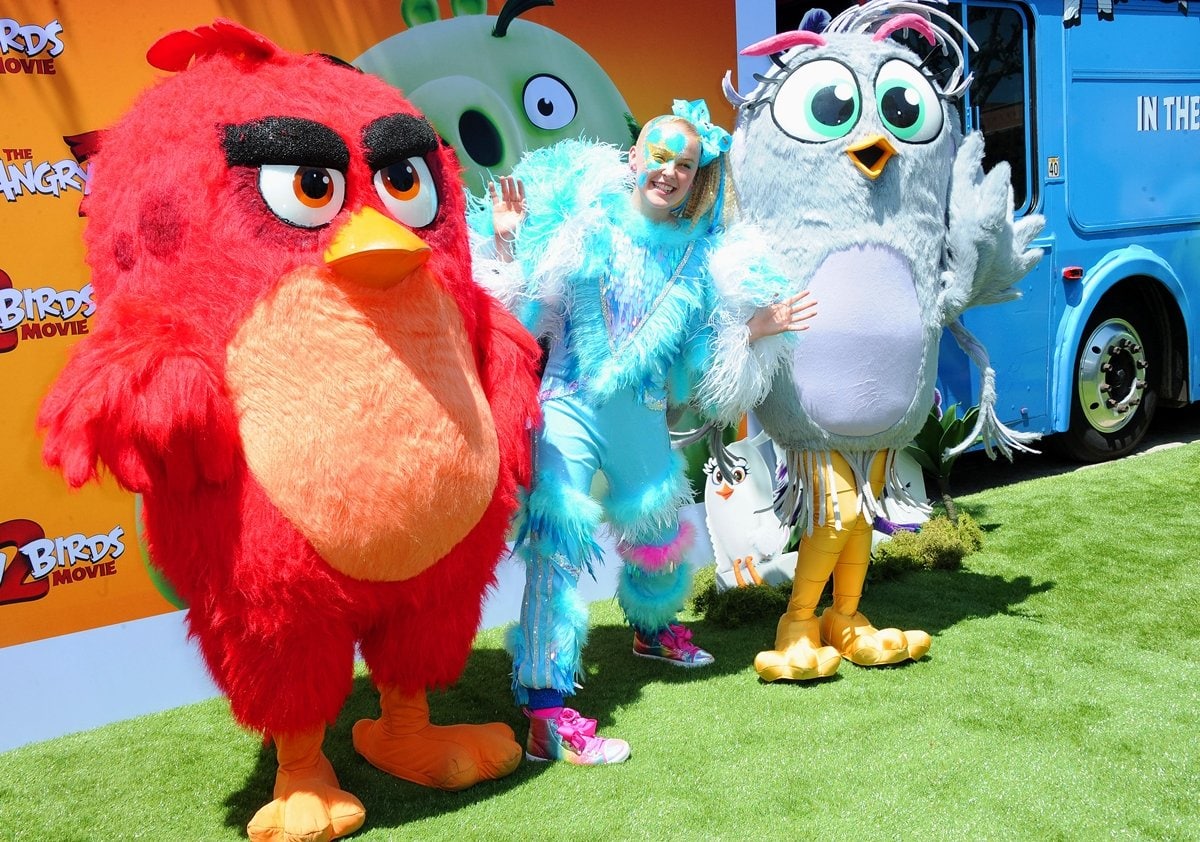 Jojo Siwa voices Eagle Island resident Kira in The Angry Birds Movie 2 (Credit: Avalon / WENN)
Born on May 19, 2003, in Omaha, Nebraska, her brand evolves as she ages. Watching her grow into an adult and directing her talents towards an older demographic is nothing short of mesmerizing.
A Tall Icon
In 2018, JoJo Siwa was at the forefront of her first significant scandal as fans went wild over something that she hadn't really considered to be an issue; her height.
That is right. After doing a "Most Googled Questions About JoJo Siwa" answers video, JoJo gave a response to the question "How tall is JoJo Siwa." Noticing that google had it wrong at 5'7", she set the record straight by telling her fans that her height was actually 5'8.5"-5'9".
The fan response was over the top. Hundreds of tweets began circulating about her height.
Fans looked up other celebrities and compared her to prominent names like Justin Bieber and Serena Williams, who are both the same height. Some fans even went as far as expressing shock that their boyfriends were shorter than her.
Much of the response was fun and games surrounding the information, but other fans were not so kind. Offensive memes were made about her, and JoJo just wasn't going to have any of that. She decided to make a follow-up video about her height while calling out the toxicity of some of her fans and others online.
In a video titled "The Truth on Why I'm So Tall…," JoJo gave a spectacular response to her fans and haters.
JoJo briefly touches on the subject of her height, saying, "I have literally seen so many tweets about why I'm so tall. I don't know. Maybe I've just been tall my whole life, so it doesn't phase me, but it phases some of you guys!"
Ever the queen, JoJo was also asked about how she deals with the haters, and she responds by saying that she just focuses on the positive.
She completely blows off the haters and doesn't even give them the time of day. This boss behavior is why we stan JoJo so much and laugh at the haters. They aren't even on the radar!
LGBTQ+ Queen
JoJo broke the internet in early 2021 when she officially announced that she is part of the LGBTQ+ community.
That is right, fans. JoJo rocked all of our worlds when she came out on Tiktok singing along with Lady Gaga's "Born this Way."
Her video received over 7.6 million likes making LGBTQ+ fans and non-fans everywhere feel more included and loved. She really illustrated why representation matters.
TV personality JoJo Siwa attends 2015 Hollywood Christmas Parade on November 29, 2015, in Hollywood, California (Credit: Guillermo Proano / WENN)
In an interview with People, JoJo talks about what she identifies as and what she doesn't. "But like, I don't know, bisexual, pansexual, queer, lesbian, gay, straight. I always just say gay because it just kind of covers it or queer because I think the keyword is cool."
Abandoning the social constructs of labels and not wanting to put herself in a box, JoJo chooses to use something that is more all-encompassing, and we love her for that.
Not being naïve, JoJo did later come out and say that the technical term for her sexuality is Pansexual. She just wanted to avoid the use of labels hoping that she would be able to reach and inspire more people.
Joelle Joanie "JoJo" Siwa became famous appearing for two seasons on Dance Moms (Credit: Brian To / WENN)
She wasn't prepared for the negative response, though. In 2021, you would expect the stigma that surrounds the LGBTQ+ community to be all but extinct. Still, the hateful comments took her by surprise.
Between people commenting that they would never buy her merch again and parents saying that they would never let their children watch her show again, JoJo said she couldn't sleep for days. Her queen response of only focusing on the positive failed her with this one.
After some reflection and a lot of thought, JoJo bounced back and decided that it didn't matter. She decided that she would go back to her queen self and only focus on the positive.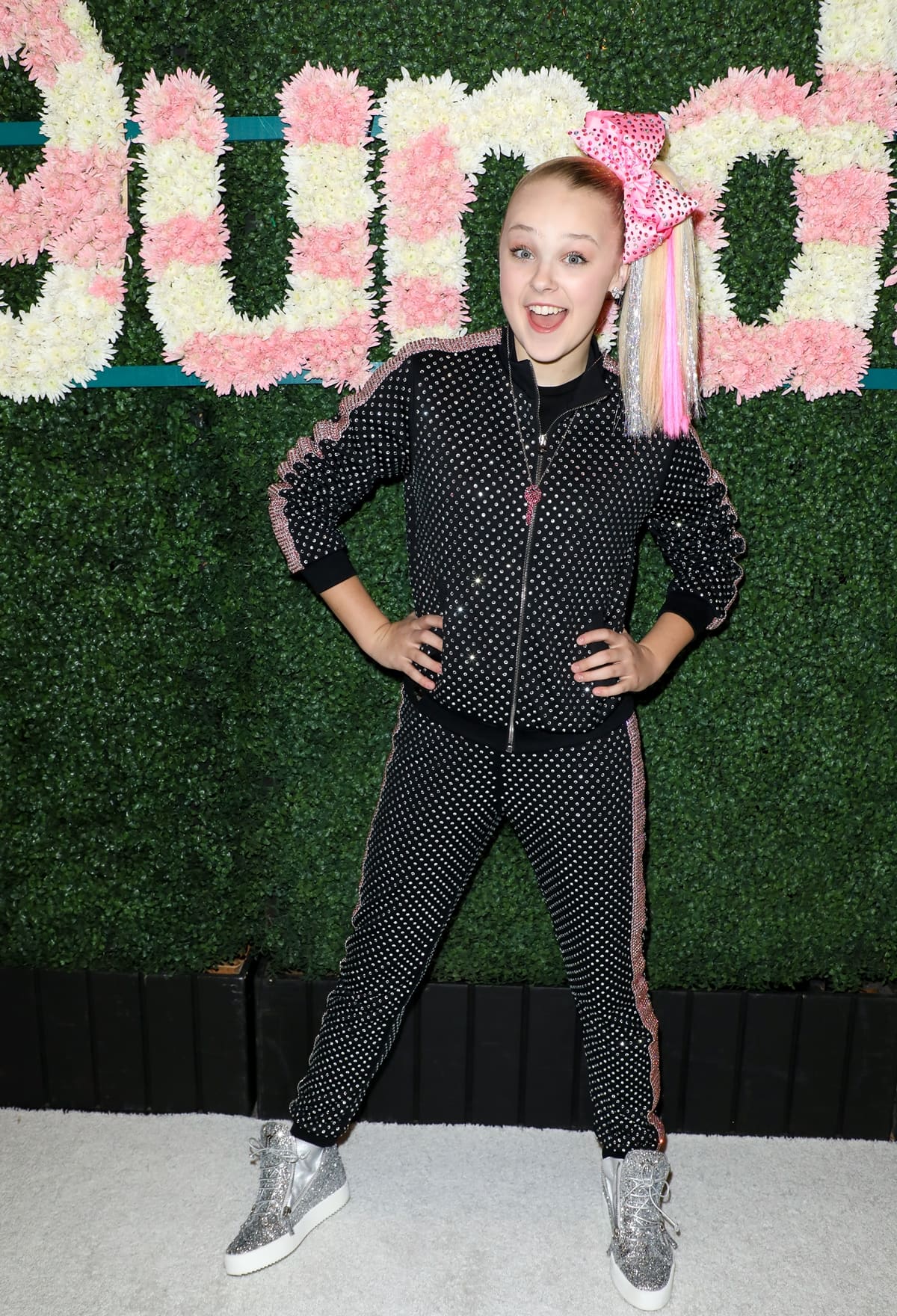 Taller than most people think, JoJo Siwa claims her real height is 5′ 8.5″ or 5′ 9 (Credit: Sheri Determan / WENN)
JoJo expressed that it was important that her fans not only support her but the LGBTQ+ community as well. This was the inclusionary response that she came to, and it was legendary.
Not So Secret Romance
Before coming out as "gay," JoJo got lots of love from the internet when she revealed that she was dating Tiktok star Mark Bontempo in 2020.
The two of them made a couple of cute videos while cameoing in the other's Tiktok videos. Doing the "Put a Finger Down" trend, JoJo put a finger down when it asked if she was dating someone.
This sent her fans into a frenzy. They were unsure if Mark was the person she was dating and speculation ran wild. JoJo confirmed their relationship, and the madness increased.
Fans just ate it all up and were wildly excited about the cute couple. Unfortunately, their happiness was short-lived as they broke up not long after.
JoJo Siwa wears yellow jeans with a cropped Forever 21 distressed denim jacket and pink Converse Youth Chuck Taylor All Star Hi Neon sneakers at We Day California 2017 at The Forum on April 27, 2017 in Inglewood, California (Credit: Apega /WENN)
JoJo quickly bounced back from the breakup and asked fans not to throw any hate Mark's way. In response to her fan's outrage about their separation and need to blame either one of them, JoJo told J-14, "We're teenagers. And our relationship didn't work out right now. He did nothing. I did nothing. Just better being friends. Relax."
After a few months of being "Single as a pringle" (J-14), JoJo came out as a member of the LGBTQ+ community.
She had always known that she wasn't straight, but she didn't want to come off as one of those people that says they're lesbian or bisexual but has never shown any indicators of the sort. She wanted to have a girlfriend first so that it would be more official.
How Did JoJo Meet Kylie?
This introduces us to JoJo's new girl, Kylie Prew. JoJo and Kylie started dating in January of 2021. It was revealed to the world in February of that year on Tiktok.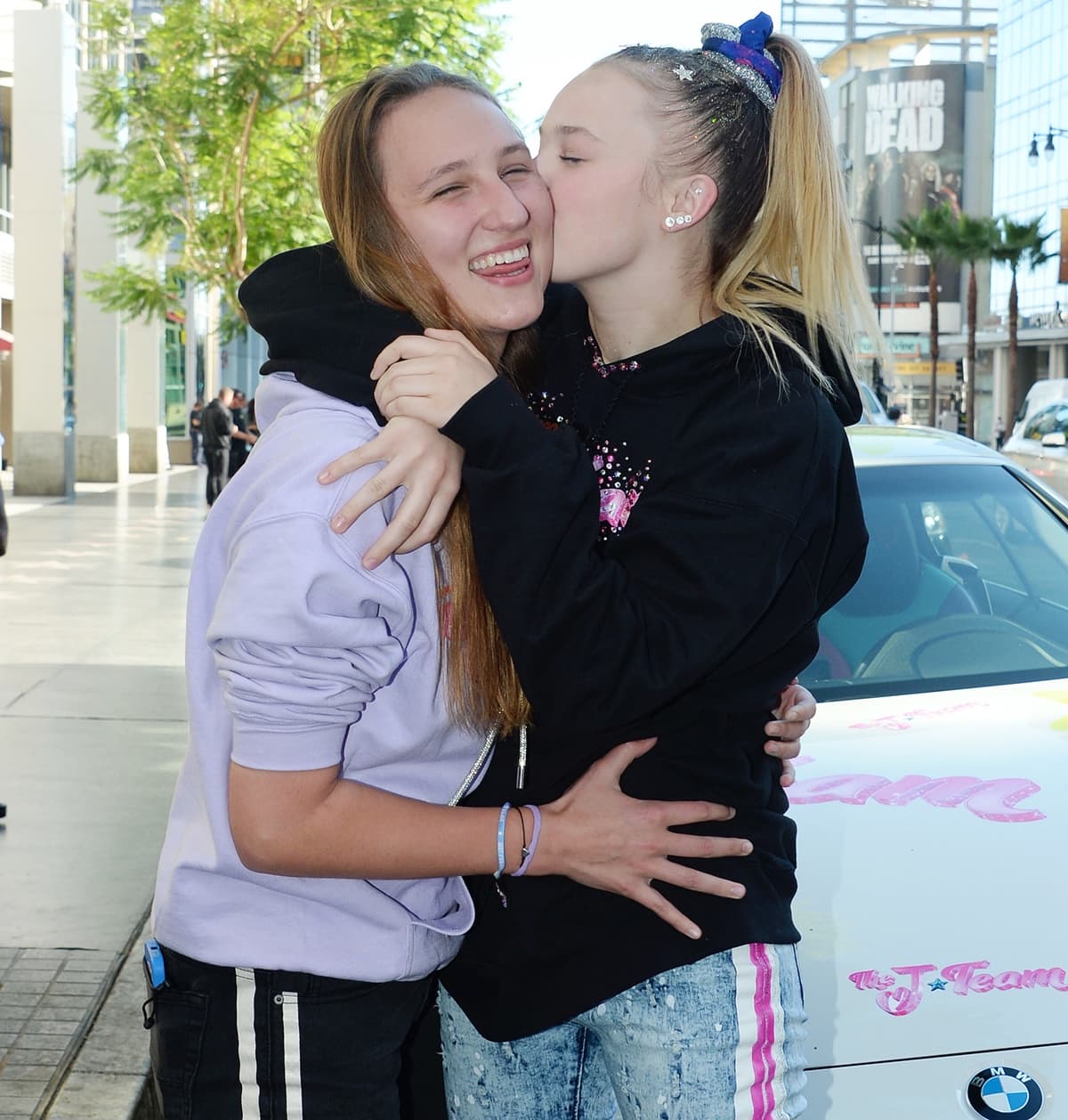 JoJo Siwa and Kylie Prew were best friends for over a year before they started dating in January 2021 (Credit: MEGA / WENN)
The two of them are wildly in love and take every chance they get to dote on each other publicly. JoJo says that Kylie changed her life for the better.
"We just became instant like this," Siwa said about her girlfriend Kylie Prew in an episode of Jessalynn Siwa's podcast Success with Jess.
"Like I had a big secret at the time that I wasn't supposed to tell anybody and I told her within 10 minutes of meeting her," she added about Kylie Prew, whom she met on a cruise ship.
JoJo Siwa and her girlfriend, Kylie Prew at the premiere of her new movie The J Team at the Rose Bowl on September 3, 2021, in Pasadena, California (Credit: MEGA / WENN)
"I was like, 'Dude, you're gay' … 'I thought you were gay.' And she was like, 'No I'm so straight I have a boyfriend.' And I literally go 'OK come talk to me in 6 months,' " Siwa said about their first meeting.
Kylie Prew attends high school in Florida and is set to graduate in 2022. "I wish we didn't have to [say goodbye], ever. But we do, and it just makes when we say hi to each other even more special," JoJo said in her Instagram Stories about being in a long-distance relationship.
"It's very, very, very hard, but it's the most worth it ever."
JoJo Siwa wears white ripped Topshop jeans and a quilted Ralph Lauren baseball jacket at the Premiere of Warner Bros. Pictures' "The LEGO Batman Movie" at the Regency Village Theatre on February 4, 2017, in Westwood, California (Credit: Nicky Nelson / WENN)
Keeping with not wanting to put herself in a label box, JoJo now calls herself a "Ky-Sexual."
This eliminates any ambiguity and establishes herself as solely dedicated to one person. Honestly, I don't know why this isn't used more often. Keeps things more real.
In early November 2021, JoJo revealed they're no longer dating. "I have yet to talk about this officially, publicly, but we broke up," Siwa said on Paris Hilton's This Is Paris podcast.
"But she is literally still my best friend. I talked to her yesterday, she just got a new puppy. She's awesome. She's having the time of her life, I'm having the time of my life."
I'm really lucky that I didn't lose her completely because, you know, even though relationships end, friendships don't have to end," the current Dancing with the Stars contestant continued, adding that's something that she "didn't know could happen."
JoJo Siwa Shoes
Next to everything that JoJo is doing, her fashion line has been one of the most successful ventures. Between selling 60 million bows the first year after releasing them, to having a rainbow fashioned ensemble designed for every occasion, JoJo truly is a fashion genius.
The shoes, though. Let me tell you about the shoes! JoJo Siwa Shoes are taking the world by storm. Available at Amazon, these bright multi-colored high tops are coveted by kids everywhere.
Complete with her iconic bow, these shoes shout to the world, "I am a proud Siwanator!" But wait. Sandals? Yes. Sandals. JoJo Siwa Shoes even has its own brand of sandal topped with the JoJo Siwa bow!
JoJo Siwa wears Adidas by Jeremy Scott poodle pink sneakers (Credit: Nicky Nelson / WENN)
The success of JoJo's shoes was overnight. When first released, they sold out almost immediately. For JoJo fans, this was heartbreaking because it is replaced by another design once inventory is gone.
JoJo shoes became a collector's item for Siwanators. If you missed today's release, then you may not ever see them.
This boosted the sales of shoes, and fans scrambled to be the first in line to get the latest JoJo Siwa Shoe release. Even though the first shoe was released in 2018, the fight to be a proud owner of today's shoe continues.
What's Next?
The queen, JoJo Siwa, is far from being done entertaining and breaking the internet. With more brand deals coming out of the woodworks every day to constant releases of new videos, JoJo brings something new to the table all the time.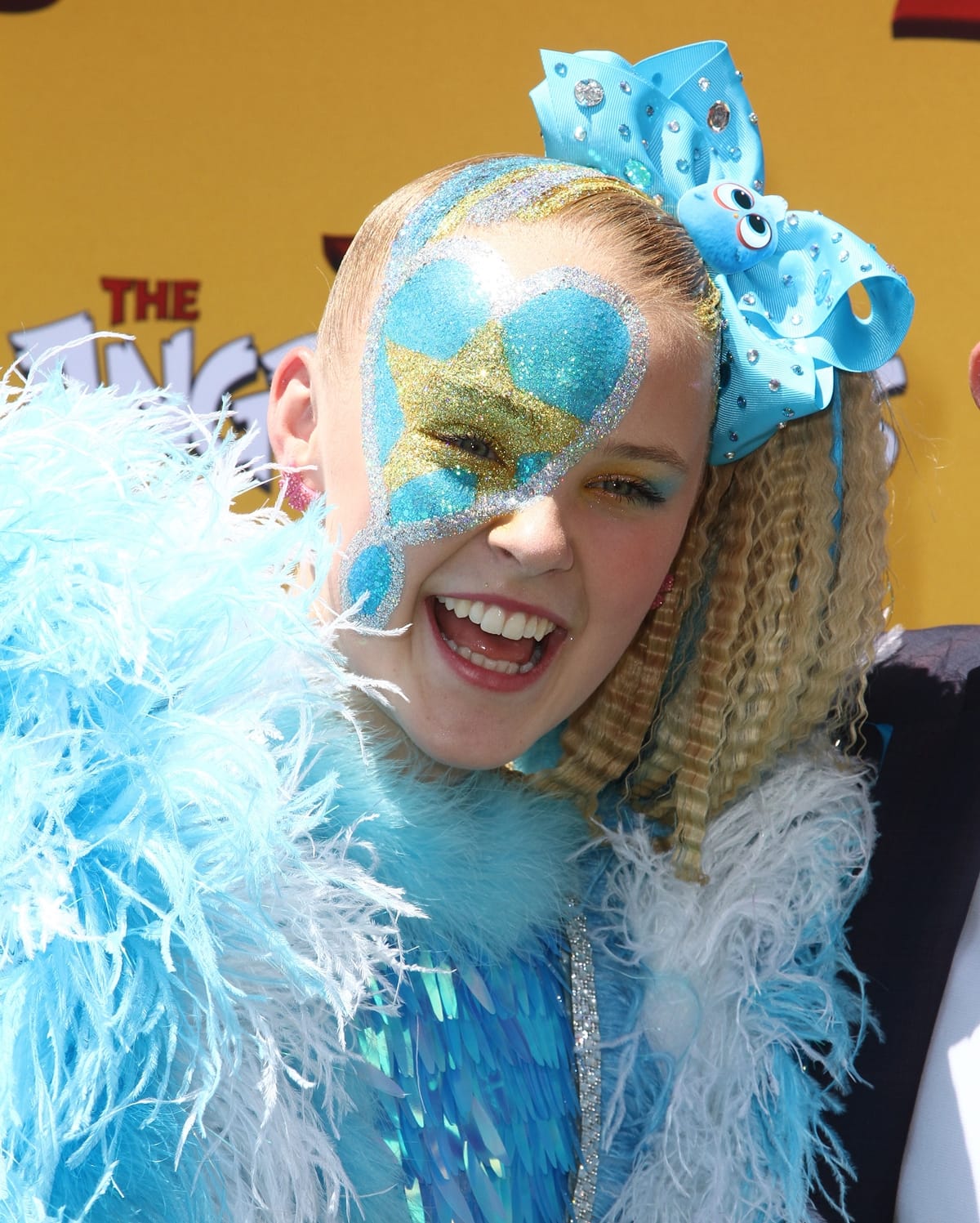 JoJo Siwa came out as being part of the LGBTQ+ community in January 2021 (Credit: Avalon /WENN)
This star that isn't even old enough to drink will have more to offer the fans that are turning into adults with her. Keep watching. What she does will surprise you.