Serena Williams, at a height of 5 feet 9 inches (175.3 cm), is taller than the average American woman. The average height for adult women in the United States is typically around 5 feet 4 inches (162.6 cm).
Venus Williams, at 6 feet ½ inch (184.2 cm), is even taller than Serena and significantly above the average height for American women. Both Serena and Venus are considerably taller than the average woman in the United States.
Serena Williams is 5 feet 9 inches (175.3 cm) tall, while her sister Venus Williams is significantly taller at 6 feet ½ inch (184.2 cm) (Credit: Robert Bell /INSTARimages / Cover Images)
Serena Williams' shoe size is 10.5 US, which translates to 42-43 EU, 8.5-9 UK, and 27.5-28.5 JP in other shoe sizing systems.
Serena's Accomplishments: More Than Just Height
The former professional tennis player is widely regarded as one of the greatest tennis players of all time and held the world's No. 1 singles ranking for 319 weeks.
Serena Williams shows off her size 10.5 (US) feet at the 33rd Annual American Music Awards held on November 22, 2005 (Credit: Jen Lowery / Startraksphoto)
Serena has won 23 Grand Slam women's singles titles, the most in the Open Era, and is the only player to achieve a career Golden Slam in both singles and doubles.
She was coached by her parents and turned professional in 1995, winning her first major singles title in 1999. Serena's dominance continued, including a non-calendar year Grand Slam known as the 'Serena Slam' from 2002 to 2003.
Gigi Hadid tops the height chart at 5ft 9 ¼ (175.9 cm), just edging out Serena Williams at 5ft 9 (175.3 cm), while Bella Hadid falls slightly shorter than both at 5ft 8 (172.7 cm) (Credit: John Nacion / Startraksphoto)
Despite injuries, she returned to form in 2007 and won more majors, achieving a second "Serena Slam" in 2015. She holds numerous records in tennis, including four Olympic gold medals.
Serena Williams is also known for her significant earnings and accolades, making her the highest-paid female athlete and earning multiple sports awards throughout her career.
In August 2022, she announced her retirement from professional tennis after playing her final match at the 2022 US Open.
Tennis Star Serena Williams Stuns in Burberry Animal-Print Sandals
Professional tennis player Serena Williams isn't just good on the court; she's also great on the red carpet. In June 2013, we spotted her in two tight-fitting dresses and two gorgeous Burberry animal-print sandals.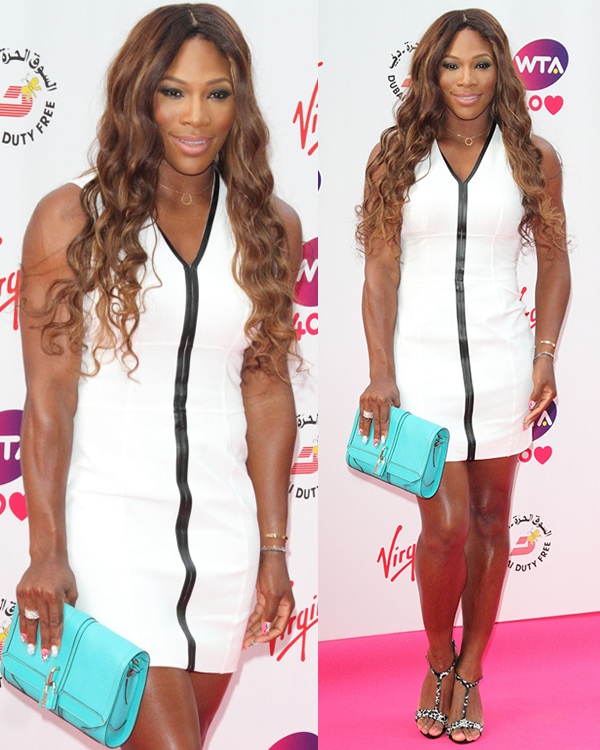 Serena Williams flaunts her hot legs at a pre-Wimbledon party held at Kensington Roof Gardens in London on June 20, 2013 (Credit: Daniel Deme / WENN)
Serena was hot in black and white at the pre-Wimbledon party at Kensington Roof Gardens in London. She wore a white body-hugging Burberry sheath dress featuring tonal piping details and contrast black leather piping down the center.
Serena Williams puts her sexy toes on display in Burberry shoes (Credit: Daniel Deme / WENN)
She selected a pair of monochrome animal-print sandals from the same designer to finish this look.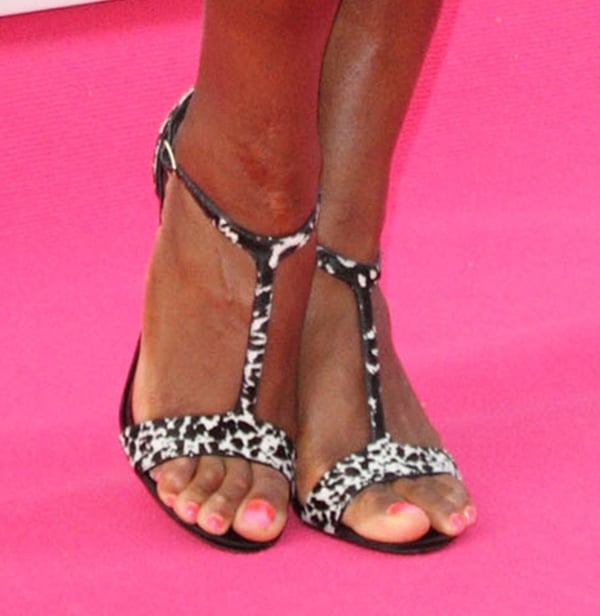 Serena Williams shows off her feet in monochrome animal-print sandals (Credit: Daniel Deme / WENN)
Don't you agree that the sandals complemented her outfit?
They're crafted from glossy calfskin material and feature patent leather trimming, t-straps, buckled ankle straps, and 3.9-inch heels.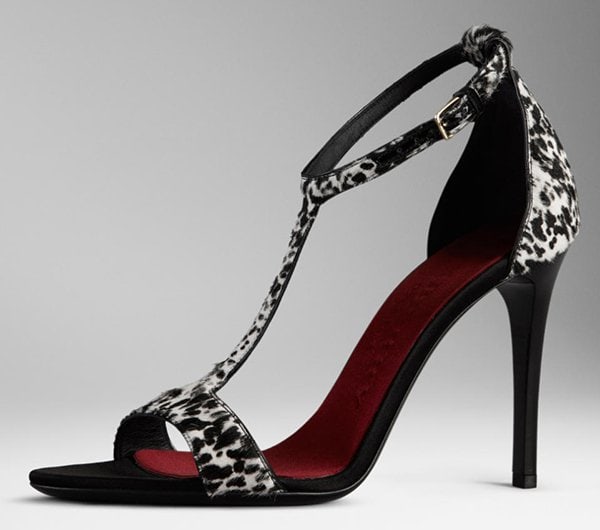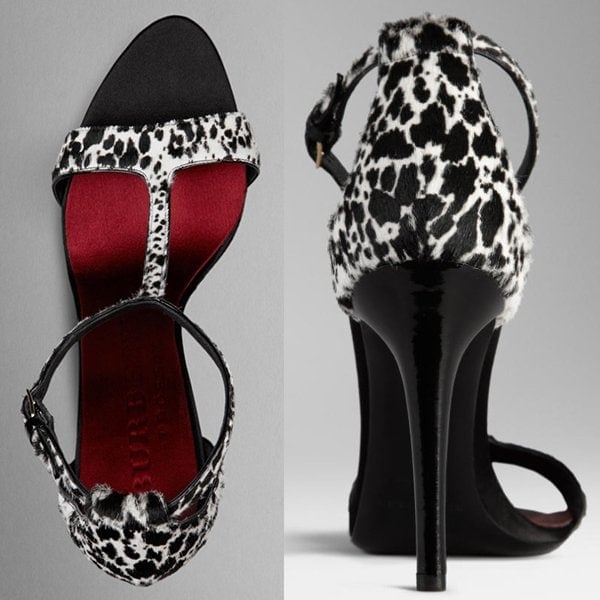 Burberry Animal Print Sandals in Black/White, £450
The same month, Serena sported yet another Burberry ensemble. She showed off her curves in a tight-fitting, cleavage-baring fuchsia mini dress paired with a cream trench coat.
While I wouldn't say I like her heart-printed Burberry bag, the sandals were interesting.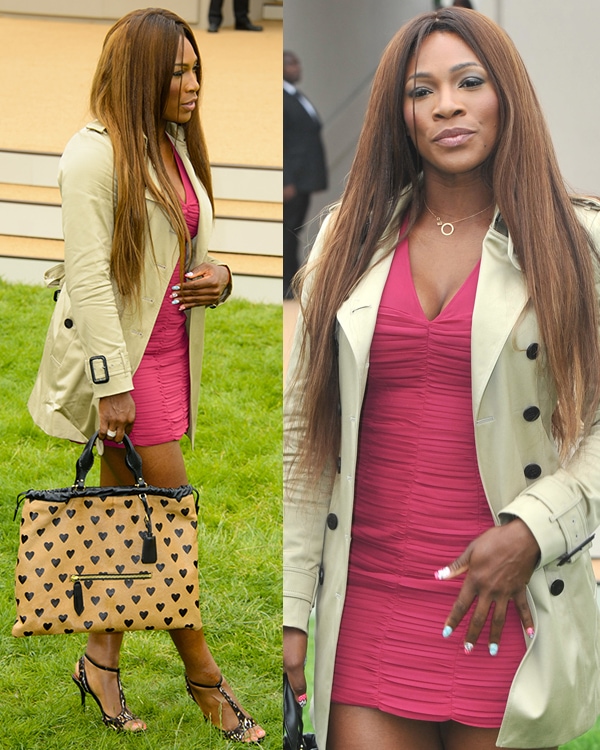 Serena Williams flaunts her sexy legs at the Burberry Prorsum Menswear Spring/Summer held at Kensington Gardens in London on June 18, 2013 (Credit: Daniel Deme / WENN)
The camel calfskin sandals feature abstract animal prints, t-straps, and ankle straps, an open-back design, heels that measure 4.5 inches with logo plates, and platforms that measure approximately 0.6 inches.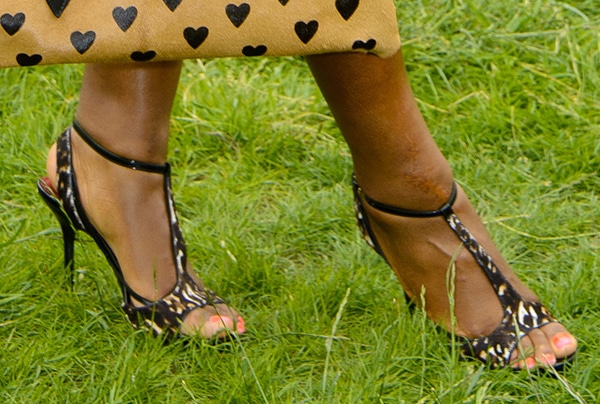 Serena Williams shows off her pretty feet in camel calfskin sandals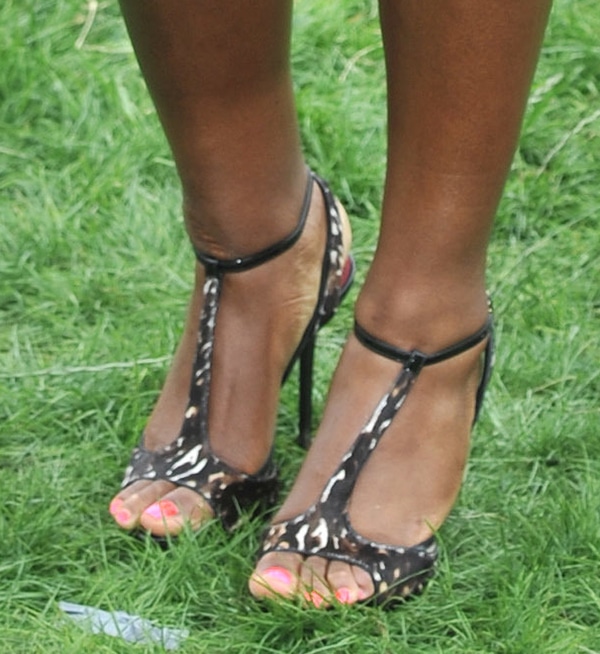 Serena Williams rocks animal print Burberry shoes (Credit: Daniel Deme / WENN)
Love these heels better than the other pair?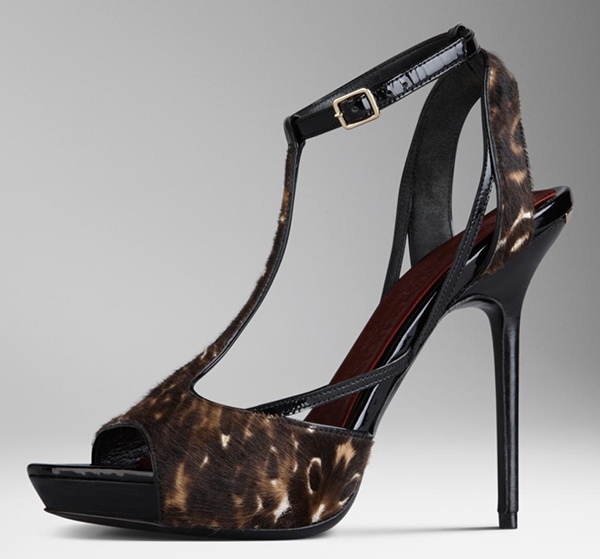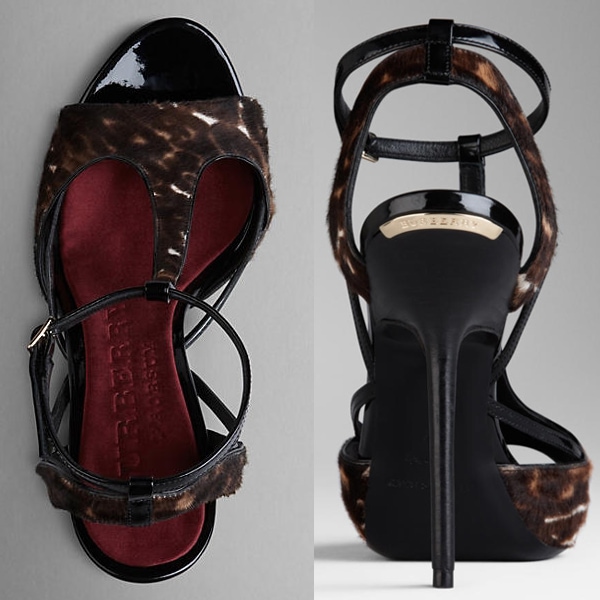 Burberry Animal-Print Sandals in Dark Camel, £475