She may have lost to NBA shooting guard Iman Shumpert in the 30th season of Dancing with the Stars, but Jojo Siwa appeared to be in good spirits as she was seen beaming after taping an appearance on The View on Tuesday.
Still trying to get the hang of walking in high heels, the 18-year-old YouTube star was pictured laughing off a near slip after her Christian Louboutin heels almost got stuck in the sidewalk grating outside the ABC studios.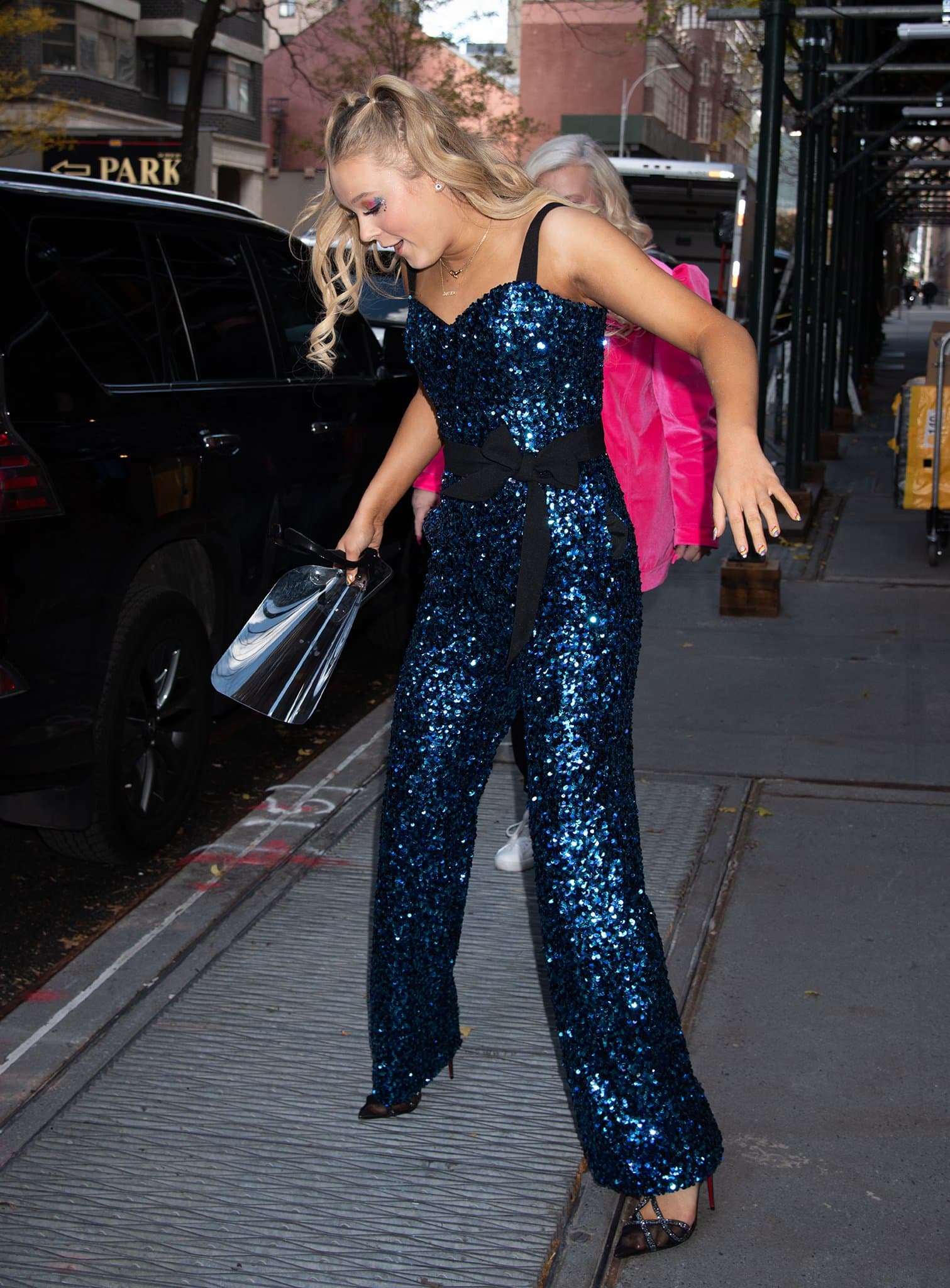 Jojo Siwa nearly slipped as her Christian Louboutin heels almost got stuck on the sidewalk grating outside the ABC studios on November 23, 2021 (Credit: Mega / WENN)
Her Double L Pump Strass heels from the French-Egyptian fashion designer feature two narrow crossed straps in the shape of a stylized L, adorned with strass crystals.
They also have a mesh pointed toe and metallic straps that sit above a 4-inch-high heel.
Jojo Siwa wearing a pair of Christian Louboutin Double L embellished pumps (Credit: Mega / WENN)
Christian Louboutin Double L Embellished Pumps, $1,895 at Harrods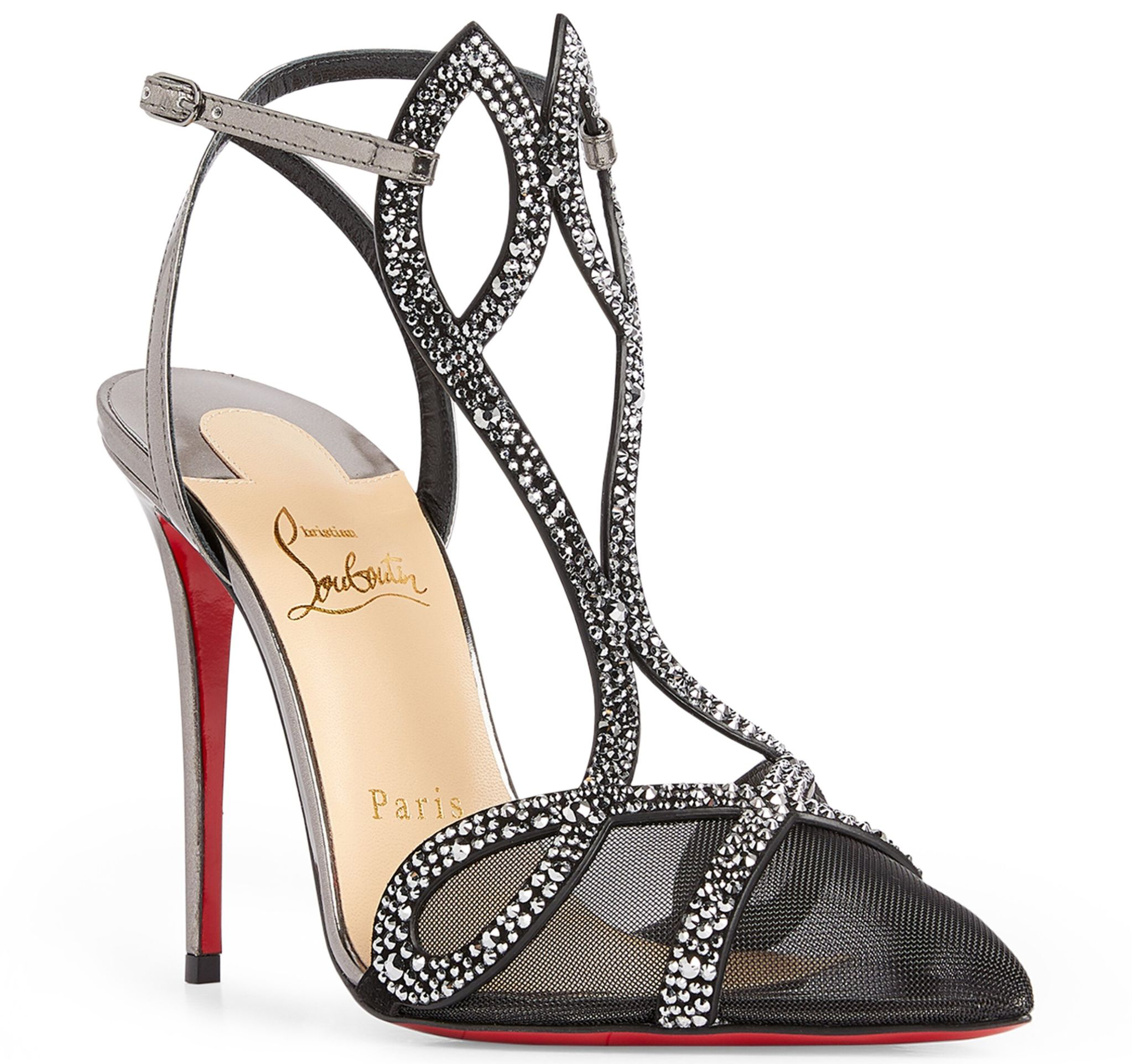 These Christian Louboutin pumps are defined by the double L straps adorned with sparkling strass crystals
The dancer and singer dazzled in a blue sequined jumpsuit from LA designer Franklin Morales's Dress the Population.
Available for $348 at Neiman Marcus, the "Lila" playsuit features two thick black straps and a sweetheart neckline.
It also has a black sash detail around the waist to accentuate her figure and add a hint of sophistication to the look.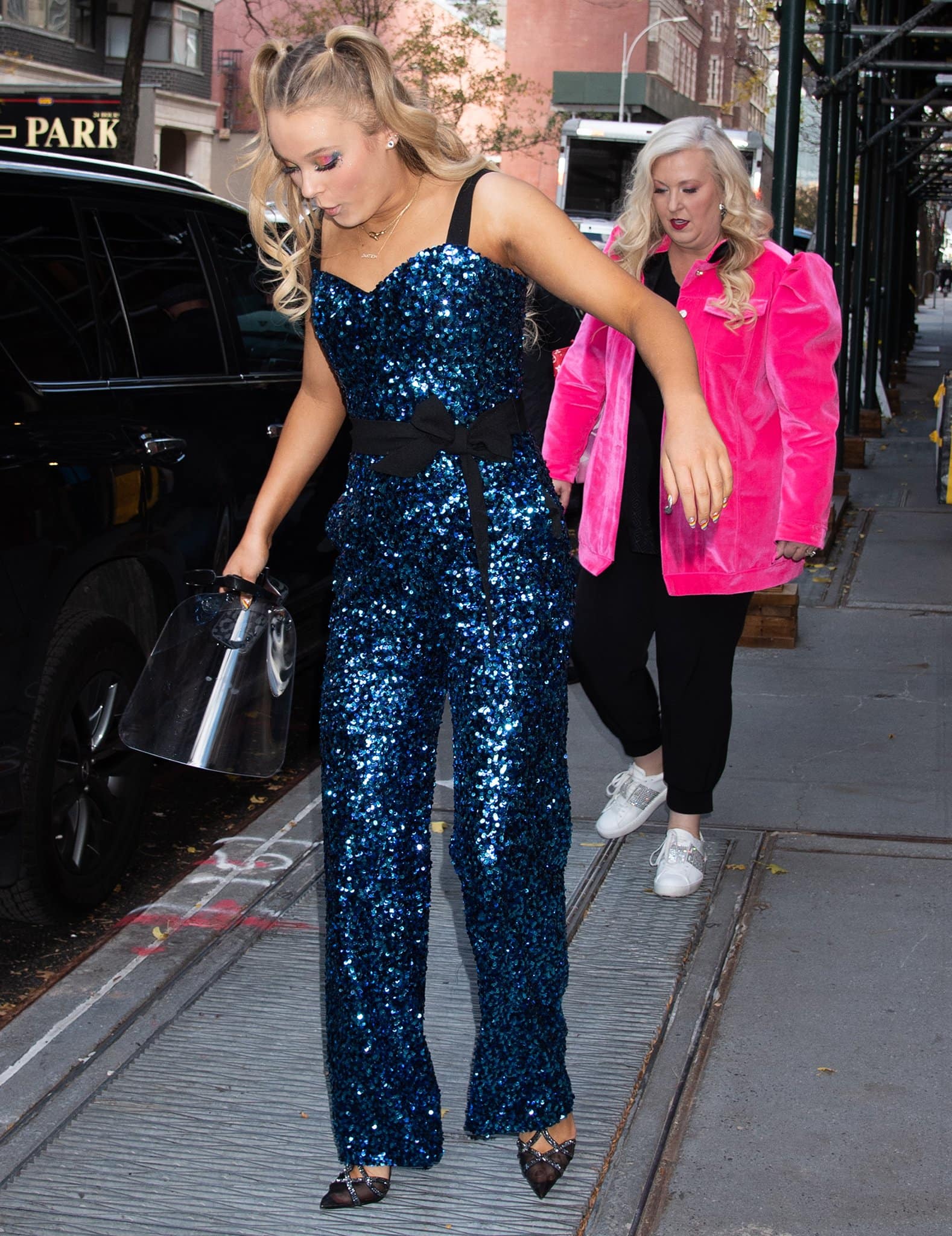 Jojo Siwa dazzles in a Dress the Population Lila sequin jumpsuit for her appearance on The View (Credit: Mega / WENN)
Letting her outfit sparkle, Jojo accessorized with multiple earrings and two dainty necklaces, including a Tiffany & Co. double link pendant necklace.
She styled her blonde hair in waves with pigtails on top and wore rainbow-colored eyeshadow with rhinestones.
Jojo Siwa ditches her signature ponytail for a wavy hairstyle with pigtails (Credit: Mega / WENN)
Known for her signature ponytail and brightly colored hair bows, outfits, and sneakers, the surprisingly tall Boomerang singer recently admitted that wearing heels is a "new thing" for her.
"I've been wearing heels for two days straight. It's a new thing."
She told The View co-host Whoopi Goldberg: "I wore little heels on Dancing With the Stars, and then my mom convinced me to wear a dress to the AMAs and my partner on the show, Jenna, convinced me to wear heels to the AMAs. They were like, 'You are going to look really dumb if you wear that dress with sneakers.' And I was like, 'Fair enough. How 'bout a boot?'"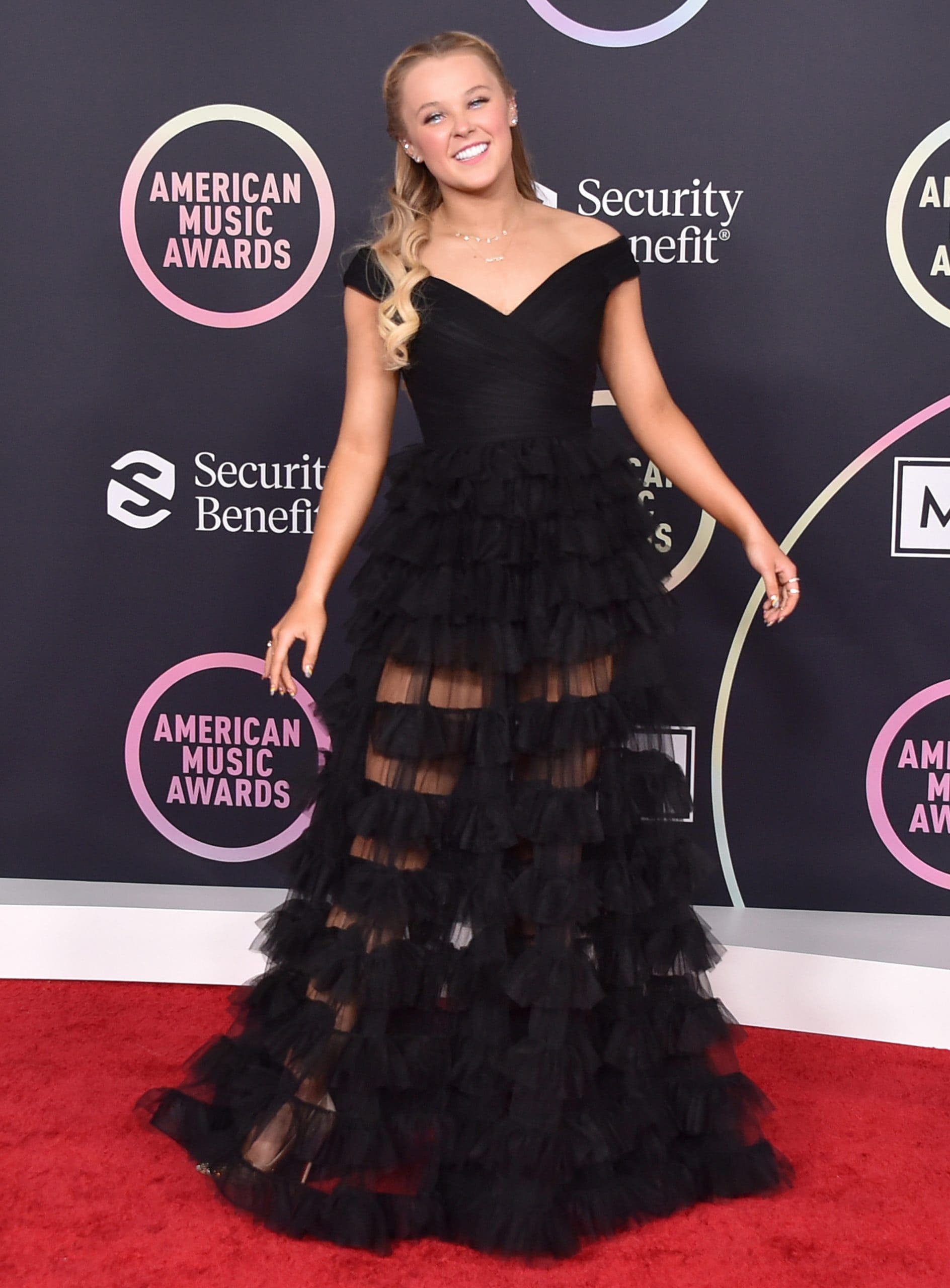 Jojo Siwa at the 2021 American Music Awards held at the Microsoft Theater in Los Angeles on November 21, 2021 (Credit: Mega / WENN)
At the American Music Awards last week, Jojo Siwa decided to wear a gown and a pair of heels for the first time ever.
Ditching her signature style, the Nebraska native went glam in a floor-length black off-the-shoulder gown that features a tulle skirt with tiered ruffles.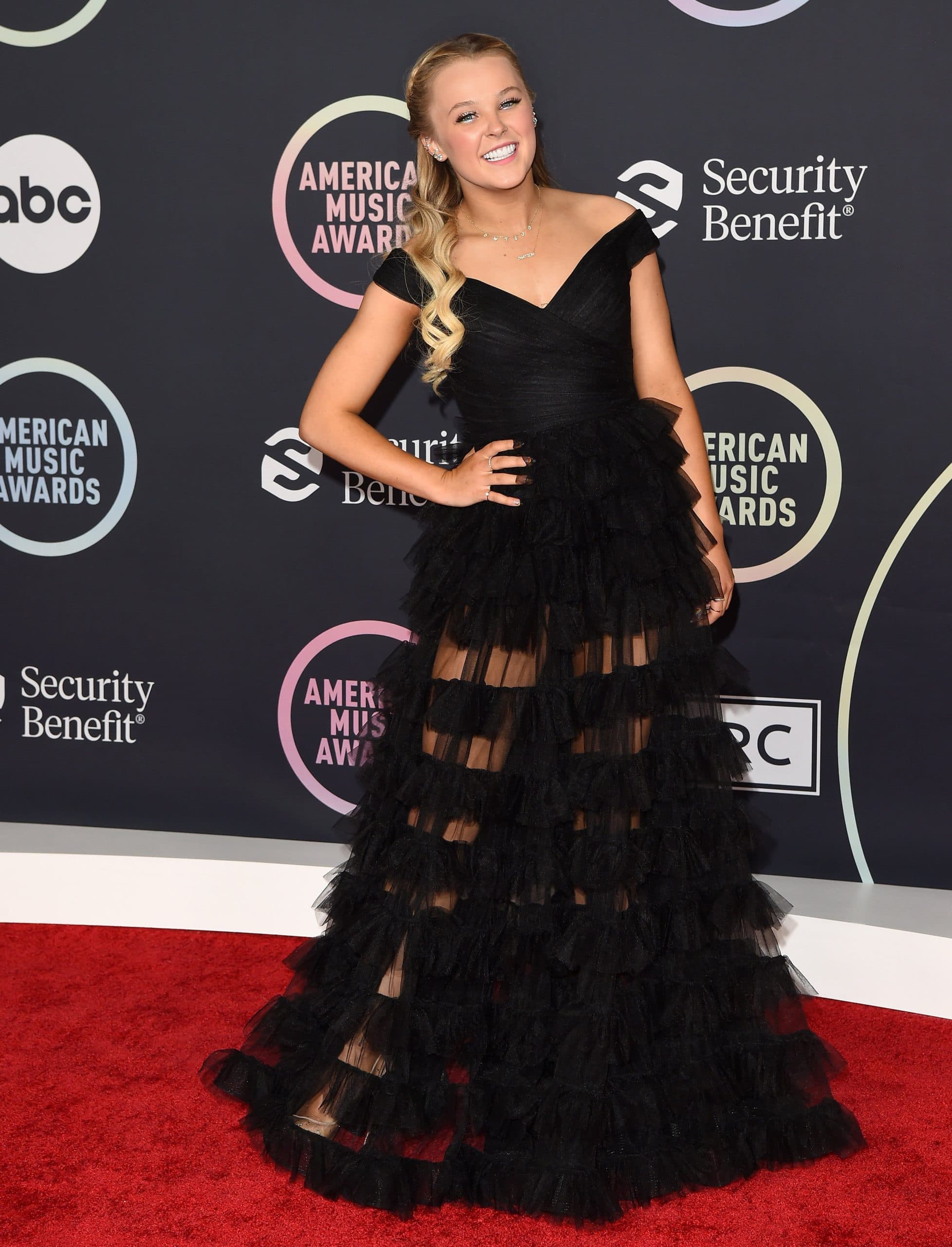 Jojo Siwa looks all glammed up in a black off-the-shoulder tiered ruffled gown (Credit: Mega / WENN)
"I'm in a dress and heels for the first time in my life," Jojo told People on the red carpet.
"When I knew I was coming to the AMAs, I was like, 'Oh, what am I going to wear?' because I have had this transition while being on Dancing with the Stars where I've gone from dressing like I normally dress to looking more adult. And I want to branch out of my comfort zone, and so today we went for a dress. I got some heels on."
Jojo Siwa wears heels for the first time at the 2021 AMAs (Credit: Mega / WENN)
She teamed her gown with a pair of sparkly nude sheer Christian Louboutin pumps. The shoes from the popular footwear designer were a gift from her DWTS partner Jenna Johnson.
Adding some accessories to the look, the Nickelodeon star wore several rings, multiple stud earrings, and delicate silver necklaces. One of which spelled out DWTS 30, which was most likely a nod to the season 30 of Dancing with the Stars, in which she's a finalist.
Jojo made history on the dance competition series as the first contestant to compete with a partner of the same sex.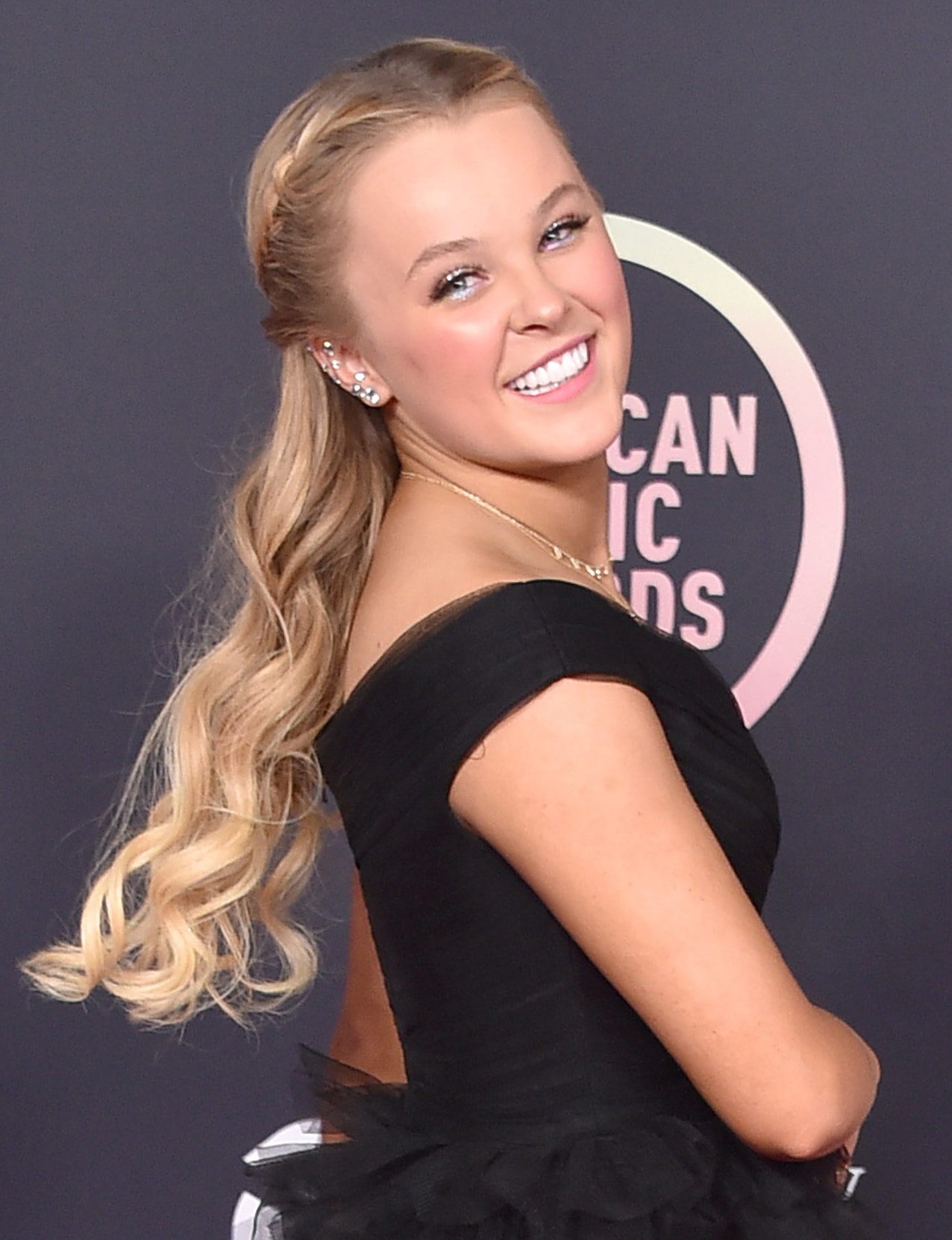 Jojo Siwa trades her ponytail for a wavy half-up, half-down hairstyle with glittery eyeshadow and soft pink lipstick (Credit: Mega / WENN)
Leaving her signature ponytail behind, Jojo Siwa instead styled her tresses in a half-up, half-down braided style. She went all out for the occasion and even painted her nails!
"I used to hate getting my nails done, literally never would do it. And then when Dancing With the Stars came around, I started to get them done. And these nails are actually for our performance that we're doing in the finale tomorrow. These are special."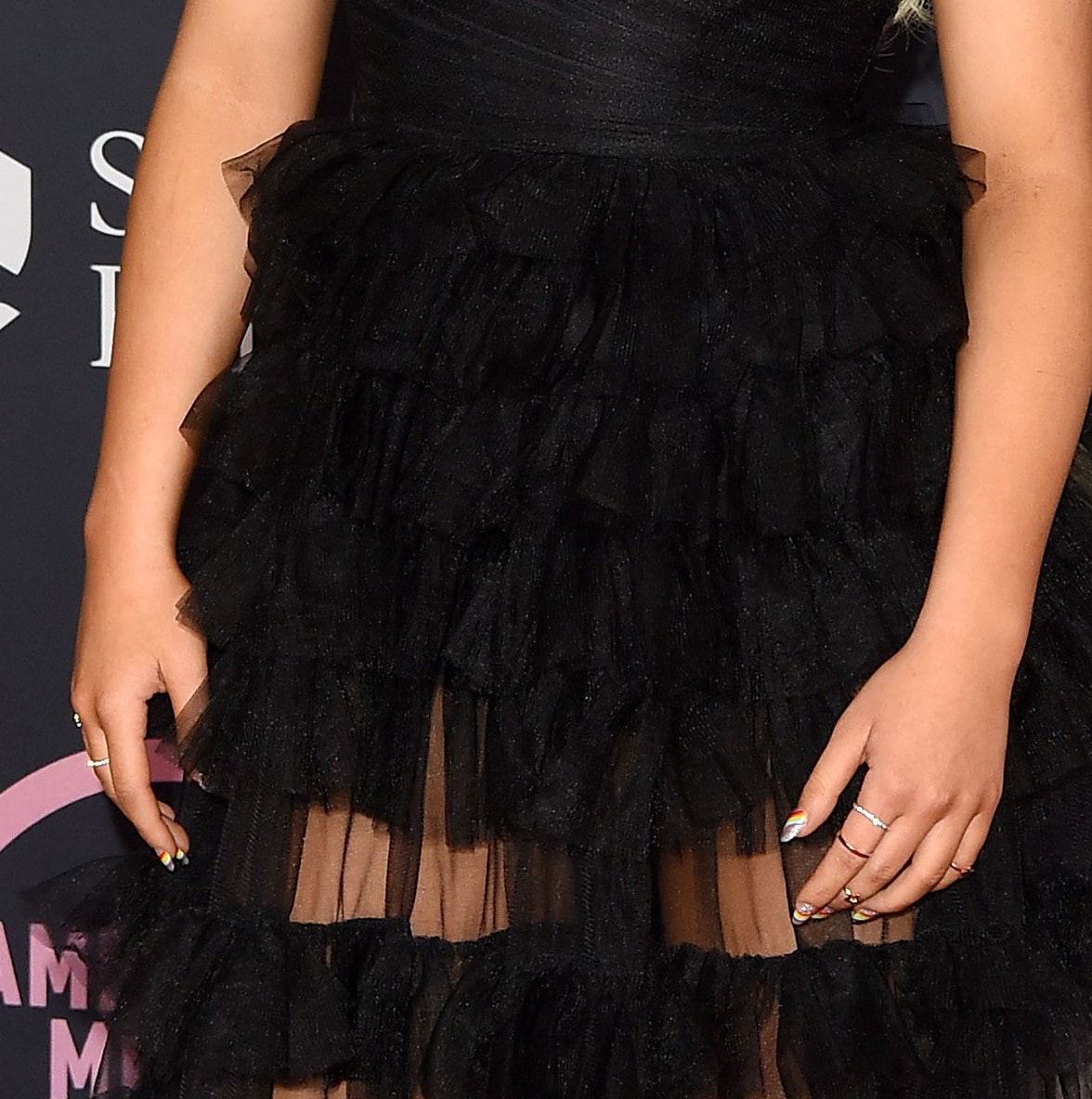 Jojo Siwa gets hair nails done for the AMAs and Dancing With the Stars Season 30 finale (Credit: Mega / WENN)