HBO Max subscribers can breathe a sigh of relief as the second season of The Flight Attendant starring Kaley Cuoco has finally started filming!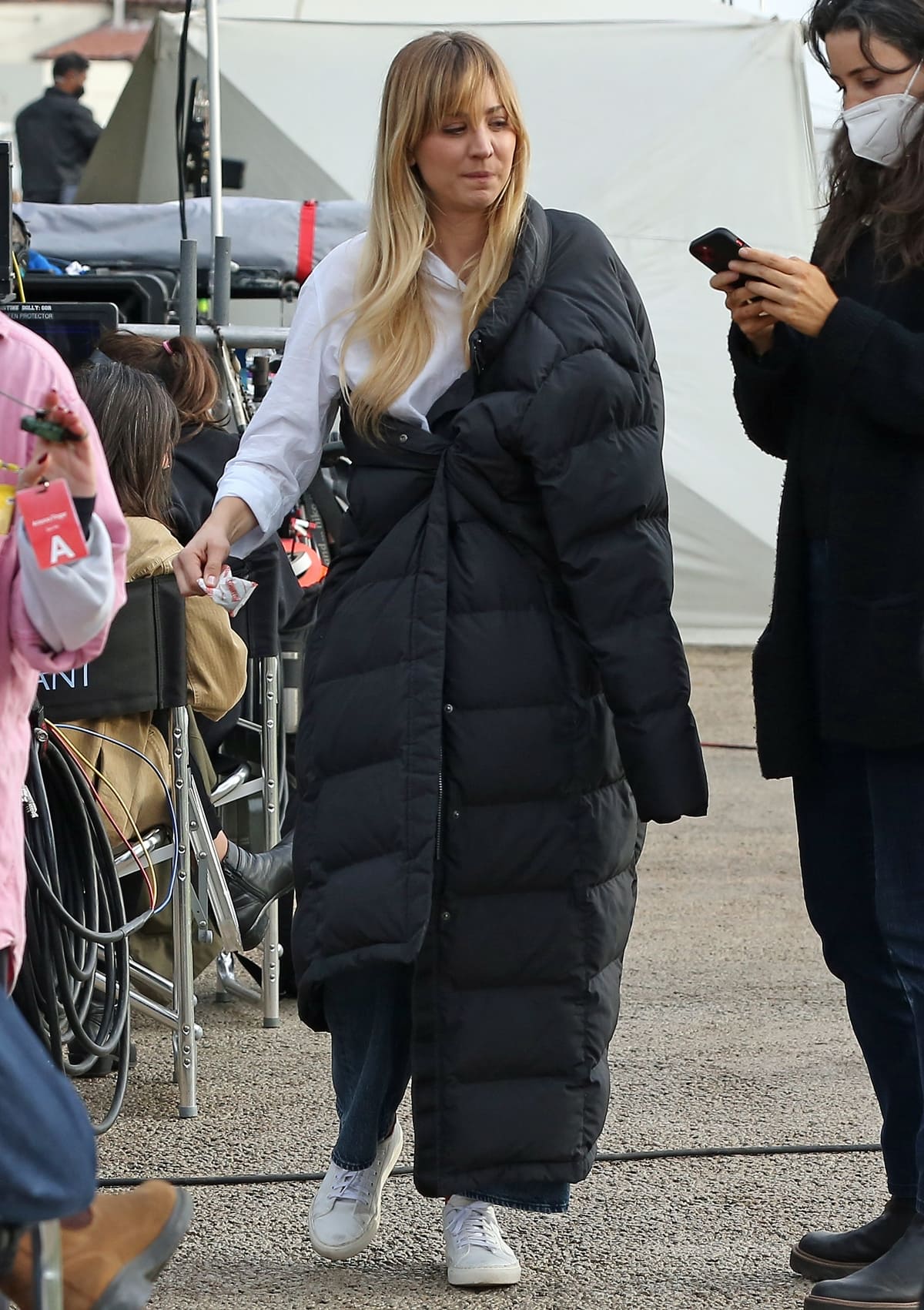 Kaley Cuoco filming the upcoming second season of her HBO Max series The Flight Attendant in Los Angeles on November 1, 2021 (Credit: MEGA / WENN)
The murder mystery series that debuted in 2020 has gained a lot of attention this year, securing multiple Emmy nominations and an award for its main title theme music.
Kaley Cuoco's Wardrobe in The Flight Attendant Is Turning Heads
One of the unsung players in The Flight Attendant is Catherine Marie Thomas, who is the costume designer for the series.
Kaley Cuoco wears an 'I Love New York' hoodie with a grey overcoat, cuffed faded denim jeans, and boots with the famous yellow Dr. Martens stitch while filming The Flight Attendant in New York City on September 25, 2021 (Credit: Avalon / WENN)
Kaley Cuoco's wardrobe has created a lot of buzz, including her uniform and garb while off the clock.
"We needed an outfit change — something that Cassie could've bought off the street — otherwise, she'd be in the same clothes forever," Cat Thomas told Refinery29 about filming the second season.
"I love this city so much, so [an 'I Love New York' sweatshirt] felt like the perfect fit."
They had to get permission from New York's Governor Andrew Cuomo to include the iconic "I Love New York" hoodie in the show.
What Designers Inspired Her The Flight Attendant Looks?
Thomas used inspiration from Diane von Fürstenberg and pieces from Max Mara, Marni, and Stella McCartney. Kaley's effortless beauty paired with these killer styles is a recipe for success.
Kaley Cuoco Brings The Flight Attendant to Life
Kaley Cuoco is largely responsible for the series being created as a television show.
Cuoco had only read a brief summary of the Chris Bohjalian novel before securing the television rights to the story. The novel hadn't even been published yet!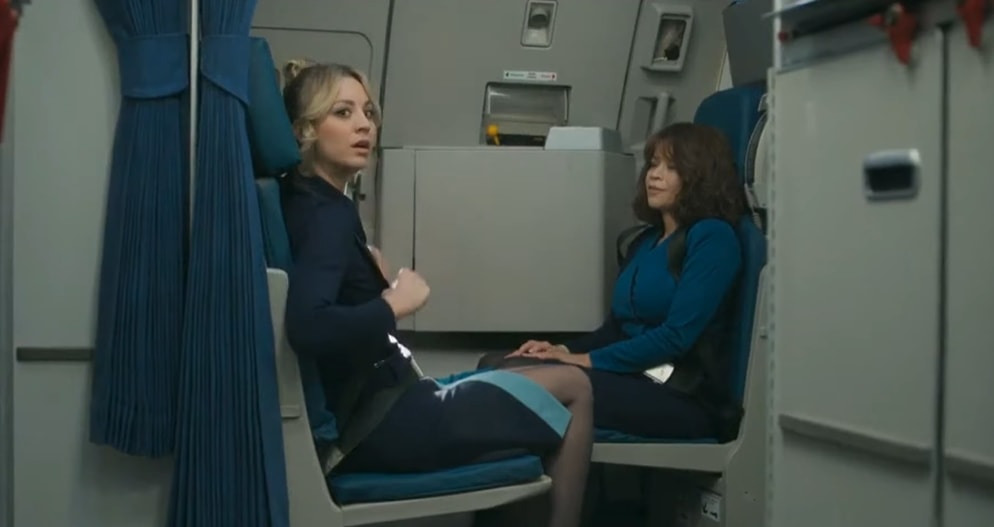 Kaley Cuoco wears pantyhose and a flight attendant uniform as Cassie Bowden in the American black comedy mystery thriller streaming television series The Flight Attendant (Credit: HBO)
"I have a very strong gut feeling, and when I saw this book and I was thinking of what the next project would be, 'Do I want to option something? What do I want to do?' When I saw this book and I read this girl, I thought, 'Oh my God, this would make a really fascinating TV character.' I just thought that it would… Then all of a sudden I was in New York shooting it, got a great team and three years later, it's amazing to see this come to life 'cause it really has been my baby," Cuoco told Entertainment Tonight.
"I loved everything about her," Cuoco added about portraying alcoholic flight attendant Cassie Bowden.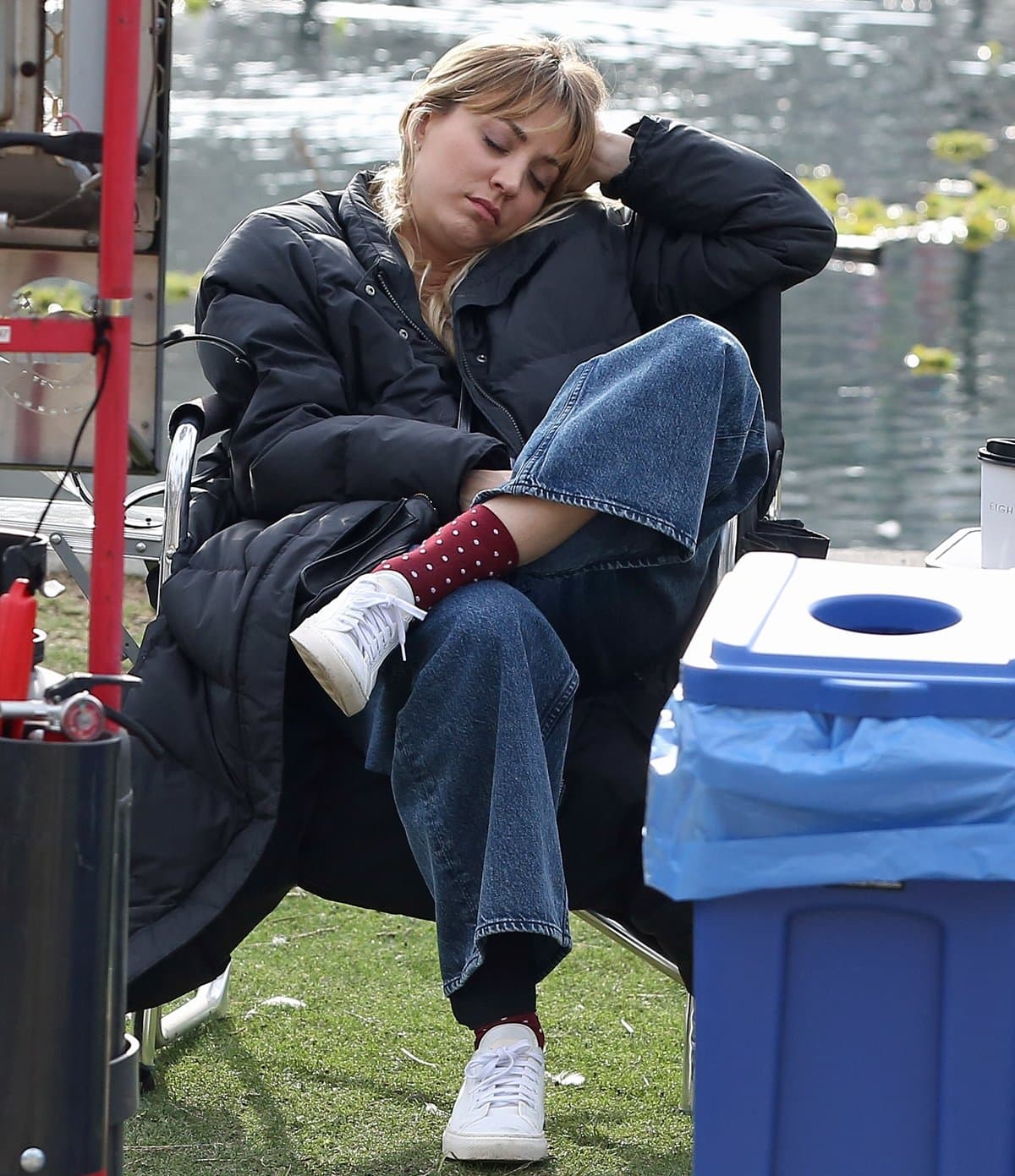 Kaley Cuoco sleeping on the set of The Flight Attendant (Credit: MEGA / WENN)
"Obviously this girl struggles and she's got a lot of emotional turmoil, and as we find out in the eight episodes, a lot goes back to her childhood, which is something she's been running from her entire life. And alcohol is what makes her escape from what has truly happened to her. The trauma of waking up [after] this murder, it's just adding on and bringing her back to her childhood."
What Has Kaley Cuoco Been Working on Lately?
Kaley Cuoco has been on a roll lately between starring in a new, successful television show, becoming an apparent fashion icon, and running her production company, Yes, Norman Productions.
She's also been lending her voice to Harley Quinn in the adult animated DC Comics spinoff. The third season is set to be released on HBO Max in 2022 after two successful seasons with DC Universe.
Kaley Cuoco Pairs Up With Pete Davidson in Meet Cute Rom-Com
Cuoco has just wrapped filming of Meet Cute, a romantic comedy starring both Kaley and actor-comedian Pete Davidson.
The film is about Kaley's character, Shiela, who stumbles upon a time machine that she uses to repeatedly alter the previous night's date.
Kaley Cuoco and Pete Davidson apparently shared some chemistry on the set and have a "very close friendship" following filming.
Pete Davidson and Kaley Cuoco filming Meet Cute in New York City on September 2, 2021 (Credit: MEGA / WENN)
Rumors started to fly this fall after filming was complete when Cuoco and her husband of three years dropped the announcement of their divorce filing in early September.
Recent events debunked the rumors, however, when Pete Davidson and Kim Kardashian had been seen together, presumably coupled, following Kim's appearance on Saturday Night Live.
Kaley Cuoco Crosses Off a Bucket List Item
Earlier this season, Cuoco dropped another bombshell on fans, tipping off Curb Your Enthusiasm that she would be appearing in season 11 of the show.
Kaley Cuoco guest stars as optometrist Heidi in The Watermelon, the 4th episode of Season 11 of Curb Your Enthusiasm (Credit: HBO)
"Yes it was a bucket list moment for me!" she wrote in her Instagram stories about the Larry David show.
She's going to be one among a handful of unexpected celebrity guests appearing on Curb this season, including Lucy Liu, Bill Hader, and Jon Hamm.
Kaley Cuoco wears her hair in a topknot at the 2016 PaleyFest panel for The Big Bang Theory held at Dolby Theatre on March 16, 2016, in Hollywood (Credit: Dave Starbuck / Future Image / WENN)
In March 2016, Kaley Cuoco traded her typically sexy and daring style for something much edgier and playful at the 2016 PaleyFest panel for "The Big Bang Theory" held in Los Angeles.
Joined by her co-stars Jim Parsons, Mayim Bialik, Johnny Galecki, Simon Helberg, and Kunal Nayyar, the homeschooled actress covered up in a loose-fitting black frock from Jonathan Simkhai's Spring 2016 collection.
Kaley Cuoco shows off her legs in a loose-fitting black-and-white Jonathan Simkhai dress (Credit: Dave Starbuck / Future Image / WENN)
The simple-but-chic thigh-skimming dress featured billowy three-quarter sleeves, white contrasting neck trim, and white scalloped cutout detail on the hem and waist.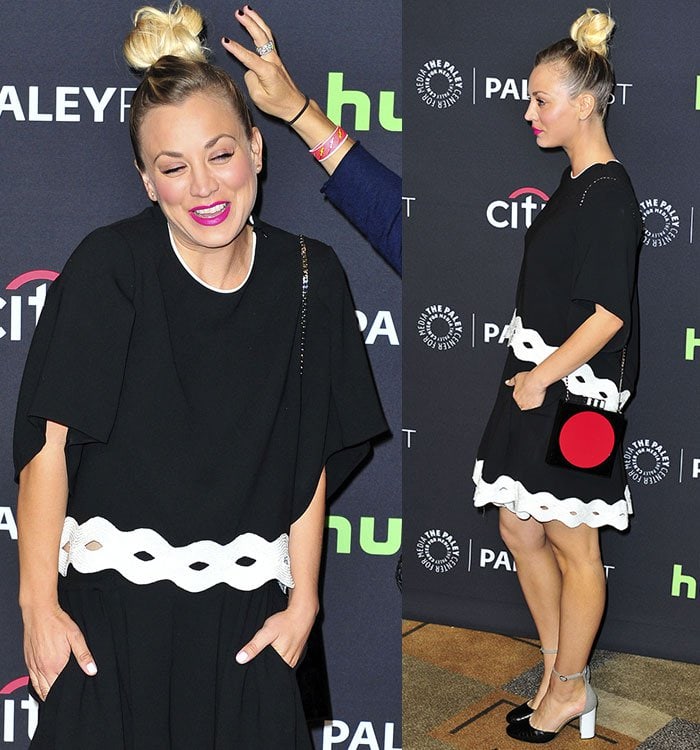 Kaley Cuoco laughs as a hand touches her blonde hair at PaleyFest (Credit: Dave Starbuck / Future Image / WENN)

Kaley carried a small black bag that featured a unique red dot design and slipped her feet into a pair of tri-tone Myra pumps by Kurt Geiger London.
She pulled her hair up into a top knot to draw attention to her bold makeup, which included hot pink lipstick and plum eyeshadow.
Kaley Cuoco carries a red-embellished bag and wears bright pink lipstick (Credit: Dave Starbuck / Future Image / WENN)
These 3.5-inch heels feature a classic color combination of black, white, and gray. They have crocodile-printed round toes, gray ostrich backstay, and ankle straps.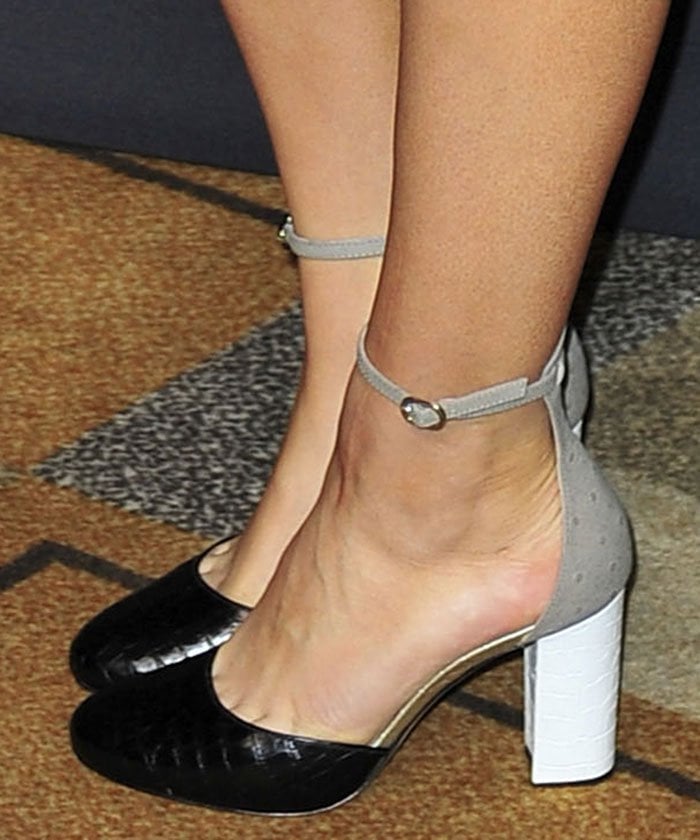 Kaley Cuoco's feet in Kurt Geiger sandals (Credit: Dave Starbuck / Future Image / WENN)
You can get these Kurt Geiger pumps in two color versions at Nordstrom and Zappos. Which version is your favorite?
Kurt Geiger London "Myra" Sandals, $280