In a joint statement issued on September 3, Kaley Cuoco and Karl Cook announced they are breaking up after three years of marriage. The same day, she filed for divorce in Los Angeles Superior Court.
"Despite a deep love and respect for one another, we have realized that our current paths have taken us in opposite directions," they said in their divorce announcement.
Kaley Cuoco and Karl Cook announced their split on September 3, 2021, after three years of marriage (Credit: Sheri Determan / WENN)
"We have both shared so much of our journey publicly so while we would prefer to keep this aspect of our personal life private, we wanted to be forthcoming in our truth together. There is no anger or animosity, quite the contrary," they added.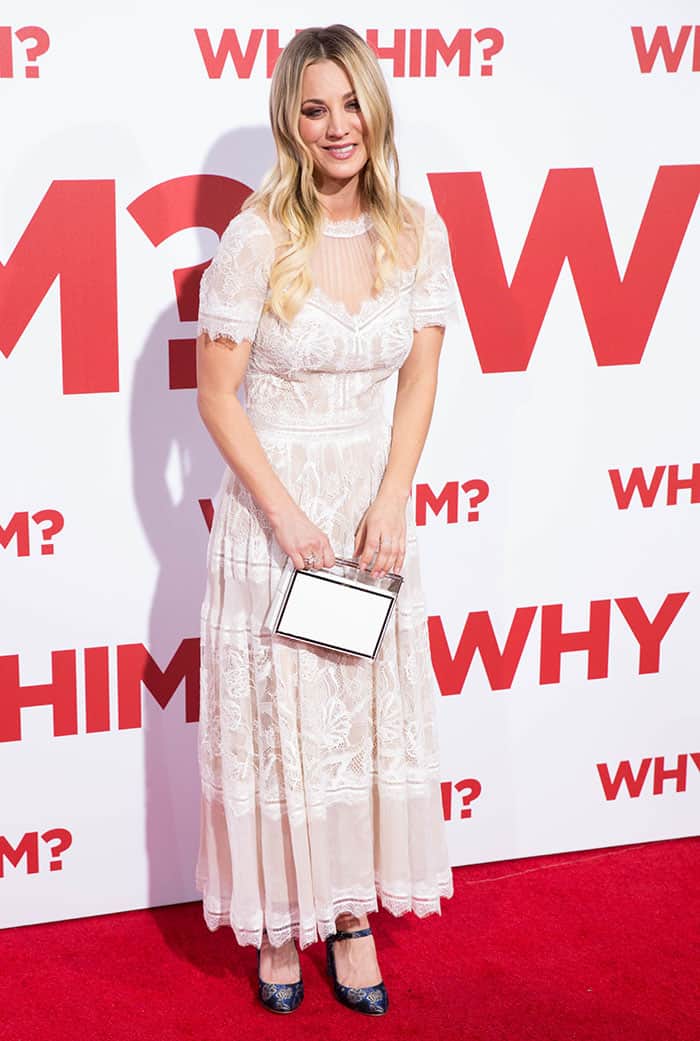 Kaley Cuoco never thought she'd get married again after her divorce from tennis player Ryan Sweeting (Credit: Valerie Brooks / WENN)
"We have made this decision together through an immense amount of respect and consideration for one another and request that you do the same in understanding that we will not be sharing any additional details or commenting further," they concluded.
The divorce announcement came as a shock to many of their friends. "In the beginning of the summer, Kaley seemed very happy with Karl. They were affectionate and seemed great," a source told People. "The split seems very sudden. It's pretty shocking."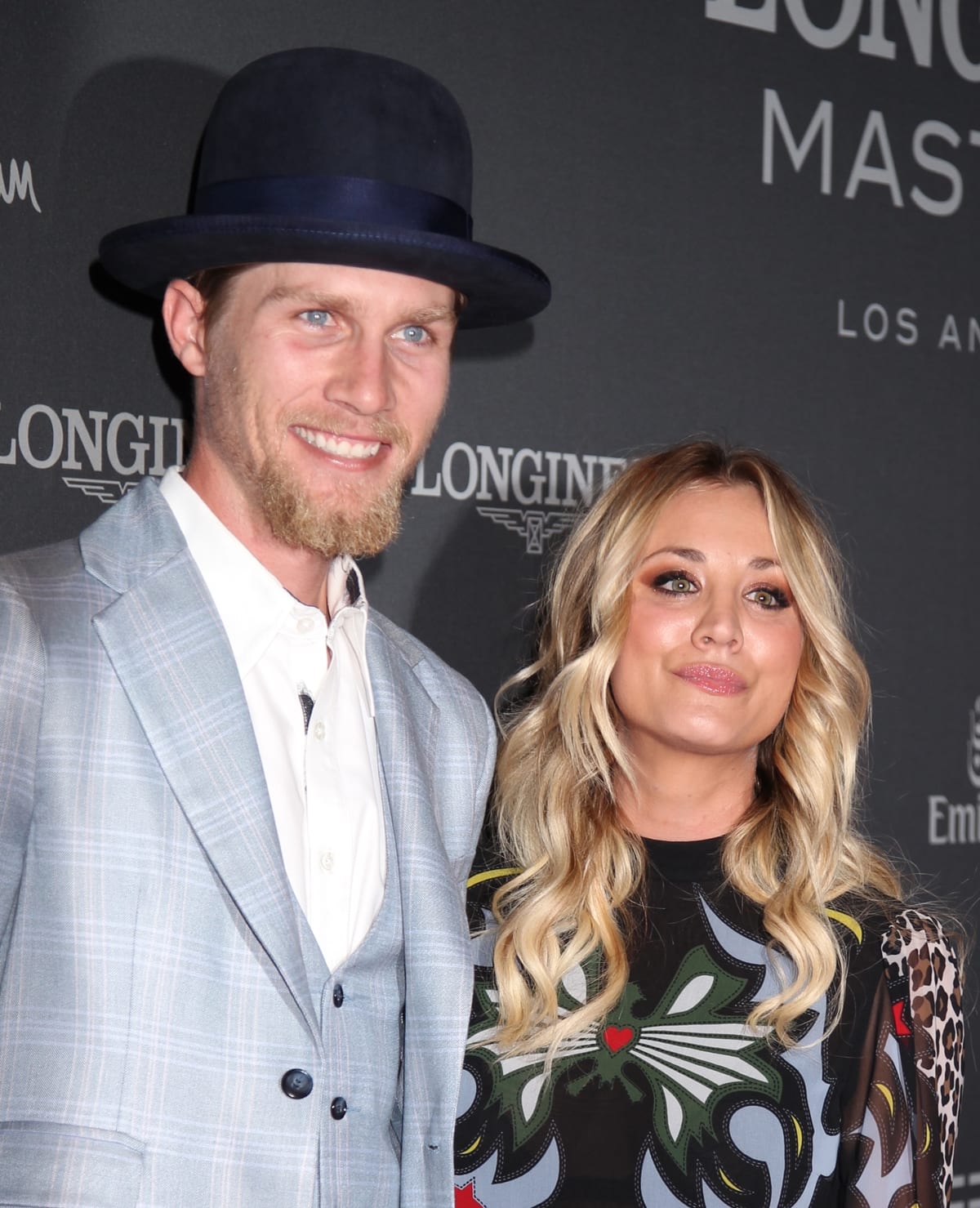 Equestrians Kaley Cuoco and Karl Cook started dating Cook in 2016 and got engaged on her birthday in November 2017 (Credit: FayesVision / WENN)
According to Us Weekly, the Flight Attendant actress has an "ironclad prenup." She is believed to have a net worth of $100 million.
Karl Cook is the son of Intuit founder Scott David Cook, who founded the financial software company in 1983 with Tom Proulx in Palo Alto, California. According to Forbes, businessman Scott David Cook has an estimated net worth of $5.9 billion.
"NY, June 30th, 2016 is the year we met," Kaley captioned a black-and-white photo shared on Instagram on June 30, 2021.
"2 years to the day before we got married and now 3 years married!" Cuoco wrote about their anniversary. "Why have you stayed married to me for so long?! I'm sincerely impressed @mrtankcook lol I love you oh so much you have no idea…happy anniversary!!!"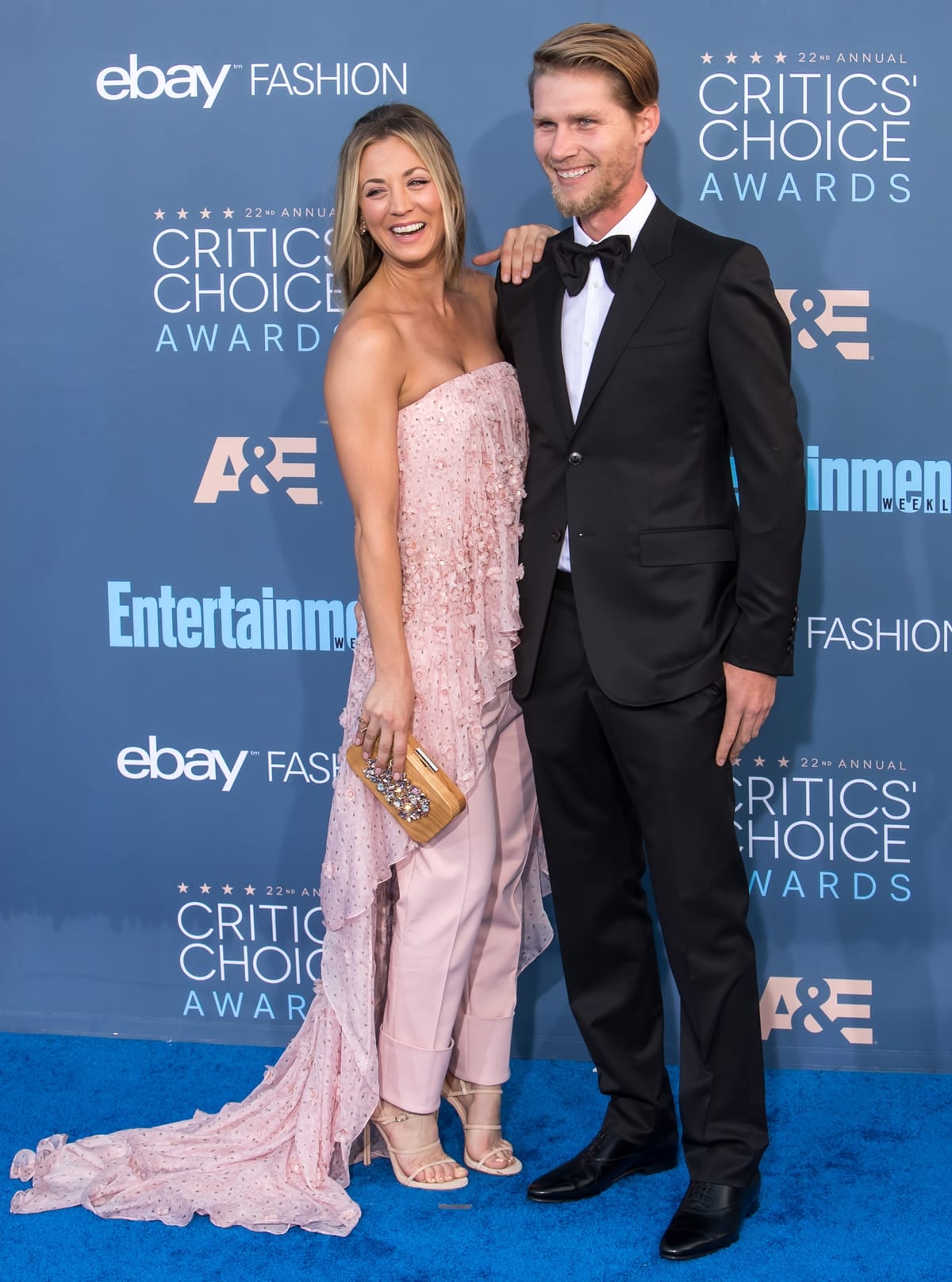 Kaley Cuoco and Karl Cook married on June 30, 2018, in a ceremony at a horse stable near San Diego, California (Credit: Michael Boardman / WENN)
While they tied the knot on June 30, 2018, the couple didn't live together until the spring of 2020.
"I have the best relationship with Karl. We are so happy," she said about their unconventional arrangement on the "Brad Behavior" podcast in 2019. "But we have separate lives and then our lives come together and he's so supportive of me. He lets me be me, and I let him be him."
"We are so excited," the high school graduate said about moving in with her husband.
"We have not spent an evening in it yet. Actually, Karl's been at home, and I've been like, 'Why don't you stay at the house?' But he's waiting for me to get there and have all the animals there."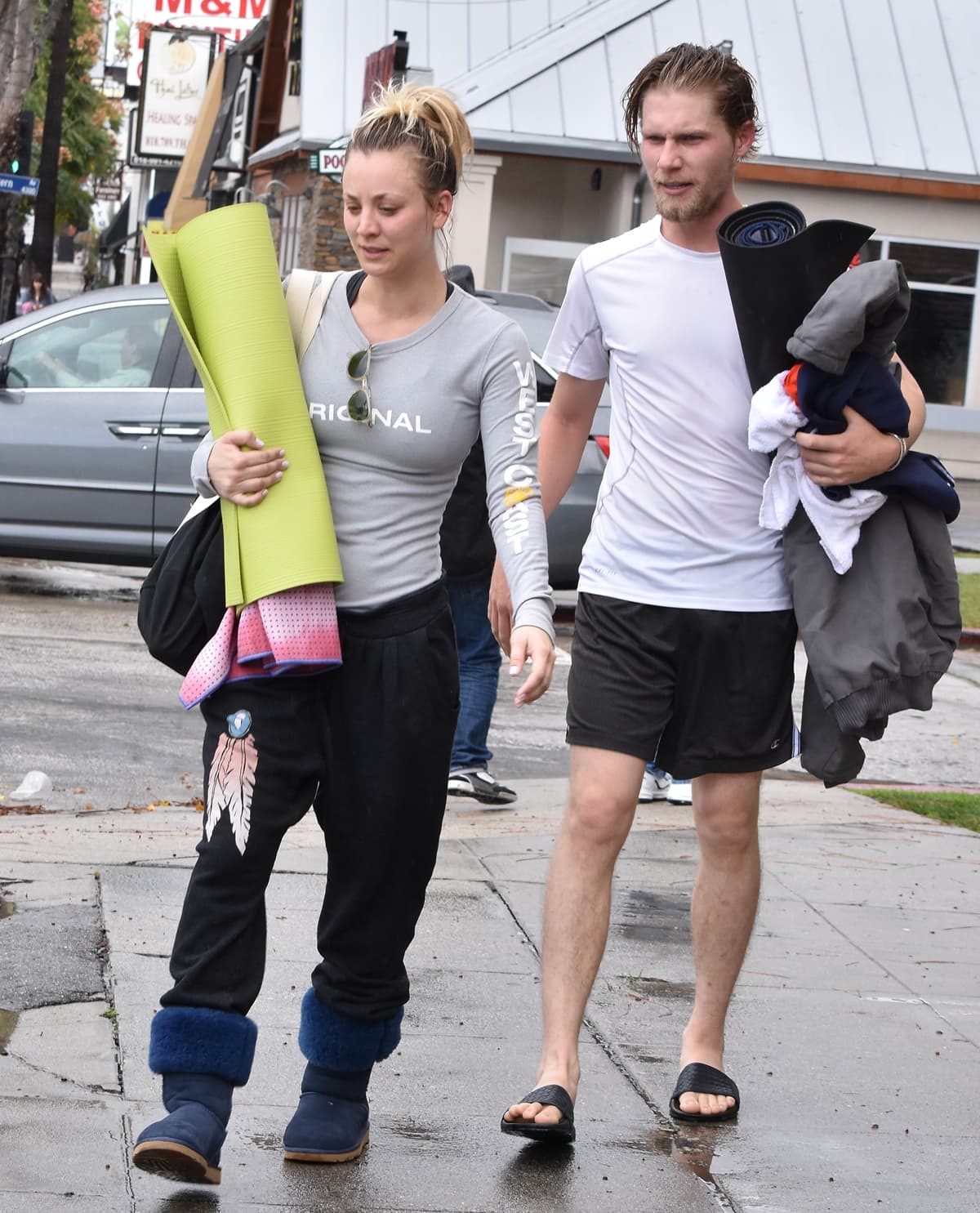 Kaley Cuoco and Karl Cook did not live together for much of their marriage (Credit: WENN)
Kaley Cuoco, who lent her voice to the artificial intelligence character Justine in the 2016 American Christmas comedy film Why Him?, attended the premiere of the romantic-comedy film in December 2016 at the Regency Bruin Theatre in California.
The then 31-year-old actress looked lovely in a white Tadashi Shoji Spring 2017 dress as she posed up a storm on the red carpet.
The Big Bang Theory star was accompanied by her equestrian then-boyfriend Karl Cook, who was dapper in a checked suit with a white shirt underneath.
Kaley Cuoco and Karl Cook met at a horse show in California in March 2016 (Credit: Apega / WENN)
"He's so cute!" Cuoco told ET about her boyfriend. "[Why him?] Because he's perfect!"
They met at a horse show in March 2016 after her split from her husband Ryan Sweeting, whom she divorced in September 2015 after 21 months of marriage.
"It was great because he never kissed my ass at all, and he never cared about any of that," she told Women's Health in 2018. "He loved that I loved horses. It became a big talking point for us."
Kaley Cuoco and Karl Cook at the premiere of "Why Him?" in Los Angeles on December 17, 2016 (Credit: Apega / WENN)
"I finally found my horse guy," Kaley said during a September 2016 appearance on The Talk. "It was very meant to be. He's an amazing rider, an amazing equestrian, and a great human. We shared a passion for horses and dogs. … It's been lovely."
Kaley showcased her dainty feminine style in a delicate organza lace frock, which featured a high neck, patterned embroidery, and a modest ankle-length hem.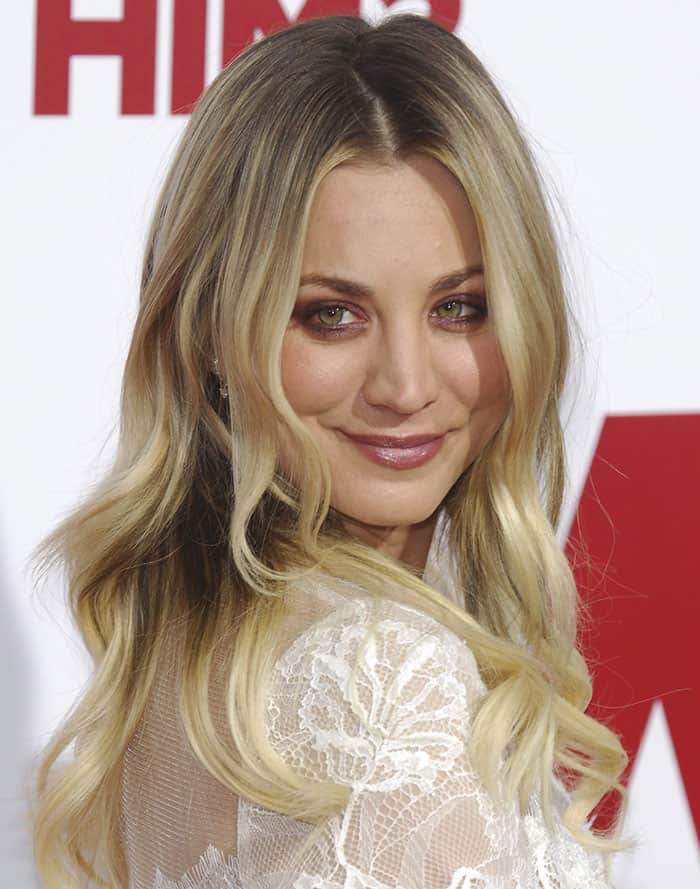 Kaley Cuoco is a natural blonde and has had blonde hair for most of her life (Credit: Apega / WENN)
She styled the look with minimal pieces of jewelry — including a pair of Sylva & Cie earrings — to let her outfit do the talking. The actress rounded out her ensemble with a rectangular metallic white Naeem Khan clutch and a pair of blue pumps.
Kaley wore her blonde locks down in waves, framing her beautifully made-up face. She accentuated her features with pink blush, smoky eye-makeup, and pink lipstick.
Kaley Cuoco in a floral lace crinkled chiffon dress from Tadashi Shoji's Spring 2017 collection (Credit: Apega / WENN)
Kaley slipped into a pair of Via Spiga Mary Jane pumps. These navy pumps feature oriental-inspired embroidery, adjustable ankle straps, and about 3.5-inch block heels.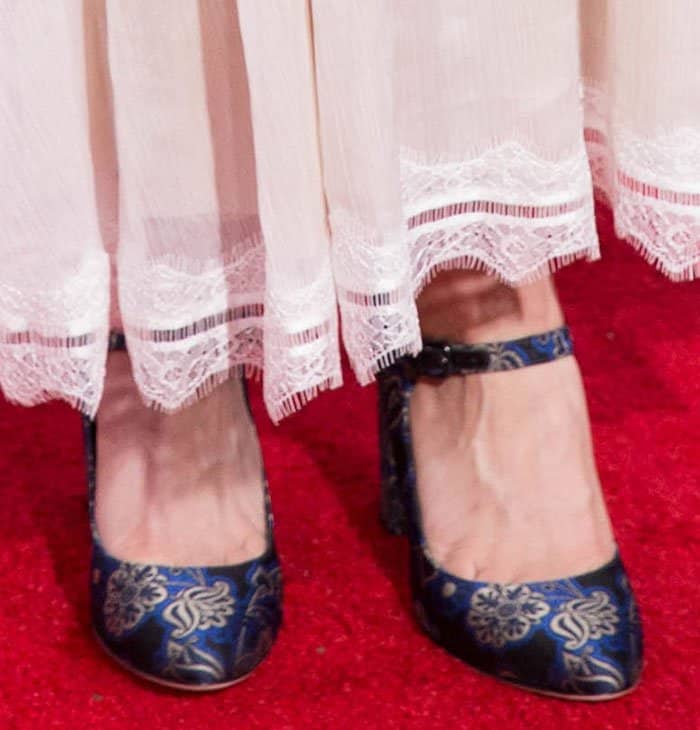 Kaley Cuoco shows off her feet in oriental-inspired Via Spiga pumps (Credit: Apega / WENN)
You can check out these Via Spiga pumps in different versions at Amazon and Nordstrom.
Via Spiga Deanna Mary Jane Pumps, $81.67 – $195.00