Originally rejected from the series due to her age, Kaley Cuoco appeared to be in high spirits while posing for photos on the red carpet together with her "The Big Bang Theory" co-stars at the 2016 People's Choice Awards in Los Angeles.
Kaley Cuoco wears her blonde hair down at the People's Choice Awards 2016 at Microsoft Theater on January 6, 2016, in Los Angeles, California
"I didn't get [the role of Katie] the first time around. I was too young, which I love saying because I don't get to say that I'm too young anymore. [Laughs]. Then, a year later, I heard they were doing it again, and they brought me back in to read for Penny," Kaley said in an interview with TV Insider.
Kaley Cuoco was 21-years-old when The Big Bang Theory first aired in 2007
Portraying Penny Hofstadter, a Cheesecake Factory employee and mostly unsuccessful actress who lives across the hall from physicists Dr. Leonard Hofstadter (Johnny Galecki) and Dr. Sheldon Cooper (Jim Parsons), she eventually ends up marrying Leonard.
Her first appearance was in the pilot episode and series premiere that aired on September 24, 2007, when Kaley was 21-years-old. Born on November 30, 1985, in Camarillo, California, she turned 22 on November 30, 2007.
Her final appearance was in "The Stockholm Syndrome," the series finale and the twenty-fourth episode of the twelfth season. It aired on May 16, 2019, when Kaley Cuoco was 33-years-old. She turned 34 on November 30, 2019, and reportedly earned up to $1 million per episode of the television sitcom.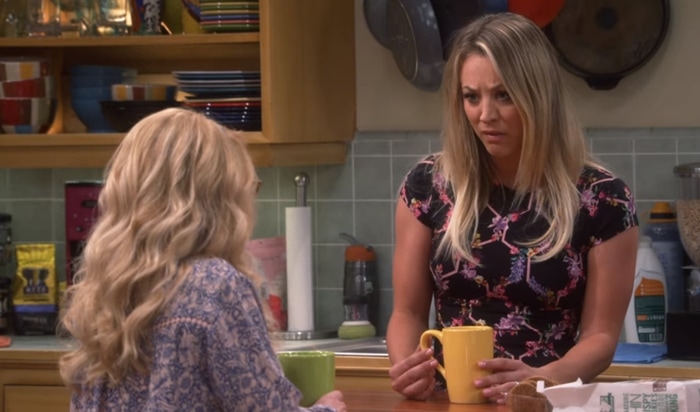 Kaley Cuoco was 33-years-old when the last episode of The Big Bang Theory aired in 2019
The CBS American sitcom was voted Favorite TV Show and Favorite Network TV Comedy. Kaley was nominated for Favorite Comedic TV Actress but lost to Melissa McCarthy.
(L-R) Melissa Rauch, Johnny Galecki, Kaley Cuoco, Simon Helberg, Jim Parsons, Mayim Bialik and Kunal Nayyar, winners of Favorite Network TV Comedy and Favorite TV Show for 'The Big Bang Theory', pose in the press room at the 2016 People's Choice Awards
The then 30-year-old actress was hard to ignore in a sparkling navy blue and purple sequined minidress by Australian label Manning Cartell.
The glitzy sleeveless number featured black sheer mesh panels around the hem and at the décolletage, which offered a slightly obstructed view of Kaley's cleavage.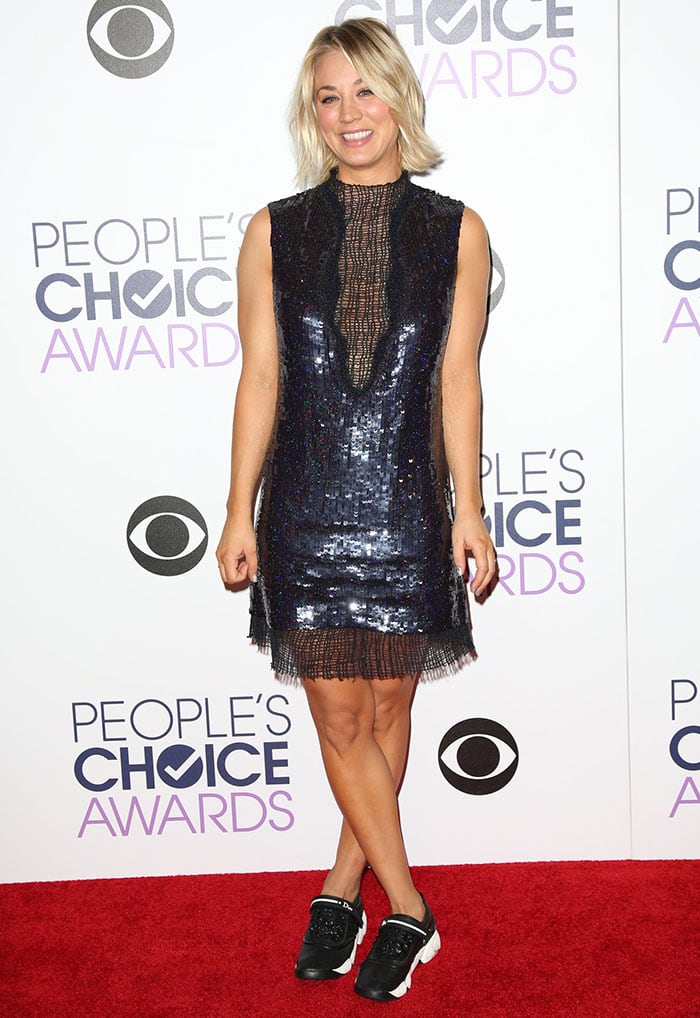 Kaley Cuoco wears a sparkling Manning Cartell dress on the red carpet
Kaley kept her accessories to a minimum and allowed her dress to take the center stage. Surprisingly, she traded in the standard red carpet style choice of towering heels for a comfy and casual pair of sneakers.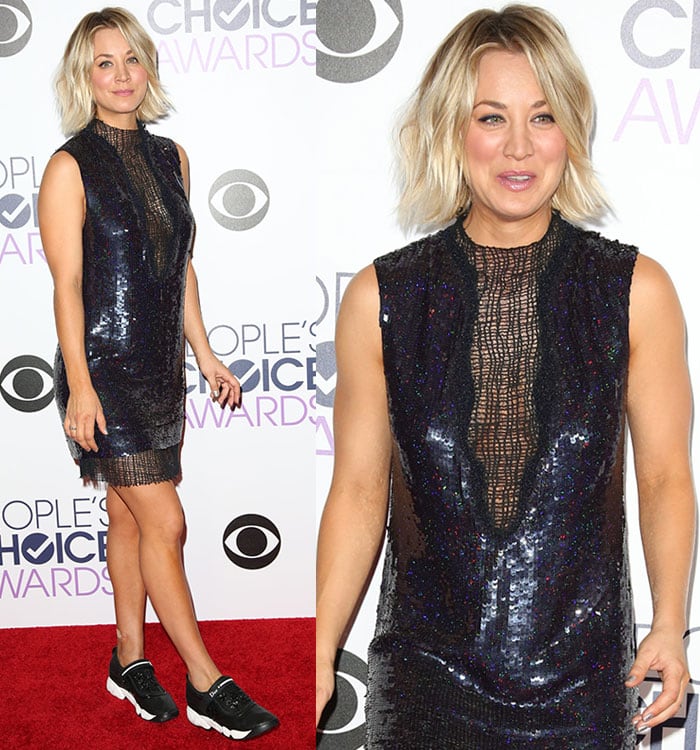 Kaley Cuoco pairs a sparkling dress with a comfy pair of Dior sneakers
She finished off her look with a shoulder-length bob and minimal makeup.
Kaley Cuoco sparkles in Manning Cartel and Dior on the red carpet
Kaley's sneakers are from Dior's Cruise 2016 collection. They are made of nappa leather and feature hand-embroidered floral appliques, hook-and-loop fastenings, and white rubber soles.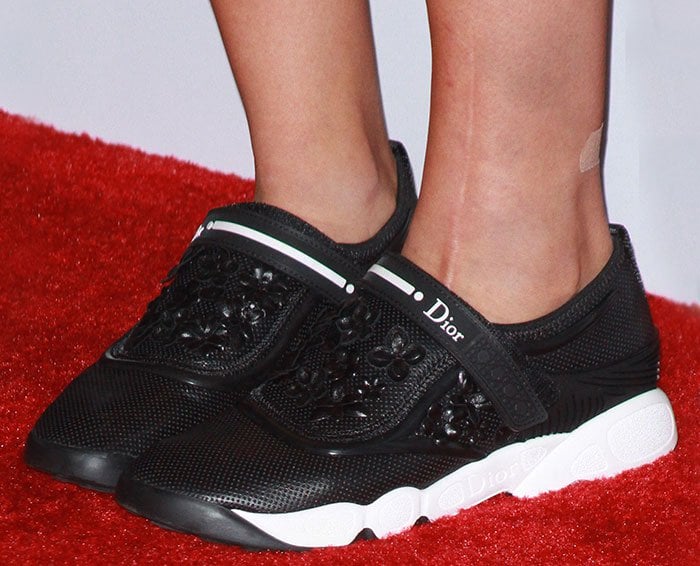 Kaley Cuoco's feet in black Dior sneakers
We have not found these Dior shoes online, but rumors say they retail for about $1,100. You can find great alternatives at Shopbop and Nordstrom.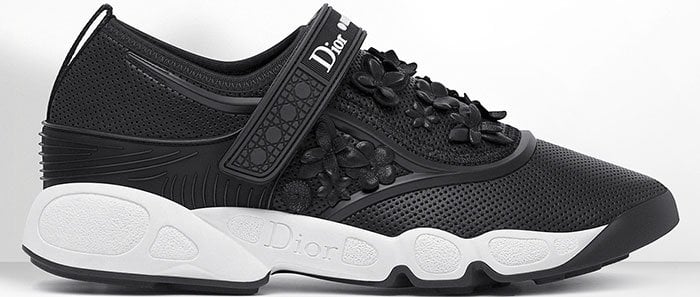 Dior "Fusion" Cruise 2016 Sneaker
Credit: Brian To / Dave Bedrosian / Future Image / WENN