Starring as Susan Cooper in Spy, a 2015 American action comedy spy film, one of the most memorable scenes is from Melissa McCarthy's visit to a high-end restaurant.
Melissa McCarthy tries to eat a hand towel in the action-comedy spy film Spy
While going undercover at a dinner date with another agent, played by Jude Law, she tries to eat a compressed hand towel that she mistakes for something edible.
According to director Paul Feig, the scene is based on a true story. He shared the details with the entertainment news website Hollywood.
That's actually a true story – I was in a restaurant in London and I saw everyone was getting these little discs at the end of the meal and I saw them rising, but then I didn't see what happened so they brought it to our table and they did it, and I was like, 'Oh good, they're marshmallows, I can't wait.'

I pick it up to eat and the guy who did it (server) was just staring at me, so I put it in my mouth and I eat it, and I'm chewing it and all this hot and soapy water is going down my throat and I'm like, 'Is this (edible)…?' He goes, 'It's a hand towel.' "Really? You couldn't have told me before I put it in my mouth? So now it's in the movie!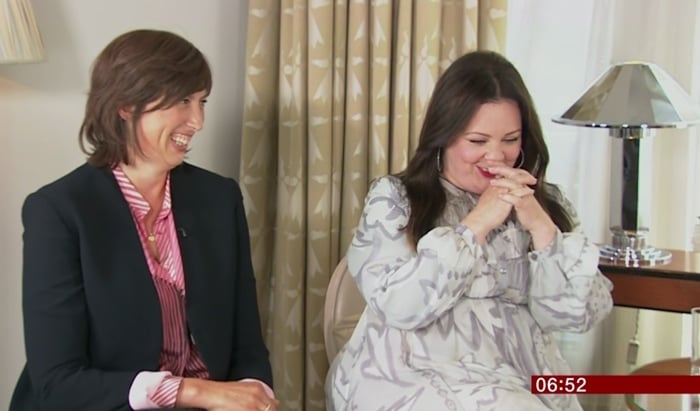 Miranda Hart and Melissa McCarthy promoting their film Spy on BBC Breakfast
In January 2016, Melissa McCarthy looked noticeably slimmer at the 2016 People's Choice Awards held at the Microsoft Theatre L.A. Live in Los Angeles.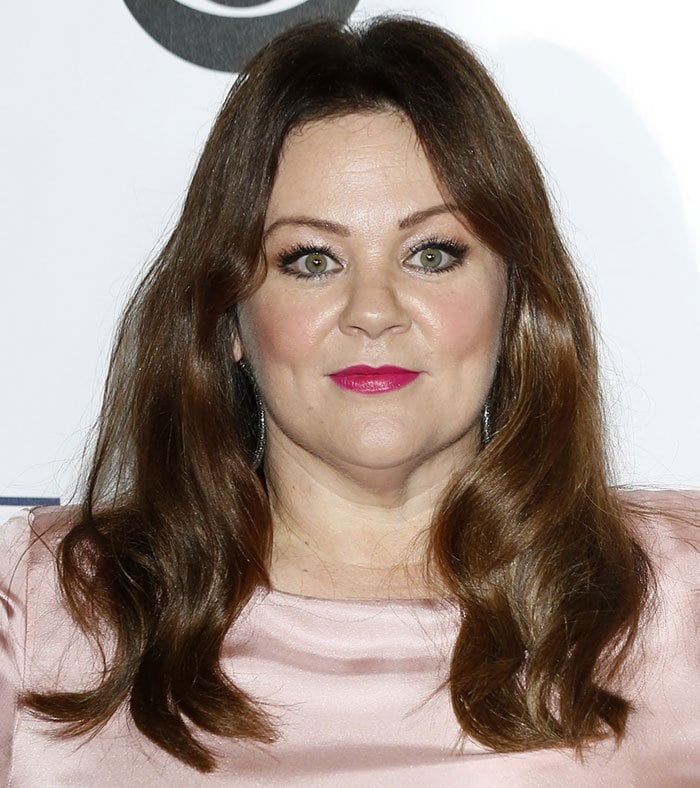 Melissa McCarthy wears her hair down at the 2016 People's Choice Awards held January 6, 2016, at the Microsoft Theatre L.A. Live in Los Angeles
The then 45-year-old actress wasn't one of the best-dressed stars at the event, but she certainly looked confident and beautiful in a two-piece outfit from her clothing collection.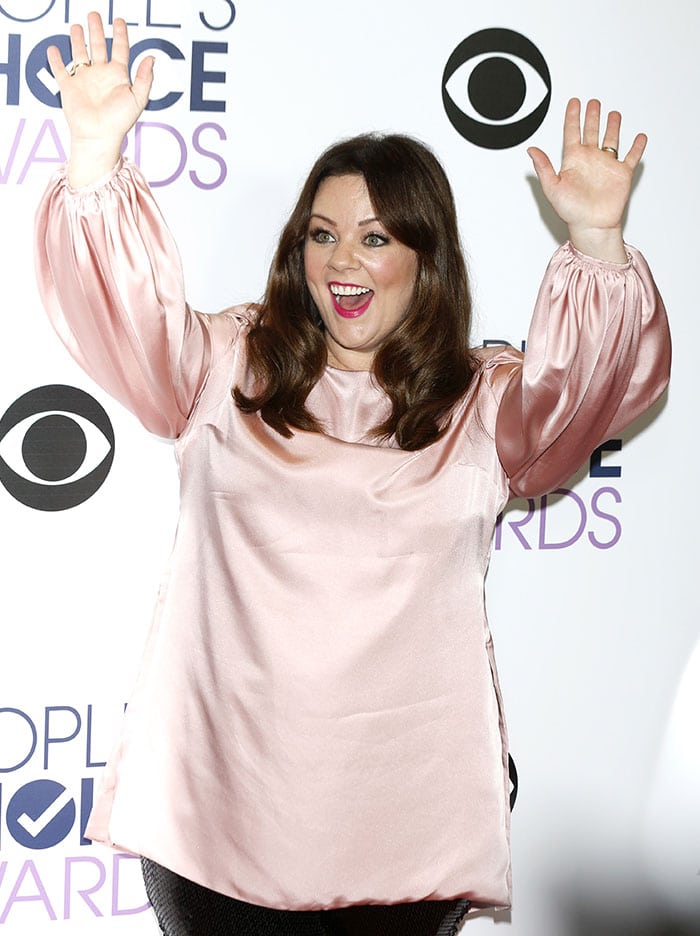 Melissa McCarthy raises her hands and shows off a pale pink blouse from her own clothing collection
She donned a drape-y pale pink tunic-style blouse with bishop long sleeves paired with a more flattering pair of black sequined cigarette trousers.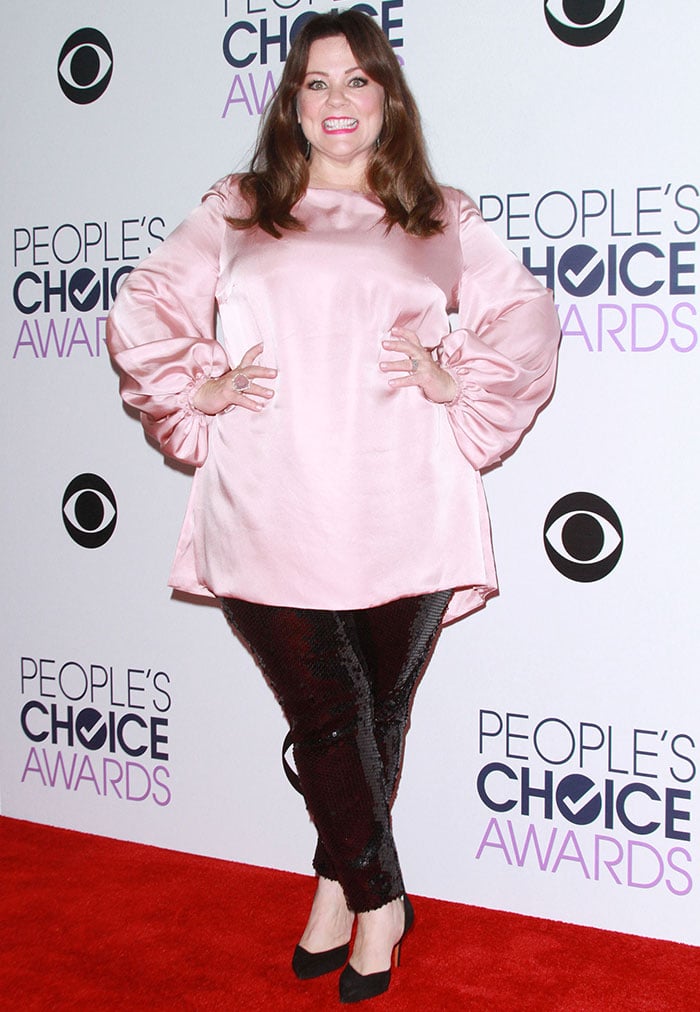 Melissa McCarthy pairs her pale pink tunic with a pair of black sequined cigarette pants
The star of "The Heat" accessorized with a pair of hoop earrings and a rose quartz ring that matched her blouse. She wore her hair in loose curls, which framed a face made up with hot pink lips and lined eyes.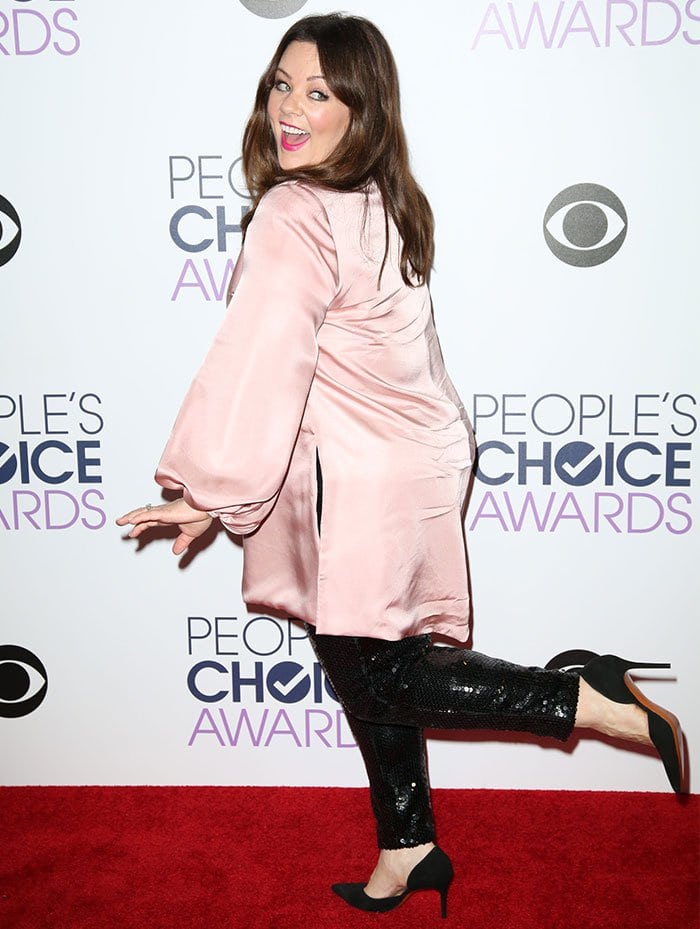 Melissa McCarthy goofs around on the red carpet
Melissa took to the stage to accept the Favorite Comedic Movie Actress award for "Spy" and Favorite Comedic TV Actress award for "Mike & Molly." She also presented Ellen DeGeneres with the award for Favorite Humanitarian.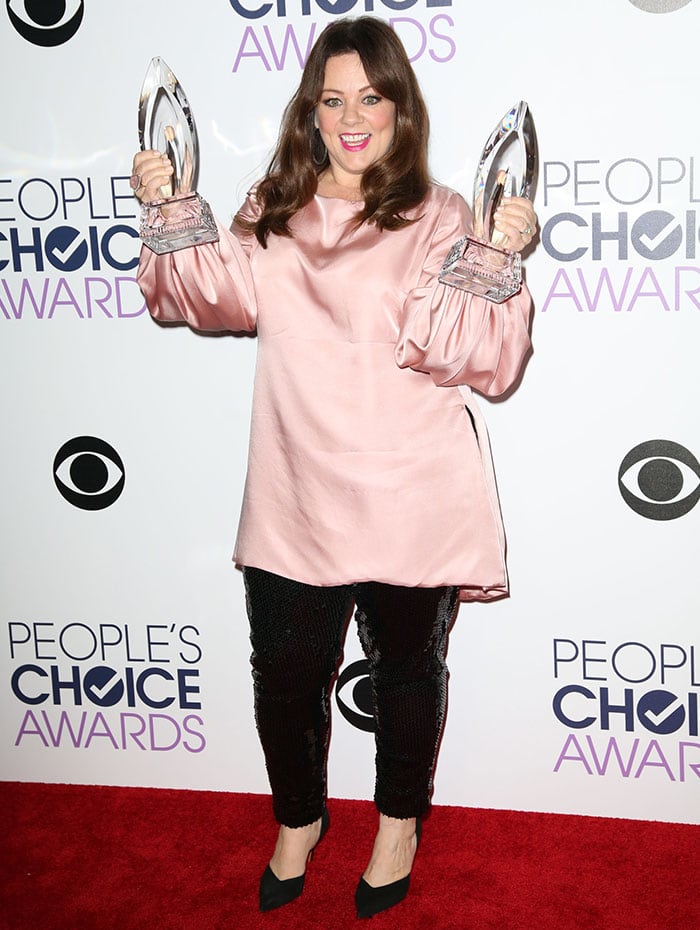 Melissa McCarthy poses with her awards on the red carpet
The mother-of-two rounded out her look with a pair of black suede pumps by Celine.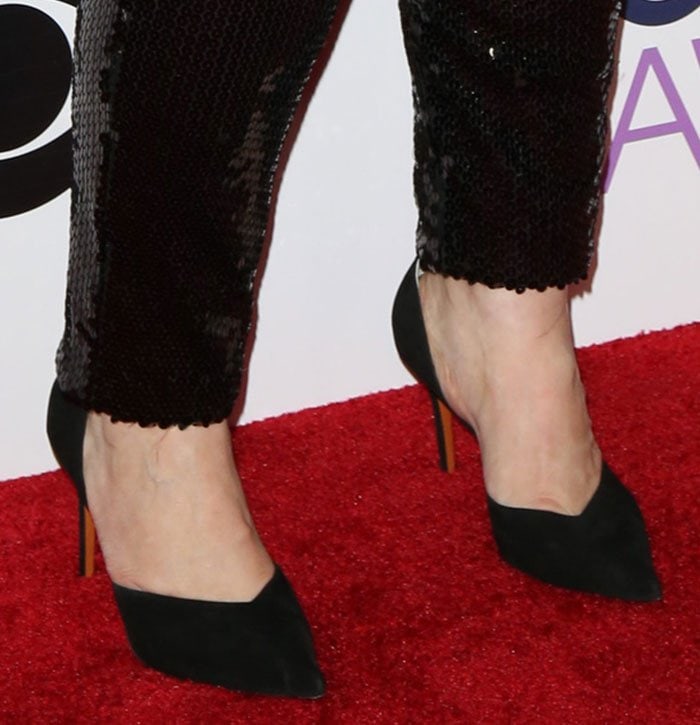 Melissa McCarthy reveals toe cleavage in black pointy toe pumps
They featured d'Orsay silhouette, pointed toes, and about 3.5-inch heels.
Melissa McCarthy's feet in Celine pumps
Credit: Brian To / Dave Bedrosian / Future Image / Adriana M. Barraza / WENN