Even many of her fans don't know that Abigail Spencer guest-starred as Blah Blah (actual name Carol) in two episodes of the American sitcom How I Met Your Mother (often abbreviated as HIMYM).
She appeared in "How I Met Everyone Else," the fifth episode in the third season, and "Gary Blauman," the 21st episode of the ninth season. Abigail's character meets Ted Mosby (played by Josh Radnor) while playing World of Warcraft.
Abigail Spencer as Blah Blah (Carol) in How I Met Your Mother
"How I Met Everyone Else" originally aired on October 22, 2007, when Abigail Spencer was 26-years-old. She was born on August 4, 1981, in Gulf Breeze, Florida. "Gary Blauman" aired on March 17, 2014, when she was 32-years-old.
Since Jennifer Lawrence's infamous photobomb during Taylor Swift's Golden Globes interview, more and more celebrities are taking a more relaxed approach to all the formalities happening backstage. Like…Abigail Spencer.
Abigail Spencer wears her hair back at the People's Choice Awards 2016 at Microsoft Theater on January 6, 2016, in Los Angeles, California.
In January 2016, the "Suits" actress had her own moment on the red carpet before her epic photobomb at the 2016 People's Choice Awards.
Abigal Spencer matches her red Alexa Maria dress to the red carpet at the People's Choice Awards
Abigail wore a red Alexa Maria dress, which she styled up with jewelry from Neil Lane, a clutch from Edie Parker, and a pair of black Stuart Weitzman "Legwrap" sandals.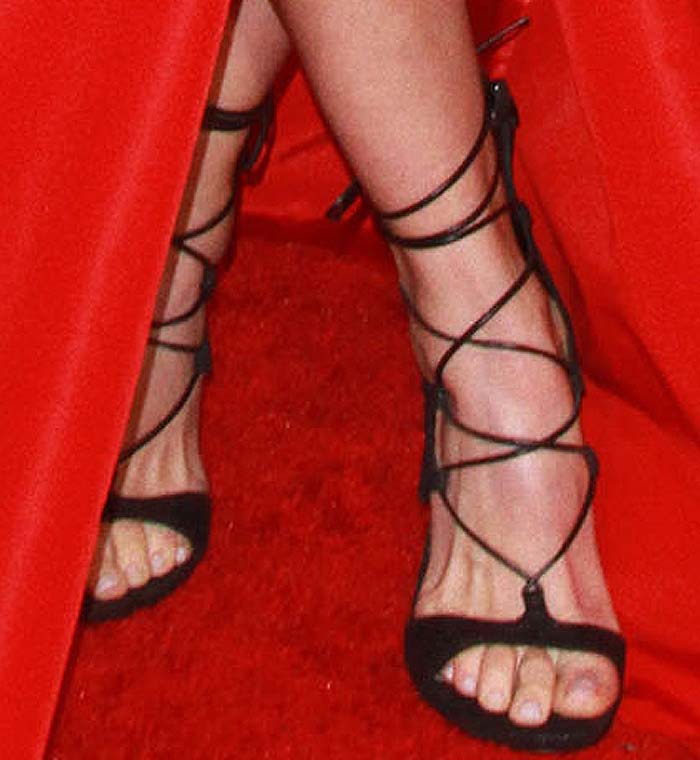 Abigail Spencer's feet in strappy black Stuart Weitzman sandals
Also, we love the Stuart Weitzman "Legwrap" sandals on their own, but we're not sure we love them as part of this look.
Overall, we have mixed feelings about this look. The bodice of the dress fits amazingly on Abigail, but the skirt is a little too "Cinderella's evil stepsister" for us.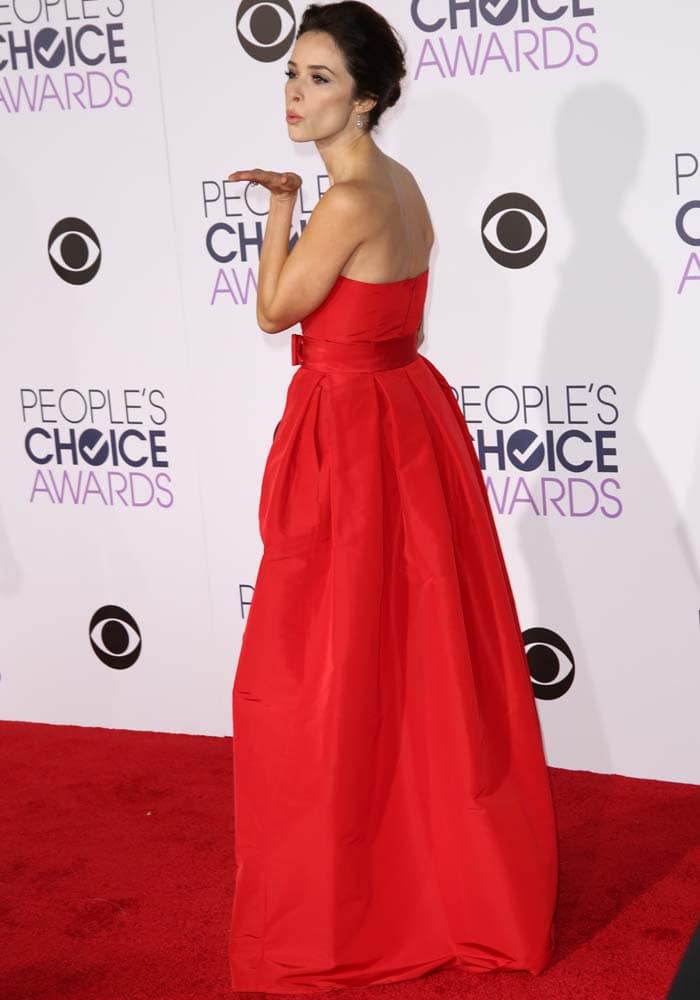 Abigail Spencer blows a kiss
Anyway — back to the photobomb. The actress took it upon herself to ruin the "Pretty Little Liars" cast group pic.
The Stuart Weitzman "Legwrap" is available at Zappos and Nordstrom.
Stuart Weitzman "Legwrap" Sandals in Black, $348.60 – $498
Stuart Weitzman "Legwrap" Sandals in Fawn, $498
Credit: FayesVision / Adriana M. Barraza / Brian To / WENN