The Big Bang Theory ended three years ago after 12 seasons, but Kaley Cuoco reveals that the cast is still a close-knit bunch.
Making her rich in the process, Cuoco played the role of Penny, the blonde neighbor of socially awkward Sheldon Cooper (Jim Parson) and Leonard Hofstadter (Johnny Galecki).
Kaley Cuoco starred as Penny Teller in all twelve seasons of the CBS popular show The Big Bang Theory (Credit: CBS)
The show also starred Mayim Bialik as Amy Farrah Fowler, Melissa Rauch as Bernadette Rostenkowski-Wolowitz, Simon Helberg as Howard Wolowitz, and Kunal Nayyar as Raj Koothrappali.
The Cast Continues to Cheer Each Other On
Cuoco's Big Bang family has been cheering her on as her career reaches new highs.
Since the end of the sitcom, Cuoco has starred in The Flight Attendant, a comedy-drama that won her a Golden Globes nomination for Best Actress in a Musical or Comedy TV Series.
Kaley Cuoco flaunts her legs in a Giambattista Valli tweed pleated mini dress and a cropped single-breasted blazer paired with Sergio Rossi patent leather flats in New York City on April 20, 2022 (Credit: MEGA / WENN)
In an interview with Metro, she revealed that the cast is all doing exciting things on TV and cheering each other on through text. Jim Parsons dropped her the sweetest message wishing her luck on her Golden Globes nomination.
"Jim had sent me a text the morning of the Globes because he saw a video I posted. He was like, 'I just saw your video.' His message was very cute. He was very excited."
She went on to say, "It's just great for all of us because you hope that everyone's not going to be pigeonholed and everyone from the show is doing the things they want to be doing. It really wonderful, I'm thrilled."
Kaley Cuoco is still close with her The Big Bang Theory costars Johnny Galecki, Jim Parsons, Kunal Nayyar, and Mayim Bialik (Credit: CBS)
Like Cuoco, the rest of The Big Bang Theory gang are working on exciting projects and regularly sharing the good news with each other.
In her Metro interview, Cuoco went on to say, "Everyone is really doing great. It's wonderful to see, that's what you hope for, right? You hope you want all your friends to be successful. We had a unique experience for so long, so to see everyone doing the things they want to be doing and successful… the texts are always happening."
The End of The Big Bang Theory Was a Surprise to Cuoco
In an interview with Variety in 2021, Cuoco revealed that the show's end completely shocked her.
At the beginning of filming for season 12, Chuck Lorre, the series co-creator, called the cast into his office to tell the gang that the show was coming to an end.
Cuoco thought they would discuss season 13, but Jim Parson said that he did not want to continue with the show. He reportedly refused to renew his $50 million contract for seasons 13 and 14.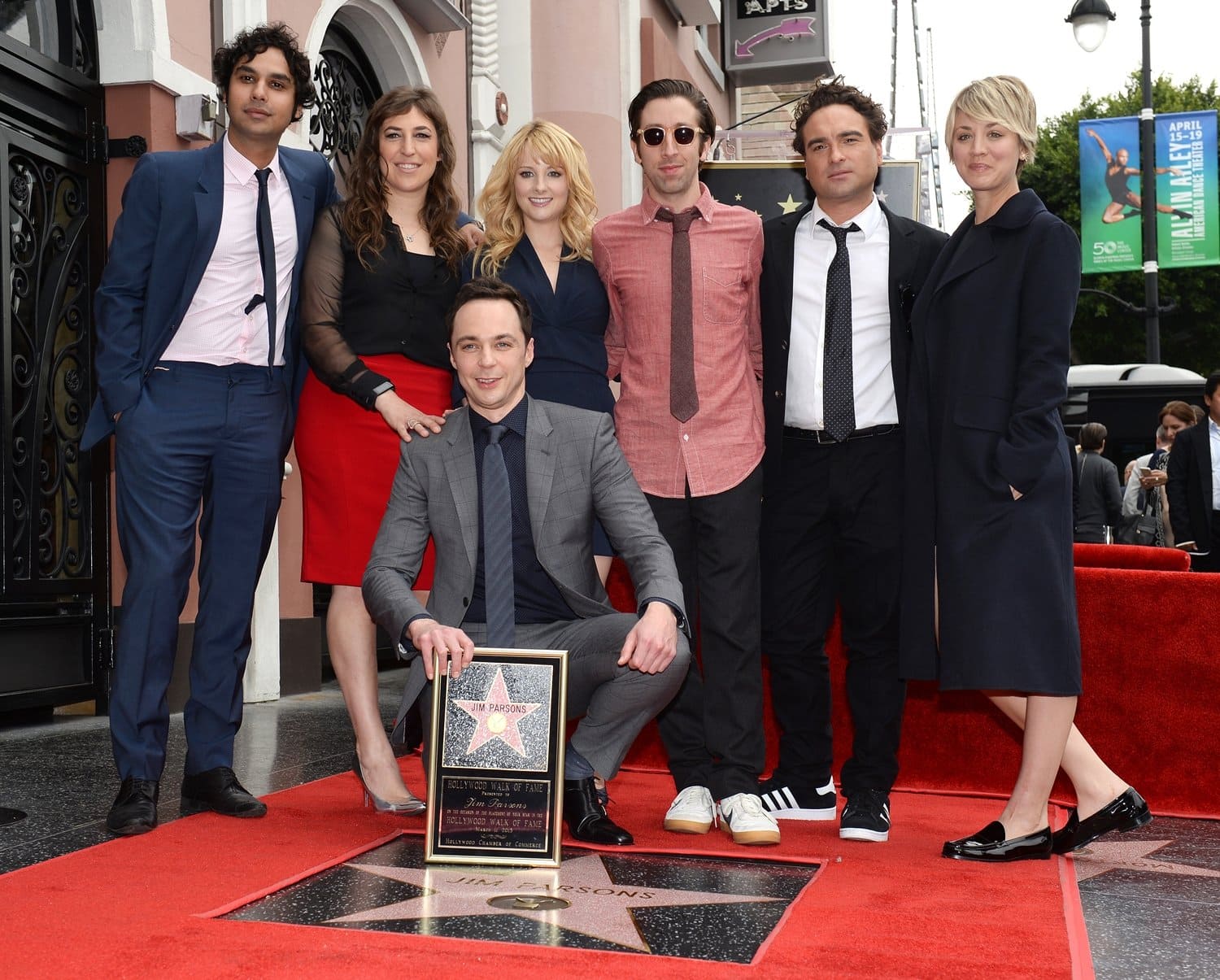 Actors Jim Parsons, Kunal Nayyar, Mayim Bialik, Melissa Rauch, Simon Helberg, Johnny Galecki, and Kaley Cuoco-Sweeting attend a ceremony honoring Jim Parsons with the 2,545th Star on The Hollywood Walk Of Fame on March 11, 2015, in Hollywood, California (Credit: Lionel Hahn / Abacausa / Startraksphoto)
Cuoco was floored by the news when American television director Chuck Lorre said the show was coming to an end.
"Jim said, 'I don't think I can continue on.' I was so shocked that I was literally like, 'Continue on with what?'" Kaley told the entertainment news website. "I didn't even know what he was talking about. I looked at Chuck: 'Wow. I thought we were — I'm so blown away right now.'"
"We're all for one, one for all. And we're not going to do this without the whole team," Lorre said. "That was the one thing we all agreed on — we came in together, we go out together," Kaley added.
Maybe There Will Be a Big Bang Reunion?
The show coming to an end left Cuoco with a wide range of emotions, and she thought that maybe she was meant to be a "sitcoms girl forever."
But her nomination for a Golden Globe and an Emmy for her lead in The Flight Attendant shows that there was more to come for Cuoco.
Cuoco is gearing up to release the second season of The Flight Attendant, with her Big Bang castmates all working on exciting projects.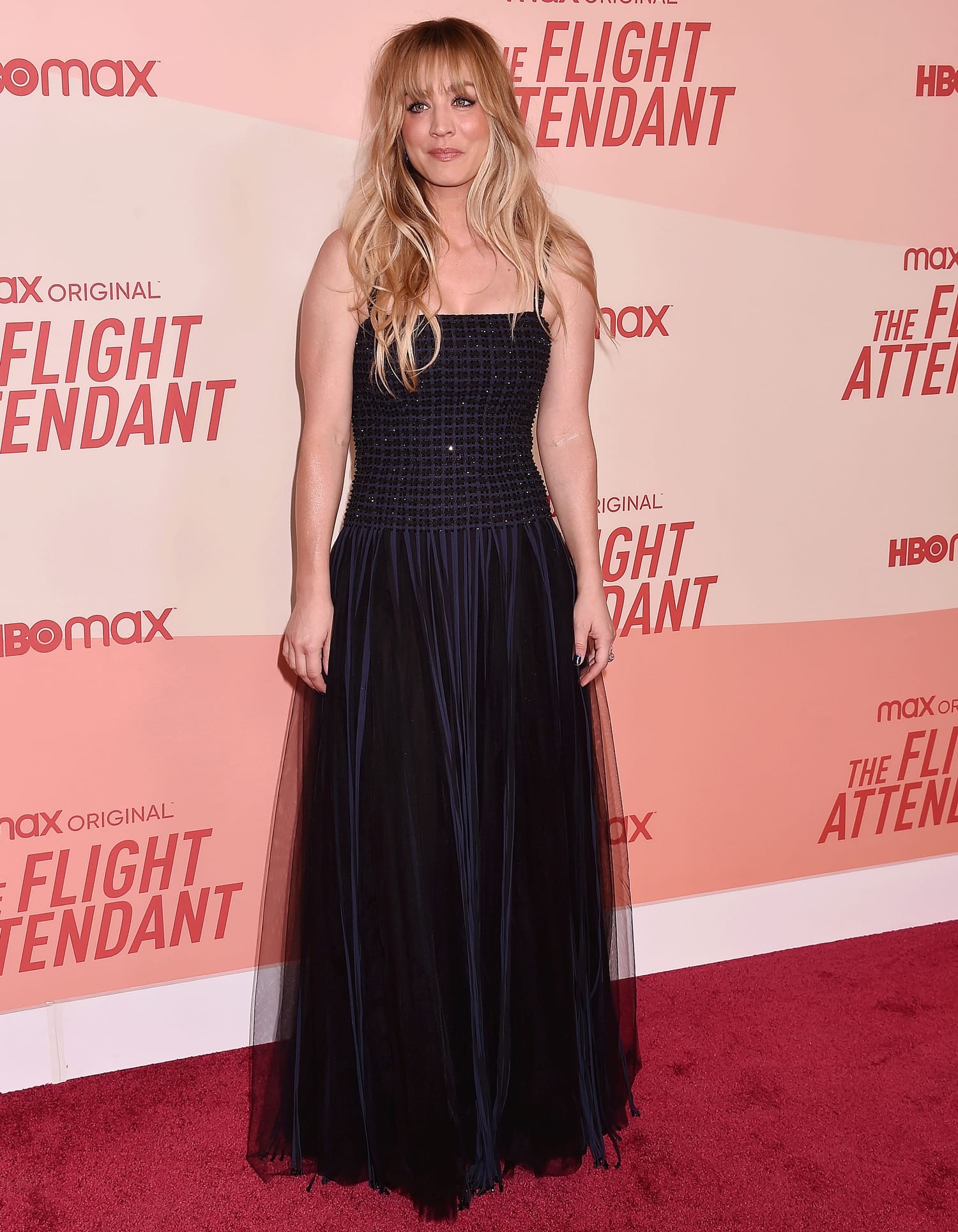 Kaley Cuoco in a black and navy Christian Dior embroidered tulle dress at the Los Angeles Season 2 Premiere of the HBO Max Original Series "The Flight Attendant" at Pacific Design Center on April 12, 2022, in West Hollywood, California (Credit: MEGA / WENN)
Although it hasn't been that long since The Big Bang Theory ended, Cuoco said that she definitely would not rule out the possibility of a reunion down the line.
"Big Bang just ended so I think we need to give it a little bit of a break," she told Metro. "I look forward to a reunion. I hope that our cast would be down for that sometime in the future. I'm ready for that, anytime."
To promote her show The Flight Attendant on Good Morning America in April 2022, she donned a lovely Giambattista Valli tweed pleated mini dress that you can purchase at Farfetch for $3,500.
Kaley Cuoco after an appearance on Good Morning America promoting the 2nd season of HBO Max The Flight Attendant on April 20, 2022, in New York City (Credit: MEGA / WENN)
She styled it with a cropped single-breasted blazer with gold buttons from the same designer ($2,400 at Farfetch) and black patent leather flats from popular shoe designer Sergio Rossi.
Kaley Cuoco wears a long button-down printed dress while leaving a private party in Los Angeles on August 12, 2013 (Credit: WENN)
In August 2013, Kaley Cuoco was spotted leaving the same private party Ginnifer Goodwin attended in Brentwood. Several other celebrities were seen at the same star-studded event.
The American actress channeled a bohemian look in a long button-down printed dress with long sleeves and a collar.
She styled the dress with black sunnies, a Louis Vuitton Favorite Mm Monogram bag, a fedora, some bracelets, and a pair of black gladiator sandals.
While we previously could not identify her sandals, we later discovered that she showed off her hot feet in a pair from Givenchy.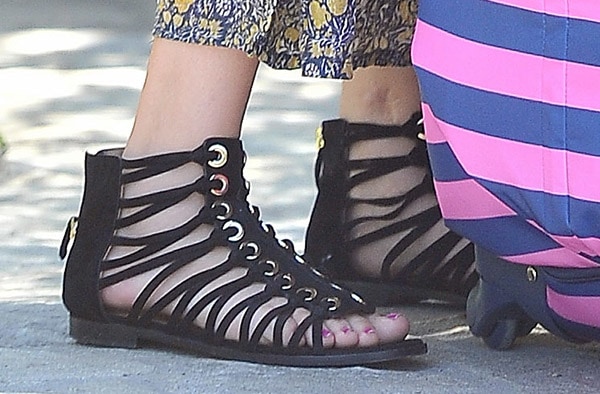 Kaley Cuoco's hot feet in Givenchy gladiator sandals (Credit: WENN)
Kaley's black gladiator sandals feature strappy sides, wide t-straps with shiny gold-tone eyelets, open toes, and back zipper fastening. They are also available in blush at Mytheresa.
Givenchy Gladiator Sandals in Black, $980
Givenchy Gladiator Sandals in Blush, $980