We don't know who hosted the party held in Brentwood yesterday, but it sure was a star-studded event. Besides Ginnifer Goodwin, who attended the gathering in a pair of Charlotte Olympia Bisoux lip-detailed loafers, we spotted a few more famous faces with head-turning footwear.
To name a few, Mrs. Afleck, a.k.a. Jennifer Garner, a preggy Michelle Monaghan, Superman's ex, Kaley Cuoco, and buxom beauty, Christina Hendricks (who showcased her assets to the maximum in a belted frock).
Check out their shoes, feet, and outfits, and tell us who rocked the best look at the low-key event. Better yet, perhaps you can help us ID their footwear.
1. Jennifer Garner in Banded Sandals
Jennifer Garner was all casual chic as she arrived at the private party in jeans and a slouchy sweater.
Jennifer Garner at a private party in Brentwood, Los Angeles on August 12, 2013
She finished the classic no-fuss ensemble with banded sandals that feature block heels and braided ankle straps.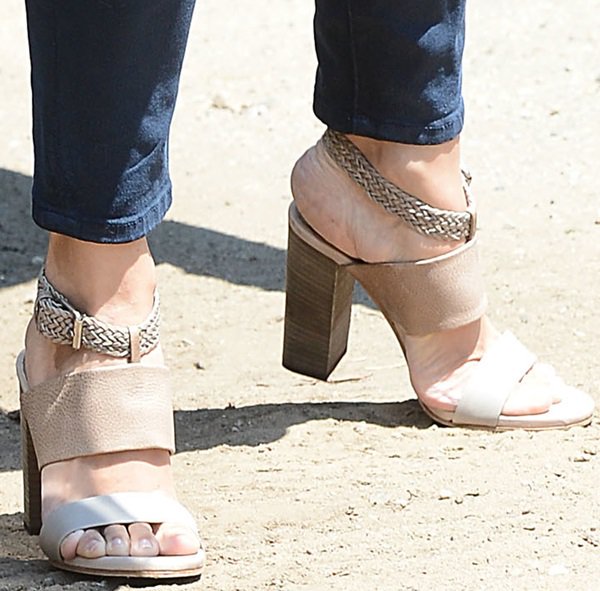 Jennifer Garner's pretty feet in banded sandals
Any idea where Jennifer got her shoes? If you like the neutral color and the banded silhouette, you can steal the style for less with this pair from Julianne Hough for Sole Society — the "Kristen" sandals.
They don't come with block heels, but they're a lot sleeker in design. Besides, they will only set you back an easy $55.
Julianne Hough for Sole Society Kristen Sandals, $55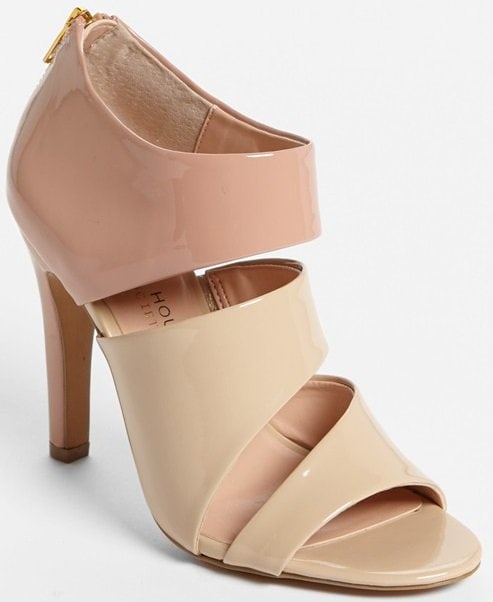 2. Michelle Monaghan in Neutral Wedges
The soon-to-be-mommy Michelle Monaghan was also at the private gathering.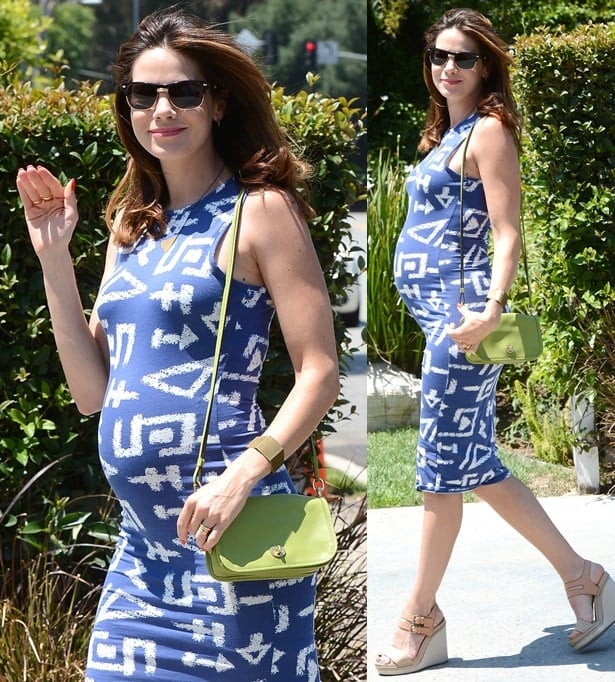 Michelle Monaghan shows off her baby bump in a printed blue dress at a party in Brentwood, Los Angeles, on August 12, 2013
She wore a blue printed frock that showed off her bump and finished it with the most elegant pair of wedges we've seen this summer.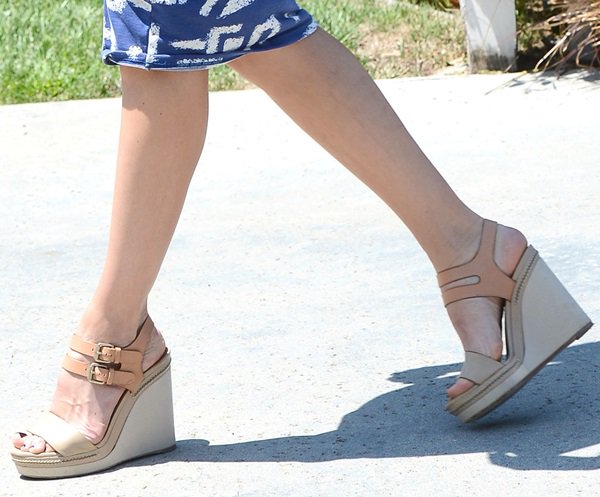 Michelle Monaghan's hot feet in neutral wedge sandals
We are seriously crushing on her shoes! Can you help us ID them? In the meantime, here's a great alternative from Report Signature if you're craving Michelle's sandals:
Report Signature Elayna Sandals, $19.25 – $80.00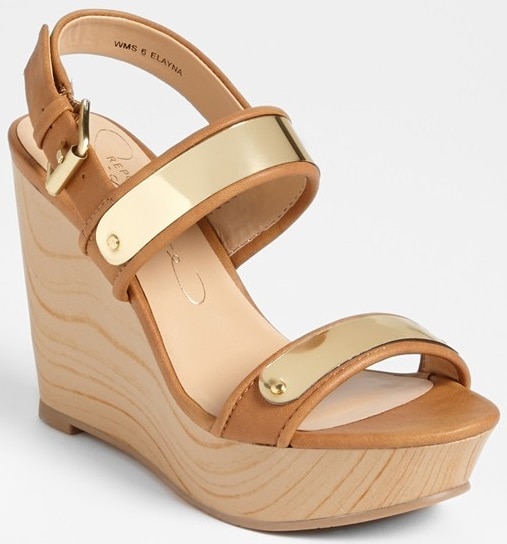 3. Kaley Cuoco in Flat Cage Sandals
Henry Cavill's ex, Kaley Cuoco, was all fabulously boho in a printed frock paired with a cool hat and flat gladiator sandals.
Kaley Cuoco going boho for a private party held in Brentwood, Los Angeles, on August 12, 2013
Her look was laidback but definitely chic!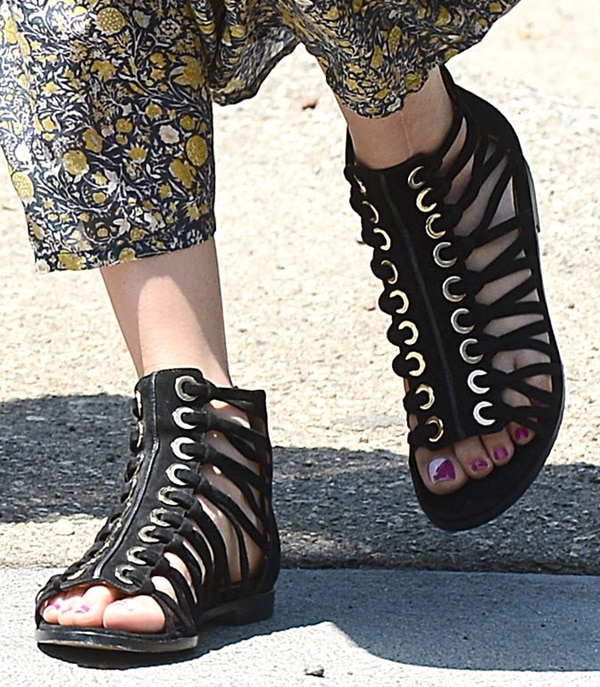 Kaley Cuoco displayed her sexy toes in comfy black sandals
We don't know yet where Kaley purchased her sandals, but these flat strappies from Steve Madden will easily give you the fix if you want them:
Steve Madden Kagie Sandals, $25.99 – $49.00
4. Christina Hendricks in Rupert Sanderson Pumps
Christina Hendricks was definitely hard to miss at the party. Besides her flaming red bob, the buxom beauty was also in a catchy red belted frock that showcased her curves.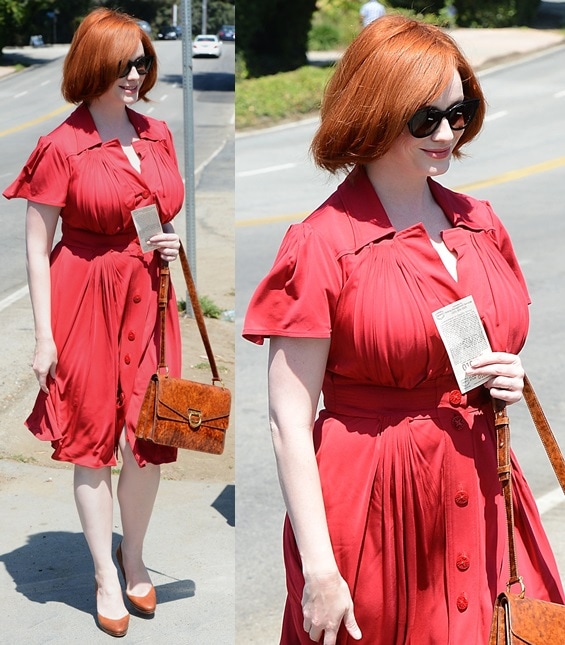 Christina Hendricks pairing her red frock with buttery brown extras as she heads to a private party in Brentwood, Los Angeles, on August 12, 2013
She finished the outfit with classic brown pumps from Rupert Sanderson.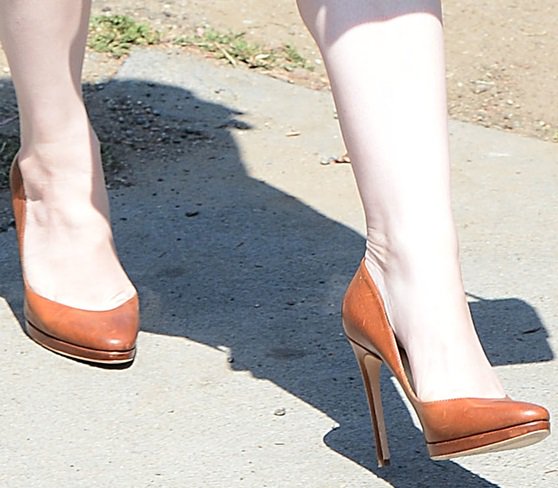 Christina Hendricks paraded her legs in classic pumps
Christina Hendricks's Rupert Sanderson shoes
You can shop for Rupert Sanderson heels online. But if you want to be frugal about it, you can easily steal Christina's style by grabbing these brown pumps from Corso Como instead:
Corso Como Hollen Pumps, $135
Credit: Ryan / WENN