Whether or not you subscribe to the "GTL" lifestyle, there is no way you couldn't know about the guidos and guidettes who ruled the early 2010s. That's right — we're talking Jersey Shore.
Even with a wide range of extremely tan and goofy personalities, Jenni "JWoww" Farley quickly became a fan favorite. At 5 feet 7 inches, JWoww served as the protective "big sister" and the "bite" behind the "bark" to her tiny, 4'8" friend, the iconic writer of the infamous anonymous letter to Sammi — Nicole "Snooki" Polizzi.
Jenni "JWoww" Farley rose to prominence as one of the casts in the MTV reality TV show Jersey Shore (Credit: Avalon / WENN)
Throughout the course of the show, Jersey Shore fans felt like they truly knew JWoww, experiencing her party-girl persona between takes of fist-pumping at the club and tearful confessionals.
However, after the cameras were turned off, the MTV personality's personal life was far more dramatic — and often more heartbreaking — than the star let on. Unfortunately for JWoww, the details of her tumultuous relationships were paraded around in the media for all the world to see.
Walk with us down memory lane to learn more about JWoww's highly publicized and (likely) overly dramaticized relationships through the years.
Jennifer Lynn "JWoww" Farley Facts
| How much is JWoww's net worth? | She is a reality television personality with a net worth of $4 million |
| --- | --- |
| Full Name: | Jennifer Lynn Farley |
| Born: | February 27, 1986, in East Greenbush, a town in Rensselaer County, New York |
| How tall is Jennifer Lynn Farley? | 5′ 7″ (170 cm) |
| Feet/Shoe Size: | 9 (US) |
| Is JWoww still seeing 24? | Yes, she got engaged to Zack Clayton "24" Carpinello in February 2021. |
| Is JWoww's boyfriend really 24? | No, it's just a nickname. He was born on December 20, 1994, and turned 27 on December 20, 2021. |
| What was JWoww's job before Jersey Shore? | She was a graphic designer and also worked with the elderly in a nursing home. |
JWoww's First Relationship in the Public Eye
Just like the plotlines in Jersey Shore, JWoww's relationship history is a bit messy. Bear in mind, that's not a diss, as it is hard to know what is truly real and what is merely fabricated for the cameras in the reality star's life.
When JWoww first hit the silver screen in the first season of Jersey Shore in 2009, she made it clear that she was in a relationship. Her boyfriend at the time, Tom Lippolis, was also her manager. However, in proper Jersey Shore fashion, JWoww quickly showed interest in her fellow co-star and housemate, Paul "Pauly D" DelVecchio.
JWoww was in a relationship with her manager Tom Lippolis when she starred in the first season of Jersey Shore (Credit: WENN)
Pauly D and JWoww's flirty, back-and-forth relationship was a hot topic in season one of Jersey Shore, and they were featured in several steamy scenes, including a drunken makeout session, which the showrunners used to paint JWoww in a very negative light.
"JWoww has a boyfriend, but she's the type of girl that doesn't care," Pauly D said in a confessional during an episode of the show, going on to reference the French kisses he shared with an inebriated JWoww. "I know she was coherent. She just doesn't want to feel like a trash bag because she has a boyfriend and she kissed me with her tongue."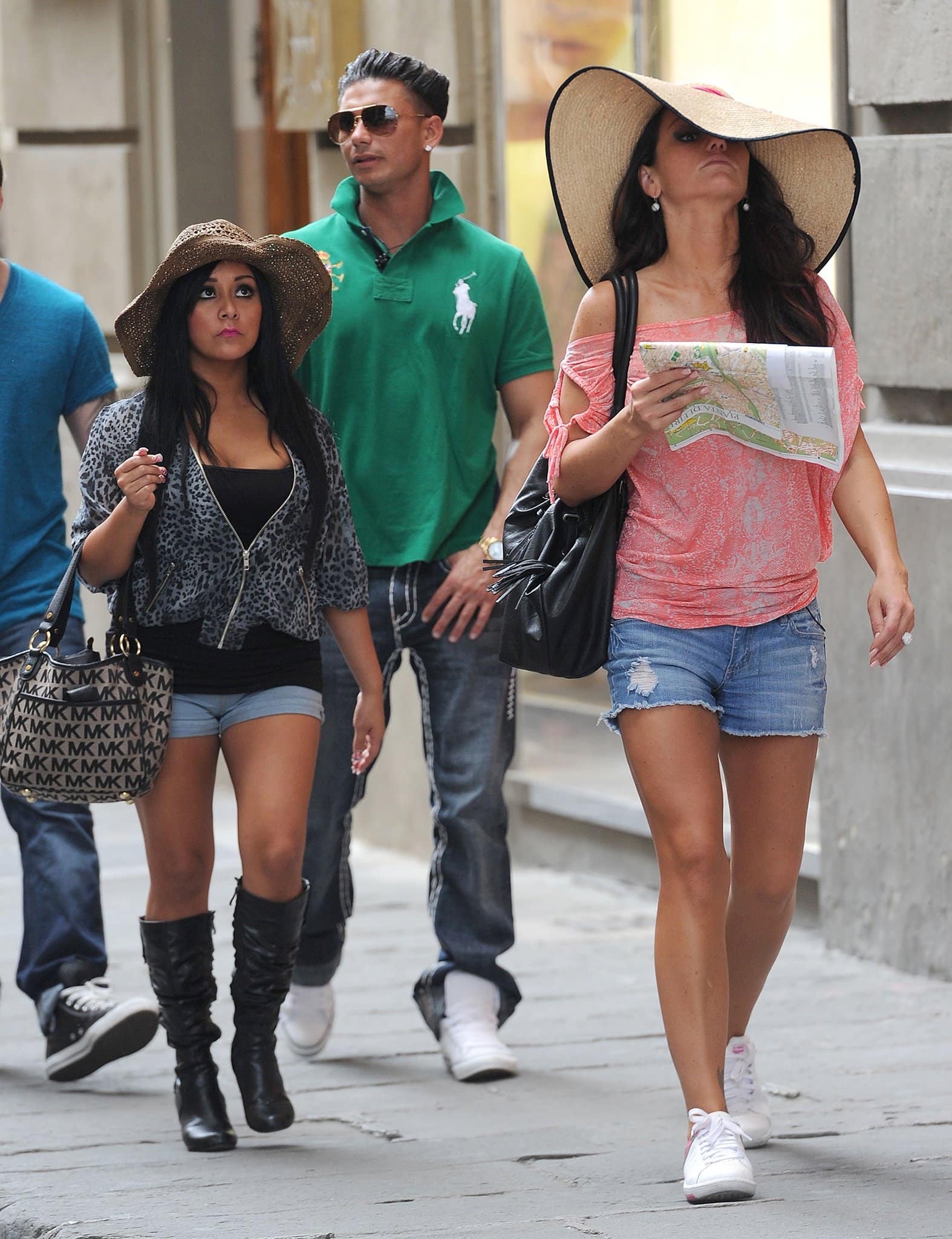 JWoww and Paul "Pauly D" DelVecchio were featured in several steamy scenes in Jersey Shore while she was still in a relationship with Tom Lippolis (Credit: WENN)
Understandably, JWoww and Tom Lippolis broke things off, ending their relationship in 2010.
The relationship between Lippolis and JWoww was highly publicized, especially after the breakup. After the split, the media went wild over sensational accusations from both parties.
In an MTV after-show special, JWoww revealed that her relationship with Lippolis was both toxic and abusive, saying, "He had control over my life. I felt like I created that monster, and he was like, 'If you f*ck up again I'm going to let your dogs out the back door,' and, you know, just let them take off."
"The day that I left for Jersey, he threw my luggage down the stairs, because he saw clothes in there that weren't acceptable. And I went with the luggage," the reality star continued. "He pushed me down the stairs and said, 'I can't wait to f*ck another [girl] in your bed while you're gone.' And I was like, 'Get me out of this house.'"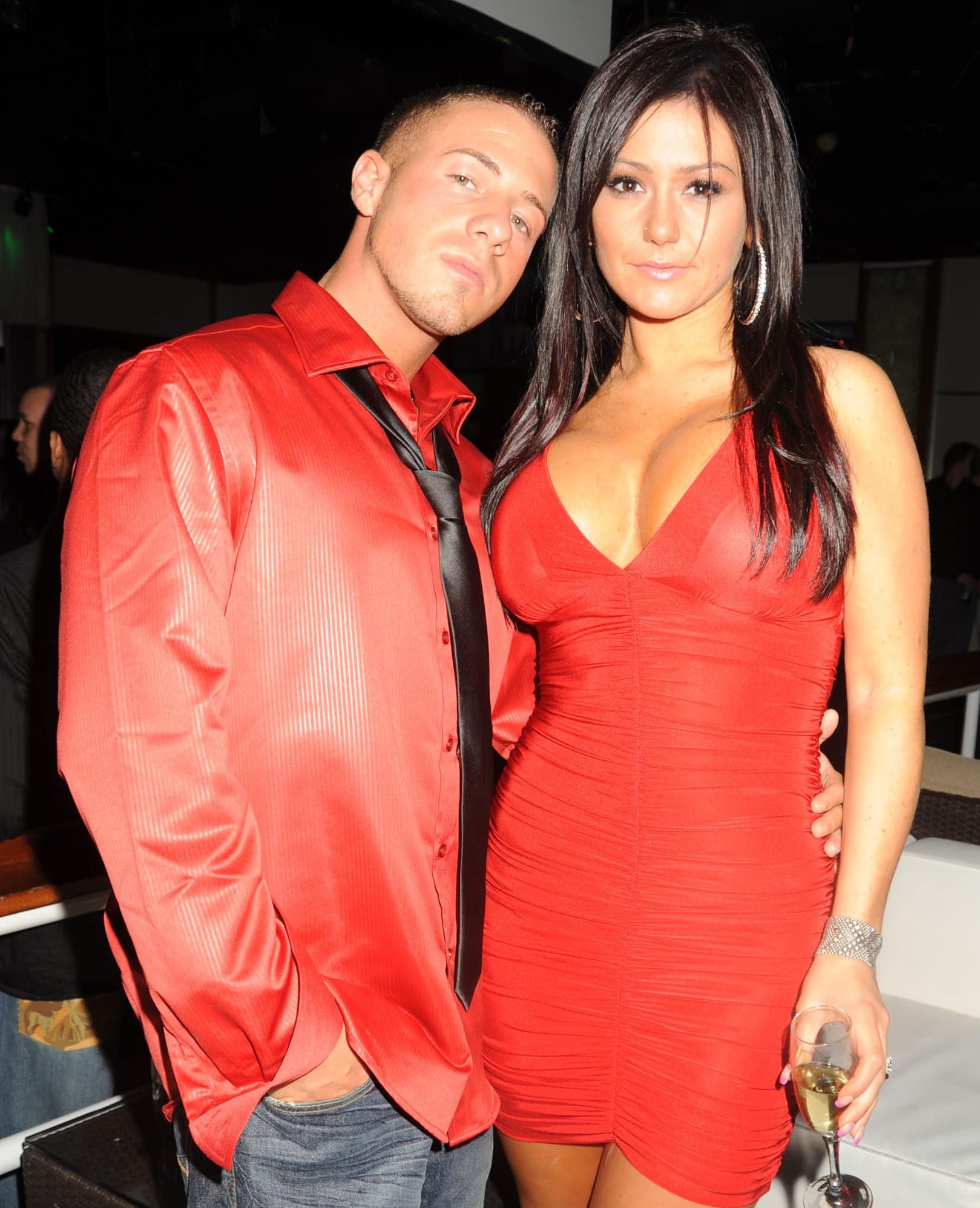 JWoww revealed that her relationship with Tom Lippolis was toxic and abusive (Credit: WENN)
In a 2011 interview with Star magazine, Lippolis claimed that he was not the bad guy and that JWoww had stabbed him on a different occasion, saying, "Jenni put a kitchen knife through my entire arm. It looked like something out of a surgery TV show. She cut right through the muscle, my bicep."
Lippolis also claimed that he never pressed charges because "love does funny things." Which, in response, one has to ask: what?!
Whether or not any of these claims are true, it's probably for the best that JWoww and Tom Lippolis are no longer together.
JWoww's Love and Loss: Her Tumultuous Marriage with Roger Mathews
JWoww first met her future husband, businessman Roger Mathews in 2009 during the steamy summer of the Garden State. They met in Seaside Heights, New Jersey while the super-tan rising star was filming the first season of her hit reality show, Jersey Shore.
That being said, it did not go much further than the first meeting, due to the fact that JWoww was in a relationship with her manager at the time, Tom Lippolis.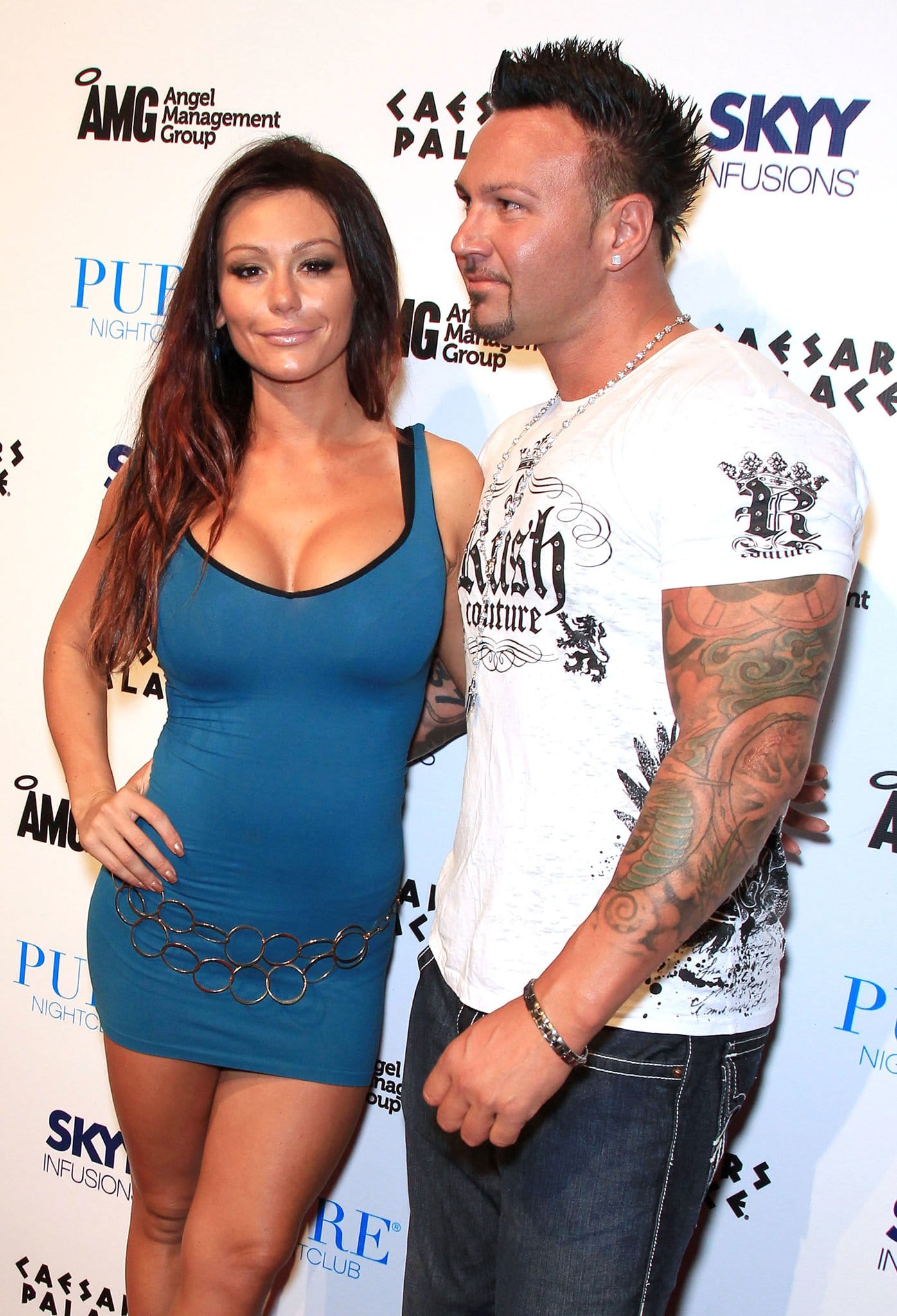 JWoww and Roger Mathews first met in 2009 while she was filming the first season of Jersey Shore (Credit: WENN)
Not only was JWoww dating someone else at the time, but the reality star also admitted that she and Mathews did not have a particularly strong connection during their initial introduction.
Instead, the reality star said that her future husband was not that memorable at all. In a 2013 interview with Zap2It, JWoww explained, "He was just one of the faces in the crowd, like, 'What's up, hi, goodbye.'"
However, Mathews eventually made another impression on the tanned Jersey girl, and the pair began dating in 2010 after JWoww and Tom Lippolis had broken things off.
Things were going well between the pair when the couple went through heartache in 2011. In May of that year, JWoww experienced a traumatic miscarriage as a result of her relationship with Mathews.
This was a very difficult and personal experience for the MTV personality, as she didn't reveal the ordeal to the public until years later, in 2018, when the Jersey Shore cast met up for the show's month-long televised reunion, Jersey Shore: Family Vacation.
Roger Mathews and Jenni Farley began dating in 2010 following her split from Tom Lippolis (Credit: WENN)
"Three to four weeks before Italy, my grandmother passed, and me and Roger actually lost a baby," JWoww made this shocking admission during an episode of Jersey Shore: Family Vacation, explaining that the miscarriage occurred during season four of Jersey Shore, and only a year into her and Mathews' relationship.
She explained to viewers and her housemates that the miscarriage was not only emotionally difficult but that she struggled with the medications that doctors had prescribed and how it led to an ongoing battle with drugs, saying, "They put me on medication because of it — because I couldn't handle life. The medication — it was, like, Xanax — it would take me down [and] the downers would make me so groggy, then I would start taking uppers… I was a f*cking mess."
Even through the reality star's struggle with medications, emotional trauma from her miscarriage, and "party girl" TV persona, Roger Mathews stuck by JWoww's side.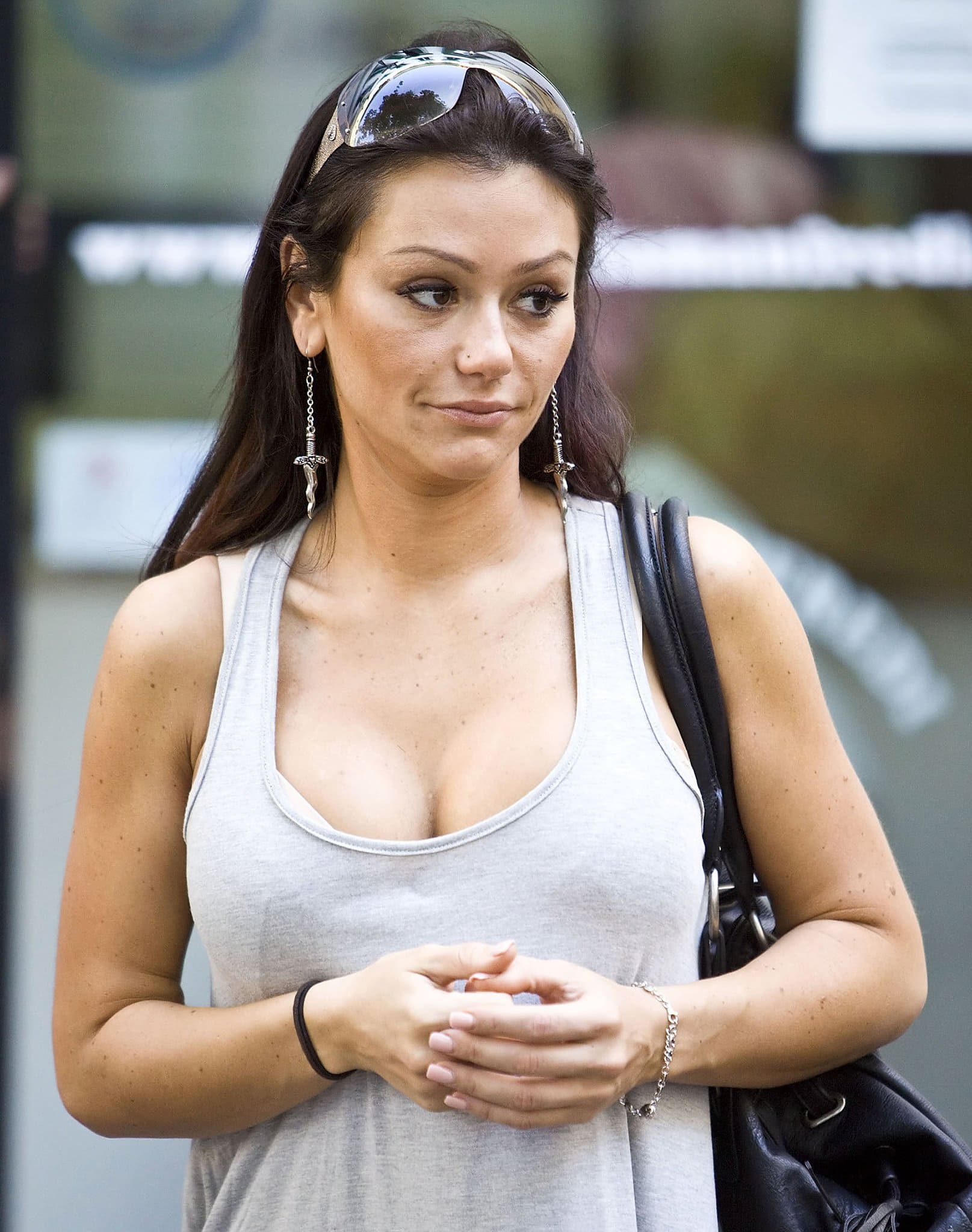 JWoww admitted in 2018 that she suffered a miscarriage in 2011 (Credit: WENN)
Both Mathews and JWoww had hinted at marriage, saying that they had felt some outside pressure to hurry up and tie the knot.
"[Roger's] dad is dying for us to get married," JWoww said in a July 2012 interview with People. "He wants grandchildren. He texts me almost every day for that!"
"There's no rush — no trophy — for being first [to get married]," Mathews confirmed. "But do we want to get married? Oh yeah, absolutely!"
"I just want a big ring," JWoww joked in the same interview. "That's all I care about — a big ring."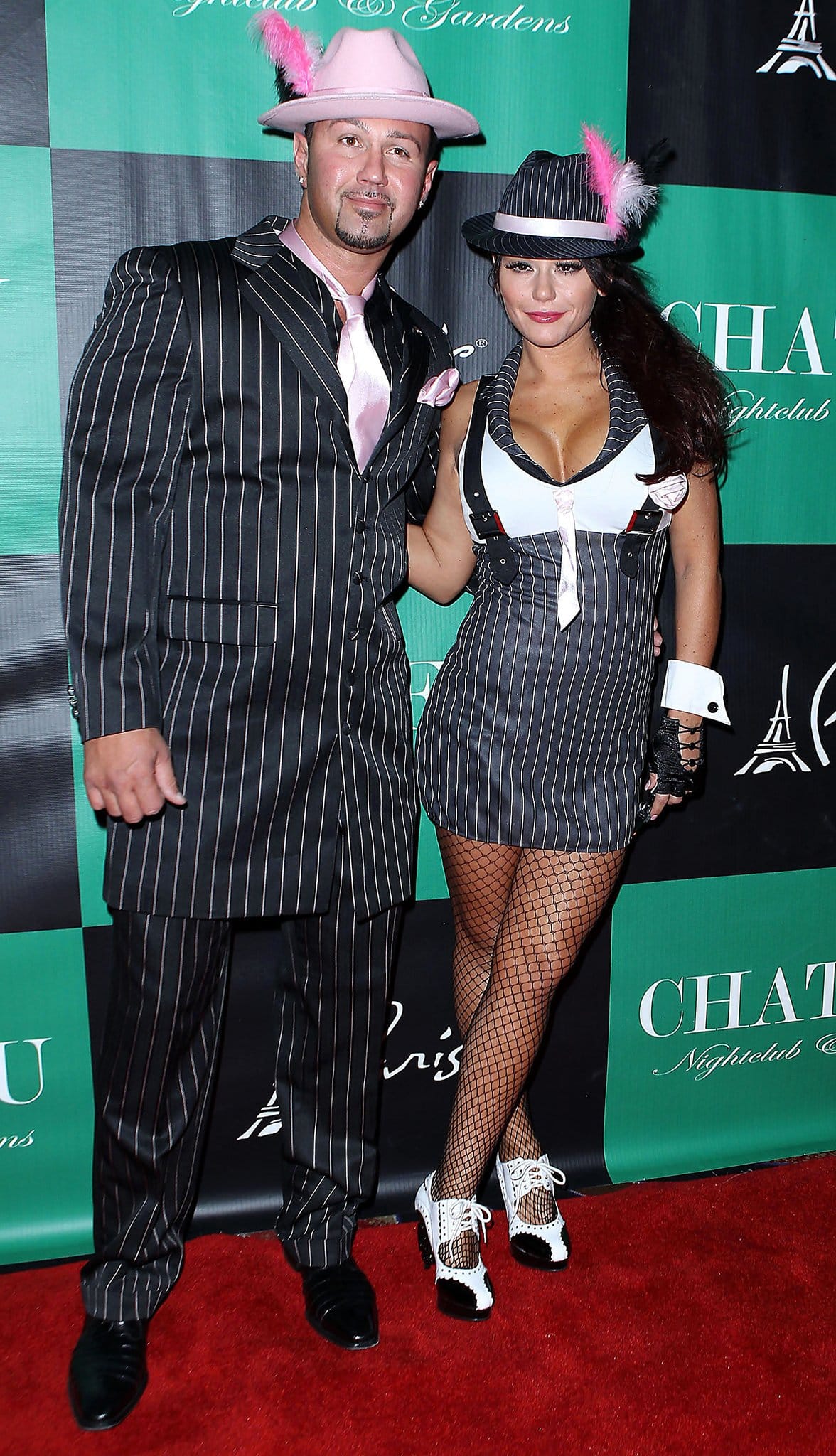 Roger Mathews and JWoww hinted at marriage in 2012 (Credit: WENN)
Finally, in September of 2012, JWoww got her wish when her businessman beaux popped the question to his über tan beloved. While JWoww was filming the Jersey Shore spinoff, Snooki & JWoww, she and Mathews went on an exciting (and somewhat stressful) skydiving date.
After the couple descended from the air, Mathews presented JWoww with a beautiful, 7.5 carat pink and white diamond ring. Of course, JWoww said yes!
Then, in 2014, another wish was granted, but this time, it was Roger Mathews' father and JWoww's father-in-law who had his wish fulfilled! On July 13, 2014, JWoww and Mathews welcomed their first child, a daughter named Meilani Alexandra, who MTV representatives jokingly referred to as the "newest guidette".
Roger Mathews and Jenni Farley got engaged in September 2012 and welcomed their first child together in July 2014 (Credit: FayesVision / WENN)
On October 18, 2015, the couple made their love official, marrying one another during an intimate New Jersey ceremony in front of their closest friends and family.
"Our wedding was everything we could have dreamed of and more," JWoww said in an interview with People after their nuptials. "It's hard for me to determine which was my most favorite moment because there were so many 'wow' factors to our wedding."
A year later, Mathews and JWoww completed their nuclear family when they welcomed their son, Greyson Valor, on May 5, 2016.
The couple frequently shared adorable pictures of themselves on family outings paired with loving captions on their Instagram pages. As far as fans were aware, everything was perfect between Mathews and JWoww.
Jenni Farley and Roger Mathews tied the knot in 2015 and gave birth to their second child in May 2016 (Credit: Andres Otero / WENN)
Unfortunately, social media can be deceiving. Behind the scenes, the couple — who had been married for just under three years — were falling apart.
On September 12, 2018, JWoww officially filed for divorce, citing irreconcilable differences.
The documents from JWoww's filings had made it clear that the separation had been a long time coming, stating, "The Plaintiff and the Defendant have irreconcilable differences which have caused the breakdown of the marriage for a period of at least six months which make it appear that the marriage should be dissolved and there is no prospect of reconciliation."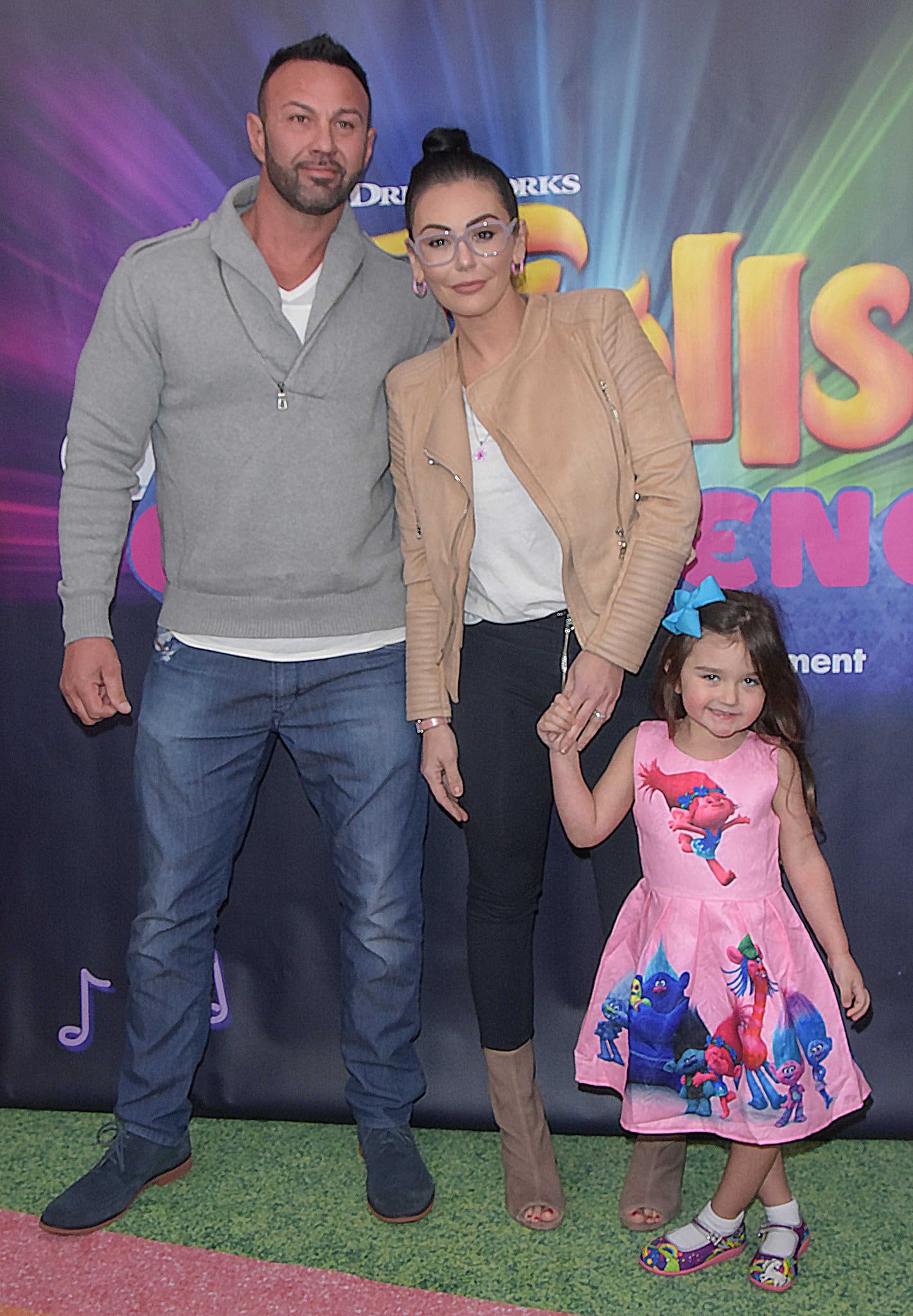 JWoww filed for divorce in September 2018 but the two remained cordial for their children (Credit: Patricia Schlein / WENN)
The couple seemingly tried to remain cordial in order to co-parent their two children but things took a downward turn in December of 2018 when JWoww filed a temporary restraining order against Mathews after a heated argument.
Roger Mathews quickly took to social media to document his account of the ordeal, posting a series of now-deleted videos to Instagram — some filmed while the businessman was in the back of a police car — in which he claimed, "My wife was screaming in my daughter's face, 'Your father's a piece of sh*t! He's out of here! He's out of here! I'm sorry I ever had children with him!'"
Of course, there was no video evidence of the actual argument.
JWoww herself chose not to comment on the restraining order but a representative for the MTV personality claimed that the reason behind it was in "her best interests, and the best interests of her children."
Jenni Farley filed a temporary restraining order against Mathews after a heated argument in December 2018 (Credit: WENN)
Later, Roger Mathews decided to pen an extremely lengthy open letter to his now-ex on his website, a post which now seems to have been all but wiped from the internet.
In the post, Mathews made many very serious and possibly defamatory claims, which is likely a reason that it was scrubbed.
Here are a few of the claims Mathews made in the letter, keeping in mind that these are alleged and unconfirmed:
JWoww told Mathews that she would financially "suck him dry" if he tried to take custody of their children during the divorce.
Mathews claims that he and JWoww worked out a 50/50 custody agreement and that she backed out after releasing a public statement that Mathews was abusive.
He admits to being physically violent with JWoww on three different occasions but claims that she was the "aggressor" and tries to reinforce this claim by saying that JWoww's notably abusive ex-boyfriend — who JWoww has claimed tried to kill her — confirmed that JWoww was abusive.
Mathews claims that JWoww is a drug addict, who struggles with cocaine, Adderall, and marijuana.
He asserts that JWoww "exploits" their son Greyson's autism to "sell her products" and that she is a "master manipulator".
After all of these unconfirmed, wildly harmful claims, Mathews then claims that "despite their differences" he still wants to be friends with his ex to support their children.
In other words, yikes! JWoww did not respond to these claims — nor should she have — and remains a steadfast figure in the media in order to stay strong for her children.
Finally, JWoww and Mathews were officially legally divorced in 2019. Despite their irreconcilable differences (and scathing open letters) the former couple both care deeply about their children and work hard to be the best co-parents they can be for Meilani and Greyson.
What JWoww is Up to Now
After her divorce from Roger Mathews, JWoww managed to find love again. This time, with professional wrestler and younger man Zack Carpinello. Born on December 20, 1994, he has been nicknamed "24" because of his young age.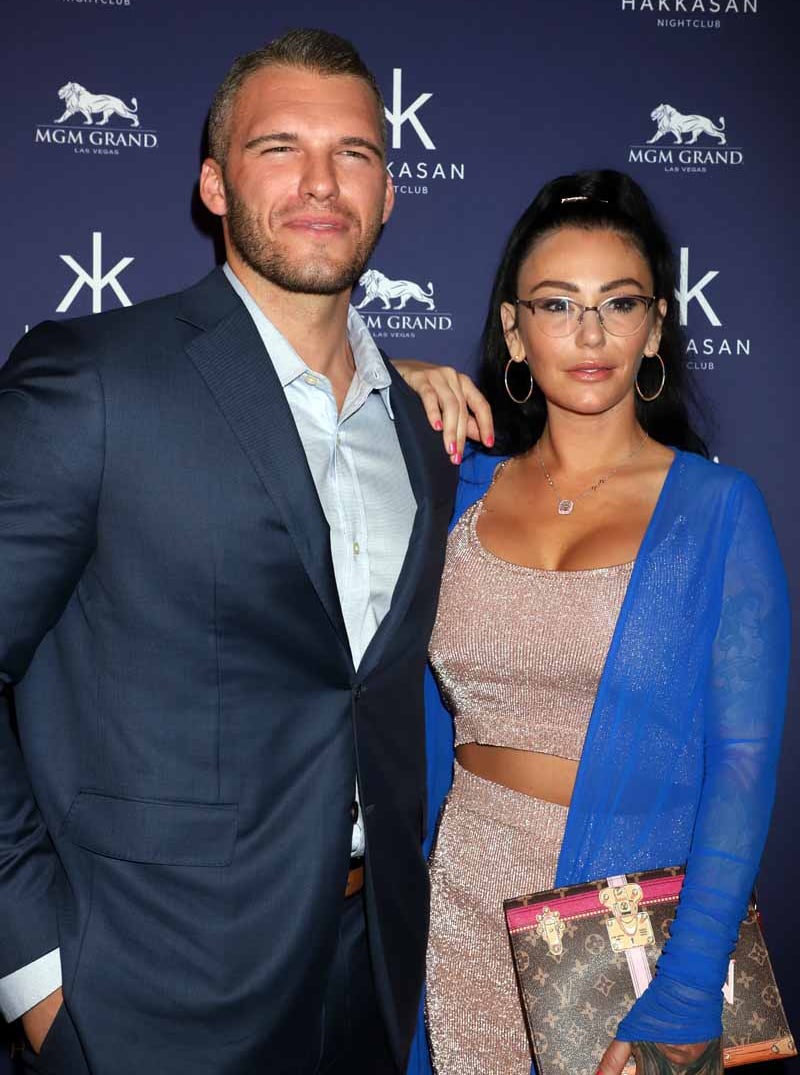 Professional wrestler Zack Carpinello and Jenni Farley began dating in 2019 (Credit: DJDM / WENN)
Funnily enough, Carpinello was actually in attendance for JWoww's 2015 marriage ceremony to Mathews. He wasn't pining for the Jersey Shore star back then, though — he had brought a date!
JWoww and Carpinello made their official debut as a couple on Instagram in April 2019 and have made frequent appearances on one another's social media pages since then.
The pair briefly split in October 2019 after a scandalous scene in an episode of Jersey Shore: Family Reunion, where fans watched Carpinello flirt with none other than the girl you love to hate: Angelina Pivarnick! Luckily, this was a mere blip for the couple, who soon reunited.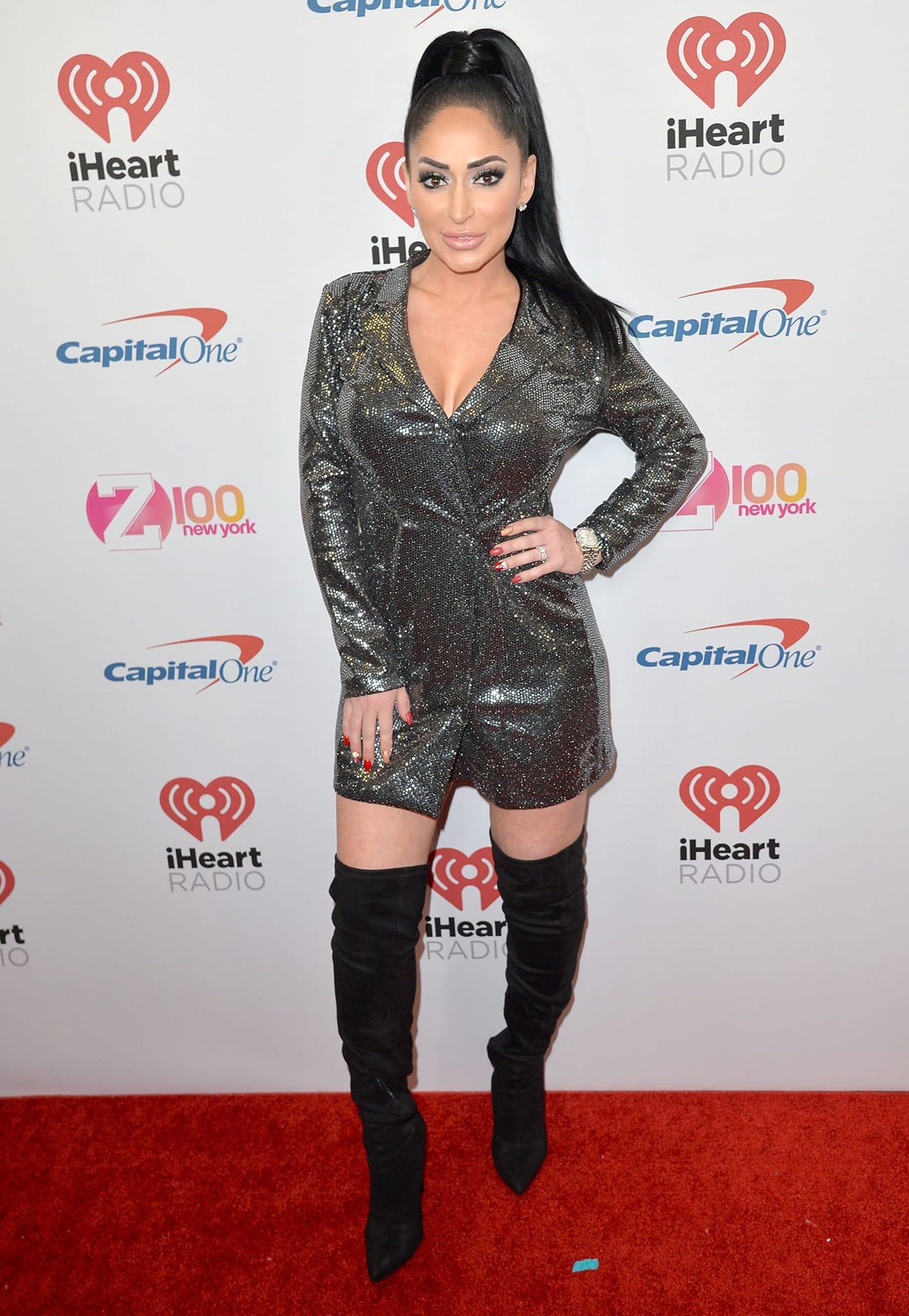 Jersey Shore: Family Vacation star Angelina Pivarnick was the reason behind Zack and JWoww's brief split in October 2019 (Credit: Avalon / WENN)
On February 27, 2021, 26-year-old Carpinello staged a romantic proposal for his 35-year-old lady love on the top of the Empire State Building. Of course, she said yes!
The pair have yet to officially set a wedding date, but with JWoww's net worth currently clocking in at an impressive $4 million, we're ready to see her pull out all the stops for her second ceremony.
Zack Carpinello proposed to Jenni Farley on the top of the Empire State Building on February 27, 2021 (Credit: Judy Eddy / WENN)
If we're lucky, maybe we will even see Snooki as a bridesmaid and Pauly D as a groomsman. We're ready for Jersey Shore: A Very Jersey Wedding!
In July 2013, Jenni Farley, better known as JWoww, did it again. Yes, she (once again) showed some skin at an event in Las Vegas, but this time, it was appropriate!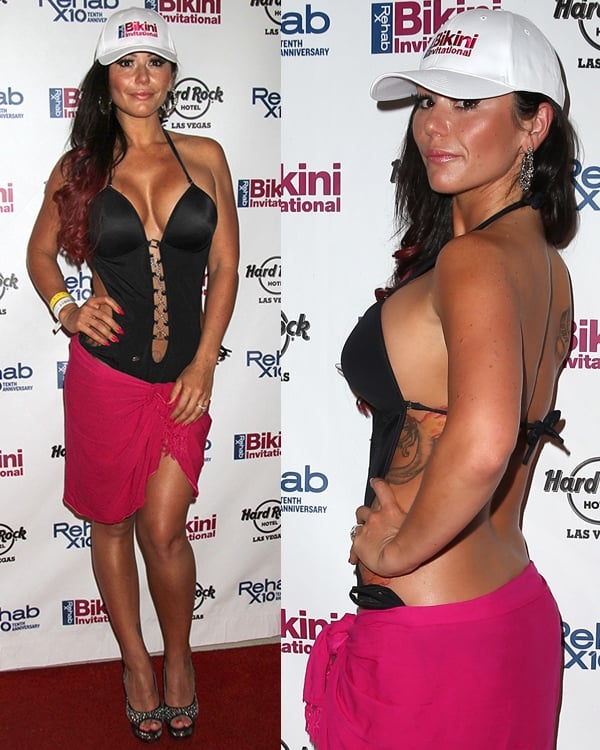 JWoww hosts the second round of preliminary eliminations for the Rehab Bikini Invitational 2013 at the Hard Rock Hotel & Casino in Las Vegas on July 7, 2013 (Credit: DJDM / WENN / Judy Eddy)
The American television personality hosted the second round of preliminary eliminations for the Rehab Bikini Invitational 2013 held at the Hard Rock Hotel & Casino.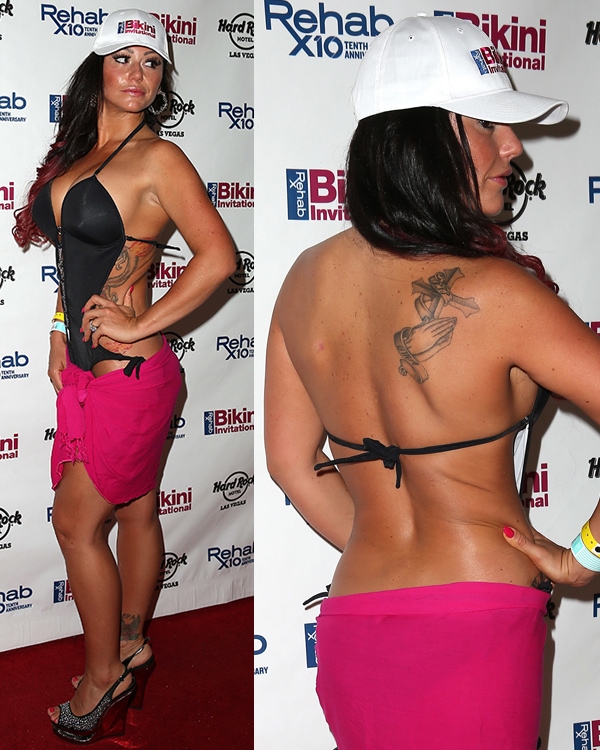 JWoww flaunts her surgically enhanced boobs in a black corset-like swimsuit and pink wraparound skirt (Credit: DJDM / WENN / Judy Eddy)
JWoww wowed in a black corset-like swimsuit that revealed her surgically enhanced breasts. Good thing she covered up a bit with that pink wraparound skirt that matched the color of her nails.
JWoww has a rose with angel wings tattoo on her right ankle (Credit: Judy Eddy / WENN)
Her black satin heels are embellished with glittering crystals and feature 6-inch mirrored wedges and 2-inch carved platforms with rhinestone detailing.
JWoww shows off her feet in glittering peep-toe wedges (Credit: Judy Eddy / WENN)
Just over a year earlier, JWoww was seen in another pair of interesting studded sandals and a spray-on silver dress.
Jennifer Lynn "Jenni" Farley, also known as JWoww, at the world premiere of The Three Stooges held at Grauman's Chinese Theater in Hollywood on April 7, 2012 (Credit: Daniel Tanner / WENN)
Which of the two outfits do you like better?
Jennifer Lynn "Jenni" Farley displays her pretty feet in towering high heels (Credit: Daniel Tanner / WENN)