Haley Dunphy, Sarah Hyland's character in Modern Family, was noticeably missing from many episodes of the ABC sitcom's final season.
One of Sarah's followers asked the actress asked about her lack of airtime, and Sarah had an interesting answer that caused quite a stir.
While some thought that it was a playful response, others were convinced that Sarah threw shade at Modern Family for her lack of airtime in the show.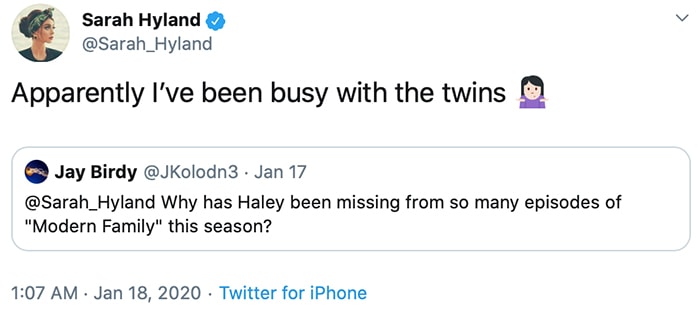 Sarah Hyland explains why she's been missing from Modern Family
A fan tweeted: "@Sarah_Hyland Why has Haley been missing from so many episodes of "Modern Family" this season?"
Sarah replied: "Apparently I've been busy with the twins," with a shoulder shrug emoji. It's a clear reference to her character, who gave birth to twins, Poppy and George, in the season 10 finale last year.
Sarah Hyland Surprised by Character's Death
In Legacy, the eleventh episode from Season 11 of Modern Family that aired on January 15, 2020, Sarah's on-screen grandfather Frank Dunphy (played by Fred Willard) died. On May 20, 2020, the prolific actor and comedian died from cardiac arrest.
"A fond farewell to Mr. Fred Willard. How lucky we all are that we got to witness his great gifts. Thanks for the deep belly laughs. You are now with Mary," Jamie Lee Curtis wrote on Instagram about Fred Willard.
Like the fans, Sarah was also surprised by the unexpected death of Phil Dunphy's father Franklin Bernard "Frank" Dunphy. She took to Instagram to share her reaction to the "Legacy" episode, and she seemed confused as to why her character wasn't at the funeral.
She said, "So I don't read scripts of episodes of Modern Family that I'm not in, so I just found out that my grandpa's dead along with all of you. I still feel special."
She added: "I guess I should've put a spoiler alert for Grandpa Frank dying, but I was just caught off guard. Like, as his granddaughter, you'd think I'd be invited to the funeral."
Sarah Hyland Credits Modern Family Success to People Behind the Scene
While she appears to be left out, Sarah was on hand at the TCA panel for Modern Family on January 8.
She credited people behind the camera for the success of the series, which debuted in 2009.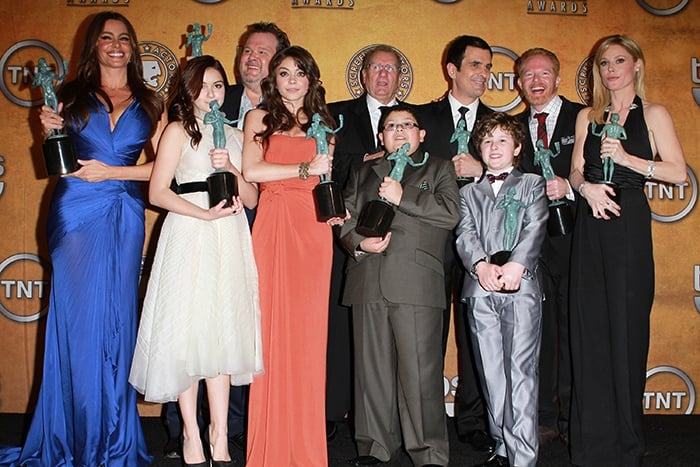 The cast of Modern Family at the 17th Annual SAG Awards in Los Angeles on January 30, 2011
"I think that the camera operators and our focus pullers are really amazing at being able to connect to the audience. The format in which this show was filmed in that mockumentary style, I think it makes the audience feel like they are in the home when we give looks to the camera, the push-ins and the wraps that the camera operators and pullers do."
"I think, it's so genius that the camera is like a thirteenth character. It's an additional cast member. I think that is what really draws the audience in and makes them feel like they are not just watching a family but they are a part of it," she added.
Finale, the series finale of the American sitcom Modern Family, aired in two parts on April 8, 2020.
What's Next for Sarah Hyland?
Sarah Hyland is set to executive produce and star in a new ABC series, written by Emily Gordon. It is said to be a semi-autobiographical project inspired by Emily and Sarah's real-life experiences.
In January 2020, she attended the 2020 SAG Awards held at the Shrine Auditorium in Los Angeles.
The then 29-year-old actress stood out in a sea of floor-length gowns, wearing a lilac floral mini from Italian label Philosophy Di Lorenzo Serafini's Spring 2020 collection.
Sarah Hyland parades her legs at the 26th Screen Actors Guild Awards in Los Angeles on January 19, 2020 (Credit: Nicky Nelson / WENN)
Styled by Brad Goreski, Sarah broke the leg or cleavage rule in the floral-printed high-low frock, which features a plunging neckline and a dangerously short bubble skirt.
The lilac number also has a large bow detail on the waist and a long flowing train for added drama.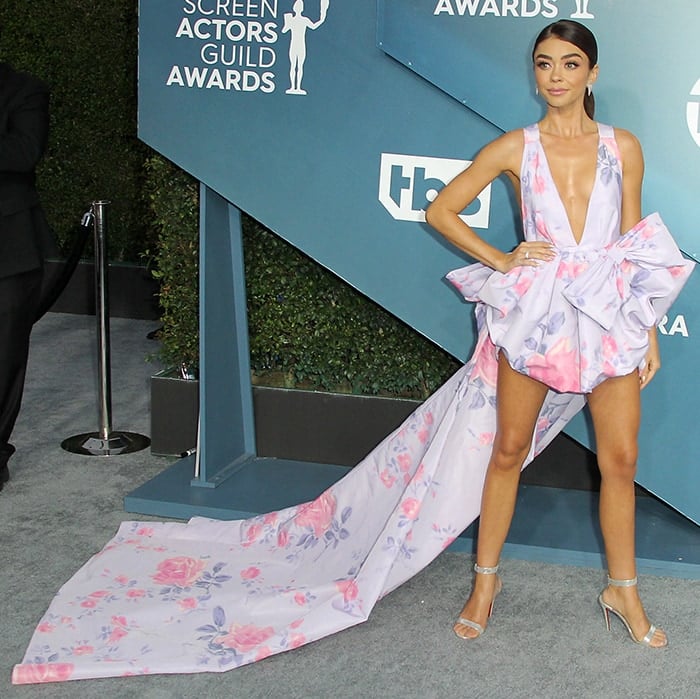 Sarah Hyland breaks the "cleavage or leg rule" in a lilac floral mini dress with a plunging neckline (Credit: Adriana M. Barraza / WENN)
Hairstylist Riawna Capri pulled Sarah's tresses away from her face into a sleek ponytail.
Makeup artist Denika Bedrossian used Cover Girl cosmetics to highlight Sarah's features. She filled in her eyebrows for a more defined look, used pink eyeshadow with glitter dust, applied a swipe of mauve lip gloss, and added a hint of color on her cheeks.
Known for her work on The Metrosexual (2007), Little Minx Exquisite Corpse: Come Wander with Me (2008), and America's Next Top Model (2003), Denika Bedrossian also applied Pinky Goat false lashes to further accentuate her eyes.
Sarah Hyland wears a sleek ponytail with false eyelashes, pink eyeshadow, and mauve lipgloss (Credit: Nicky Nelson / WENN)
For her accessories, Sarah wore a pair of Lorraine Schwartz lavender jade earrings, diamond band rings, and Ofira rings.
She then added extra inches to her 5'2" height with a pair of Christian Louboutin 'Jonatina' sandals.
Available for purchase at Net-A-Porter and Nordstrom, they are made from metallic silver lizard-effect leather and feature clear PVC to create an illusion of floating ankle straps.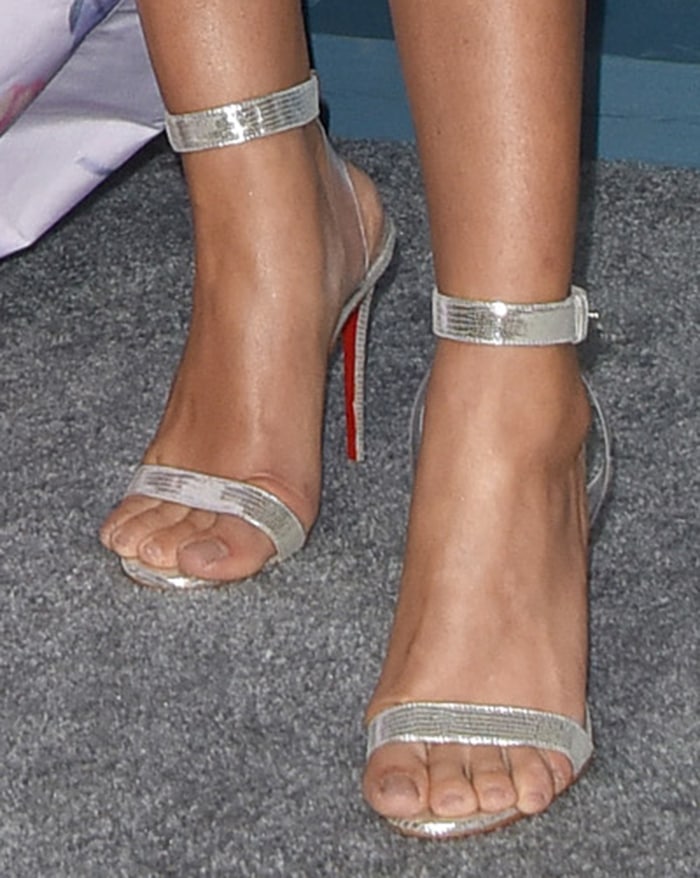 Sarah Hyland shows off her pretty feet in Christian Louboutin sandals (Credit: Nicky Nelson / WENN)
Christian Louboutin Jonatina Sandals, $795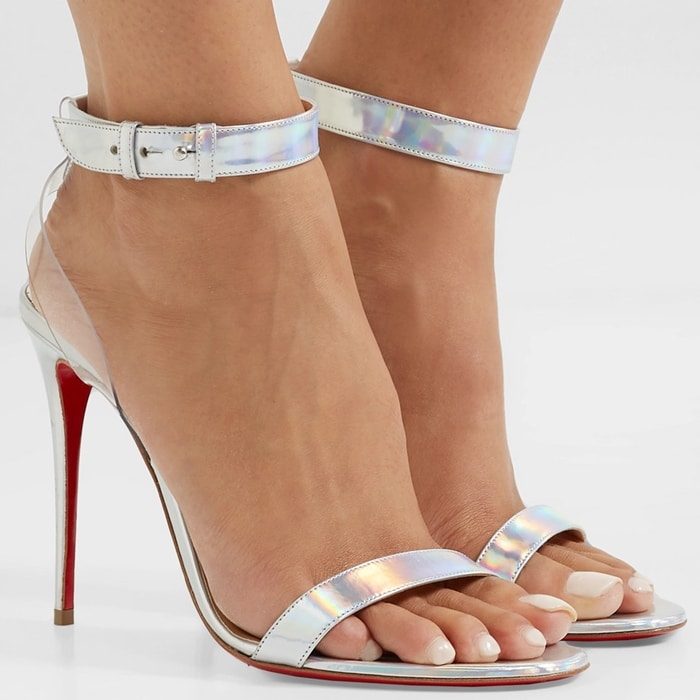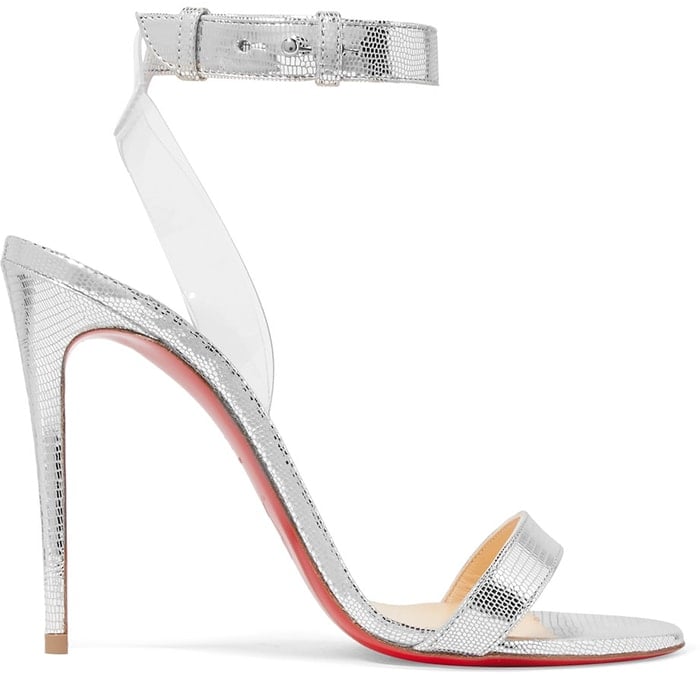 23. Fred Willard (September 18, 1933 – May 15, 2020)
The Emmy Award-nominated comic actor best known for his role as Air Force Lt. Bob Hookstratten in the Rob Reiner mockumentary film This Is Spinal Tap, scene-stealing roles in Christopher Guest's improvised ensemble film comedies like Waiting for Guffman, Best in Show, A Mighty Wind, For Your Consideration, and Mascots, and sitcoms like Fernwood 2 Night, Modern Family, and Everybody Loves Raymond, he died from cardiac arrest at 86 at his home in Los Angeles.
According to his death certificate, the underlying causes of death were myelodysplastic syndrome and coronary artery disease.
Actor Fred Willard and his wife Mary Willard attend a cocktail reception hosted by the Academy of Television Arts & Sciences celebrating the Daytime Peer Group at Montage Beverly Hills on August 26, 2015, in Beverly Hills, California (Credit: Nicky Nelson / WENN)
"Fred Willard was the funniest person that I've ever worked with. He was a sweet, wonderful man," Steve Carrell tweeted about his co-star from is the American comedy streaming television series Space Force.
"Fred Willard could not have been funnier. He was pure joy. And the sweetest person you could ever meet," film director Judd Apatow wrote on Twitter.
Born in Cleveland, Ohio, on September 18, 1933, he was married to Mary Lovell from 1968 until her death at 71 on July 13, 2018. Survived by his daughter Hope Willard, Frederick Charles Willard Jr. had a net worth of $5 million at the time of his death.
His daughter said he passed "very peacefully … He kept moving, working, and making us happy until the very end. We loved him so very much! We will miss him forever."