No matter your size, as long as you feel beautiful, confident, and healthy—you are perfect! That's what actress Melissa McCarthy wants fans to know, as she opens up about body image and her own weight loss journey.
Everywhere you look—movies and television shows, magazines, social media websites, or commercials—our media is inundated with images of scantily clad women.
Up until recently, these poster girls have embodied Westernized beauty and body standards: toned, tanned, and thin (sometimes to the point of being unhealthy). These beauty standards put pressure on nearly all women, even the ones that are already in the spotlight.
Melissa McCarthy couldn't care less about what people think about her weight (Credit: Dimitri Halkidis / WENN)
Defying the Odds
Melissa McCarthy has always possessed the comedic acting chops that would make her a star. The 52-year-old is best known for roles such as Sookie St. James in Gilmore Girls, Molly Flynn in Mike & Molly, and Megan in Bridesmaids.
Billy Gardell and Melissa McCarthy as the eponymous Mike and Molly in the American television sitcom Mike & Molly (Credit: CBS)
In 2020, The New York Times ranked her as #22 on their list of the 25 Greatest Actors of the 21st century. Despite this, she is still scrutinized for her weight.
McCarthy is one of the few A-list actresses that provides body image representation for many viewers. To put this in perspective, the average dress size for American women is US 12-14 (UK 14-16). This is not to say that other actresses don't fill this demographic, just that Hollywood may not give them as much of a chance.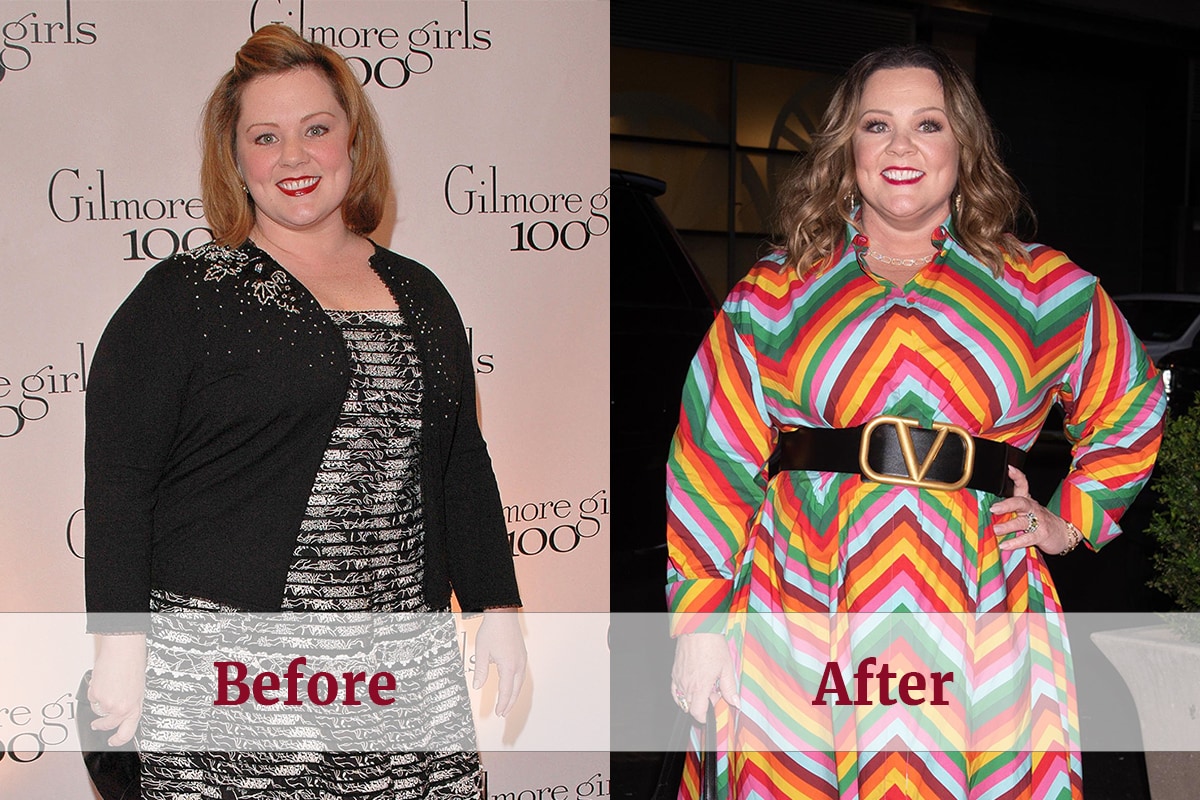 Before and After – Melissa McCarthy at the Gilmore Girls 100th Episode Party in 2004 and at the Watch What Happens Live Taping in 2022 (Credit: Marty Hause / Startraksphoto / Janet Mayer)
"I've been every size in the world, from a six to a 22," the actress told The Guardian, so she knows what it is like for women of nearly every weight and can sympathize about struggles with body image.
Despite her talent, McCarthy revealed that she had a difficult time initially breaking into show business because of her weight, admitting, "I'm not afraid of a Guinness and a burger!"
She says that early in her career, a manager once told her she would never be able to work in Hollywood if she didn't lose weight.
Melissa McCarthy was repeatedly advised to lose weight if she ever wanted to find success in Hollywood (Credit: Apega / WENN)
"It really hurt my feelings," the actress told People, "I understand that the odds are not as high as if I was skinny, but I still have talent. I thought, 'I'll show you!'"
The body positivity movement encourages people to love their bodies even if they don't look like a Victoria's Secret model. This movement has been gaining traction both in Hollywood and everyday life since the early 2010s and despite this, McCarthy has still received criticism for her size.
About Mike and Molly
McCarthy starred in this show as the titular Molly—a television sitcom about the relationship between two lovers who meet at Overeaters Anonymous. The show was rather popular, with roughly 13 million viewers each week.
Asked about her weight loss, Melissa McCarthy says her"secret" was really just changing her lifestyle (Credit: WENN)
McCarthy was originally unsure about starring in the show, as she was fully aware of the negative stereotypes and outlook many people hold about those who don't fit the body standard. She wanted to tell a story about two people in love, not be the butt of a joke.
"I'd never done anything that touches on weight," she told People, "But there is a sweetness between these characters. Weight wasn't the topic of the show. It was a slice of the pie."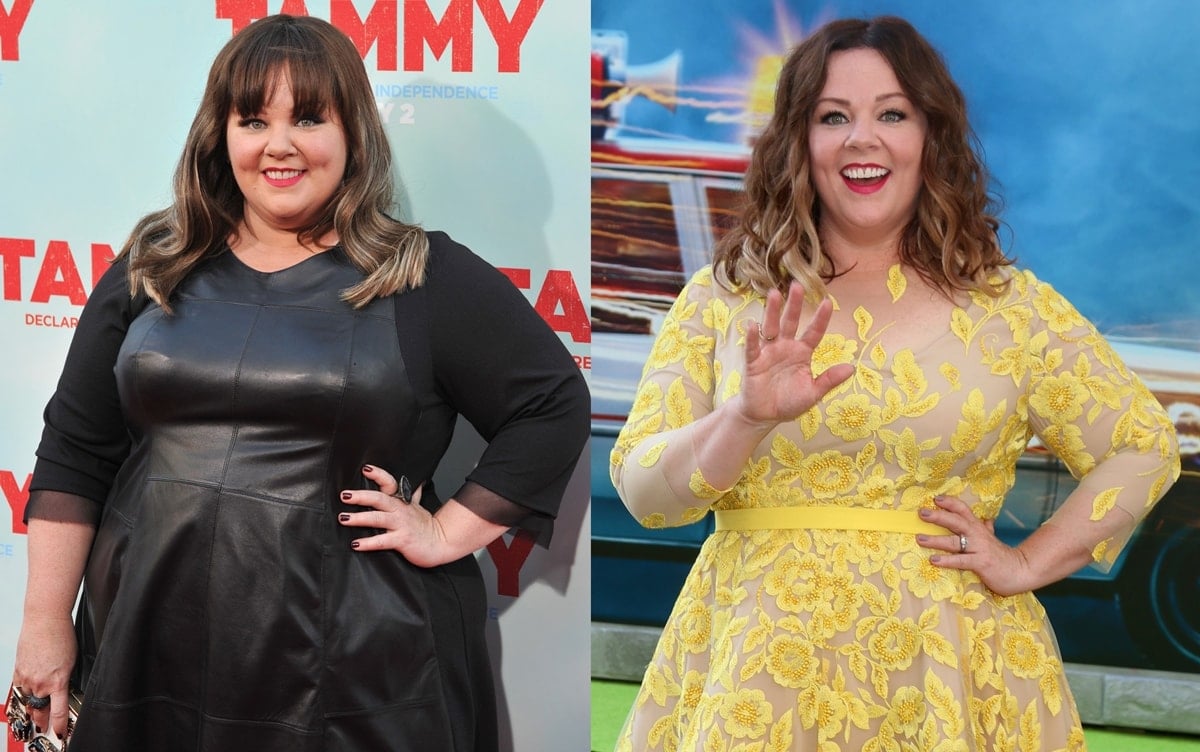 Melissa McCarthy says her weight goes up and down and that "it's a work in progress" (Credit: Kathy Hutchins / Featureflash Photo Agency / Shutterstock)
Shortly after Mike & Molly's premiere in September 2010, Marie Claire made the inconsiderate decision to publish an article entitled "Should 'fatties' get a room? (even on TV?)".
Writer Maura Kelly expressed disgust about the premise of the show, writing that she would be "grossed out if I had to watch two characters with rolls and rolls of fat kissing each other."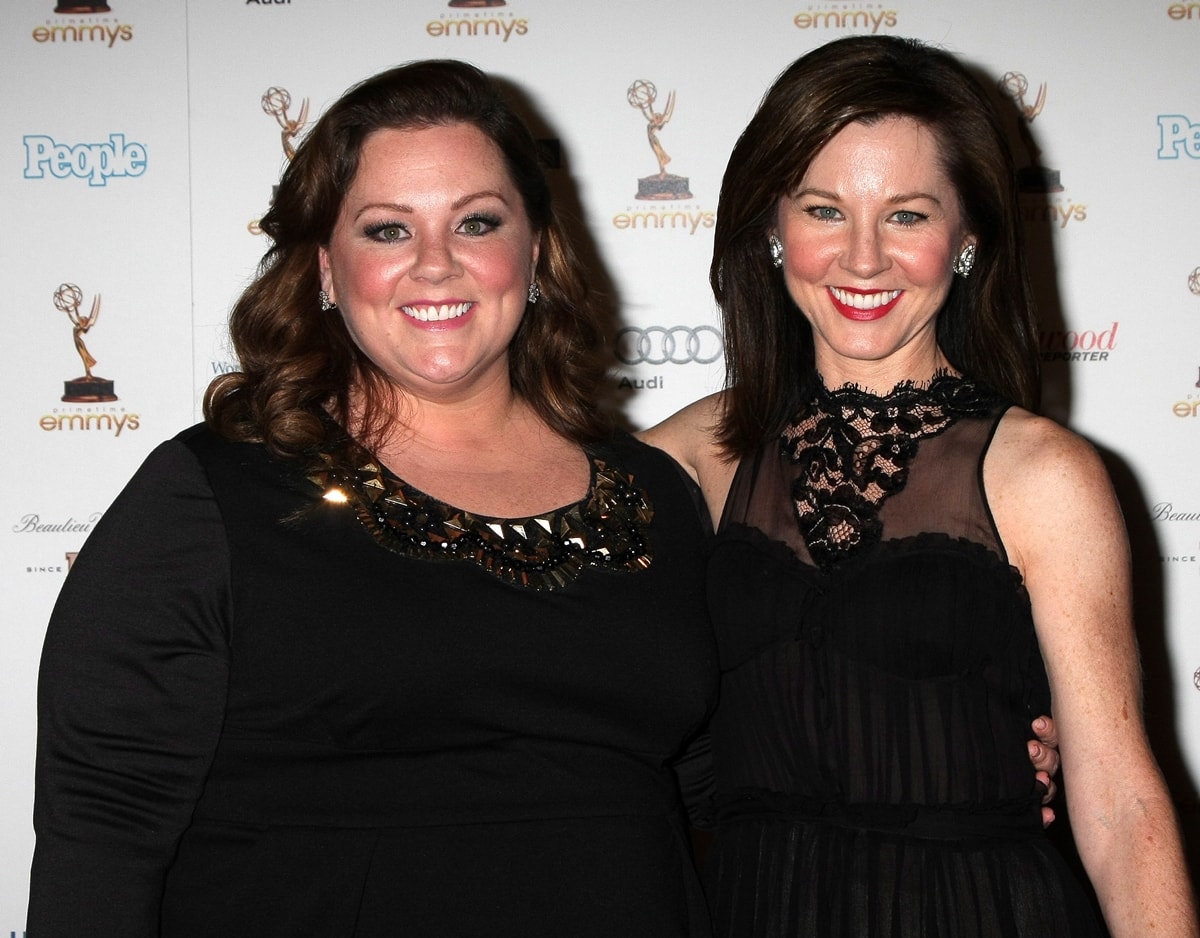 Melissa McCarthy and her older sister Margie McCarthy grew up with their parents on a farm in Plainfield, a small town outside of Chicago (Credit: Nikki Nelson / WENN)
The article received major backlash, with over 1,000 comments criticizing both the writer and Marie Claire for publishing such hateful rhetoric.
Kelly later apologized, claiming that her insensitivity and cruel comments might be due to her "own history of anorexia."
However, the damage was already done. "It was so unkind. I thought, 'Shame on you," McCarthy said about the article. Luckily, she was able to brush it off, saying, "At a different point in my life, it would've crushed me. But it didn't."
Dealing With Diets
McCarthy admits that she wasn't always confident in her own skin. The pressure of landing the role on Gilmore Girls led McCarthy to attempt an exclusively liquid diet while under physician supervision.
This extreme diet resulted in the actress losing a whopping 70 pounds in just four months.
Melissa McCarthy tried a doctor-supervised all-liquid diet and lost 70 pounds in four months after landing her role on Gilmore Girls (Credit: FayesVision / WENN)
"I'd never do that again," she says, "I felt starved and crazy half the time."
In 2016, McCarthy was the object of lots of speculation about losing lots of weight—rumored to be around 75 pounds—and people were dying to know how and why she did it.
However, McCarthy revealed that she didn't have a magic weight loss "secret," telling Extra, "No trick, nothing to tell, just super boring life. You bring it real down, you don't do anything fun, and you go to bed at 7:30. That's the trick."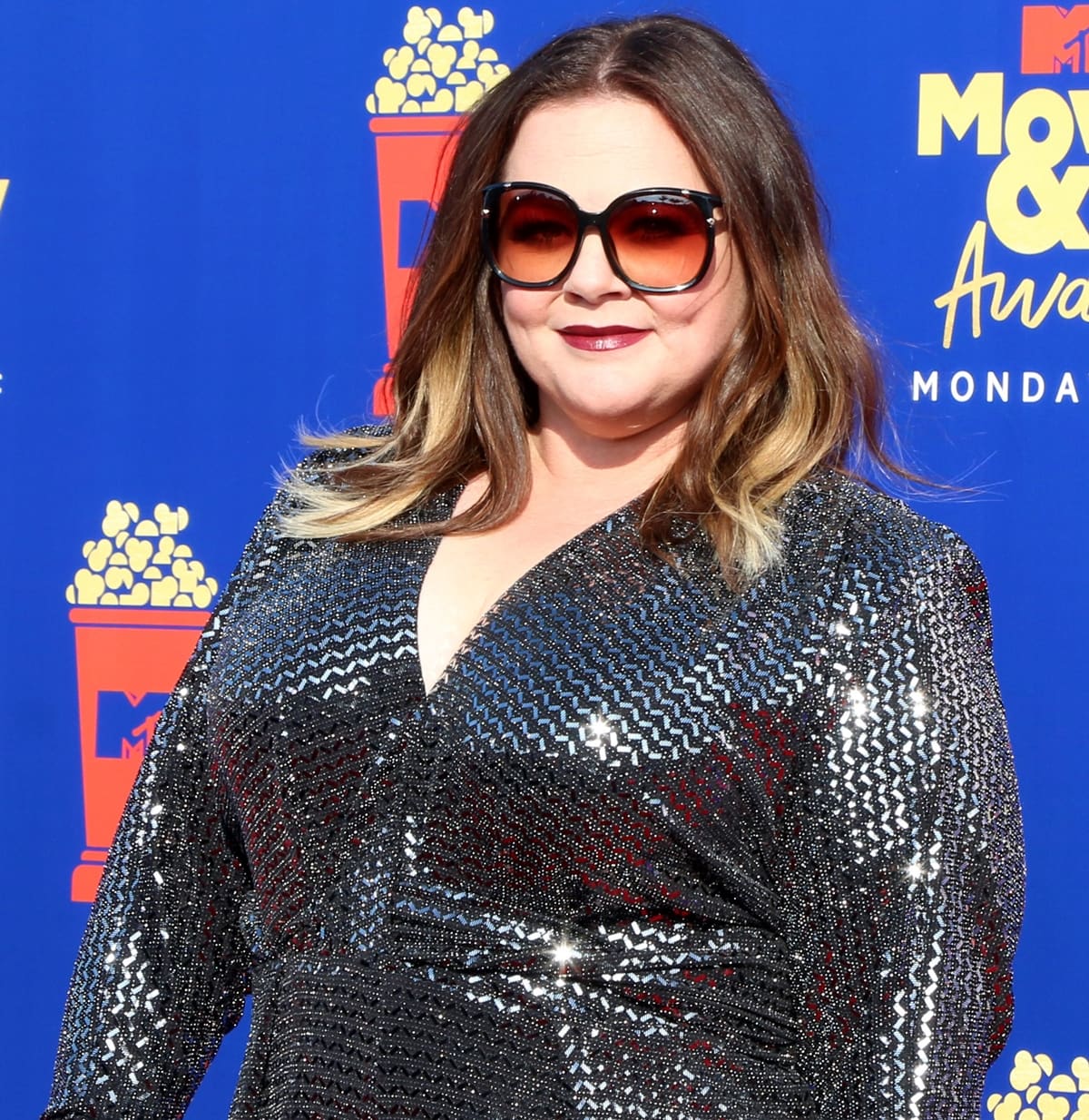 Melissa McCarthy rocks sunglasses with Dena Kemp jewelry and a sequined jumpsuit by Talbot Runhof at the 2019 MTV Movie and TV Awards held at the Barker Hangar in Santa Monica, Calif0rnia, on June 15, 2019 (Credit: Nicky Nelson / WENN)
Since the actress has been so outspoken about body positivity and the unrealistic body standards women in Hollywood are held to, many are wondering why she chose to lose weight, especially if it involved not doing "anything fun."
McCarthy essentially responded to these critiques by telling them that her reasons are inconsequential and there is more to her than how much she weighs. "I have [lost weight], but I'll be back again," she said to Refinery29.
"I'll be up, I'll be down, probably for the rest of my life. The thing is, if that is the most interesting thing about me, I need to go have a lavender farm in Minnesota and give this up. There has to be something more."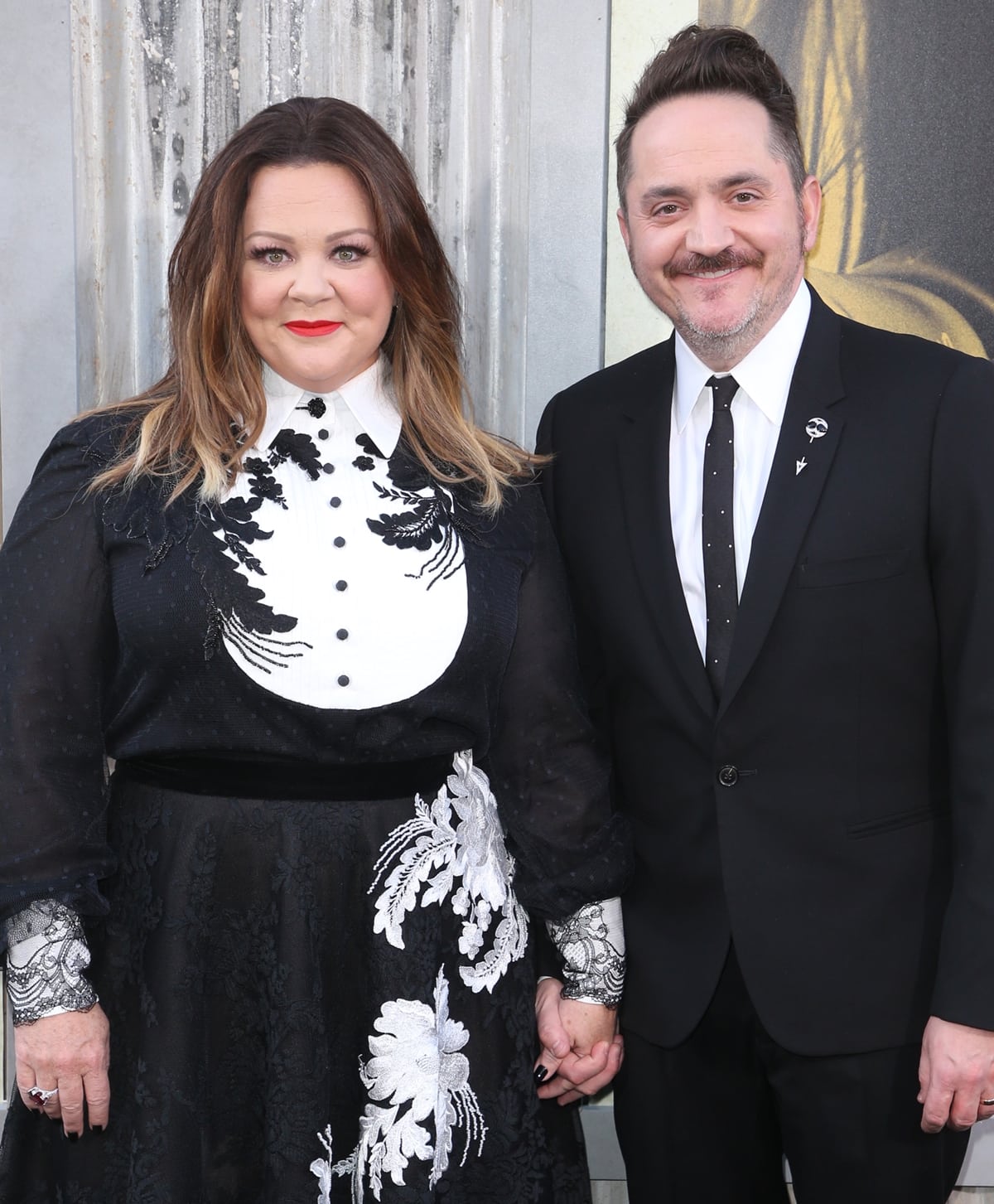 Melissa McCarthy and her husband Ben Falcone at the premiere of The Kitchen held at TCL Chinese Theatre on August 5, 2019, in Hollywood (Credit: FayesVision / WENN)
Keeping It Healthy and Real
Although she might have gone through the horrible ordeal of a liquid diet, these days, McCarthy is focusing on eating nutrient-rich foods. This includes eating lean protein, healthy fats, fiber, and, of course, a lot of fruit and vegetables.
McCarthy also found a way to add exercise to her regimen by choosing something that was fun for her – martial arts.
She is in a good space, and not obsessing over her weight or the numbers on the scale. "I have two great kids and the dreamiest husband on the planet, and everything else is just a work in progress," she told Us Weekly.
McCarthy wants women to know that no matter their size (and no matter her size), it is important to celebrate and love themselves, even if they don't look like the girls on the beer posters: "With women, there's this constant weird cultural thing where we're always supposed to be comparing ourselves with one another. Who wore it best? Whose butt's better? Instead, how about if everyone wins? How intensely boring would it be if we were all the same?"
Glowing and Gorgeous at the Gilda Radner Awards
Melissa McCarthy plays Dr. Abigail L. "Abby" Yates in the all-female reboot of Ghostbusters (Credit: Joseph Marzullo / WENN)
In July 2016, Melissa McCarthy spent time promoting "Ghostbusters" and looked absolutely gorgeous while doing so.
Melissa McCarthy accepts the Gilda Radner Award for Innovation in Comedy at Caroline's on Broadway in New York City on July 12, 2016 (Credit: Joseph Marzullo / WENN)
The funny Spy actress once again looked flawless at the Gilda Radner Awards, where she accepted the award for Innovation in Comedy.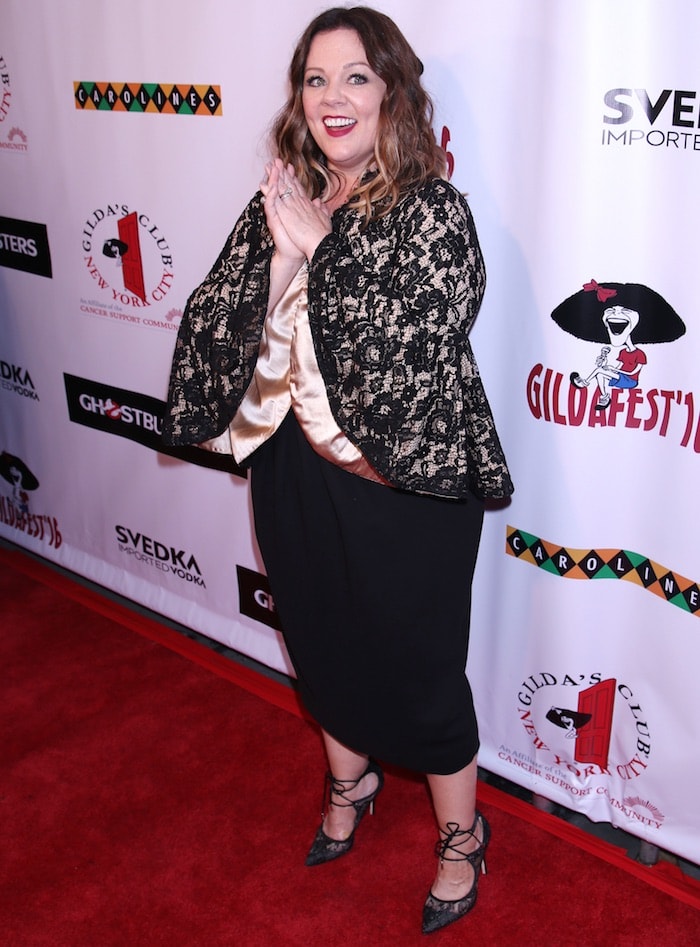 Melissa McCarthy paired her lace-bodice LBD with black lace ankle-tie pumps (Credit: Joseph Marzullo / WENN)
Named after late comedian and original "SNL" cast member Gilda Radner, the award is "presented to a female comedian who embodies the fun and comedic genius" of the late actress.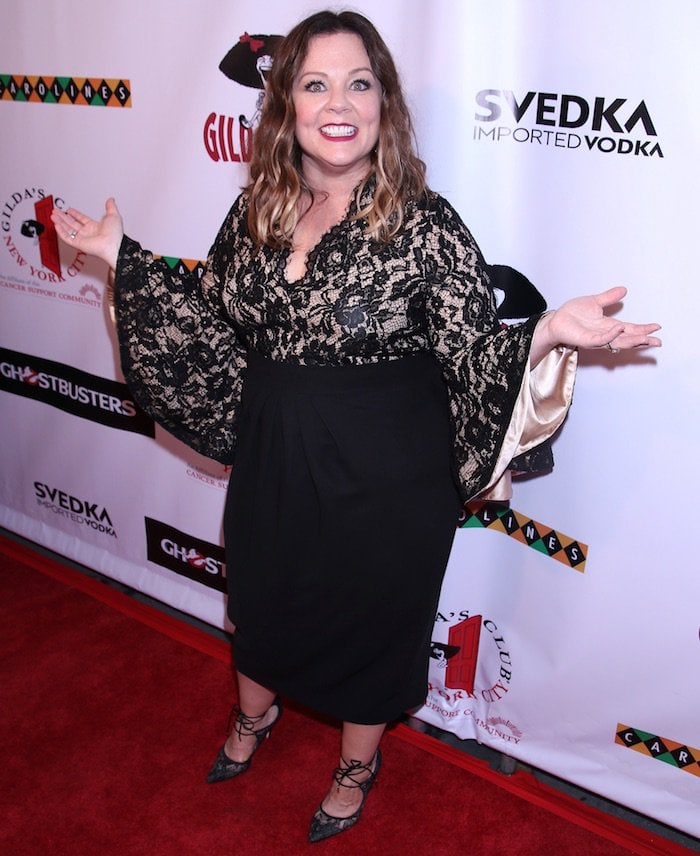 Melissa McCarthy wore a blouse and skirt designed by costume designer, creative director, stylist, and branding expert Judy B. Swartz (Credit: Joseph Marzullo / WENN)
The comedian, who has always been vocal about how stylish clothes are limited for plus-size women, looked very sophisticated at the event.
Melissa McCarthy wore a custom Judy B. Swartz black lace blouse and skirt (Credit: Joseph Marzullo / WENN)
She wore a bell-sleeved dress made of black lace that really accentuated her figure and paired it with Belle by Badgley Mischka's "Brye" lace-up pumps.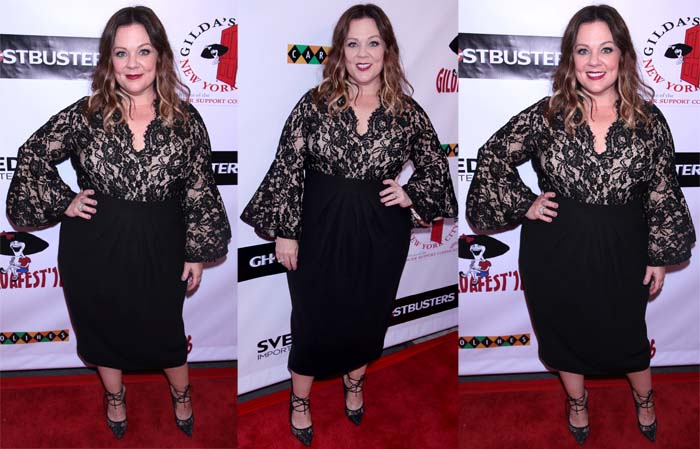 Melissa McCarthy received The Gilda Radner Award for Innovation Comedy at Gildafest'16 at Carolines on Broadway (Credit: Joseph Marzullo / WENN)
The Lord & Taylor exclusive shoes feature four-inch heels and are made from a cotton-silk blend. The whole ensemble perfectly flattered her body.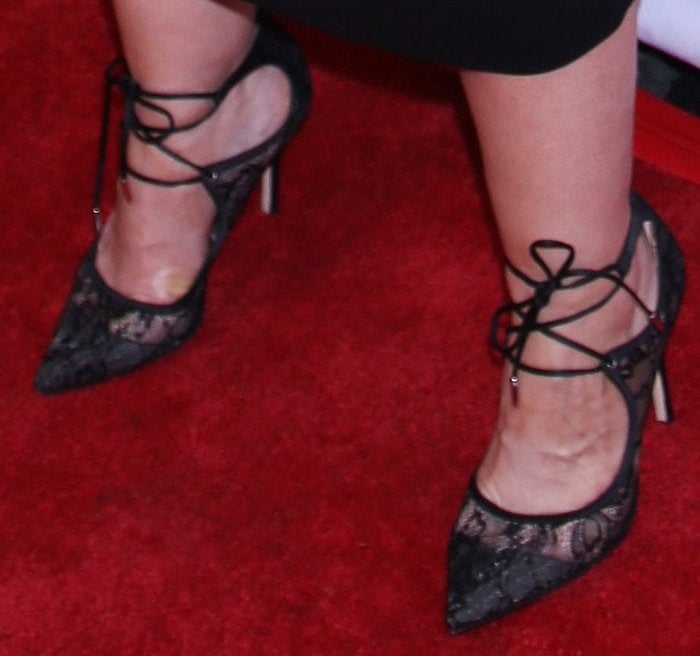 Melissa McCarthy shows off her feet in Belle by Badgley Mischka's "Brye" lace-up pumps (Credit: Joseph Marzullo / WENN)
Belle by Badgley Mischka "Brye" Lace-Up Pumps, $74.25