Megan Fox sported bold leggings while doing some shopping at Selects Apothecary and Benjamin with Negin Zand on Monday in Beverly Hills. Earlier in the day, she cut her hair at a salon on Melrose Avenue that is associated with Salon Benjamin.
Megan Fox showed off her new haircut after visiting a salon associated with Salon Benjamin
The 28-year-old American actress and model sported PRISMSPORT leggings paired with a blue sweater.
Megan Fox leaving a hair salon in Beverly Hills wearing colorful tribal patterned leggings and a plain blue sweatshirt on April 20, 2015
She sported thick cat-eye sunglasses, carried a bag of hair products from Selects Apothecary, and completed the outfit with leopard hi-top sneakers from Golden Goose.
Megan Fox's leopard hi-top sneakers from Golden Goose
You can find the cropped version of her vividly printed leggings at Shopbop.
PRISMSPORT Capri Leggings, $82
We've previously spotted Hilary Duff and Mandy Moore in Golden Goose sneakers. Megan's leopard sneakers are available in a limited number of sizes at Amazon.
Golden Goose S7 Francy Leopard Hi-Top Sneakers, $441.30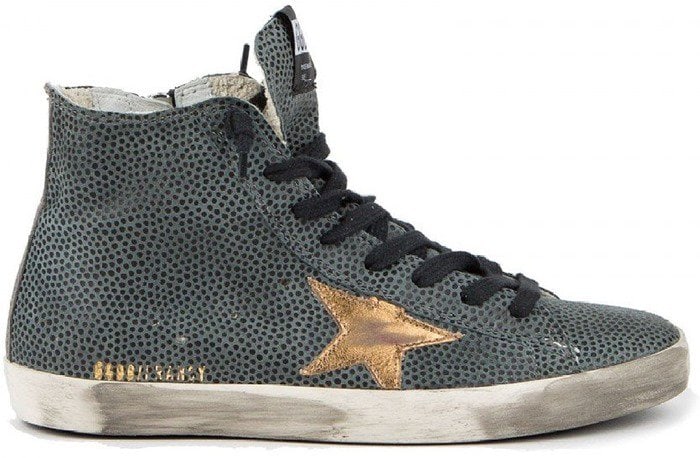 Credit: WENN