Like every luxury brand, Valentino is the victim of counterfeiting. The best way to guarantee that you're receiving a genuine product is to purchase directly from the brand or one of their licensed stockists.
Buying Valentino pre-loved can save you a pretty penny, but it is best to do it when you know what to look for to guarantee its authenticity.
Rockstud shoes for women designed by Valentino Garavani
1. Compare prices
You want to pay particular attention if you are purchasing sneakers, belts, or anything from the 'Rockstud' collection.
The best way to determine whether something is fake or genuine is usually the price. If it seems too good to be true, it probably is.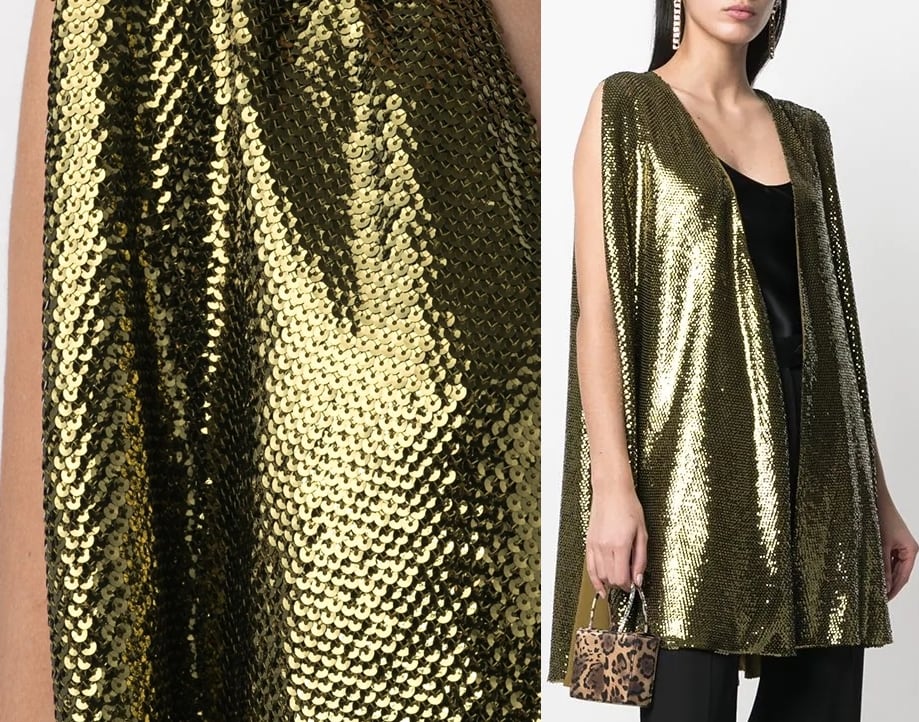 This green sequin-embellished sleeveless cape from Valentino retails for $9,500
Any luxury product will retain at least a percentage of its original value, if not sell for a mark-up.
If you see a bag for 10% of the retail price, you can sure it's a counterfeit. No one forgets how much they spent on a Valentino piece, and they won't let it go for pennies.
2. Check the rivets
A screenshot from a Closer Look YouTube channel shows that the pyramid studs on the real Valentino shoes (bottom) are sharper and not as yellow as the studs on the fake Valentino shoes (top)
If you are purchasing a Rockstud item, you want to pay attention to the rivets. Each one should have a pyramidal shape and be uniform across the item, as well as being evenly distributed.
If you spot a rivet that looks out of place or asymmetrical, alarm bells should be ringing.
Luxury fashion brands are famous for their craftsmanship, and an Italian brand like Valentino will never have a stitch out of place.
The rivet should be attached to the leather, without any gapping.
3. Examine the logo
Inspect the logo and make sure it has the signature Valentino font as shown in the photo above
Like any luxury item, always check the logo. You want to make sure it uses the brand's signature font and has the correct placement. If your bag has silver hardware, they will print the logo in silver.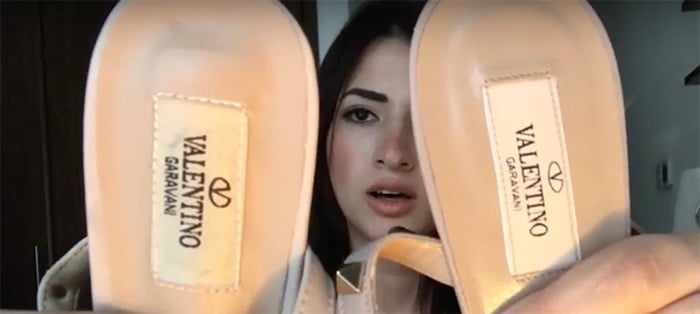 A screenshot from Luxury Talk YouTube channel showing uneven stitches on the fake Valentino sandals (left) and clean, aligned stitches on the real Valentino sandals (right)
You want to check that the interior logo is sewn correctly without any missed stitches. The products are all made in Italy, so any other country should be a red flag.
4. Check the serial number
On newer Valentino products, particular bags, you can find a serial number that should correspond with the paperwork you've received.
5. Check the store or dealer
You can never be too careful when purchasing Valentino products online. Super fakes from websites like DHgate even reproduce lookalike receipts and certificates of authenticity to fool you into thinking they're genuine.
If you want ultimate peace of mind, buy directly from Valentino or an official stockist like Farfetch or Nordstrom. It might take you a little longer to buy the item, but you can be sure of its authenticity.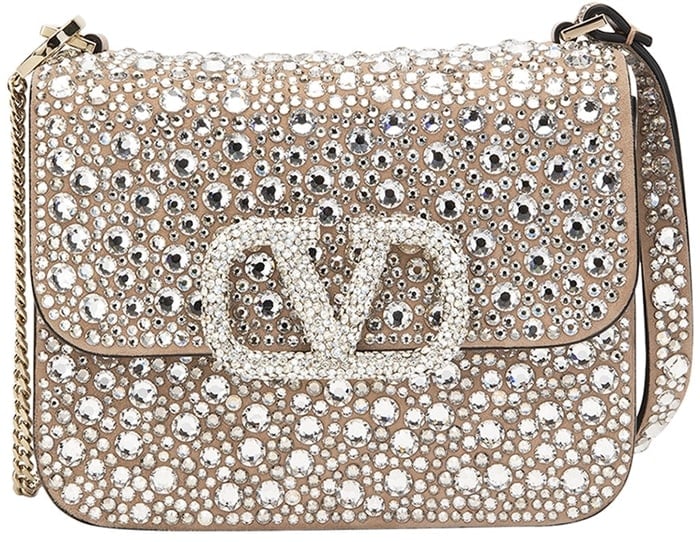 This Valentino Garavani allover crystal-embellished leather shoulder bag retails for $5,200
If you decide you want to go down the pre-loved route, it's always best to look for websites that offer an authentication service.
These companies hired trained professionals who know everything about the brand and can spot even a super fake.
Make sure to purchase with a credit card offering fraud protection so that you can put in a claim if your item turns out to be a counterfeit.