Open-toe shoes are famous for being a favorite amongst those with wider feet. Along with allowing breathability in the shoe, the open-toe box takes the pressure off the top of the foot.
Whatever your feet type, you'll likely find that peep-toe shoes are more comfortable to wear than closed, pointed-toe shoes. While these shoes are more comfortable than the average heel, there are a few steps you can take for added comfort.
A variety of peep-toe and open-toe shoe silhouettes
If you're wearing peep-toe shoes (where the first and second toe are visible), you can tape the third and fourth toe together. This tip helps to relieve pressure from the bottom of your foot and can make peep-toe heels more comfortable to wear.
A nerve connects your third and fourth toe, which causes foot pain when agitated. While this tip doesn't work for open-toe shoes, it's perfect for a pair of peep-toes.
A screenshot from Maison Olomi's YouTube channel showing how to tape the third and fourth toes to relieve pressure from the soles of the feet
For anyone lucky enough to own a pair of designer open-toe shoes, such as Christian Louboutin peep-toe stilettoes, it's worth visiting a cobbler.
A rubber sole on the bottom of your shoes can make them more comfortable and easier to walk in, especially with a higher heel.
Self-Adhesive Rubber Anti-Slip Shoe Grips, $8.49 on Amazon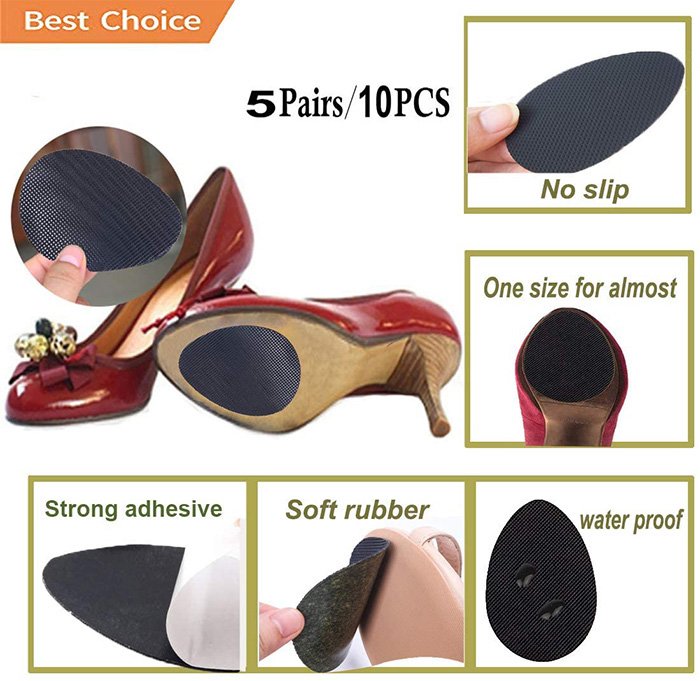 Prevent slips and falls with strong self-adhesive, and durable non-skid pads for shoes
Before you take your open-toe shoes for their first night on the town, make sure you wear them in first. You can give them a test drive at home for a few hours before their first outing or place a shoe stretcher inside.
Eachway Shoe Stretcher, $22.99 on Amazon
Eachway shoe stretchers provide 4-way stretching
If you buy a pair of open-toe shoes that are a little too tiny, try wearing them with thick socks to help break them in and stretch the shoes. Wearing the shoes around your home with socks should help to stretch them.
You can also blast a blow dryer over the shoes for several minutes while wiggling your toes if you're determined to make them fit.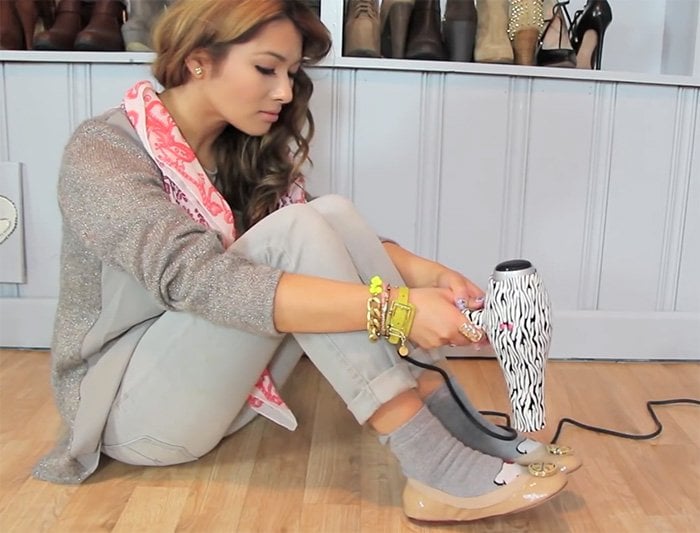 A screenshot from Lisa Pullano's YouTube channel showing how to stretch and break in shoes using thick socks and a blow dryer
When you're wearing a pair of peep-toe shoes, you need to make sure they're the perfect fit. If your shoes are too big, it can quickly result in a blister around your toes because of friction.
Don't be afraid to try half-sizes when you're buying a pair of open-toe shoes, especially if you traditionally size up for pointed-toe shoes.
Jennifer Lawrence (left) wears way too big shoes, while Suki Waterhouse (right) curls up her toes in her tiny open-toe heels (Credit: Adriana M. Barraza / Apega / Mario Mitsis / WENN)
A little-known tip about shoe shopping is that it's always best to try shoes on in the evening. Our feet swell by the end of the day because of walking around and putting pressure on them.
If you can, it's best to wait to try shoes on later in the day as you can take into account the natural swelling of your feet when choosing a size.
You should always have a pair of silicone gel inserts on hand for any pair of shoes. Gel inserts slip inside your shoe, where the balls of your feet would be, and help support your feet while standing or walking all day.
Silicone Gel Heel Cup Pads, $19.95 on Amazon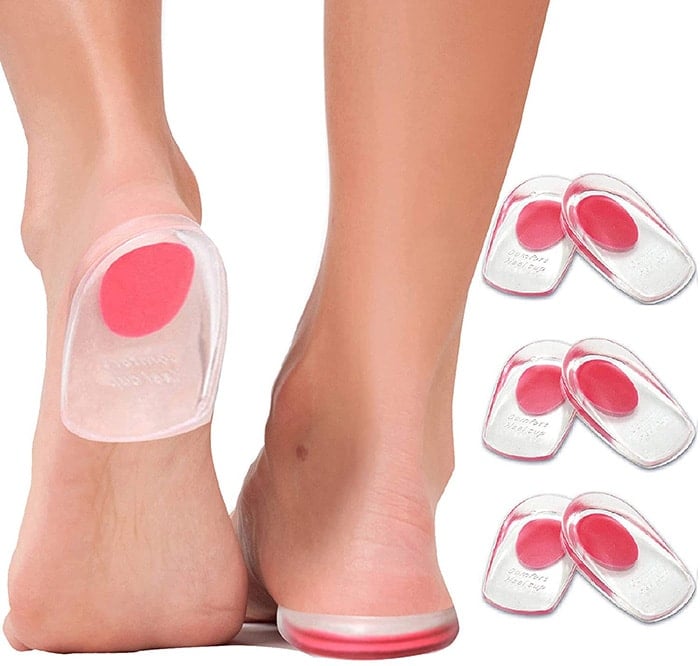 Use gel heel cups for planters fasciitis and foot pain
If you struggle with walking in open-toe shoes, consider starting with a block heel. This thicker style of heel is easier to walk in and provides you with more support than a slim stiletto would.
Likewise, it's also good to know what heel height is comfortable for you to walk in. This height will vary from person to person, but we each have our own tolerance level, which usually depends on the pitch and arch of the heel as well as the height.
Iggy Azalea (left) in block-heeled peep-toe booties and Kristen Stewart (right) in stiletto peep-toe pumps (Credit: Adriana M. Barraza / Apega / Mario Mitsis / WENN)
Having a pair of open-toe shoes in your closet is a must-have for warmer months. While they require a little more thoughtful styling than a pair of closed-toe shoes, peep-toes are a sexy alternative to pointed shoes and are perfect for less formal weddings and nights out to the club.
If you work in a professional office or tend to have more formal occasions to go to, a pair of patent-leather peep-toe shoes will be more versatile than their open-toe cousin.
Open-toe shoes are a must-have for those with wider feet, and you can style them to wear all year long.