Forget the LBD – or little black dress – we're obsessing over red dresses for the festive season. Red is a color synonymous with courage, love, and seduction.
A red dress is something you wear when you want to make a statement. Red also reminds us of the joy of the holiday season, making it a classic choice for holiday parties, family get-togethers, and special events.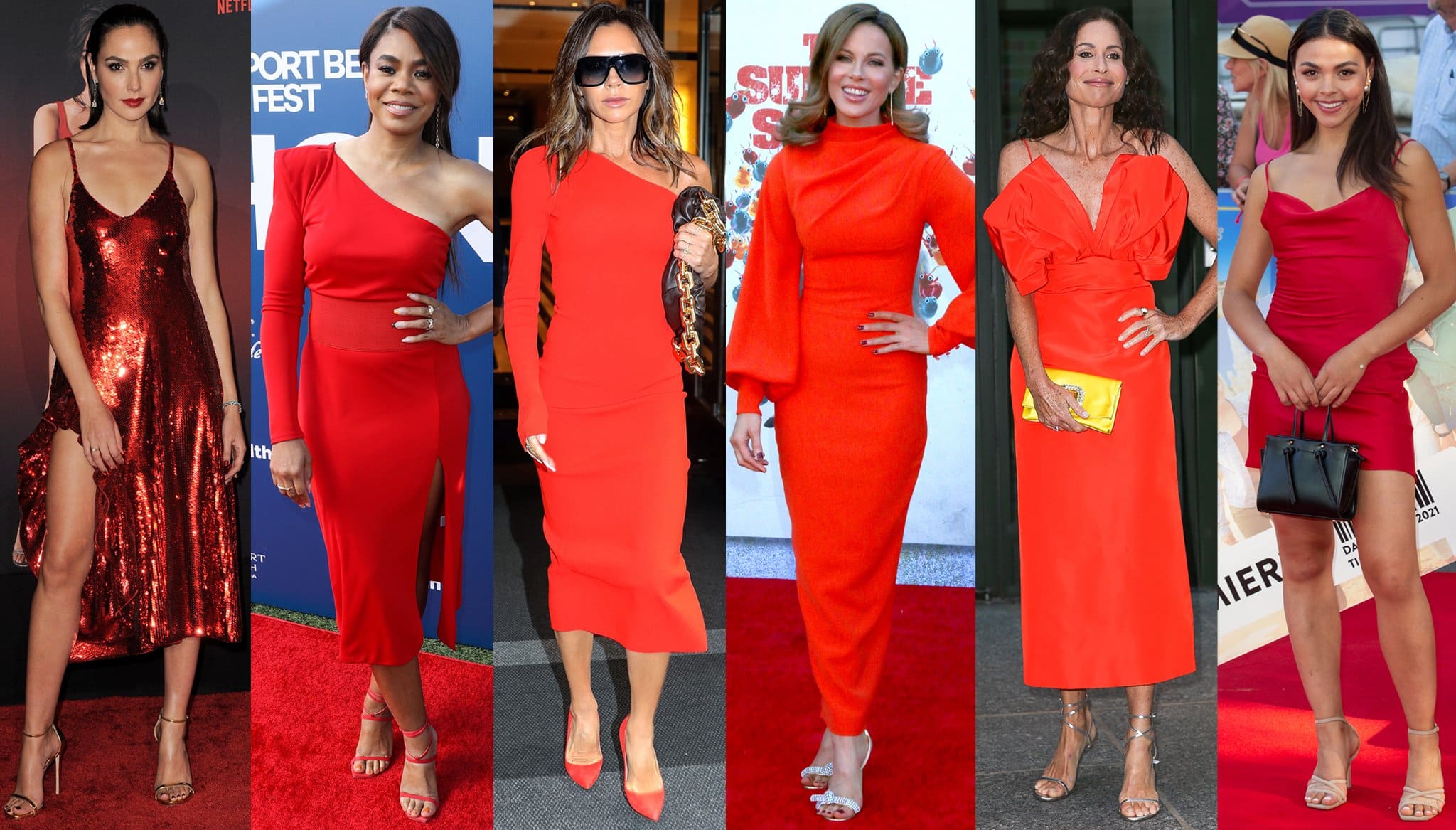 Gal Gadot, Regina Hall, Victoria Beckham, Kate Beckinsale, Minnie Driver, and Vanessa Bauer show what shoe color to wear with red dresses (Credit: Mega / Avalon / Nicky Nelson / Mario Mitsis)
While we love red dresses, we're often left wondering what color of shoes to wear. You want to let your red dress take center stage while still wearing shoes that match the aesthetic of your look.
We're sharing the color of shoes that will work perfectly with your red dress, whether you're heading to the office or a Christmas party.
1. Enhancing Your Look with Metallic Silver Shoes
You can add a touch of sparkle to your look with a metallic silver shoe. You want to stay away from gold and choose metallic silver instead, as the cooler undertones will help the red of your dress pop.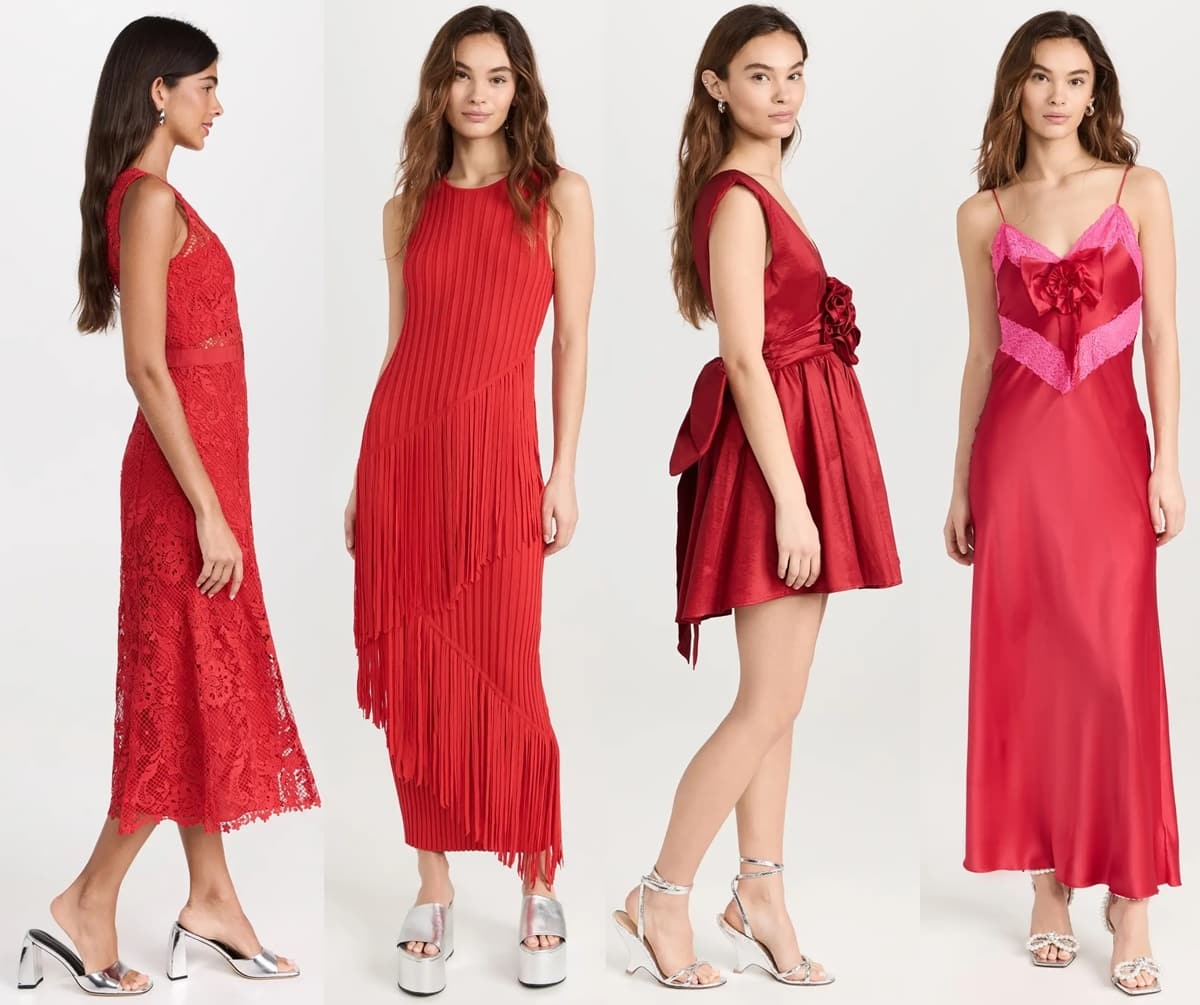 Wearing metallic silver shoes complements a red dress, allowing for a cohesive and classic look that can be enhanced with coordinating silver jewelry (Credit: Shopbop)
The benefit of wearing silver shoes is that it's easier to create a uniform look by incorporating matching sterling silver or diamond jewelry to tie your outfit together. Silver shoes will add a classic feel without distracting your red dress.
2. Emerald Envy: Daring Duo for the Holidays
If you want to make a statement with your red dress this holiday season, go all out with green shoes. We all know that red and green are a match made in winter wonderland.
1. Fraiche By J Empire Waist Long Sleeve Dress / 2. Bottega Veneta BV Curve Sandals / 3. Lauren Ralph Lauren Crepe Off-the-Shoulder Cocktail Dress / 4. BCBGeneration Hallix Croc Embossed Pump
You want to try and choose a green shade that complements your red dress, with darker forest greens giving you a look that hints at Christmas without making you look like a festive gift.
3. Red All Over: A Chic Monochrome Ensemble
When in doubt, go monochrome. There's nothing chicer than wearing one color from head to toe.
You can choose red shoes in a matching red hue to your dress or add an extra dimension by choosing a color that is a few hues darker or lighter than your dress.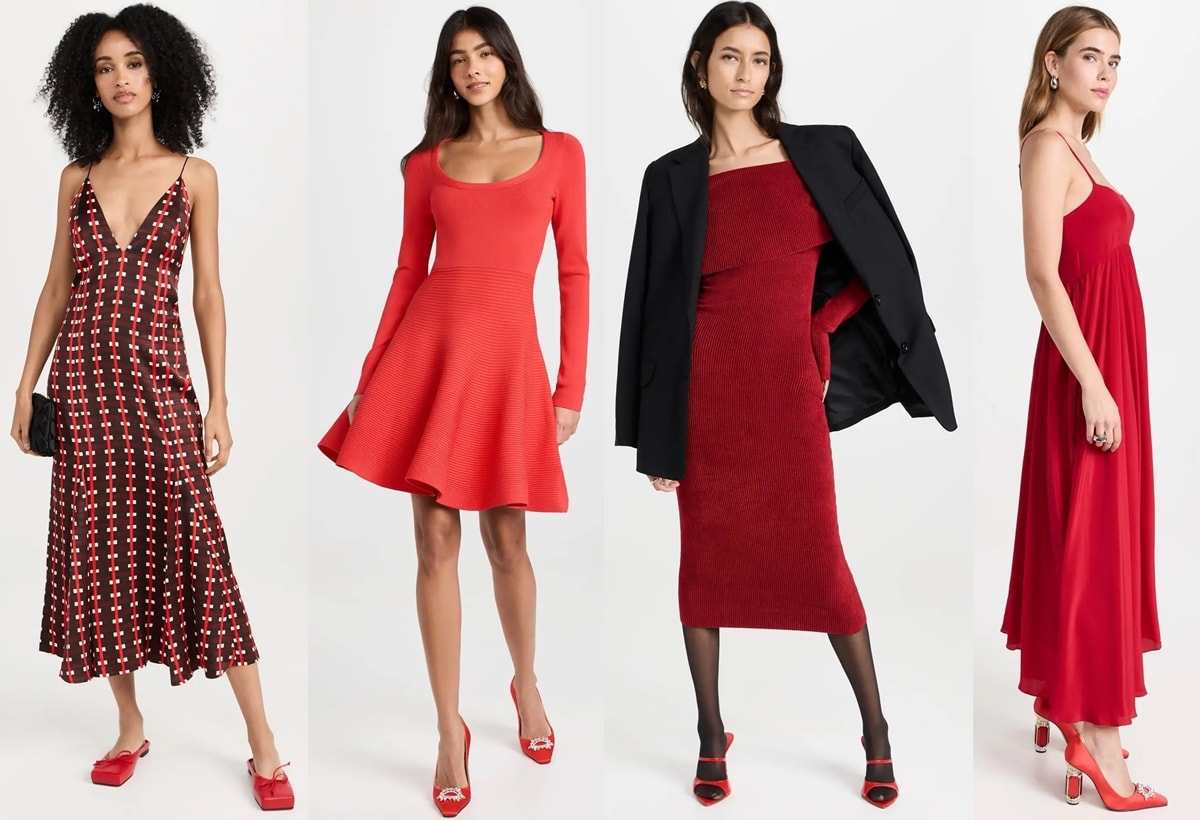 When in doubt, go monochrome and add red shoes to your dress for a chic and stylish look (Credit: Shopbop)
Adding red shoes to your dress can help you stand out from the crowd and elongate your figure by creating a streamlined look.
4. Barefoot Beauty: Nude Shoes for a Timeless Look
One type of shoe that will always go with any dress is nude shoes. They're a neutral that is effortlessly chic and gives the illusion of longer and slimmer legs.
1. 4SI3NNA Soren Square Neck Sleeveless Bodycon Midi Dress / 2. Vince Camuto Lauralie Sandals / 3. Ieena for Mac Duggal Fit & Flare Cocktail Dress / 4. Gianvito Rossi Portofino Sandal / 5. Likely Brooklyn Midi Dress / 6. Sam Edelman Hazel Pointed-Toe Pump
If you're wearing a short red dress, nude shoes can be a game-changer and add extra versatility to your red dress. Nude shoes can create a workwear look or give you a confidence boost for stepping on the red carpet.
5. White Delight: A Refreshing Take on Red
Do you want to help brighten your red dress? White shoes are a refreshing alternative to black and nude heels, creating a contrast while still being classic.
Opt for white shoes to enhance your red dress; they offer a refreshing contrast, adding a touch of classic elegance while ensuring your outfit shines (Credit: Shopbop)
White shoes are effortlessly chic and can help elevate a look, whether stepping into sneakers or slipping into pointed heels. They provide the perfect base to help your red dress stand out.