Evan Peters has become more and more popular in the past few years, taking on bigger roles and consistently flexing his acting muscles.
While Evan started his career with indie films and supporting roles on television shows, he's quickly become one of the most talked about actors in the industry, garnering more fans with each new project.
Leapfrogging back and forth from television to films throughout his career, Evan Peters has established himself as an acting powerhouse, often appearing as controversial characters and stealing scenes along the way.
Evan Peters at the 27th Critics Choice Awards held at the Fairmont Century Plaza in Century City, California on March 13, 2022 (Credit: Xavier Collin / ABACA / INSTARimages / Cover Images)
Each year, it seems like Evan Peters ups the ante, confidently displaying his ability to handle both serious and lighthearted roles.
Before He Was a Star
Evan Thomas Peters was born on January 20, 1987, in St. Louis, Missouri, and he had a pretty laidback childhood as compared to some of the other actors working in Hollywood.
Growing up in Ballwin, a suburb located on the southwestern side of St. Louis, Evan lived with his parents and older brother Andrew. Life was pretty uneventful for Evan until 2001, when his father transferred jobs, moving the family to Grand Blanc, Michigan.
When he started attending classes at Grand Blanc Community High School, Evan gained interest in the world of modeling and acting, soaking up all the knowledge he could.
Evan Peters starring in Progressive Insurance's "Boredom Insurance" commercial (Credit: YouTube)
At just 15 years old, Evan and his mother moved out west to Los Angeles so he could try his hand in the cinematic big leagues.
It seems like Evan's career was destined to be, as he received his first major role after his second audition, leading to his acting debut in the indie film, Clipping Adam in 2004.
Evan Peters' Top 10 Movies and TV Shows According to Critics
On this list are Evan Peters' top 10 movies and television shows, including everything from his most recent projects to the start of his career. We adore Evan Peters and consider him to be one of the brightest up-and-coming stars of the current generation.
So to curb our bias, we'll be using the Rotten Tomatoes Critics Score to rank his filmography.
With that said, let's dive into Evan Peters' top 10 movies and TV shows according to critics!
10. Dahmer – Monster: The Jeffrey Dahmer Story (2022) – 52% Score
While critics are somewhat divided on Dahmer – Monster: The Jeffrey Dahmer Story, this Netflix original series is undoubtedly one of the biggest recent television shows in
Evan Peters' career. Created by Ryan Murphy, who also created American Horror Story, this harrowing dramatization details the true story of the serial killer and cannibal, Jeffrey Dahmer.
Evan Peters stars in the lead role as Jeffrey Dahmer, offering one of the most serious and disturbing roles of his career thus far. At 35 years old, Evan Peters shows his maturity and ability to handle incredibly heavy material.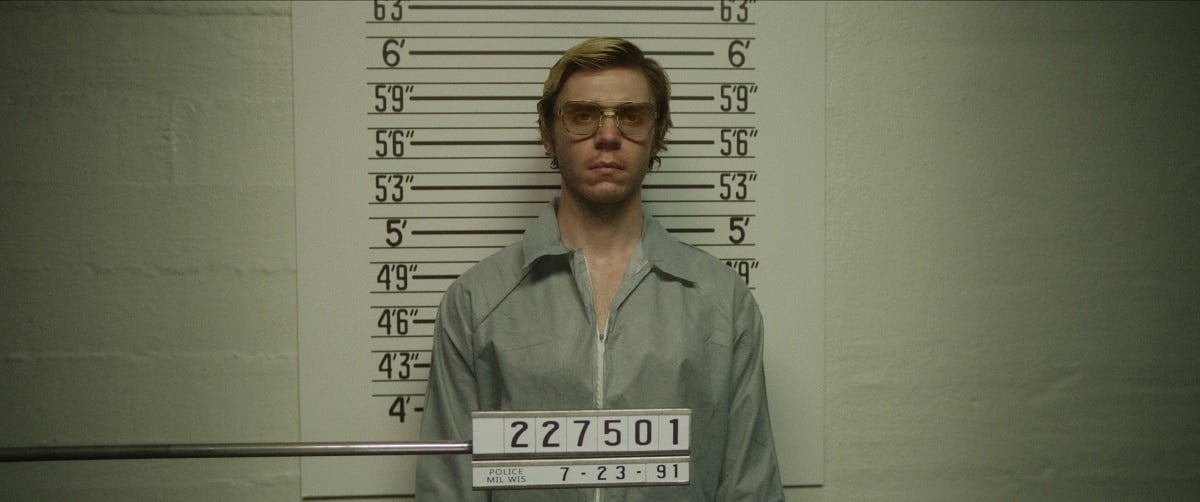 In Dahmer – Monster: The Jeffrey Dahmer Story, Evan Peters stars as Jeffrey Dahmer in the 2022 limited biographical crime drama television series (Credit: Netflix)
Even considering Evan's penchant for playing dark and undesirable characters, he has stated that portraying Jeffrey Dahmer was an immense challenge that took him to some dark places.
In several interviews, he has stated that not only was it a tough role to handle, but that portraying Jeffrey Dahmer was "one of the hardest things I've ever had to do in my life."
Fans and critics alike agree that regardless of the quality of the show, Evan Peters' performance is one for the ages.
9. Adult World (2013) – 56% Score
Directed by Scott Coffey and written by Andy Cochran, Adult World is an indie comedy and drama that stars John Cusack, Emma Roberts, and of course, Evan Peters.
The film follows Amy (Emma Roberts), an aspiring poet who takes up a job at a sex shop to make ends meet as she attempts to follow her dreams.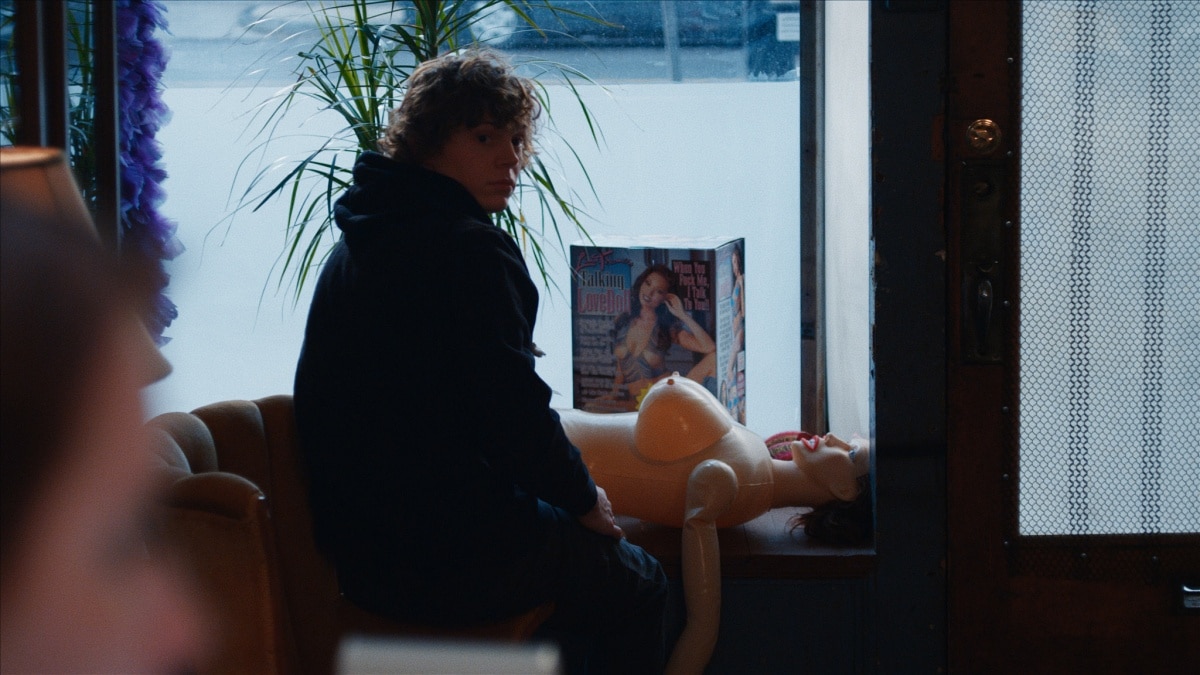 Evan Peters as Alex in the 2013 comedy-drama film Adult World (Credit: IFC Films)
At 26 years old, Evan Peters plays Alex, the manager of the sex shop and Amy's boss. While the pair keeps things professional at work, Amy soon realizes that she has developed feelings for Alex, leading to an interesting and complex relationship.
In an uplifting instance of young love, it seems like the palpable chemistry between Emma Roberts and Evan Peters extended between scenes.
After meeting on set and quickly becoming smitten with each other, Emma and Evan officially became a couple in 2012. Their relationship lasted for nearly seven years with a few breaks, but they eventually parted ways in 2019. Following his split from Emma Roberts, he also dated Halsey for a few months.
8. I Am Woman (2019) – 66% Score
I Am Woman is a music biopic that was directed by Unjoo Moon and tells the story of the late Australian-American singer and actress Helen Reddy. The film stars Tilda Cobham-Hervey in the lead role, with support from Danielle Macdonald, Chris Parnell, and more.
In the film, Evan Peters appears as Jeff Wald, Helen Reddy's manager and eventual husband. While the film is very much focused on Helen Reddy's achievements in her career as a singer and her passion for feminist activism, Evan Peters plays a substantial role at 32 years old.
As pressure mounts and Helen is pushed further into the limelight, her relationship with Jeff Wald becomes more difficult as the pair try to balance their emotions and professional duties.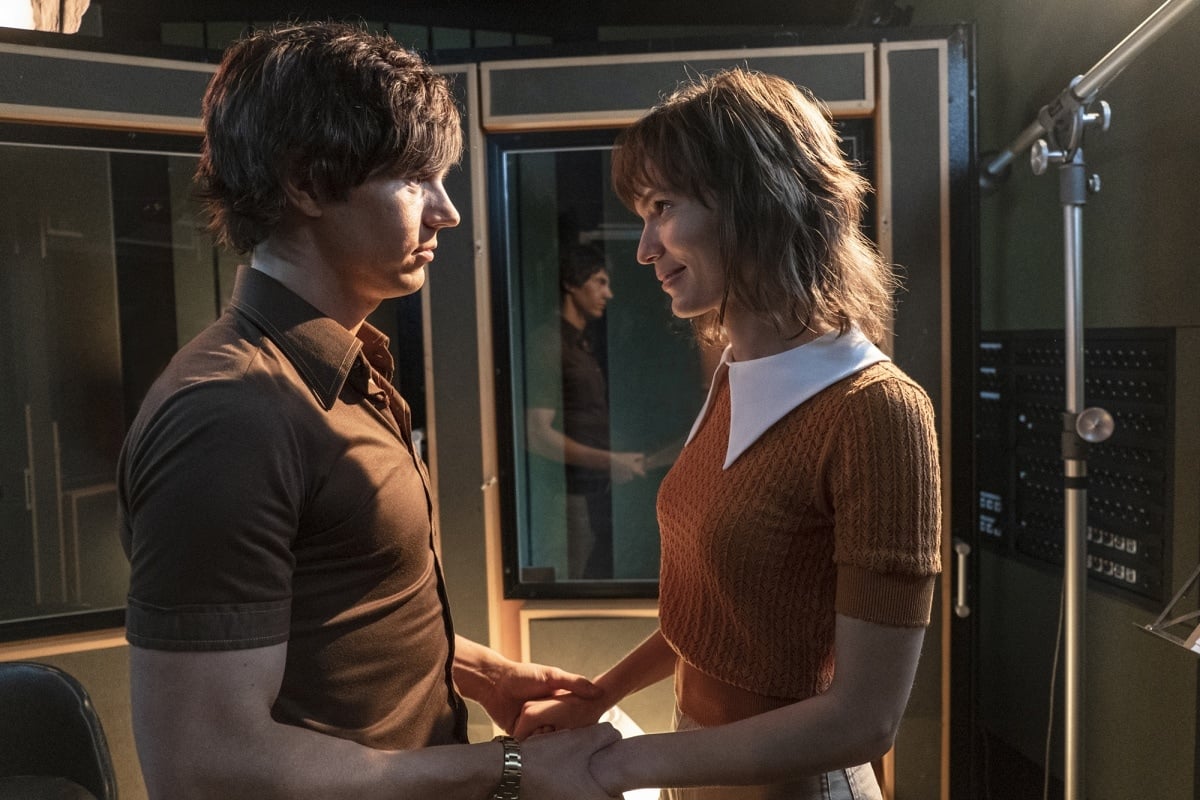 Evan Peters as Jeff Wald and Tilda Cobham-Hervey as Helen Reddy in the 2019 biographical film I Am Woman (Credit: Stan)
While Evan gained most of his fame by playing dark and morbid characters, he temporarily moved away from those roles to keep himself on his proverbial acting toes.
As of 2022, I Am Woman was Evan Peters' most recent role in a feature film, staying true to his decision. While he has since returned to darker character portrayals on television, it seems like for the time being, Evan is comfortable taking on less twisted roles on the big screen.
7. The Pirates of Somalia (2017) – 67% Score
Based on the 2011 nonfiction book by Jay Bahadur that you can buy on Amazon, The Pirates of Somalia is a fiercely dramatic film that stars Evan Peters, Al Pacino, Melanie Griffith, and more.
Picking up after journalist Jay Bahadur (Evan Peters) graduates from college, the film follows Bahadur's attempt to document the dark world of piracy in Somalia.
Much like his part in I Am Woman, Evan Peters takes on the role of Jay Bahadur with a starkly serious tone, emphasizing the importance and severity of the subject matter. Despite being a notably well-known actor at the time, Evan still disappears into the role of Jay Bahadur, offering a realistic and accurate portrayal.
The theatrical release poster of the 2017 drama film The Pirates of Somalia with Evan Peters as Jay Bahadur (Credit: Echo Bridge)
Surprisingly, Evan Peters didn't have a chance to meet Jay Bahadur in person until the very end of the filming process. Despite being overwhelmed by playing the lead role, Evan made a lasting impression on Bahadur, who was awestruck by the actor's talent.
Considering that he acts alongside Al Pacino and holds his own, The Pirates of Somalia is a perfect display of Evan Peters' immense talent at 30 years old.
6. Elvis & Nixon (2016) – 76% Score
Directed by Liza Johnson, Elvis & Nixon is a comedic drama that documents the untold story of a meeting between Elvis Presley and United States President Richard Nixon in 1970. It stars Michael Shannon as Elvis and Kevin Spacey as Nixon, with support from Johnny Knoxville, Colin Hanks, and more.
At 29 years old, Evan Peters plays the role of Dwight Chapin, one of Richard Nixon's senior aides at the White House. Along with Egil Krogh (Colin Hanks), Dwight Chapin was the man who set up the historic meeting between Elvis and Nixon.
Colin Hanks as Egil Krogh and Evan Peters as Dwight Chapin in the 2016 comedy-drama film Elvis & Nixon (Credit: Amazon Studios / Bleecker Street)
Elvis & Nixon was one of the first feature films after Evan's big break into major motion pictures and helped him land more serious roles in the future.
He reportedly had a great time filming the movie in New Orleans, as he was able to work during the day and hang out with then-girlfriend Emma Roberts after the shoot, as she was also filming a project in town.
5. American Horror Story (2011 – Now) – 77% Score
American Horror Story is a horror anthology television series that was created by Ryan Murphy and first aired in 2011.
Including some of the biggest names in Hollywood, such as Kathy Bates, Jessica Lange, and Sarah Paulson, the show is revered for both its A-list cast and variety of stories.
Bouncing between all manner of spooky themes, the series has covered everything from demented freakshows to insidious hotels and haunted houses.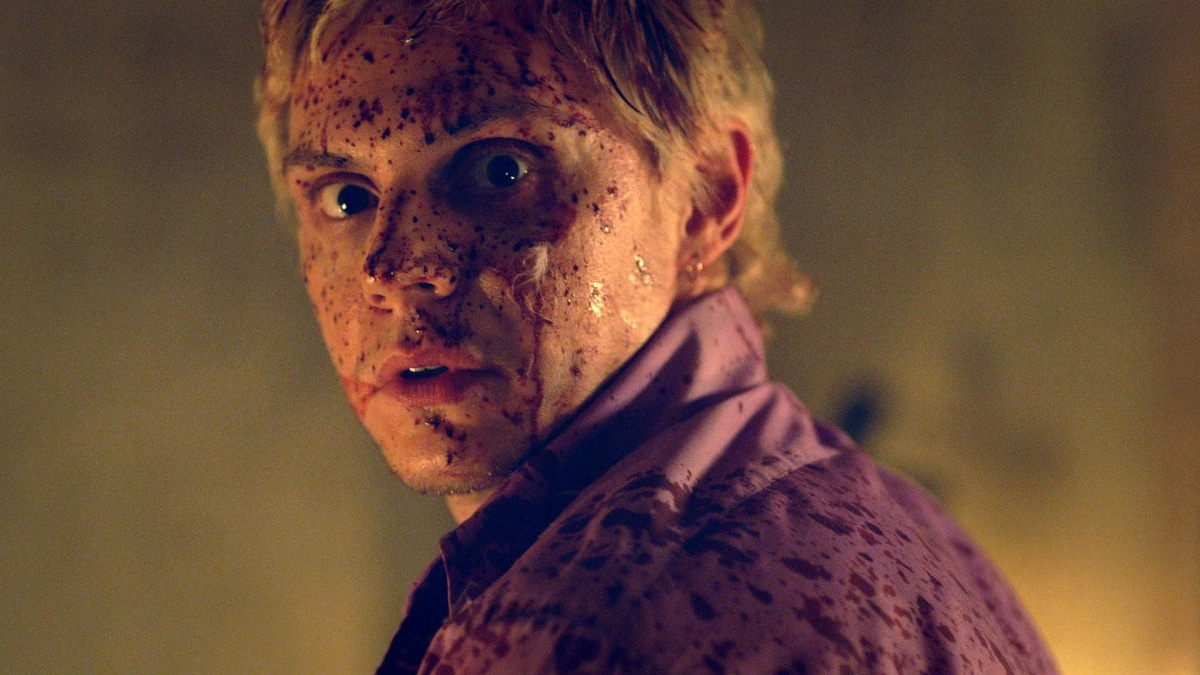 Portraying many characters in the ongoing horror anthology television series American Horror Story, Evan Peters was one of the mainstays in the show (Credit: 20th Television / Disney Platform Distribution)
Evan Peters was a mainstay in the series since the very first season when he portrayed the twisted killer Tate Langdon at 24 years old.
Appearing in at least nine different seasons and over 90 episodes, Evan's inclusion in this terrifying series was a major factor in his career momentum moving forward.
Although Evan owes much of his success to his roles on American Horror Story, the actor has since left the show, stating that he wants to branch out in his career. However, he still regularly works with series creator Ryan Murphy, most recently appearing in Murphy's newest show, Dahmer – Monster: The Jeffrey Dahmer Story.
4. American Animals (2018) – 88% Score
Written and directed by Bart Layton, American Animals is a heist film that stars Evan Peters, Barry Keoghan, Blake Jenner, and more.
Based on true events that occurred in 2004, the film follows the efforts of four college students who attempt to steal a collection of rare books from the library at Transylvania University in Kentucky.
At 31 years old, Evan Peters plays the role of Warren Lipka, who initially plans the heist with his friend, Spencer Reinhard (Barry Keoghan).
After visiting some black-market sellers in Amsterdam, Netherlands, Warren and Spencer recruit a few other students and formulate a half-baked plan to strike it rich.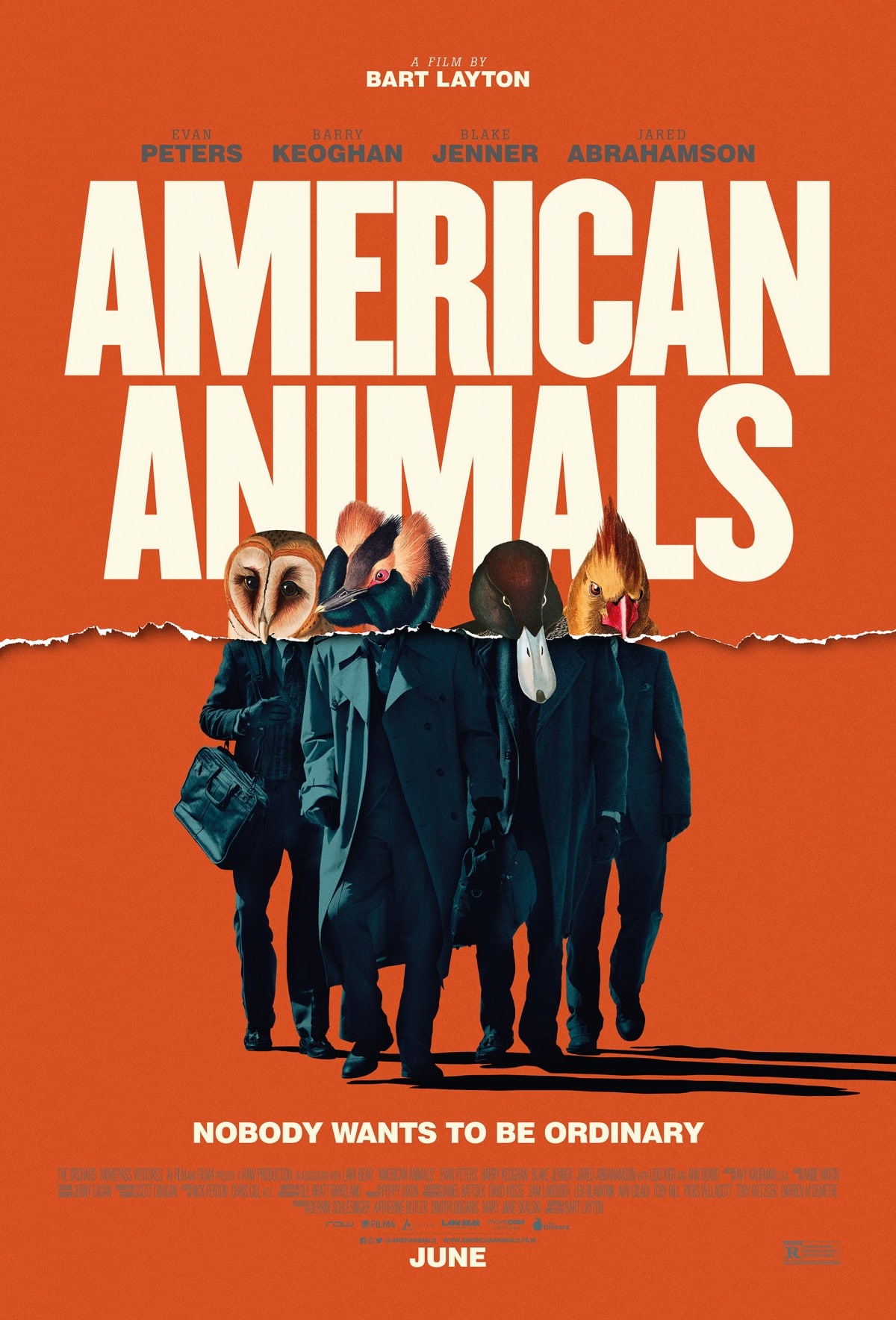 Theatrical release poster of the 2018 heist film American Animals with Evan Peters as Warren Lipka (Credit: The Orchard / MoviePass Ventures)
Like his character in the film, Evan Peters broke some rules during the filming process of American Animals in hopes of better understanding the real criminal he was portraying.
Although Bart Layton forbade any of the actors from contacting any of the thieves responsible for the real crime, Evan went behind his back and reached out to the real Warren Lipka on Twitter. However, after a few emails between the two, Layton discovered Evan's sneaky behavior and quickly put an end to the correspondence.
3. X-Men: Days of Future Past (2014) – 90% Score
X-Men: Days of Future Past was directed by Bryan Singer and is the fifth film in the massively popular X-Men superhero film franchise.
Based on the original comics from 1981, the movie follows a group of mutant superheroes who attempt to travel back in time to prevent the destruction of the human race.
In the film, Evan Peters plays Peter Maximoff a.k.a. Quicksilver, a mutant who possesses the ability to run and fight at incredible speed.
After protagonist Wolverine (Hugh Jackman) travels back to 1973, he recruits Quicksilver to infiltrate The Pentagon and break Erik Lehnsherr a.k.a. Magneto (Michael Fassbender) out of confinement.
Evan Peters as Peter Maximoff / Quicksilver in the 2014 superhero film X-Men: Days of Future Past (Credit: 20th Century Fox)
In the grand scheme of the film narrative, Evan Peters plays a small but important role, only popping up in a handful of scenes. However, his portrayal of Quicksilver, more specifically, a scene wherein he defeats a group of guards in the blink of an eye, has become one of the most recognizable moments in the entire X-Men franchise.
At the very least, Evan's performance in X-Men: Days of Future Past is further proof of his ability to completely steal a scene, even when paired up with some of the biggest actors in the business.
2. WandaVision (2021) – 91% Score
Created by Jac Schaeffer and working as a spin-off television series that's part of the Marvel Cinematic Universe, WandaVision is a dramatic superhero story that stars Elizabeth Olsen, Paul Bettany, and Kathryn Hahn.
Continuing the mind-bending tale of Wanda Maximoff (Elizabeth Olsen) after the events of Avengers: Endgame, the show follows the powerful hero as she lives out a perplexing life in the suburbs with her husband, Vision (Paul Bettany).
Evan Peters as Pietro Maximoff / Quicksilver in the 2021 miniseries WandaVision (Credit: Disney Platform Distribution)
Appearing late in the series as a surprise guest, Evan Peters reprises the role of Pietro Maximoff, bridging the gap between the Marvel Cinematic Universe and the X-Men film franchise. As the truth behind Wanda's life in the suburbs is revealed, Pietro pops up to further remind her of the losses she has endured.
While there's more to Evan's character than meets the eye, his appearance was a shock to many audiences, as the character of Pietro was previously played by Aaron Taylor-Johnson in Avengers: Age of Ultron.
In fact, his role on the show was so secret that between takes, the crew had him covered in a full-body cloak to prevent any photographs leaking of him on set.
1. Mare of Easttown (2021) – 95% Score
Directed by Craig Zobel and written by Brad Ingelsby, Mare of Easttown is a crime and drama series that stars Kate Winslet, Julianne Nicholson, Jean Smart, and more.
Set in a small town outside of Philadelphia, Pennsylvania, the show follows Marianne Sheehan (Kate Winslet), a detective who investigates the murder of a teenage mother while dealing with demons from her past.
At 34 years old, Evan Peters plays the role of Colin Zabel, a local detective who helps Marianne as she digs deeper into the murder case. When Marianne's personal life inadvertently begins to affect her work, Colin does his best to balance things out and help her stay on track.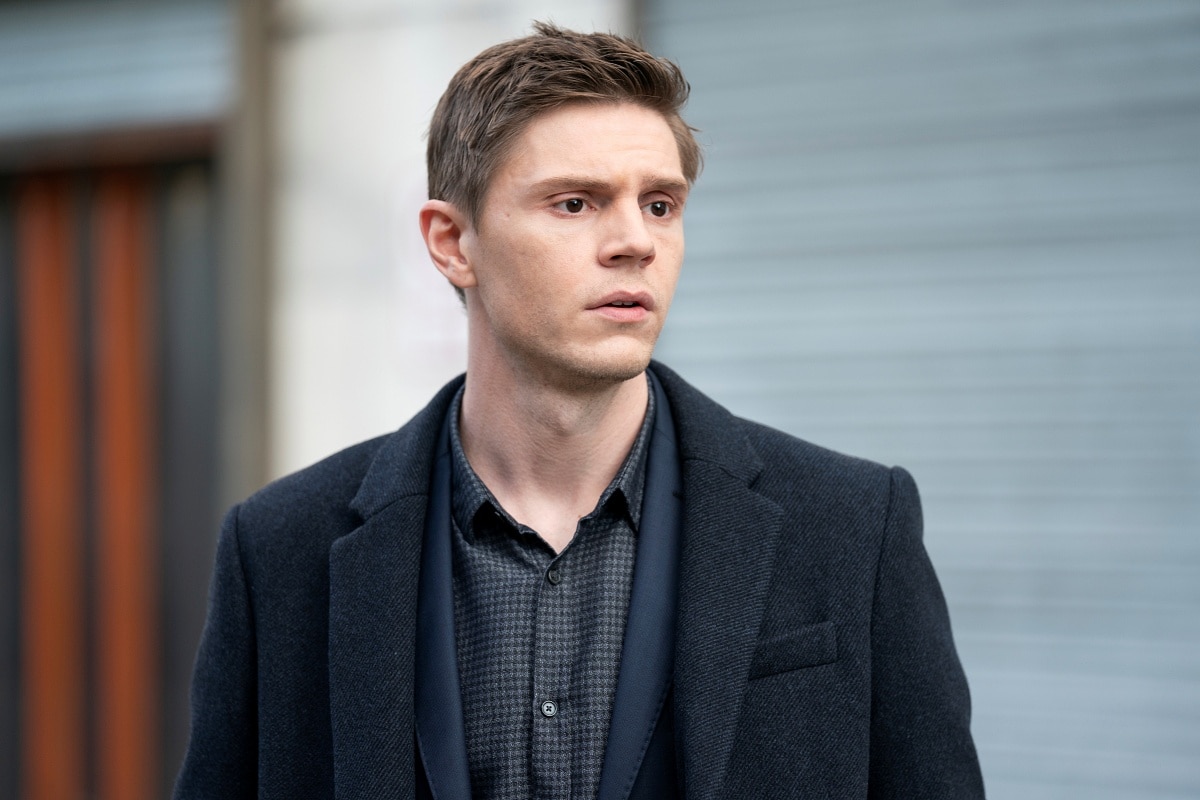 Evan Peters as Colin Zabel in the 2021 crime drama limited series Mare of Easttown (Credit: Warner Bros. Television Distribution)
The role of Colin Zabel is a much more "normal" guy as compared to some of the other characters that Evan has portrayed.
But according to him, that was one of the major draws to the project. In addition to wanting to work with Kate Winslet, Evan viewed Mare of Easttown as a way to further prove his talents outside the realm of horror and suspense.
For his efforts, Evan was grandly rewarded, as he (along with Kate Winslet and Julianne Nicholson) won a Primetime Emmy Award for his magnificent performance.