Halsey and Evan Peters were a match made in 2014 Tumblr heaven.
However, their short-lived relationship began long after the era of undersaturated selfies, pastel goth, and that meme of those edgy British kids standing in front of a fence (you know the one).
Evan Peters and Halsey became a couple in September 2019 but called it quits six months later in March 2020 (Credit: Avalon / WENN)
Halsey and her American Horror Story former beau first got together in September 2019 — the singer had previously made some thirsty tweets about the actor years prior — and spent a whirlwind year together before calling it quits in March 2020.
Tabloid photos of the couple made it appear that they were happy and goofy together, and their split came as a shock to many fans. Follow along to learn about their relationship histories and how their romance bloomed — and wilted.
Halsey's Prior Relationships
Both Halsey and Evan Peters had been in highly publicized relationships before they got together.
Notably, the majority of Halsey's exes have been musicians, as the singer had been linked to The 1975's Matty Healy and rapper-turned-rocker (and current boyfriend of actress and icon Megan Fox) Machine Gun Kelly.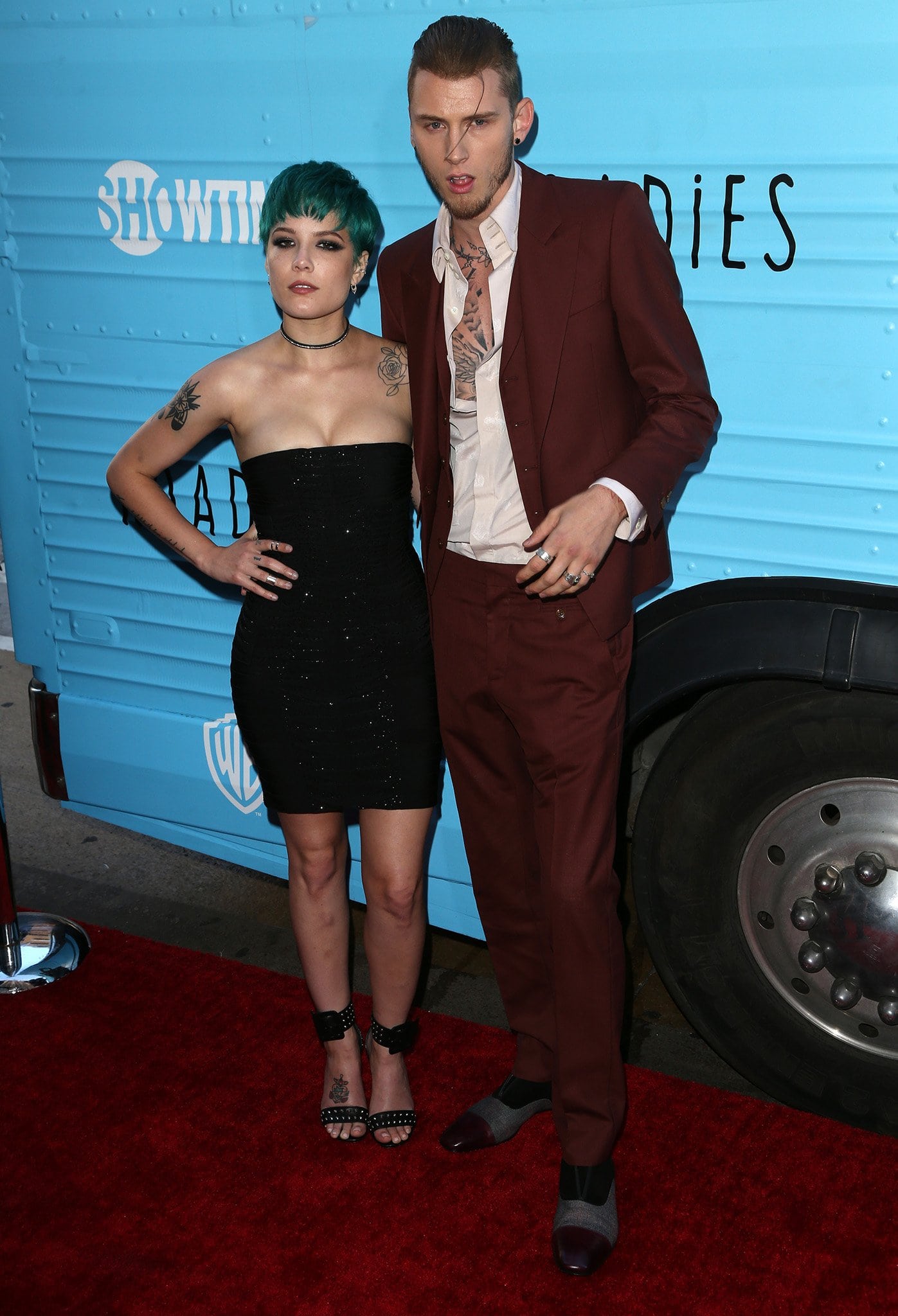 Halsey and Machine Gun Kelly walked the red carpet together for Roadies premiere on June 7, 2016 (Credit: FayesVision / WENN)
In 2017, a then-23-year-old Halsey entered an on-again, off-again relationship with fellow musician and rapper G-Eazy, who one Twitter user hilariously described (in a now-deleted tweet that we can't stop thinking about) as being "built like a funeral director."
G-Eazy and Halsey first got together in July 2017 but broke things off a year later in July 2018. Then, they got back together in August 2018 and then — you guessed it — broke up again in October of that year.
Halsey was in an on-and-off relationship with rapper G-Eazy from the summer of 2017 to early 2019 (Credit: FayesVision / WENN)
Though G-Eazy isn't actually a mortician, he certainly helped put the final nail in the coffin when it came to his relationship with Halsey, as rumors began to surface that the rapper was not faithful to his partner.
Additionally, in early 2018, G-Eazy was convicted of assault, drug possession, and resisting arrest after a drunken fight at a Swedish club.
According to People, the rapper did not serve any jail time but was sentenced to pay a fine and a two-year probation.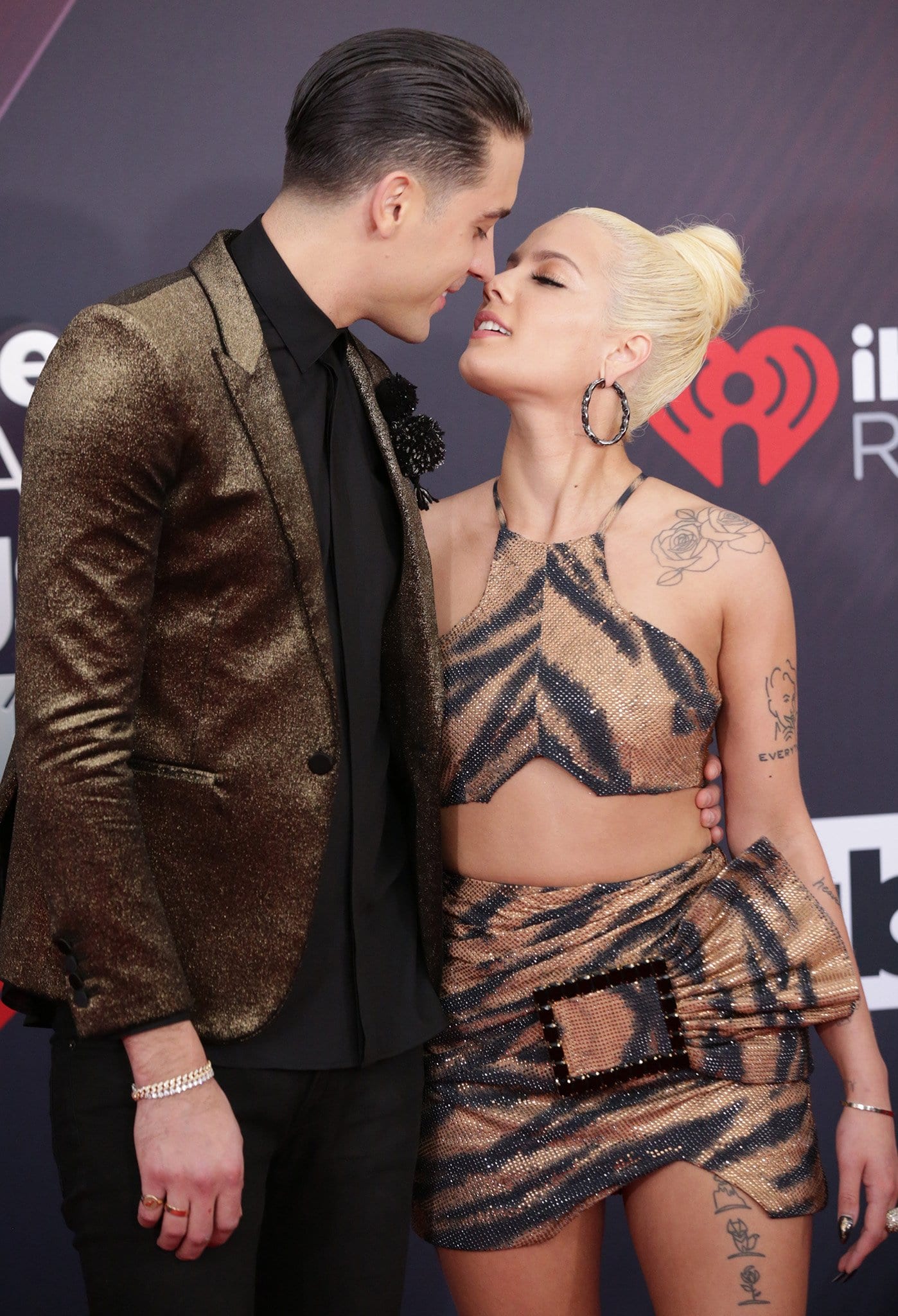 Rumors surfaced that G-Eazy cheated on Halsey and she confirmed it during her SNL performance in 2019 (Credit: Brian To / WENN)
After her breakup with G-Eazy, Halsey, only 24 at the time, thrust herself into her music, releasing the music video for her hit single, "Without Me," depicting a toxic relationship, which featured an actor who looked suspiciously like her ex.
This move has been made by other musicians throughout the years as seen in Justin Timberlake's "Cry Me a River" music video — which, in light of Britney Spears' life, was rather cruel.
Halsey did not confirm or deny that the actor in the music video was supposed to represent G-Eazy, stating in a now-deleted Instagram post, "The story is a reflection of a combination of relationships I've been in or watched the people I love go through. It's a reminder that you deserve more. And it's okay to not want to be taken advantage of. By your partners, your friends, your family."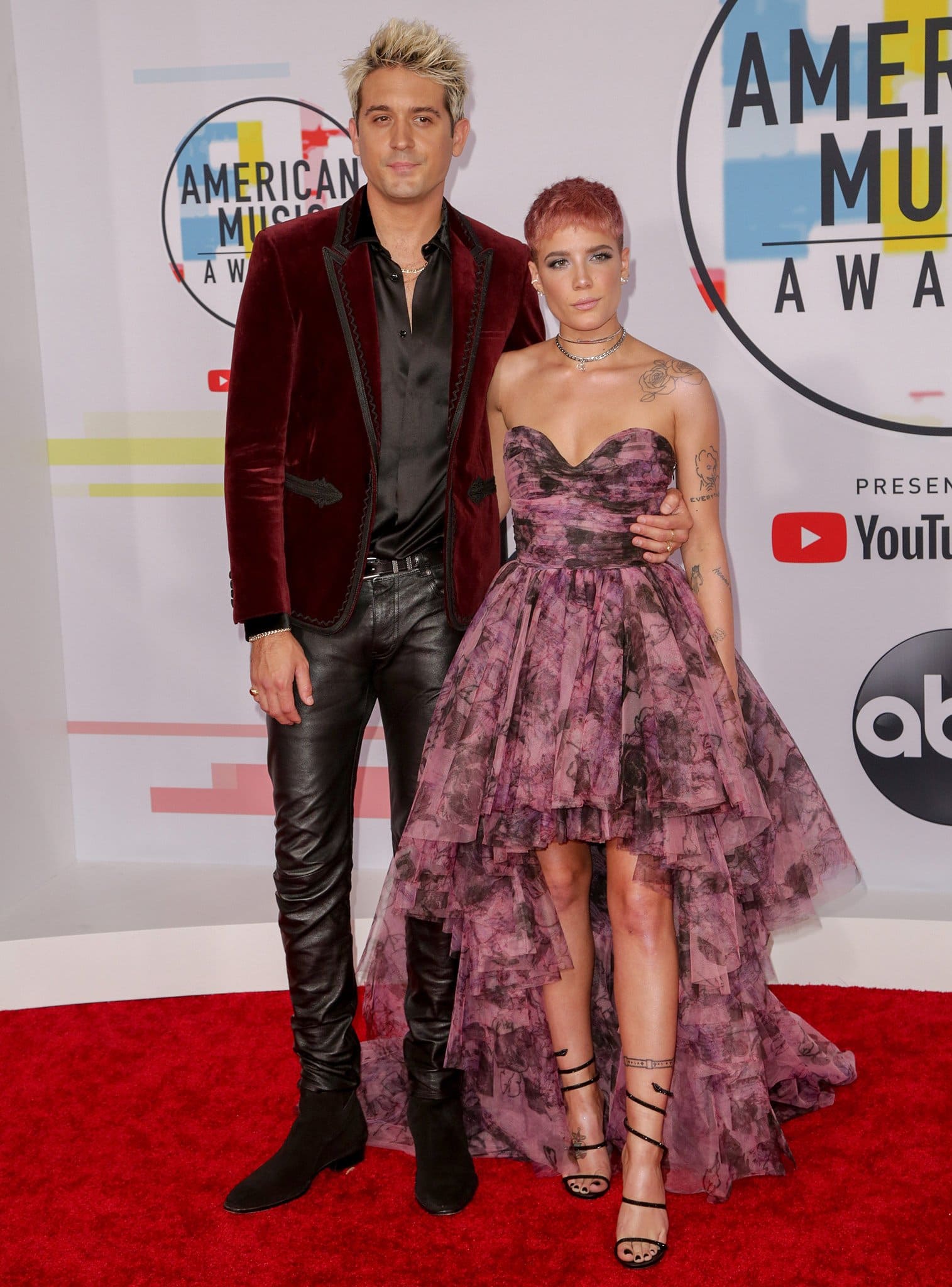 Following their breakup, Halsey released a music video for her single Without Me, which featured an actor that looked like G-Eazy (Credit: Brian To / WENN)
In January 2019, Halsey hinted at a new relationship, sharing a now-deleted photo of herself in Camden in London, captioning the photo, "Camden: now with a cute filter" followed by a black heart.
This would not have shocked fans, except there was also a man in the photo — with his arms around Halsey! The man was none other than Yungblud, a British pop punker and e-boy who had just begun making waves in the music scene at the time.
Yungblud and Halsey first connected after Halsey made the first move, boldly sliding into the rocker's messages with nothing but her phone number and a few heart emojis.
View this post on Instagram
After that, they were inseparable — both personally and professionally — even collaborating together on their song, "11 Minutes" (featuring the legendary drummer and current boyfriend of Kourtney Kardashian, Travis Barker), which was accompanied by a music video that had some very romantic moments between Halsey and Yungblud.
Unfortunately, their undeniable on-screen chemistry was not enough to keep their relationship alive. Though the musicians never made any public statements about it, Halsey and Yungblud broke things off in September 2019.
Despite their breakup, Halsey and Yungblud have remained friends and can be seen chatting like old friends on social media.
The Exes of Evan Peters
Unlike Halsey, Evan Peters has not had many relationships that were extremely high profile, but that is likely because he only dated one woman for the majority of the time he has been in the public eye.
Though Evan Peters had roles in notable titles such as Kick-Ass and One Tree Hill, the actor did not become a household name until 2011, when he landed the iconic role of Tate Langdon in American Horror Story.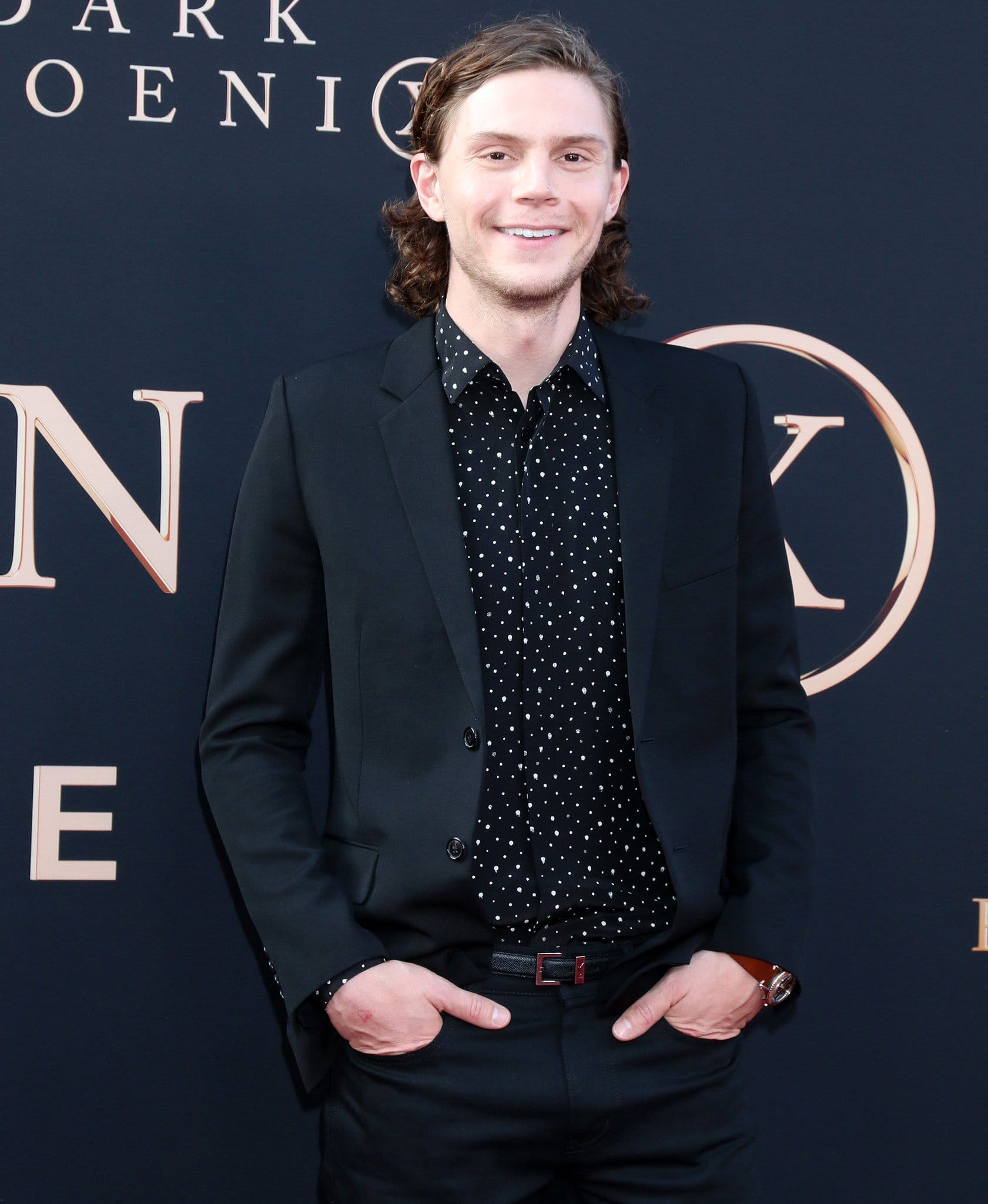 Evan Peters is known for his iconic role in American Horror Story (Credit: Nicky Nelson / WENN)
He has appeared in every season of American Horror Story except for the ninth season, 1984, which AHS producer Ryan Murphy told Entertainment Weekly is because Peters needed to "recover" after portraying a crazed and wicked cult leader in the eighth season.
Sarah Paulson is the only other American Horror Story player to have appeared in this many seasons, and coincidentally, the only season she missed was also 1984.
Even though Evan Peters' pre-American Horror Story relationships were not frequently talked about in the tabloids, the actor did date a few women before "the big one" — the woman he was with for seven years — and before dating Halsey.
Unlike Halsey, Evan Peters stayed away from dating musicians, and the majority of his exes are actresses.
In fact, two of his ex-girlfriends are his American Horror Story costars, despite the age-old advice not to become romantically involved with your coworkers.
Evan Peters was first linked to his American Horror Story co-star Alexandra Breckenridge in 2007 (Credit: FayesVision / WENN)
First, Peters was linked to fellow actress Alexandra Breckenridge in 2007, allegedly dating for three years before breaking things off. Neither Peters nor Breckenridge have confirmed this relationship, but photos have surfaced of the pair looking loved up.
Whether they officially dated or just shared a few smooches, Evan Peters and Alexandra Breckenridge were the epitome of cordiality when they appeared on the AHS debut, American Horror Story: Murder House, in 2011, only a year after their reported split — making Breckenridge the actor's first (rumored or real) relationship with an AHS costar.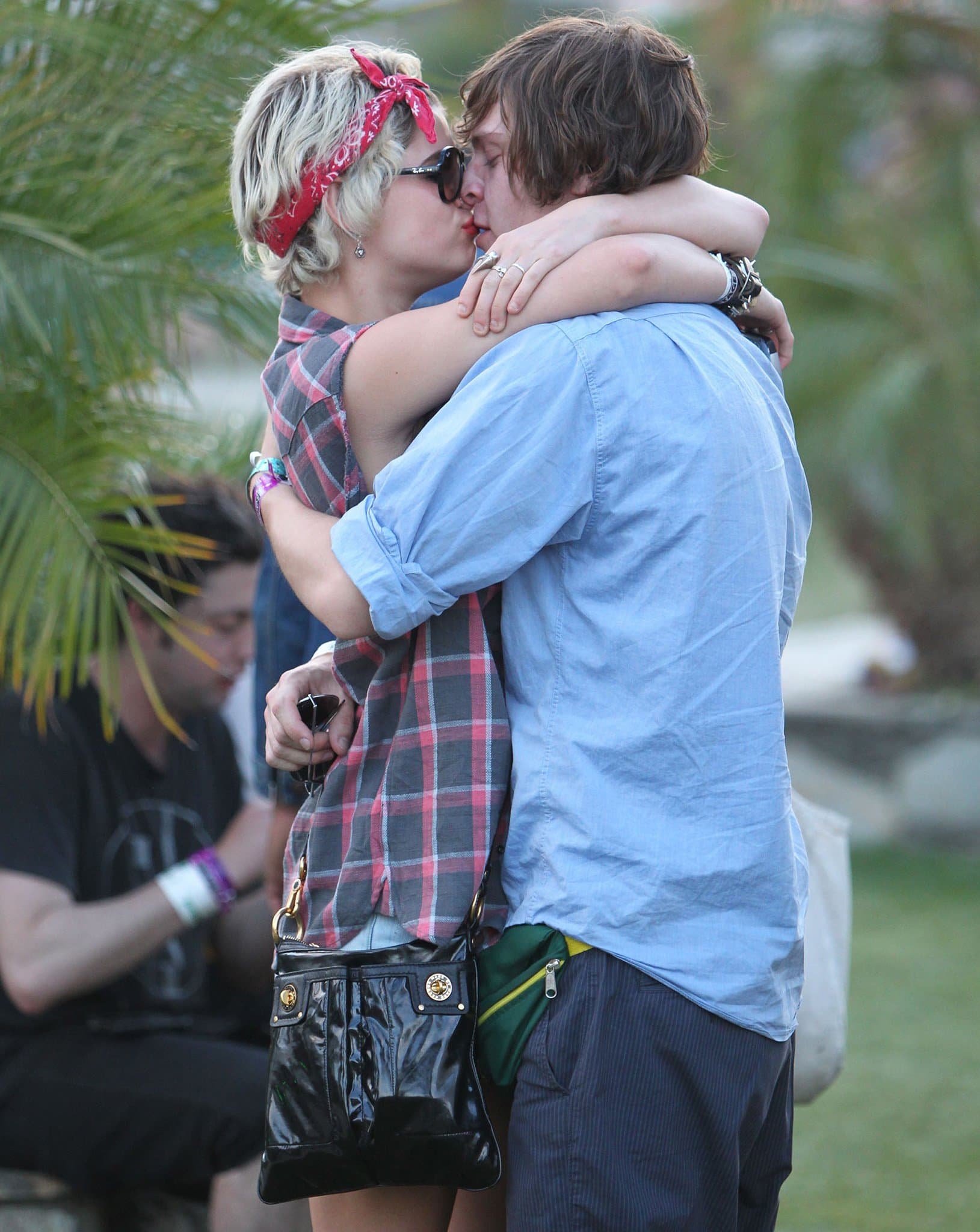 Pixie Geldof kissing then-boyfriend Evan Peters at the 2010 Coachella Valley Music and Arts Festival on April 18, 2010 (Credit: WENN)
In 2010, a then 23-year-old Peters was spotted holding hands and locking lips with British model Pixie Geldof. The couple parted ways in 2011.
That same year, the actor sparked a romance with fellow actress Alexia Quinn while they worked together on-stage production of Living at Home, meaning that Peters has potentially dated three of his costars — American Horror Story or otherwise.
Like his previous relationship, Evan Peters was only with Quinn for about a year, calling it quits after the actor began shooting Adult World in 2012.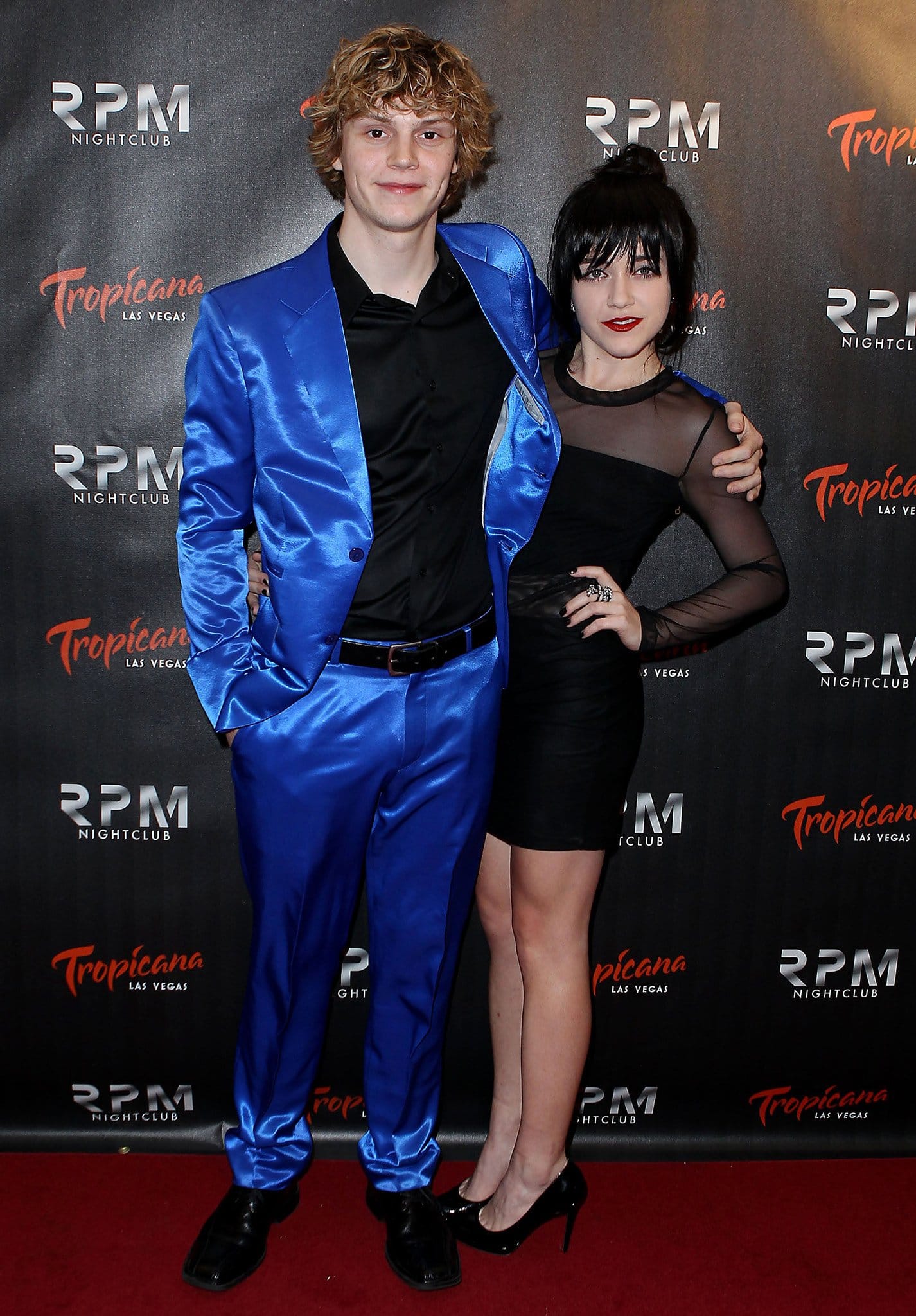 Evan Peters celebrating his birthday with his then-rumored girlfriend Alexa Quinn at RPM Nightclub on January 28, 2012 (Credit: WENN)
Coincidentally, it was on the set for Adult World that Evan Peters met "the big one" — actress Emma Roberts. Roberts claimed that she had a crush on Peters while filming, but the pair did not officially begin dating until Adult World had wrapped.
During this time, the couple was spotted on multiple charming outings, such as romantic strolls through the city of love and appearing on the red carpet as each other's dates.
The pair then went on to star in American Horror Story: Coven and other seasons of the show together.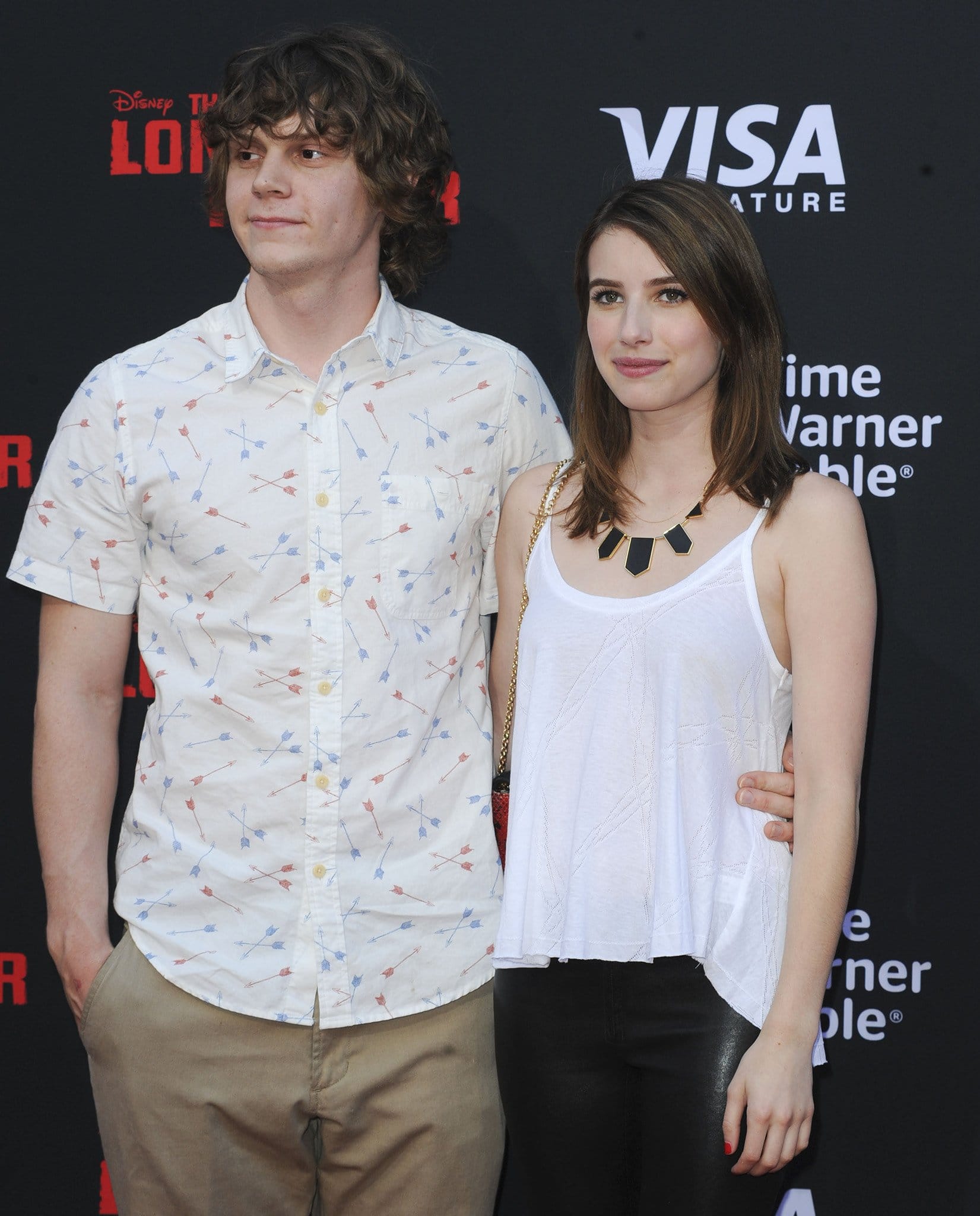 Evan Peters and Emma Roberts started dating in 2012, and a year later, the actress got arrested for domestic violence (Credit: Apega / WENN)
However, their relationship was not all baguettes and hand-holding. In 2013, the police were called when someone reported a domestic dispute coming from the couple's hotel room.
Allegedly, police found Peters with a bite mark and a bloody nose, leading to Roberts being arrested for domestic violence.
The actor did not press charges against his then-girlfriend, and Roberts was released — the couple was photographed in a tearful embrace shortly after.
The couple later issued a statement saying, "It was an unfortunate incident and misunderstanding. Ms. Roberts was released after questioning, and the couple are working together to move past it."
Yikes!
As anyone who has been in an abusive relationship would know, things typically don't get better after an "unfortunate incident" like that, and it would be wise to leave the relationship before it escalates further.
Evan Peters did not leave. Instead, the actor proposed to Emma Roberts in 2013 — a mere months after her arrest — and the actress was keen to flaunt her pink diamond ring.
Instead of breaking up following their altercation, Evan Peters proposed to Emma Roberts at the end of 2013 (Credit: Apega / WENN)
As could have been expected, a proposal did not fix the couple's relationship, and they broke up for the first time in June 2015. They then got back together in September of that year, only to break up again in May 2016.
In September 2016, they got back together, and in March 2019, Peters and Roberts broke up yet again — hopefully, for the final time, we're having trouble keeping up — and have claimed to still be friends.
Phew!
Halsey and Evan Peters: An aesthetic Tumblr blogger's ultimate "ship"
When it came to the American Horror Story star, Halsey was playing the long game. The singer had been a fan of Evan Peters for years, long before they sparked a romantic relationship, and frequently took to Twitter to express their support — and desire — for the actor.
In a series of now-deleted Tweets from 2012 and 2013, Halsey made some thirsty remarks, such as "Seriously Evan Peters stop making me attracted to alleged sociopaths and accused murderers…" and "Petition for me to date Evan Peters."
Halsey's manifestation powers are no joke because six years later, in September 2019, the singer was spotted on a romantic and thrill-seeking date at Six Flags with the actor. Though both Halsey and Peters were freshly out of other relationships, they seemed to enjoy spending time together.
Evan Peters and Halsey dressed as Sonny and Cher at FX's American Horror Story 100th Episode Celebration Halloween party on October 26, 2019 (Credit: Avalon / WENN)
The duo officially debuted their coupledom the next month at FX's American Horror Story 100th Episode Celebration Halloween party, adorably dressed as Sonny and Cher.
Everything seemed to be going great, as the couple consistently shared cute posts about one another on social media, and Peters even joined the singer while on tour.
Unfortunately, they were not meant to last, as Halsey and Evan Peters broke up in March 2020 after only a few months together.
Despite the singer deleting all evidence of their now-ex, neither Halsey nor Evan Peters directly addressed the split or the reasons why it happened.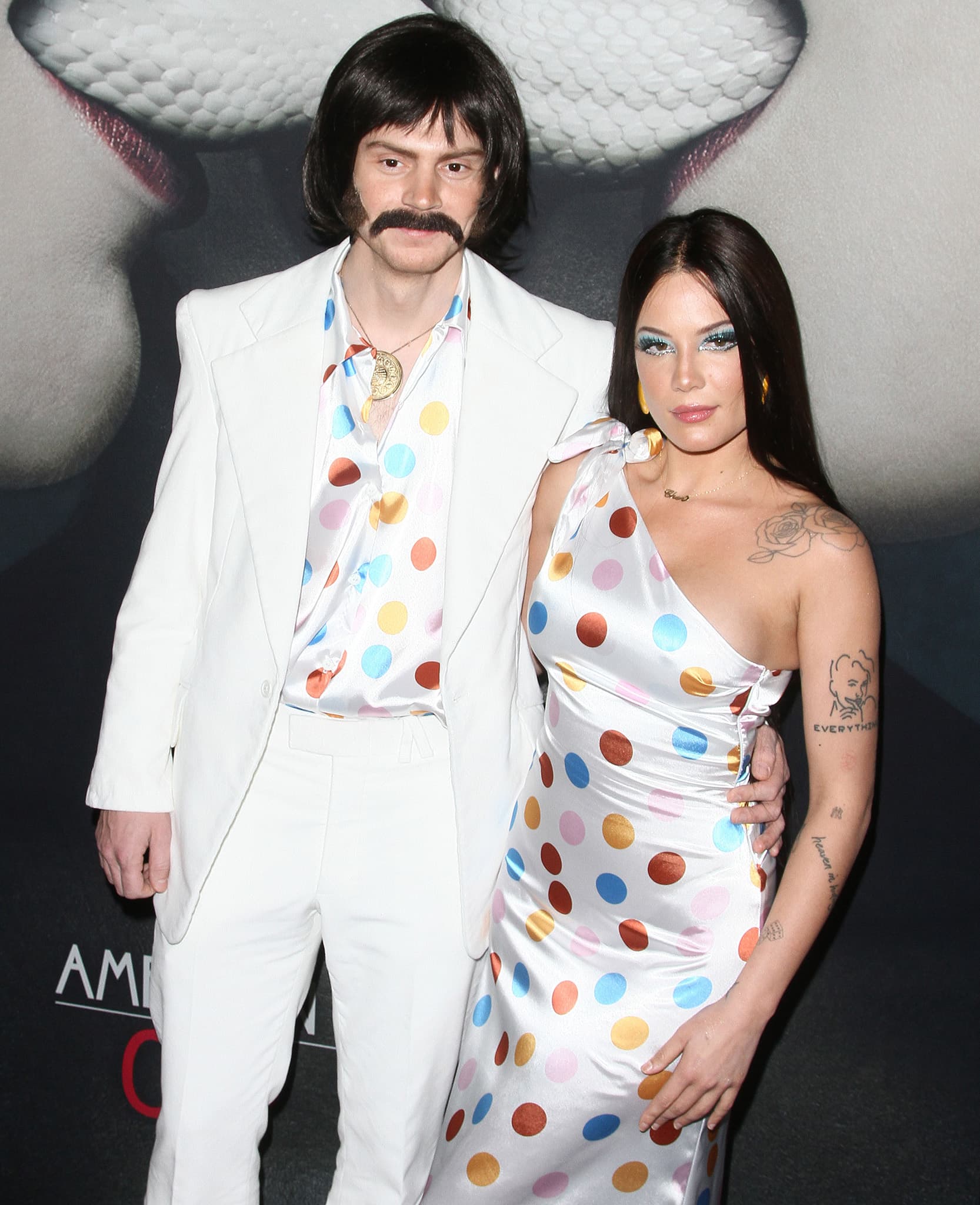 Evan Peters and Halsey ended their relationship because of a lack of privacy (Credit: Avalon / WENN)
Realistically, their breakup was likely due to the number one culprit behind celebrity splits, namely a lack of privacy.
Halsey explained that they wanted to keep their relationship with Peters private, telling The Sun, "A friend of mine — another female artist who has been criticized for dating a lot of people — said, 'Ashley, you need to live your f*king life and ignore what people say about you.' And so now I keep everything to myself in terms of my romantic relationships."
Oh, well. What might have been!
Halsey flaunts her boobs in a glittering bra from Israeli fashion designer Idan Cohen (Credit: FayesVision / WENN)
Before performing her new hit song "Castle," which is featured in the 2016 American fantasy action-adventure film The Huntsman: Winter's War, in April 2016, Halsey turned heads for all the wrong reasons on the red carpet at the 2016 MTV Movie Awards held at Warner Bros. Studios in Burbank, California.
Halsey accessorized with jewelry by Amanda Marmer and Sabrina B (Credit: Brian To / WENN)
The then-21-year-old American singer and songwriter, whose real name is Ashley Nicolette Frangipane, sported boy shorts, a shell bra, and an embroidered jacket from Israeli fashion designer Idan Cohen.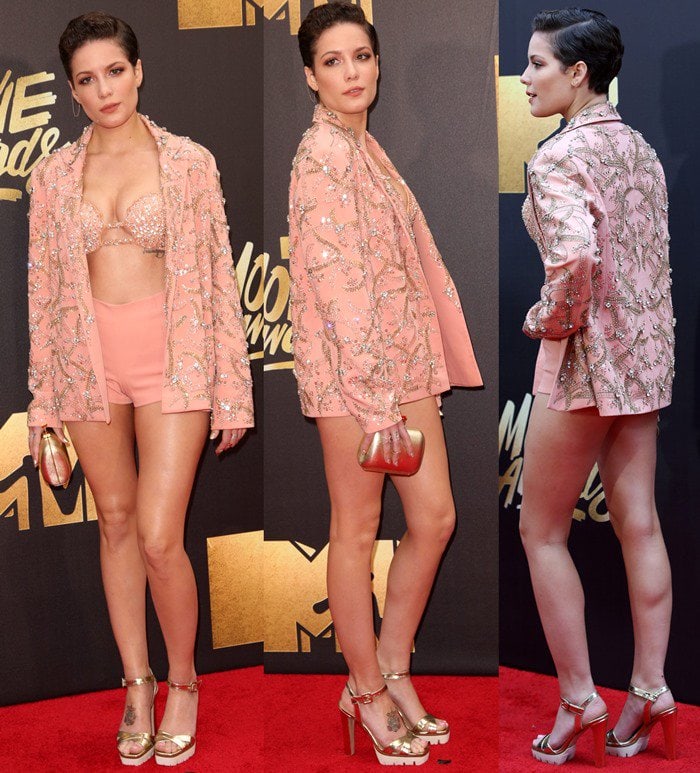 Halsey flaunted her legs in a custom-made Idan Cohen FW15 look (Credit: Brian To / WENN / FayesVision)
She completed her trashy ensemble with a pair of sold-out sandals from Le Silla.
Halsey totes a gold leather Loriblu clutch with jewel claps at the 2016 MTV Movie Awards held at Warner Bros. Studios in Burbank on April 9, 2016 (Credit: Brian To / WENN)
Do you think this outfit belongs on the red carpet? Was Halsey simply trying to get noticed?
Halsey shows off her feet in gold Le Silla platform ankle-strap sandals (Credit: Brian To / WENN)