British socialite Pixie Geldof turned 23 last Tuesday. The pixie-haired beauty celebrated her birthday at China Tang, a restaurant serving Cantonese recipes in a chic setting evoking 1930s Shanghai, right inside the iconic The Dorchester Hotel in London.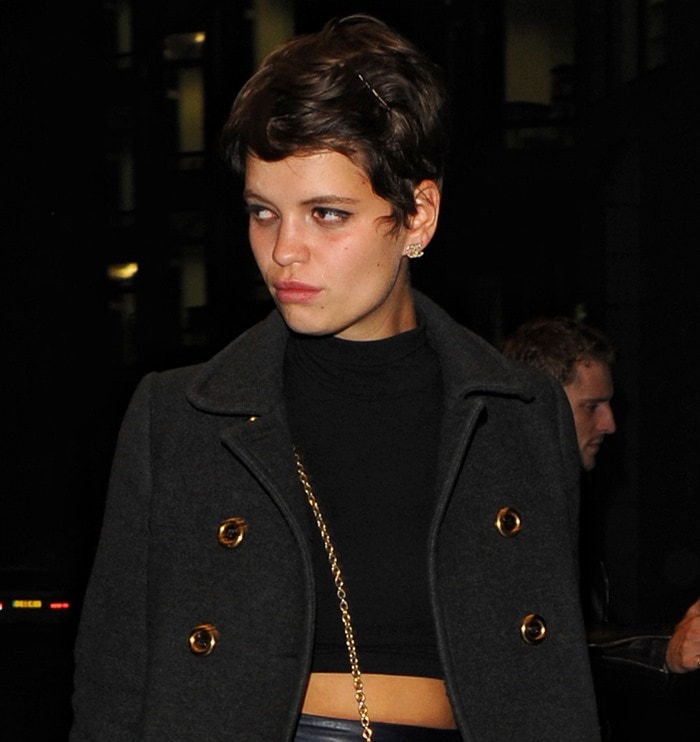 Pixie Geldof celebrating her 23rd birthday at China Tang inside The Dorchester Hotel
It was a small gathering, but we hear some big names were invited to the private occasion. Just to name a few, One Direction's Harry Styles and former Oasis frontman Noel Gallagher. Of course, we're really not here to talk about the men at the party, are we?
Pixie Geldof flashed her legs in a gray wool coat
For her birthday, the third daughter of Bob Geldof and Paula Yates slipped into a very subdued three-piece outfit that included a black cropped top, a blue leather skirt, and a gray wool coat.
She accessorized with a leopard-print purse, but the ultimate highlight of the night was her shoes.
Pixie Geldof shows off her sexy feet
Pixie wore a pair of jeweled platform sandals with gold block heels. To say that they made the most impact will probably be an understatement because the sandals simply stole the show!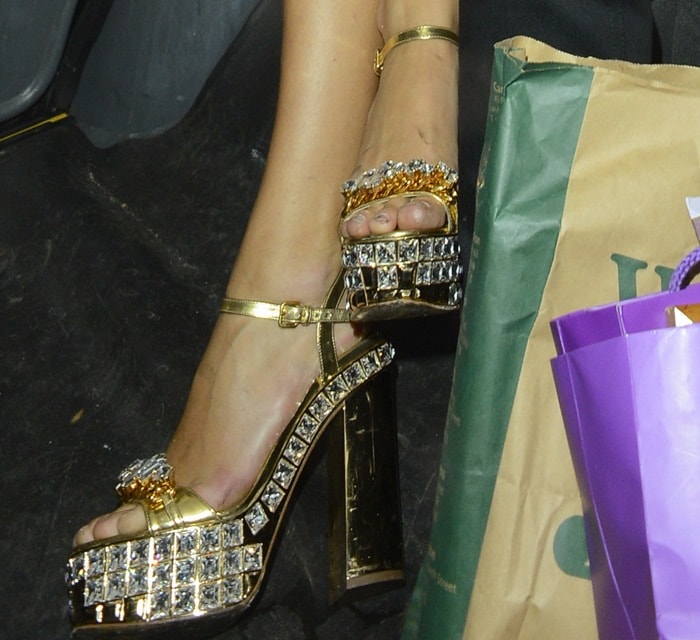 Pixie Geldof's crystal-encrusted platform sandals with gold block heels
Completely mesmerizing, yes? You just can't stop looking at them, can you?
Pixie's dazzling heels are from Miu Miu's Spring 2013 collection. These crystal sandals are crafted from metallic leather and feature 5.25-inch-tall gold mirror heels. Of course, the highlights are the jewels surrounding the front straps and the 1.75-inch-thick platforms.
Suffice it to say that if Cinderella had the option to wear sandals instead of "glass slippers," these shoes would be her top choice. They're the fanciest of the fancy and the sparkliest of the sparkly — just perfectly perfect for a princess.
Miu Miu Crystal Ankle-Strap Platform Sandals, $2,100 at Nordstrom
The sandals retailed at a hefty $2,100 last spring, so even if they are still available, the practical and frugal you will probably discourage such an extravagant purchase. Or maybe not. Come to think of it, what crazy or over-the-top thing would you be willing to do to own a pair of such shoes? Or what would you give?
That said, if you can spend half of that amount, you can try these more toned-down T-straps from Miu Miu instead. These aren't as dressy but are at least far more versatile.
Miu Miu Crystal-Heel T-Strap Sandals, $1,390 at Bergdorf Goodman
If you were waiting for us to include a much cheaper alternative, sorry, we couldn't find one. But if you're willing, you can forget about those crystal heels and focus on these mirrored stunners from Kat Maconie instead.
They're sleek, and we have no doubt that they'll give you the wow factor plus value for your money (they're made of leather inside and out!).
Kat Maconie Pearl Platforms, $328
Credit: WENN