Known today as a successful American actress, director, and producer, Kerry Washington has been nominated for countless awards and has become an inspiration for aspiring actresses across the globe.
But just like anyone, Washington had to start out somewhere. To learn about this actress and the show which helped her kickstart her career in film and television, read on for more information!
Save the Last Dance
Produced in 2001 by MTV Productions, Save the Last Dance is an American teen dance film directed by Thomas Carter.
Starring Sean Patrick Thomas as Derek Reynolds and Julia Stiles as his girlfriend Sara Johnson, an interracial couple in Chicago, the teenagers work together to help Stiles' character get ready for a dance audition.
Aside from Stiles and Thomas, the film also stars Karry Washington, with it commonly being described as her big break. Bianca Lawson portrayed Derek's ex-girlfriend Nikki.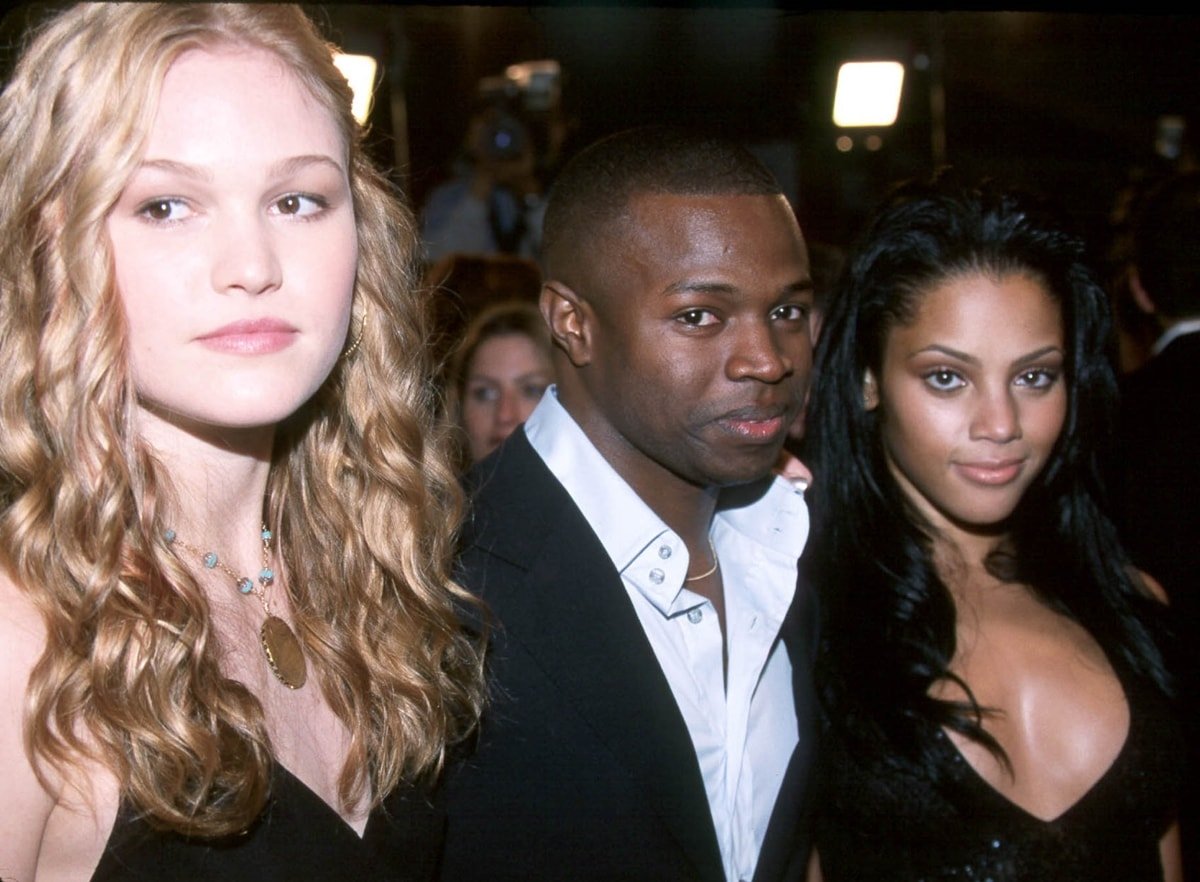 Julia Stiles, Sean Patrick Thomas, and Bianca Lawson at the premiere of "Save The Last Dance" at Mann's Chinese Theatre in Hollywood on January 9, 2001 (Credit: WENN)
A box office success, the direct-to-video sequel Save the Last Dance 2 was released in 2006 with none of the original cast.
How old was Kerry Washington in Save the Last Dance?
As Washington's first big career role, she was just 22 when filming started on November 21, 1999. At the time, Washington was working as a substitute teacher, returning to the job when she had finished the film. She turned 23 on January 31, 2000.
"Save the Last Dance was my second movie, and we had a per diem. I couldn't believe somebody was handing me cash and I literally used to hide it under my mattress for the whole movie. I put myself on a tight budget of what I could spend. And at the end of it, I used all the cash from the three months and bought my first laptop," she revealed to THR during the 2016 Drama Actress Roundtable.
Her first role was as Lanisha in Our Song, a 2000 American coming of age drama film. "My first movie was a crazy guerilla filmmaking, independent movie, so our transpo department was a Metrocard," she about the film that was written and directed by Jim McKay.
Kerry Washington as teenage single mother Chenille Reynolds in Save the Last Dance (Credit: MTV Productions)
However, with this being over 2 decades ago in 2001, Washington has since managed to star in over a whopping 30 films since Save the Last Dance was released, allowing her to kiss her substitute teacher days goodbye.
What role did she play?
In Save the Last Dance, Washington took on the role of Chenille Reynolds, a teenage single mum who happens to be having relationship problems with her ex-boyfriend, Kenny, played by Garland Whitt.
Kerry Washington was 23 years old when Save the Last Dance was released by Paramount Pictures on January 12, 2001 (Credit: MTV Productions)
Within the film, Chenille is befriended by Sara Johnson (Julia Stiles), one of the main characters.
What this role meant to Washington
As her first serious role, Washington treasured the time she had whilst starring in Save the Last Dance.
This incredible opportunity allowed her to expand her career across countless films, triggering her to star in 2006's Little Man, 2012's Django Unchained, and, most recently, Scandal, in which she plays Olivia Pope, a crisis management expert.
Kerry Washington shows off her Samer Halimeh diamond earrings in a Prada dress featuring crystal and sequin embroidery (Credit: MEGA / WENN)
"OH EM GEE!!!!! Save the Last Dance turns 20 years old today!" she wrote on Instagram in January 2021.
"Playing Chenille changed my life. I read that script and I felt like I KNEW her. At the time, I also knew the narrative that was being served in culture about who Black teen moms are. And I knew that if done right, this was an opportunity to transform some stereotyped thinking and make this young woman REAL. And human. And deserving of love and attention. I loooooved being a part of this film This cast. This crew. So many 'slammin' memories!"
View this post on Instagram
It allowed her to earn an Emmy and not just 1, but 2 Golden Globe nominations. Washington can now be sighted in The Prom, a film that displays this actress' captivating singing and dancing skills.
Washington actually got taught some dance moves from none other than Jennifer Lopez, making it no wonder that her skills have blossomed so memorably.
Actress Kerry Washington wearing a Prada dress, Samer Halimeh jewelry, and Stuart Weitzman shoes at the 2021 Baby2Baby Gala Presented by Paul Mitchell held at the Pacific Design Center on November 13, 2021, in West Hollywood (Credit: MEGA / WENN)
Also winning 5 NAACP Image Awards including The President's Award, it's clear to see how much of a mark that this woman has made on the film industry.
As one of the highest-paid television actresses and one of the most influential women in the world according to 2014's Time magazine, Washington has been able to flourish since her role in Save the Last Dance, showing how far she could really go with her career.
Kerry Washington braids her hair for the premiere of HBO Films' "Confirmation" held on March 31, 2016, at Paramount Theatre in Hollywood (Credit: Apega / WENN)
Kerry Washington quickly became a household name when she landed the role of Olivia Pope in the hit American political thriller television series Scandal that aired on ABC from April 5, 2012, until April 19, 2018.
Off the screen, the actress has also carved out a name for herself in the world of fashion. The popular actress quickly skyrocketed to the top of many best-dressed lists.
In March 2016, she proved her styling prowess yet again at the premiere of her new HBO movie "Confirmation."
Kerry Washington as law professor Anita Hill in the 2016 American television political thriller film Confirmation (Credit: HBO Films)
She was joined on the red (or in this case, yellow) carpet by her co-stars, and she clearly stood out in a lovely floral dress from Dolce & Gabbana's Spring 2016 collection.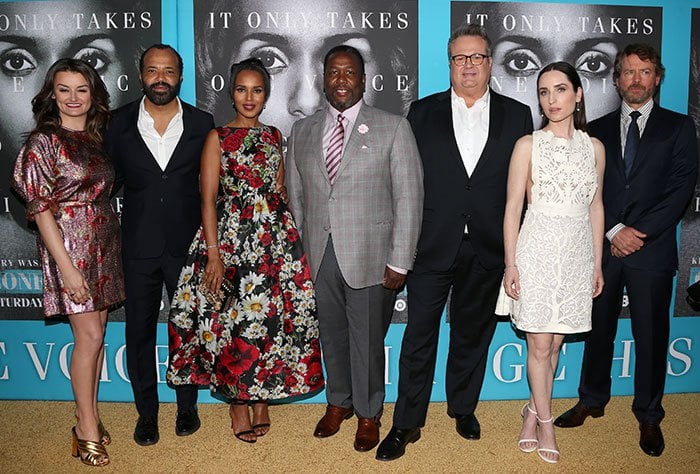 Confirmation cast members Alison Wright, Jeffery Wright, Kerry Washington, Wendell Pierce, Eric Stonestreet, Zoe Lister-Jones, and Greg Kinnear (Credit: WENN / FayesVision)
In the movie, Kerry plays law professor Anita Hill, who became a national figure when she accused Supreme Court Justice Clarence Thomas of sexual harassment during his confirmation hearings in 1991.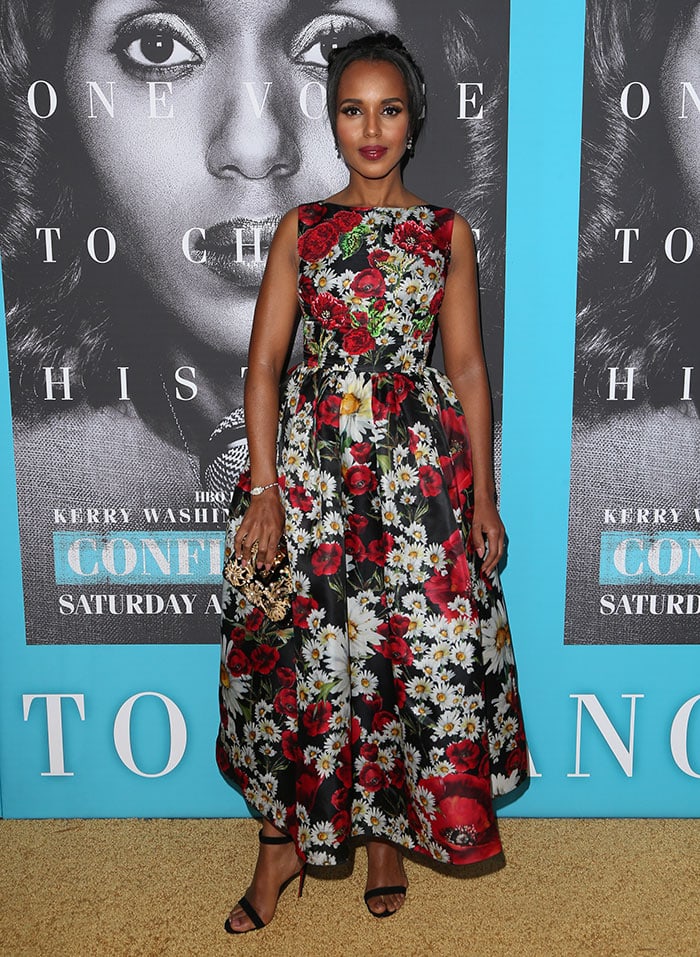 Kerry Washington wears a floral print Dolce & Gabbana dress to the premiere of "Confirmation" (Credit: WENN / FayesVision)
The "Django Unchained" star was hard to ignore in the elaborate silk organza gown that featured daisy and red poppy prints and a full skirt that fell to her ankles.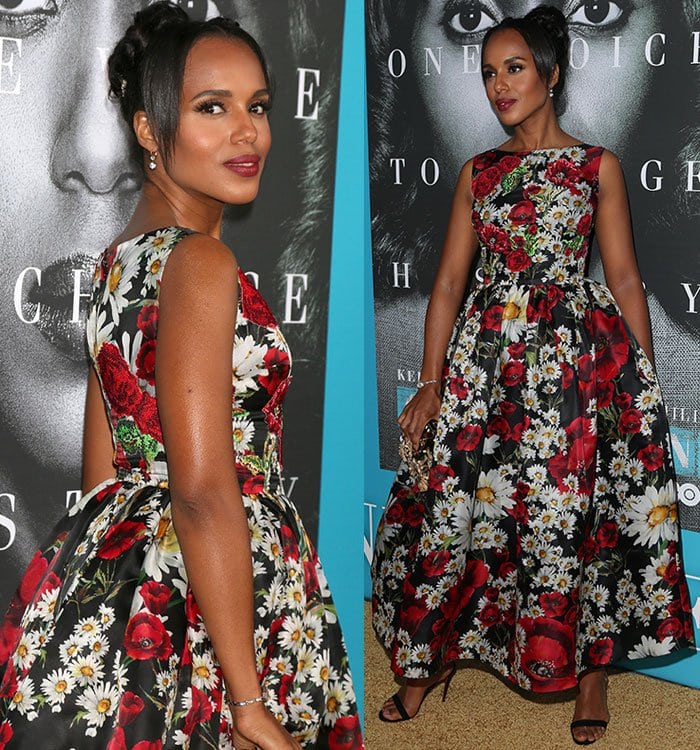 Kerry Washington looks classy in an ankle-length Dolce & Gabbana dress (Credit: WENN / Nicky Nelson)
Kerry upped the ante by styling the look with Neil Lane earrings, a Movado watch, a Dolce & Gabbana embellished clutch, and a pair of Christian Louboutin sandals.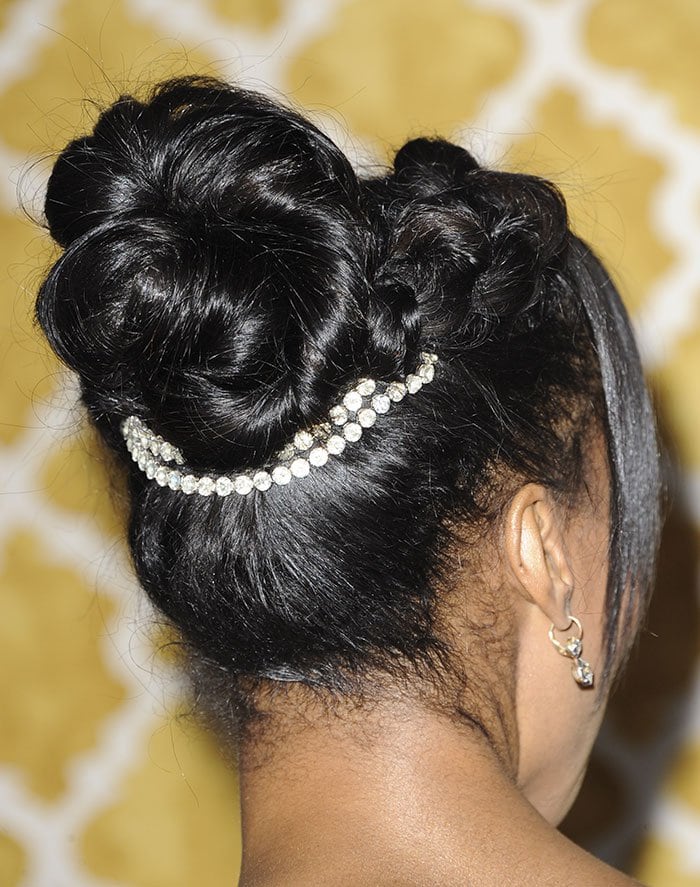 Kerry Washington accentuates her updo with a diamond accent (Credit: Apega / WENN)
She wore red lipstick and rounded out her look with a chic updo adorned with a sparkling barrette.
Kerry Washington walks on the yellow carpet in a Dolce & Gabbana dress (Credit: WENN / Nicky Nelson / FayesVision)
Kerry wore the same sandals that we've been seeing on celebrities, including Miranda Kerr and Daisy Lowe.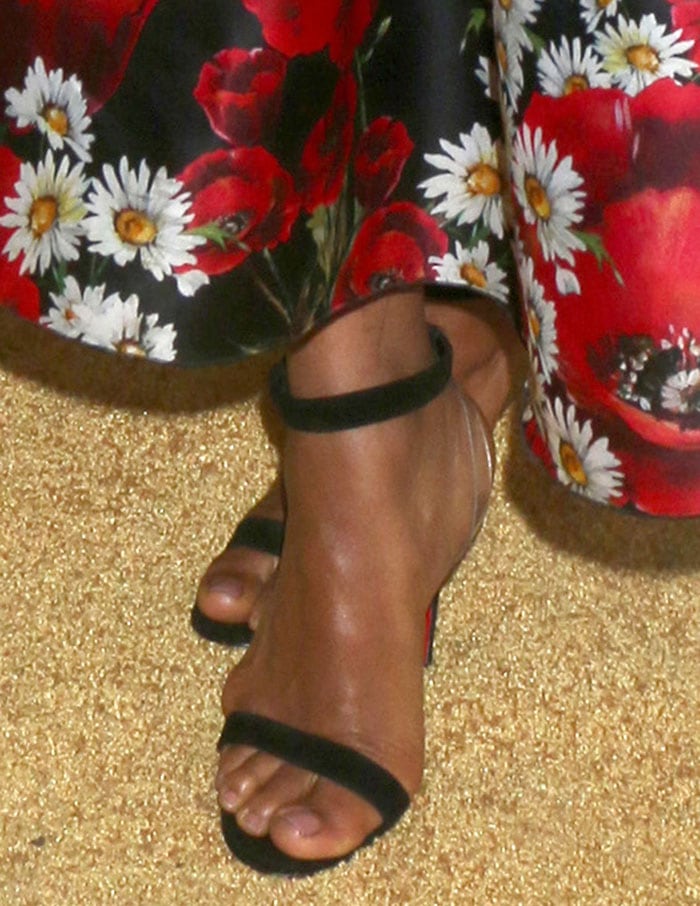 Kerry Washington's feet in PVC-accented Christian Louboutin x Jonathan Saunders sandals (Credit: WENN)
Christian Louboutin has collaborated with Scottish fashion designer Jonathan Saunders to create these sandals that feature PVC straps, ankle straps, and about four-inch heels.
Kerry Washington in Christian Louboutin x Jonathan Saunders ankle-strap sandals (Credit: WENN)