Oh, the unexpected joys of having a famous sibling.
Like…
Having a sister who can play celebrity matchmaker!
Felicity Blunt met her husband Stanley Tucci thanks in part to Emily Blunt — Felicity's A-list actress of a sister.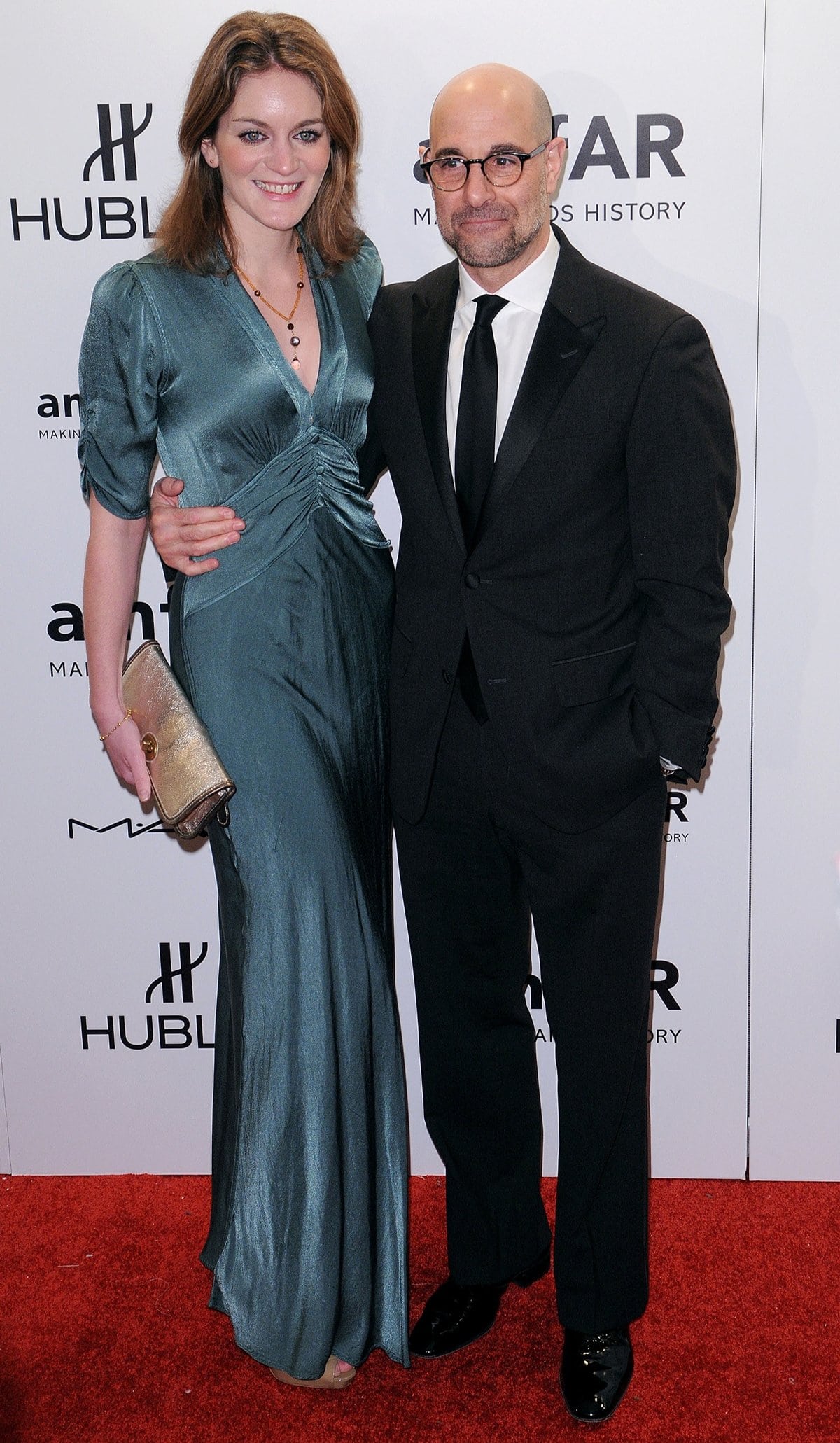 Felicity Blunt and Stanley Tucci met in part thanks to Felicity's sister Emily Blunt (Credit: Ivan Nikolov / WENN)
How exactly did the meeting happen? Read on to find out.
Stanley Tucci formed a friendship with Emily Blunt when the two worked together on the 2006 film "The Devil Wears Prada" (Credit: 20th Century Fox)
Let's start with Felicity's background
About Felicity Blunt
While Felicity may be directly tied to two famous American actors, she actually has a successful career of her own.
| Are Felicity and Emily Blunt twins? | No, they are siblings, two of four children born to former actress and teacher Joanna and barrister husband Oliver Blunt QC. |
| --- | --- |
| Full Name: | Felicity Blunt |
| Born: | January 8, 1982, in Wandsworth Town, a district of south London |
| How are Felicity and Emily Blunt related? | Felicity is the elder sister to Sebastian, Susannah and Emily Blunt. |
| How did Felicity Blunt meet her husband Stanley Tucci? | They started dating after meeting at Emily Blunt and John Krasinki's wedding in 2010. |
Felicity has made a name for herself in London, where she works as a literary agent for Curtis Brown. She's represented esteemed and bestselling authors such as Rosamund Lupton, Renee Knight and Tammy Cohen.
Stanley Tucci's wife Felicity Blunt is a literary agent at publishing talent agency Curtis Brown (Credit: Ivan Nikolov / WENN)
About Stanley Tucci
Stanley Tucci was born in Peekskill, New York in 1960. He grew up in an Italian-American household, and his writer mother and art teacher father.
| What is Stanley Tucci's net worth? | He is an American actor, writer, film producer, and director with an estimated net worth of $25 million. |
| --- | --- |
| Full Name: | Stanley Tucci Jr. |
| Born: | November 11, 1960, in Peekskill, a city in northwestern Westchester County, New York, United States |
| Kids: | Matteo Oliver Tucci, Isabel Concetta Tucci, Emilia Giovanna Tucci, Nicolo Robert Tucci, and Camilla Tucci |
| Are John Krasinski and Stanley Tucci related? | Stanley Tucci is John Krasinski's brother-in-law. |
| How tall is Stanley Tucci? | 5′ 8″ (172 cm) |
| Nationality: | American |
| How did Stanley Tucci lose so much weight? | He experienced dramatic weight loss and a loss of taste amid treatment for oral cancer. |
Stanley joined his high school drama club before attending State University of New York's Conservatory of Theater Arts in Purchase.
He made his Broadway debut in 1982 before moving on to movies and films.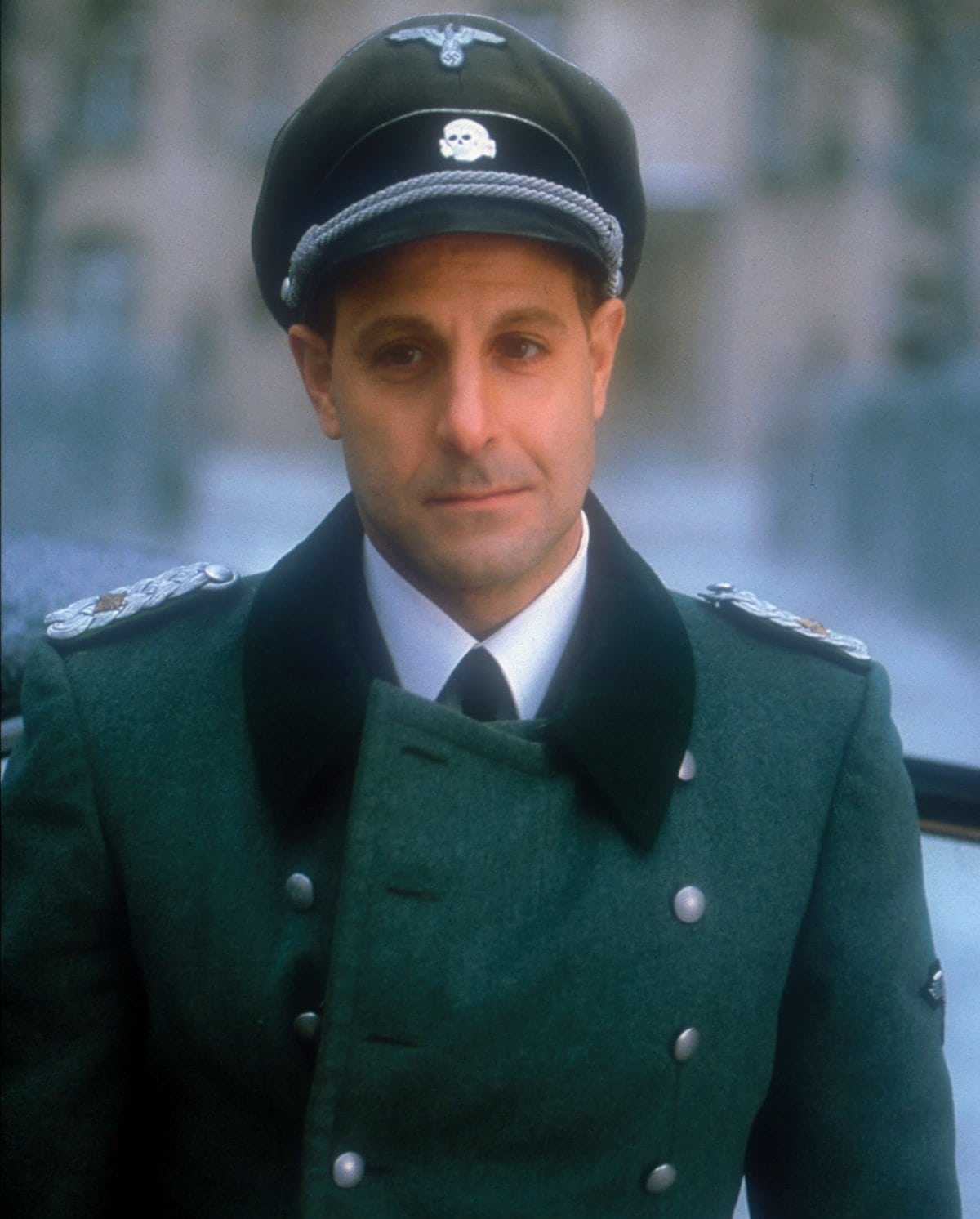 Stanley Tucci as Adolf Eichmann in the 2001 British-American made-for-television war film "Conspiracy" (Credit: BBC / HBO Films)
Since moving from Broadway to Hollywood, Stanley has starred in well-known and critically-acclaimed movies such as "The Lovely Bones," "The Devil Wears Prada" and "The Hunger Games" trilogy.
Stanley is known for changing his voice, hair, and overall appearance for any given role, which often makes him unrecognizable to viewers.
Stanley Tucci and Kate Spath-Tucci attend the premiere of "The Devil Wears Prada" during the 63rd annual International Venice Film Festival held Sept. 7, 2006 at Palazzo del Casino in Venice (Credit: Josie Kerns/ WENN)
Before meeting Felicity, Stanley married his first wife, Kate Spath, on April 18, 1995.
The two were married for 14 years and had three children before Kate died from breast cancer in 2009.
Felicity Blunt and Stanley Tucci met at Emily Blunt's wedding
Roughly a decade after his wife's death, Stanley accepted a role in "The Devil Wears Prada" alongside Meryl Streep, Anne Hathaway and Emily Blunt.
Not only did the cult classic earn Meryl Streep an Oscar nomination, it also introduced Stanley and Emily.
Stanley and Emily became close friends throughout the filming and the promotion.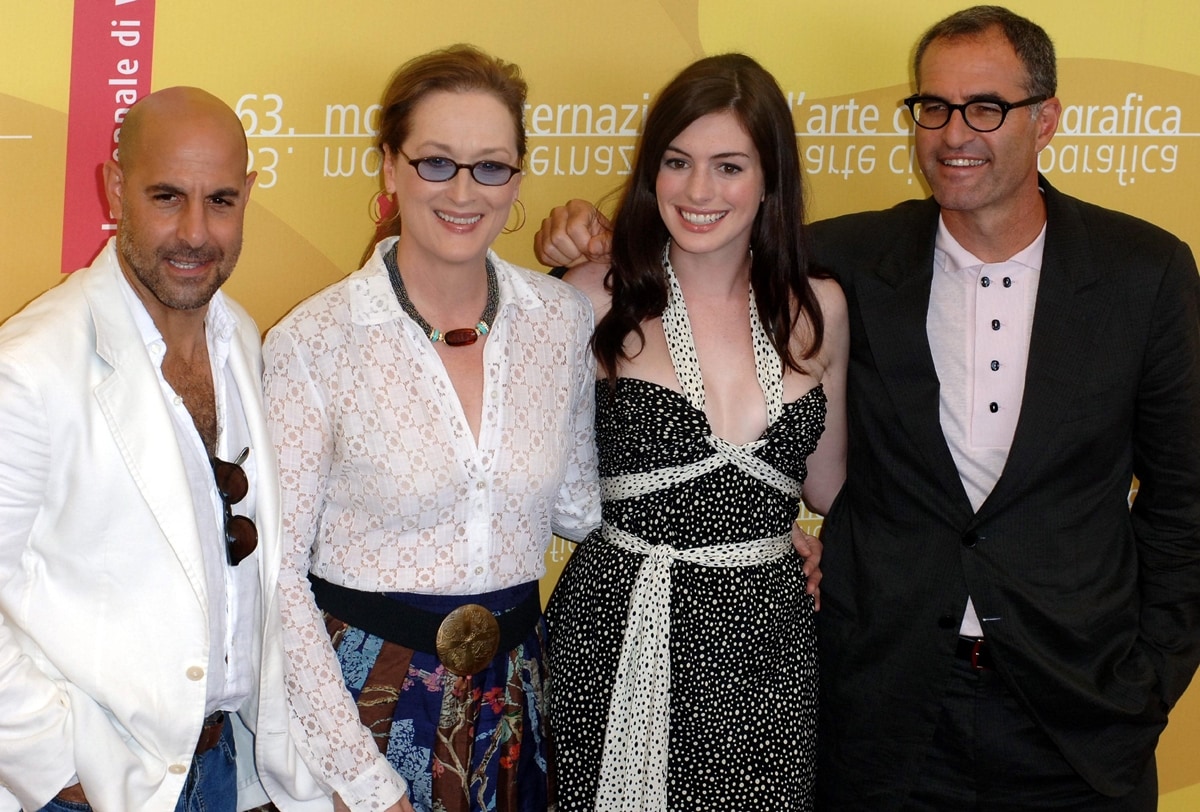 Stanley Tucci, Meryl Streep, Anne Hathaway and David Frankel promote "The Devil Wears Prada" during the 63rd annual Venice Film Festival held Sept. 6, 2006 (Credit: Daniel Deme / WENN)
Stanley and Emily became such close friends that she even invited him to her wedding! Emily married "The Office" star John Krasinski in 2010 at an extremely private event that was held at George Clooney's Lake Como home.
Stanley met Emily's sister — the aforementioned Felicity Blunt — at the event, and the rest is history!
Despite the height difference and 18-year age gap, the two hit it off and began dating.
After a two-year relationship, Stanley and Felicity married in 2012.
Their wedding's star-filled guest list included Meryl Streep, Julianne Moore, and even Steve Buscemi, who was actually Stanley's best man.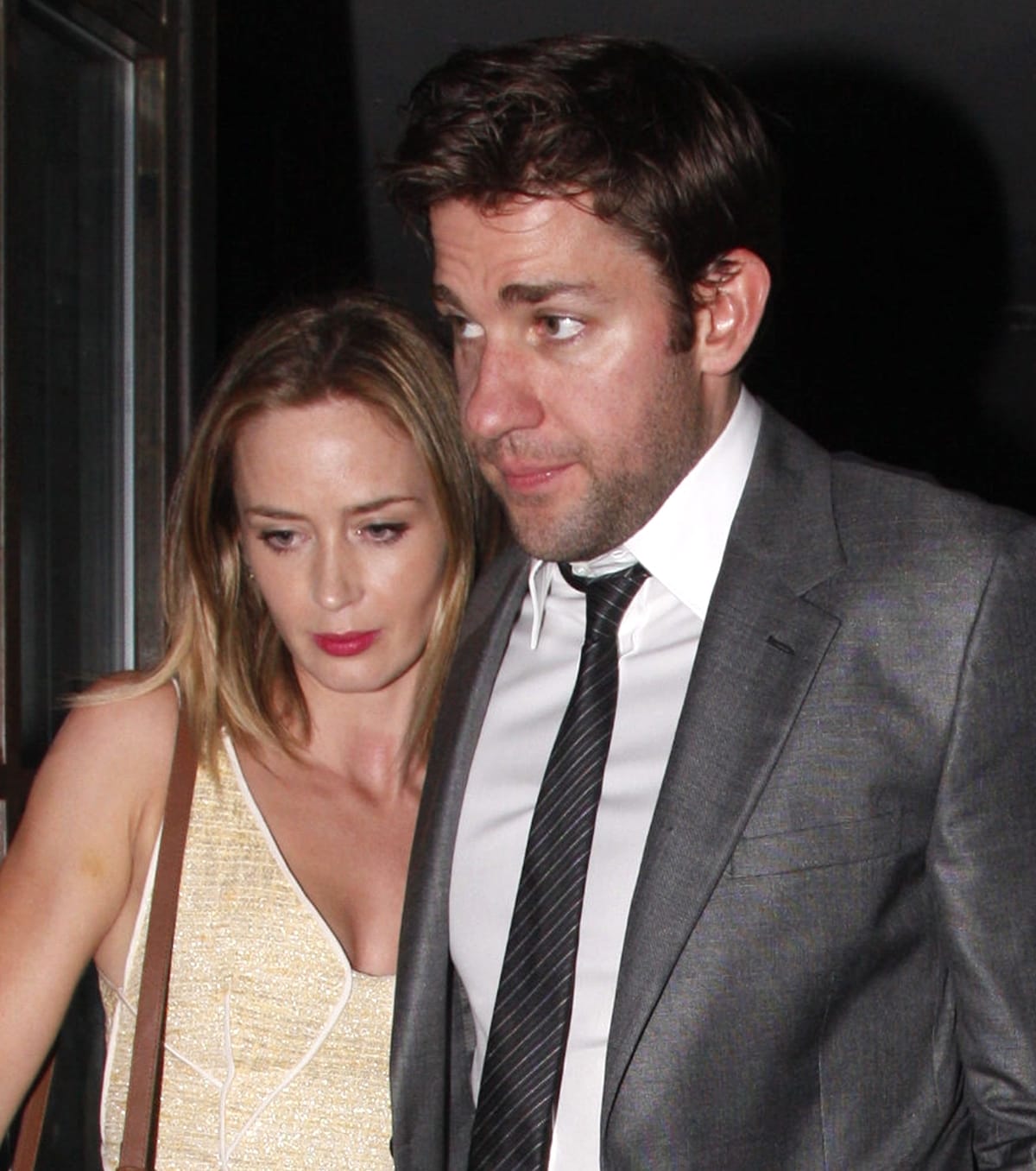 John Krasinski and Emily Blunt attend Stanley Tucci and Felicity Blunt's pre-wedding drinks gathering held Sept. 28, 2012 at Shoreditch House in London (Credit: WENN)
After the wedding, Stanley publicly admitted that he felt a bit guilty about getting married after the death of his first wife.
"It was very hard to go on vacations at first, really hard to go with Felicity someplace," he said. "I felt guilty. It's horrible."
Stanley said the grieving process has been hard, but Felicity has been incredibly understanding.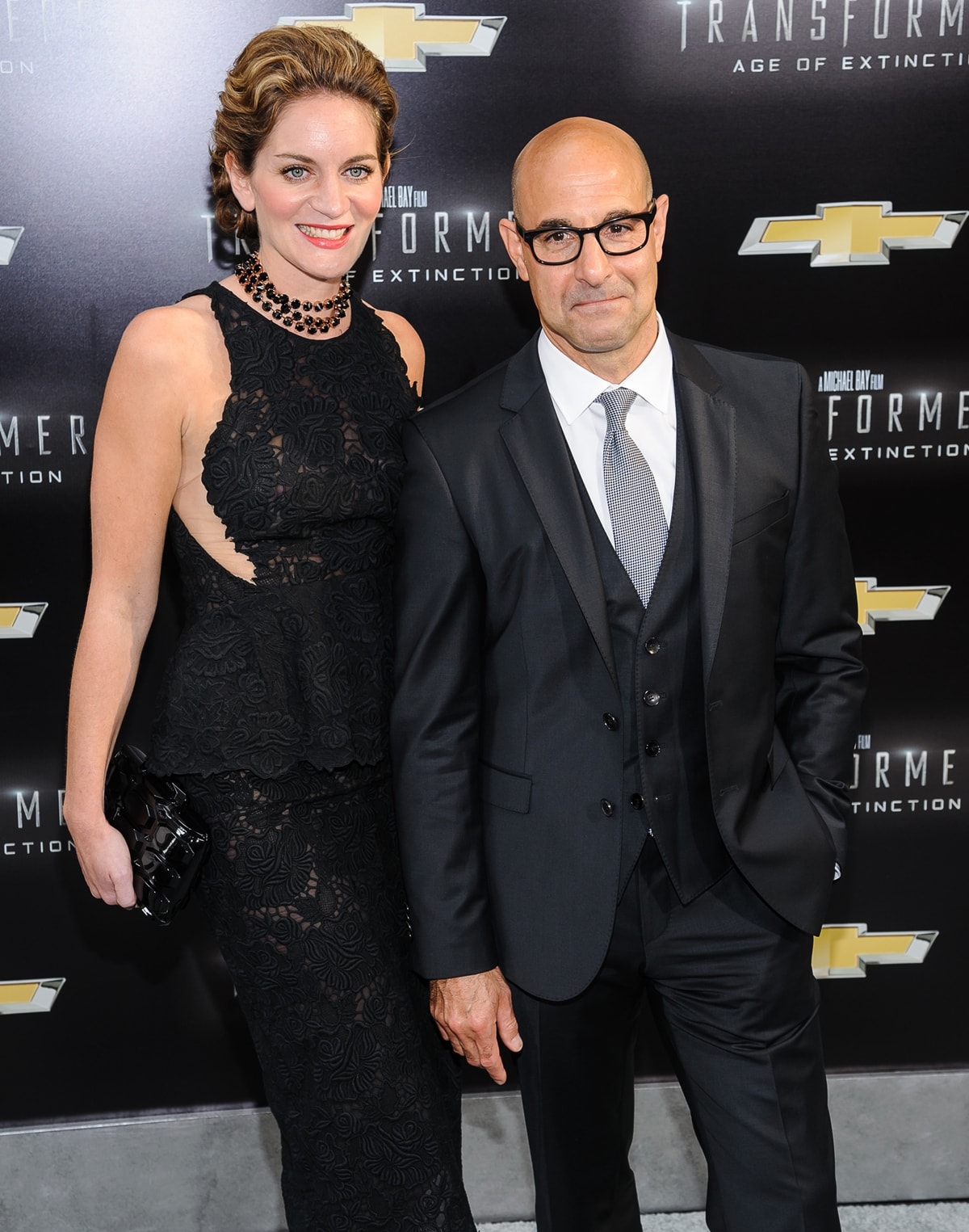 Stanley Tucci is much shorter and older than his wife Felicity Blunt (Credit: C.Smith / WENN)
"You never stop grieving," Tucci told CBS Sunday in January 2021 about dealing with grief. "It's still hard after 11 years. It's still hard. And it will always be hard. But you can't let it … and she would never want any of us to ever wallow in that grief and let it take over our lives. She would never want that. She wasn't like that."
Felicity and Stanley's Life Together as a Married Couple
Felicity and Stanley have now been happily married for about 10 years. The two share three children from Stanley's previous marriage and two children of their own.
"It's not easy to find somebody who is going to take on three teenagers and a widower," Stanley said. "That's a lot, but she was willing to take on that challenge."
Stanley shares occasional glimpses into their relationship via Instagram.
The two seem to enjoy making cocktails and snacks together.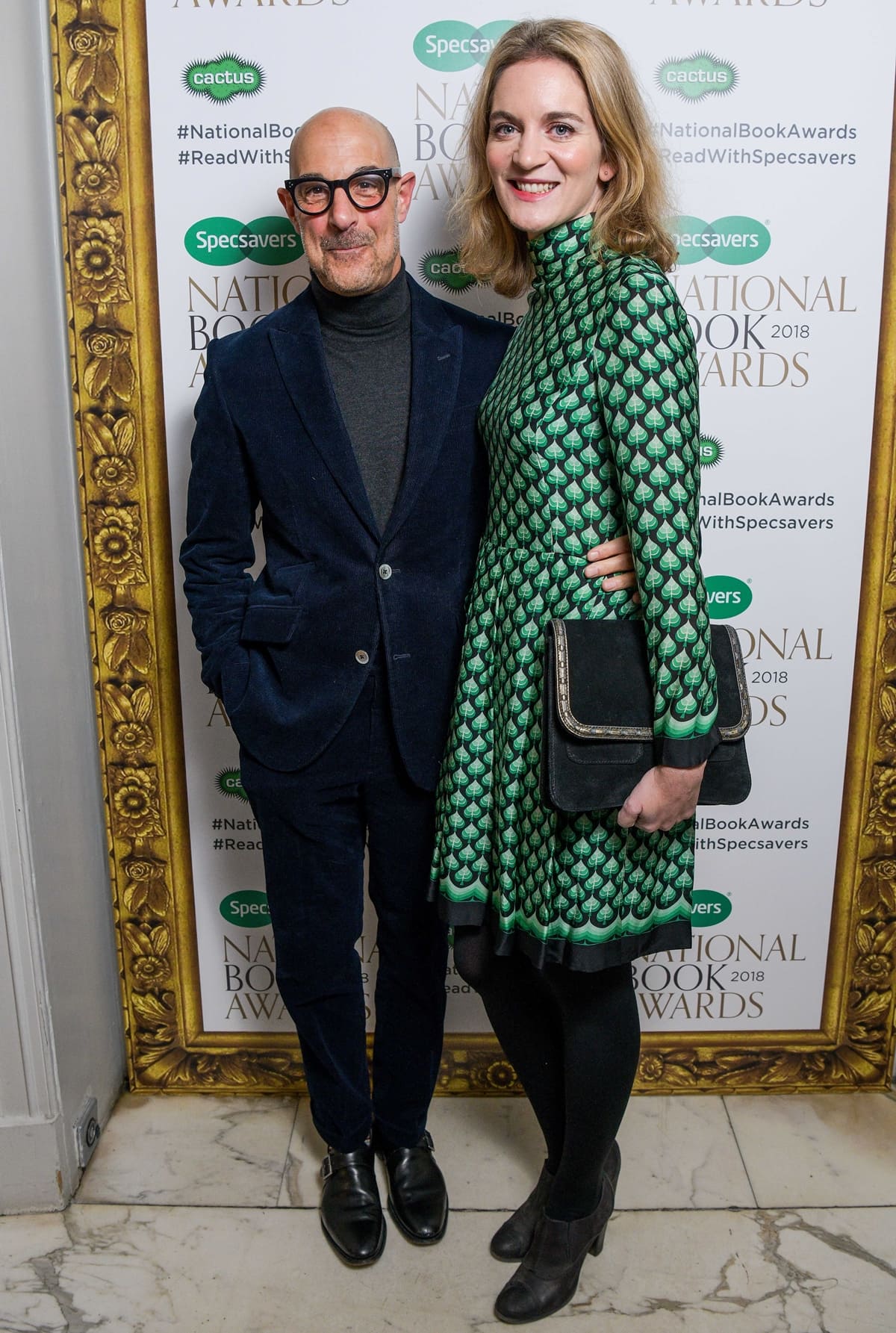 Stanley Tucci and Felicity Blunt have two children of their own and are raising three children from his previous marriage to Kate Spath (Credit: PinPep / WENN)
Stanley Tucci's Cancer Diagnosis
In 2018, Stanley was diagnosed with cancer at the base of his tongue.
"It was too big to operate, so they had to do high-dose radiation and chemo," he told Virgin Atlantic's in-flight magazine in an interview.
"I'd vowed I'd never do anything like that, because my first wife died of cancer, and to watch her go through those treatments for years was horrible… I had a feeding tube for six months. I could barely make it to the twins' high school graduation," he added.
Stanley Tucci attends the premiere of "La Fortuna" held Sept. 24, 2021 during the 69th annual San Sebastian Film Festival in Kursaal, San Sebastian, Spain (Credit: MEGA / WENN)
"(Cancer) makes you more afraid and less afraid at the same time," he concluded. "I feel much older than I did before I was sick. But you still want to get ahead and get things done."
We wish nothing but happiness, health, and love for this beautiful couple in the upcoming year!
Emily Blunt's style
After a whirlwind film promotion trip to Germany, in March 2016 Emily Blunt and Chris Hemsworth jetted to London to attend a photocall for "The Huntsman: Winter's War."
Emily Blunt wears her hair down for the photocall for "The Huntsman: Winter's War" held on March 31, 2016, at Claridges Hotel in London (Credit: Lia Toby / WENN)
They were joined at the event by their co-stars Rob Brydon, Alexandra Roach, and Nick Frost.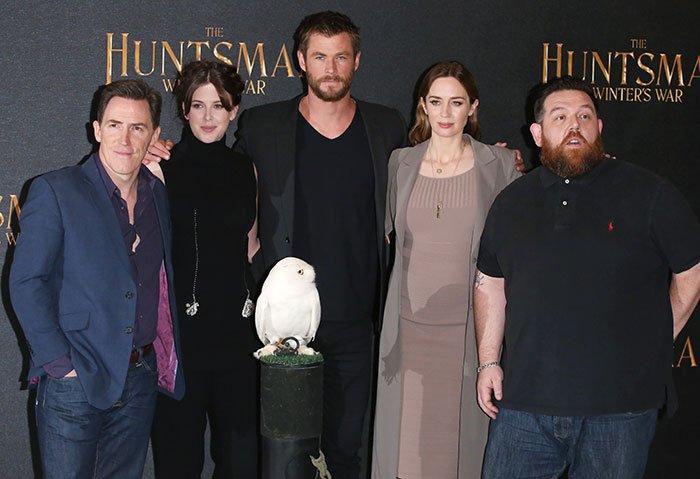 Rob Brydon, Alexandra Roach, Chris Hemsworth, Emily Blunt, and Nick Frost attend a photocall for "The Huntsman: Winter's War" in London (Credit: Lia Toby / WENN)
Charlize Theron, who plays the role of the Evil Queen in the movie, was in Milan that same day to continue promoting the prequel to "Snow White and the Huntsman."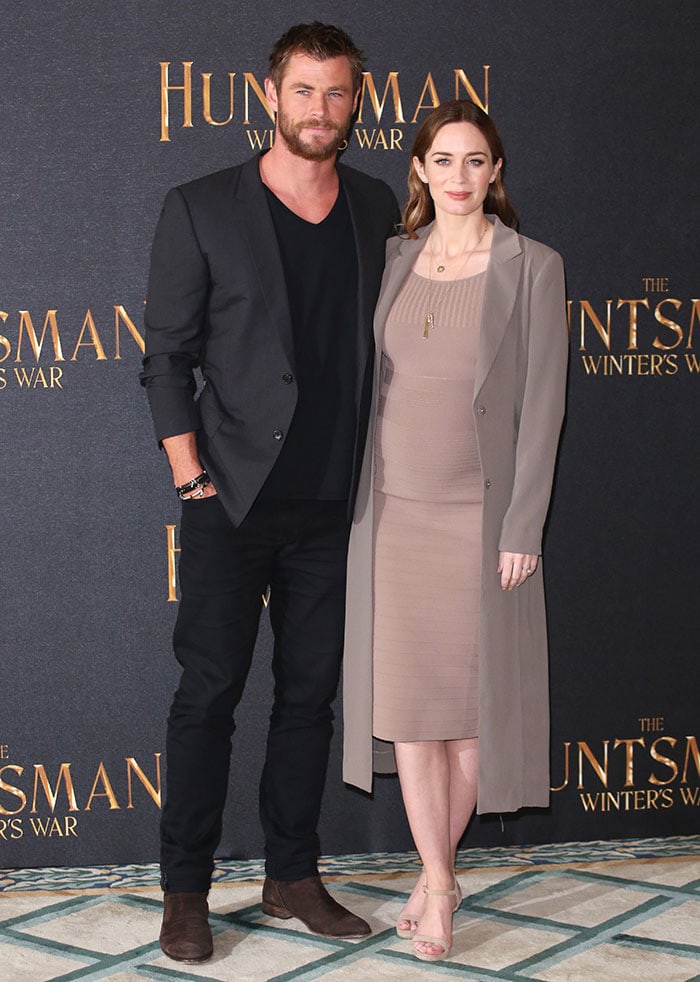 Chris Hemsworth poses with a pregnant Emily Blunt at the premiere of their latest movie (Credit: Lia Toby / WENN)

The duo arrived at the Claridges Hotel wearing simple neutral outfits. Chris opted for a smart-casual ensemble, comprised of a black v-neck tee, a gray blazer, black trousers, and a pair of tan boots.
Emily Blunt covers her Narciso Rodriguez dress with a calf-length gray coat (Credit: Lia Toby / WENN)
Emily, on the other hand, looked demure but chic in a form-fitting Narciso Rodriguez taupe knit dress that perfectly hugged her growing baby bump.
She was positively glowing in the midi frock, which was teamed with a gray coat and a pair of nude Jimmy Choo heels.
She kept her accessories simple with Jennifer Fisher jewelry and rounded out her look with glossy waves and neutral makeup.
Emily Blunt shows off her growing baby bump in a form-fitting Narciso Rodriguez dress (Credit: Lia Toby / WENN)
Emily's sandals are the Jimmy Choo "Claudette" shoes, which feature the label's new sculptural heels that create the illusion of extra height.
These nude suede sandals feature adjustable buckled ankle straps, open toes, half-inch platforms, and four-inch heels.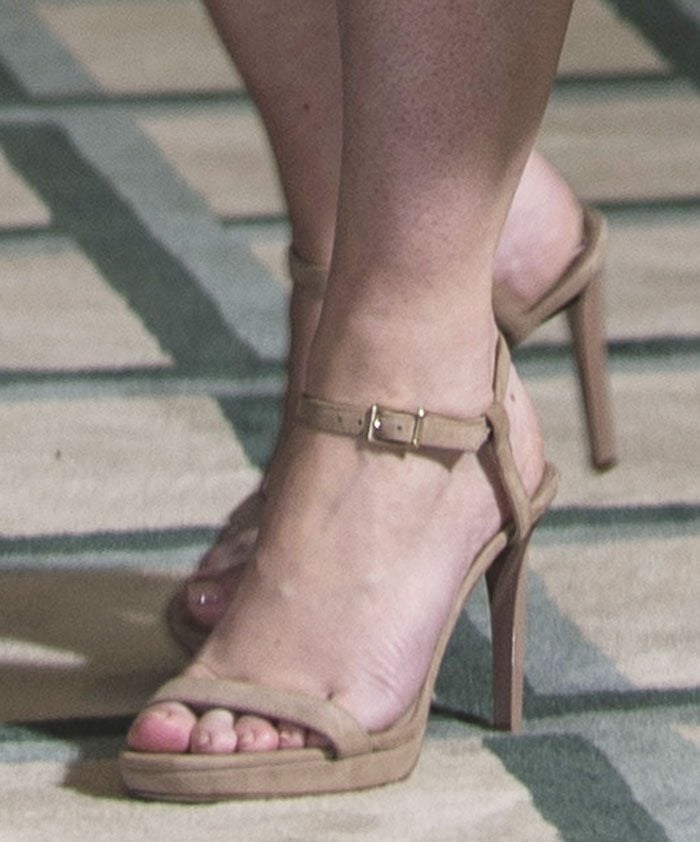 Emily Blunt's feet in nude suede Jimmy Choo sandals (Credit: Lia Toby / WENN)
You can get these sandals in different versions at Farfetch and Mytheresa.
Jimmy Choo Claudette Sandals, $795 – $895