Compared to Wonder Woman, Lois Lane doesn't get involved in too many action sequences. However, Amy Adams — as close as we can get to a real-life Lois — begs to differ.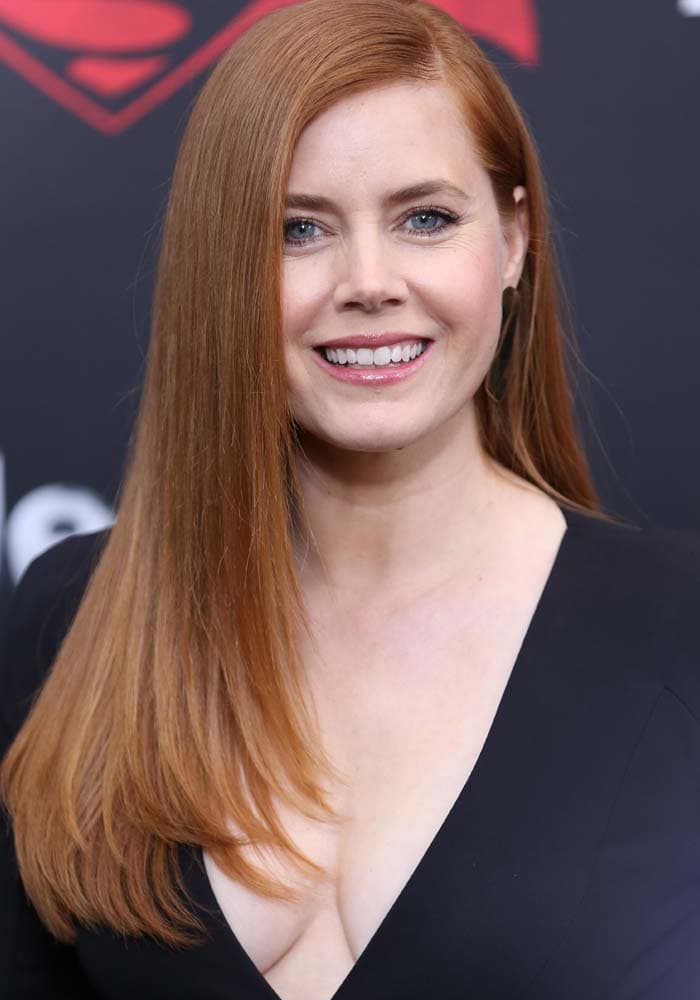 Amy Adams flaunts her boobs at the New York premiere of Warner Bros. Pictures' 'Batman v Superman: Dawn of Justice' at Radio City Music Hall on March 20, 2016
The Enchanted actress insists that Lois may not be kicking butt in the film, but assured everyone that she gets "lots of action" in it anyway. Hmm.
Amy Adams cheerfully shared this little tidbit on the red carpet of the "Batman v Superman: Dawn of Justice" premiere in New York.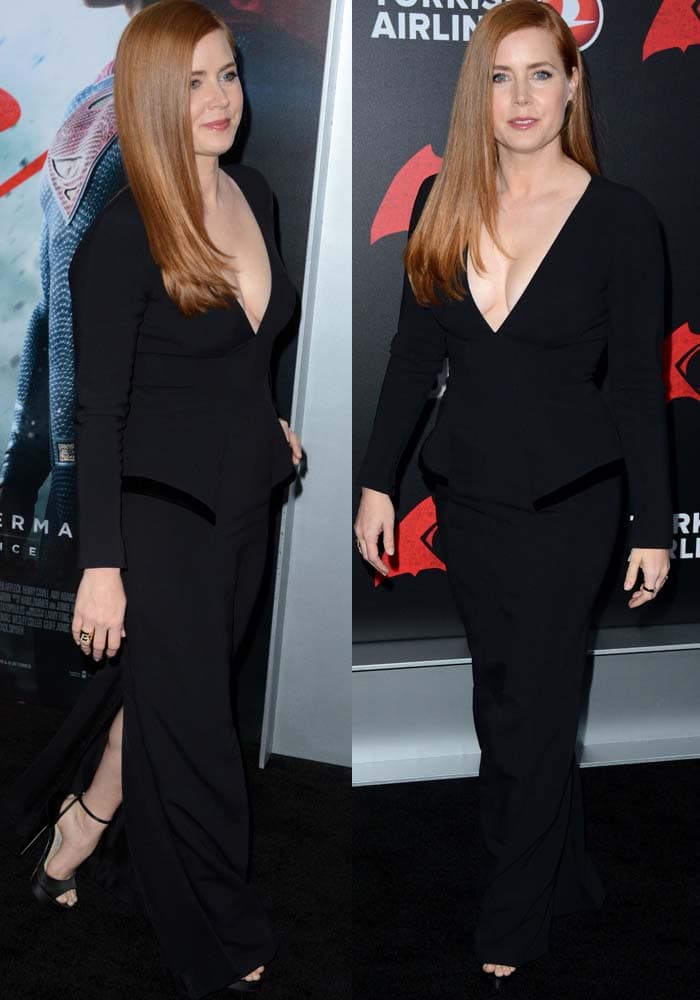 Amy Adams flashed a cheeky hint of her leg when she walked in a Tom Ford dress
The red-headed beauty wore a Tom Ford dress on the red carpet, which had a lovely back slit that showed a cheeky hint of her leg when she walked.
"I just felt for Zack. Zack's like the nicest person ever, and to see him kind of talked about like that was really hard for me because he's really such a respectful director," she said about the movie's negative reviews in an interview with Variety's Playback podcast.
The dress also features a peplum waist, which kind of reminded us of Batman's costume. Amy wore earrings from Paka Paka, a ring from Ippolita, and a pair of Jimmy Choo platform sandals that we spotted at the designer's Oscars Suite a few weeks back.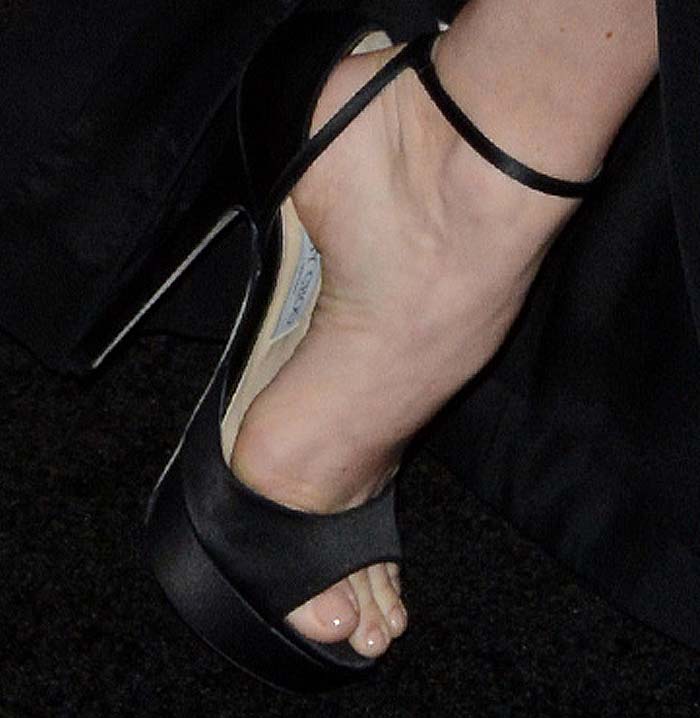 Amy Adams shows off her feet in Jimmy Choo sandals from the brand's Oscars Suite
"I love that she's fearless," Adams said on "Good Morning America" about her character Lois Lane. "I'm not that way so it's really fun that she really is not afraid of the consequences."
"What's great about this is that, as far as the relationship with Lois and Clark goes, when we meet them you can tell that they've been in a relationship for while," Adams added. "So it was great to get to develop that sort of intimacy and that sort of friendship that I've developed with Henry, to get to bring that to the screen."
Isla Fisher's lookalike also got some action from her husband on the red carpet of the New York premiere. The actress was photographed adorably locking lips for the cameras with her husband, Darren Le Gallo.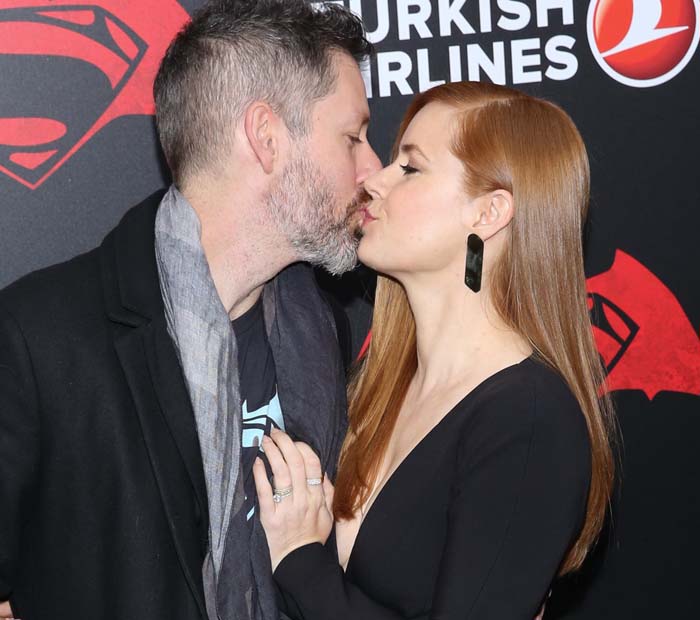 Amy Adams gives her husband, Darren Le Gallo, a smooch on the red carpet
Amy's Jimmy Choo pair was part of the glamorous Oscars Suite some weeks back. At the suite, the brand put clutches and heels (some with customizable colors) on display for stylists to rummage through to create Oscar-ready looks for their clients.
We're not sure if this particular pair is going to be made available online, but we do expect to see it more on the red carpet from here on out.
In the meantime, here are some equally gorgeous Jimmy Choo shoes from Farfetch and Mytheresa:
Jimmy Choo Claudette Sandals in Black Suede, $795
Jimmy Choo Kayden Sandals, $850
Jimmy Choo Minny Silk Satin Sandals, $750
Credit: Ivan Nikolov / Andres Otero / WENN