Katy Perry just released the official music video for her No. 1 hit single, "Roar," for which the songstress has chosen a jungle theme that's much too literal and much too cheesy. But then again, that's Katy.
A glamazon Katy Perry sitting on a throne of palm leaves and tropical flowers in the official music video for "Roar"
Anyway, we're not here for that. What we're here for is the cute little scene in the video wherein Katy, acclimating to her new jungle surroundings, breaks off a heel from one of her shoes, ties it to the end of a spear, and uses it as a weapon.
Filmed at the Los Angeles County Arboretum and Botanic Garden, the following stills from the music video tell the story:
Katy Perry befriends a monkey after surviving a plane crash
Now, this got us to thinking — if we were Katy Perry in the video and we had to survive in a jungle that our plane crash-landed in, what shoe would we use as a weapon?
Katy Perry uses her stiletto heel to form a spear and successfully shoots a banana
We were able to come up with five, which we've listed in no particular order below.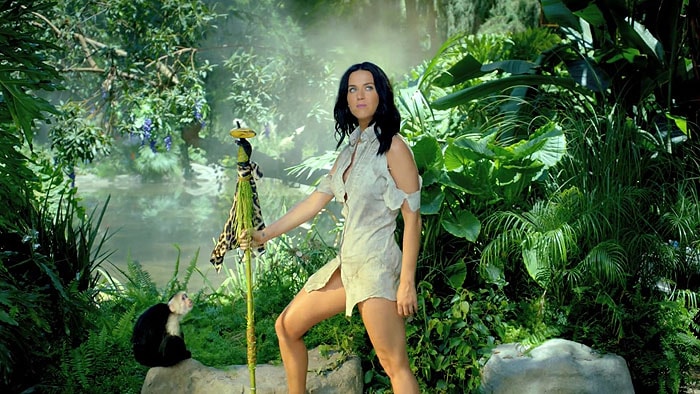 Katy Perry using a shoe heel as the tip of her spear in the "Roar" official music video
Actually, we hope to have all five of these on hand and packed into the luggage we'd have brought along with us — even in the jungle, a girl can never have too many shoes, especially when they're as useful as these!
1. Chau Har Lee's flat-blade-heeled booties
Now, these are heels fit to become tips of spears. Check out more of Chau Har Lee's amazing shoe designs here.
2. Butcher-knife-tipped ballerina shoes
No explanation needed for why we need these shoes in the jungle! Watch a ballerina try to actually dance in these shoes in Javier Perez's short film "En Puntas" here.
3. Casadei "Blade" heel pumps
Any color will do, but these red suede Casadei "Blade" heel pumps could also double as a distress signal.
4. Christian Louboutin "Asteroid" pumps
What's great about these shoes is that you can use both the stiletto heels and the spiked toes as weapons. Don't miss our favorite look-for-less versions of these shoes.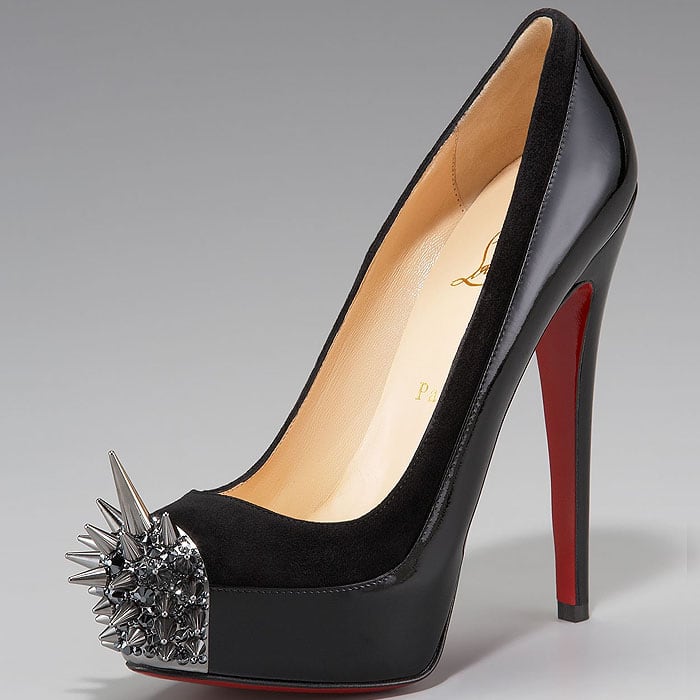 5. DSquared2's ice skate shoes
Slicing, dicing, cutting — we can't think of any better shoes than these ones by DSquared2 to do these tasks. We previously featured these not-made-for-ice-skating shoes here.
Watch Katy Perry's "Roar" music video below.
Credit: WENN