If you think some of the shoes we feature here on Your Next Shoes are too high, well, we're just about to go even higher. In fact, we're going to the ultimate height because today, we're featuring 6 of the highest heeled shoes ever made.
Ready to see if you could take 'em on and actually wear 'em? Oh well, hold your breath!
Be careful not to trip because the heels on these ankle-breaking shoes go to double digits, with none going under 12 inches. Take a look at the tallest high heels in the world:
6. Noritaka Tatehana's Serious Heel-Less Shoes
Known for her love for extreme shoes, Lady Gaga took our breath away when she was named the 2011 CFDA Fashion Icon of the Year.
Lady Gaga needed help to stand up at the 2011 CFDA Fashion Awards at Alice Tully Hall, Lincoln Center on June 6, 2011, in New York City
Wearing a blue/green wig and a custom breast-studded Mulger dress, she was barely able to walk in extreme 24-inch platform heel-less shoes by Japanese contemporary artist Noritaka Tatehana.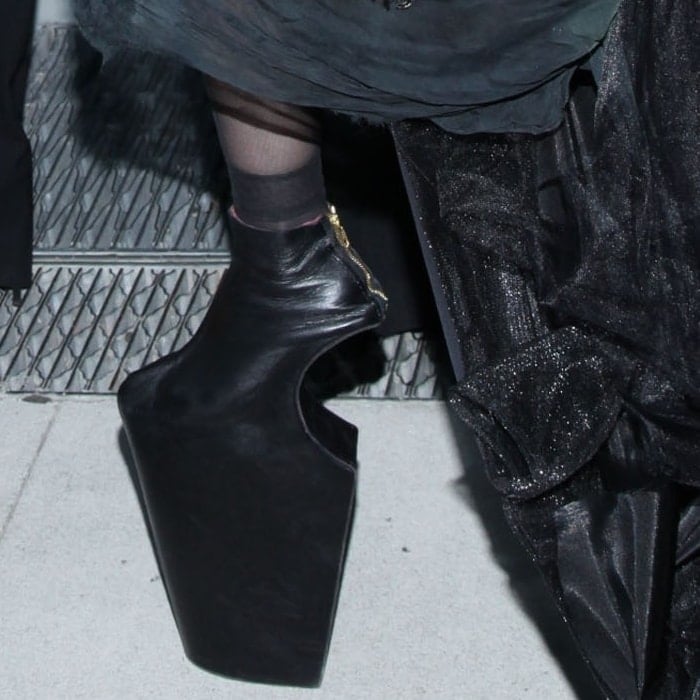 Lady Gaga rocks heel-less platform shoes by Noritaka Tatehana
5. Kronier Creations platform boots – 12 inches
Coming in at number 5 are these platform boot designs from Berlin-based label Kronier Creations.
The height on their shoes actually varies from customer to customer and some could actually be higher than just *mere* 12 inches.
Kronier Creations 2008 special design for Sinteque Berlin
The one pictured directly below is specially made for German fetish model Sinteque Berlin while the ones that follow are from the label's futuristic, alien-inspired collection.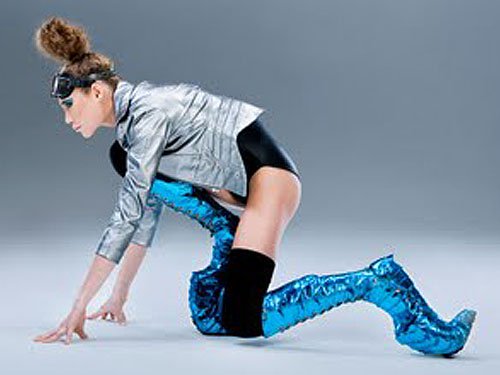 Alien-inspired Kronier Creations platform boots
4. Alexander McQueen Fall 2009 platform boots – 12 inches
At the number 4 spot is Alexander McQueen with his thigh-high platform boots from Fall 2009.
Alexander McQueen Fall 2009 RTW collection
Heidi Klum wore these boots for an editorial photoshoot for German Vogue. Hmm, what is it with Germany and sky-high shoes?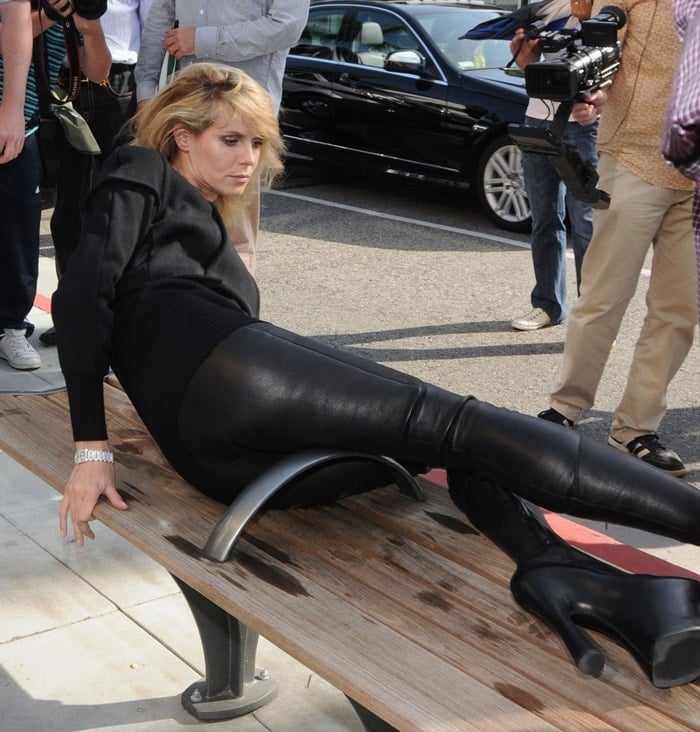 Heidi Klum wears insane Alexander McQueen thigh-high platform boots during a fashion shoot for German Vogue on Rodeo Drive in Los Angeles on April 1, 2019
The German model, who at the time was pregnant with Lou Sulola Samuel, also posed in a number of other crazy high heels.
Heidi Klum shows off her feet in extremely high snake-embellished heels
3. Mihai Abu triple-stacked wedges – 12.2 inches
Romanian shoemaker Mihai Abu rounds off the top 3. He enters the list with this very interesting and very high triple-stacked wedge design.
Right now, we only have heel height information on the wedges but if you take a look at the green and gold booties below, they actually seem higher.
They're most likely a whole lot more expensive too because the staggeringly high wedges are already priced at a steep €1,200 ($1,525).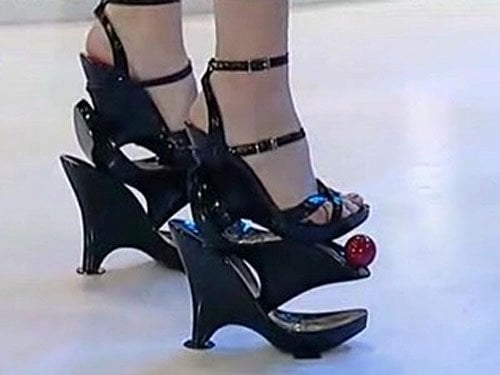 12.2-inch Mihai Abu triple-stacked wedge heels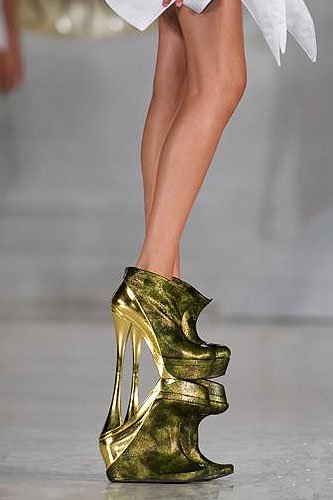 Mihai Abu double booties
2. LadyBWear lace-up platform shoes – 16 inches
Coming in at number 2 are these vertiginous 16-inch platforms from LadyBWear Limited of Cheadle, Cheshire England. These used to hold the title of the highest heeled shoes commercially available (hence the Guinness World Records certificate below).
When LadyBWear was still in business, you could order a pair of these for £725 or about $1,167.

LadyBWear platform boots
1. James Syiemiong platform boots – 20 inches
Indian designer James Syiemiong is the person who took away LadyBWear's title with these impossibly high platform boots he made in 2004. Not only did he make these boots 20 inches high but he also made them in black leather, red leather, and denim.
Gotta love that he had the three ladies model them to show that they're actually wearable but they do come with a health warning that says "the manufacturer of the shoe cannot be held responsible for any injury clients may sustain while wearing them." Scary.
James Syiemiong and his record-holding 20-inch platform boots
Can you go THIS high, YNS readers? Please let us know your thoughts!
Credit: Telegraph India / James Syiemiong / Marcio Madeira / David Lynch / WENN
Credit: LadyBWear / Mihai Abu / Kronier Creations / Don Ashby & Olivier Claisse / Andres Otero