Steampunk has until recently been considered a small subculture. However, with the way its industrial sci-fi Victorian aesthetic is now captivating a massive audience, it looks like steampunk is ready to take over the world above ground as well!
Fashion has actually long been drawing inspiration from steampunk, but nothing quite like these shoes we're featuring today.
Hades — formerly known as Metropolis Alternative Shoes — leads the steampunk shoe revolution with their distinctive and daring designs.
We've already written about one of their shoes, the skeleton-heeled Ripley pumps, but putting them all together like this will give you the full impact.
Featuring screw-on metal heels, cog n' gear embellishments, and seemingly welded-together parts, these Hades steampunk shoes are the fantasy shoes that will breathe life into your shoe collection.
If you're not the type to spend a couple of hundred dollars on a non-practical pair of shoes but will do so at least once or twice, these shoes might as well be IT. These are the shoes that will make you stand out, turn heads and get you compliments, possibly all at once.
Hades specializes in alternative footwear but you can easily see how these shoes can have a much wider appeal. At the very least, they can be mixed and matched with clothes beyond the steampunk genre.
1. 'Sky Captain'
Hades 'Sky Captain' metal screw heel open-toe platform pumps, $145.99
2. 'Oxford'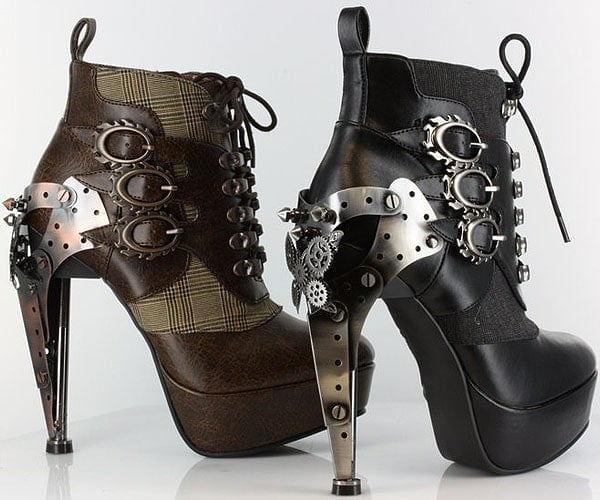 Hades 'Oxford' metal gears heel platform booties, $244.99
3. 'Eiffl'
Hades 'Eiffl' metal heel platform pumps, $145.99
4. 'Steam Machine'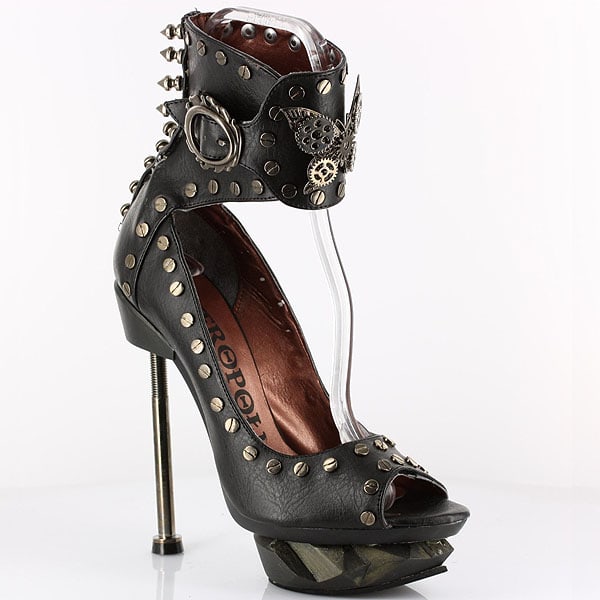 Hades 'Steam Machine' ankle strap metal screw heel platform pumps, $145.99
5. 'Predator'
Hades 'Predator' skeleton heel spike platform pumps, $135.99
6.'Ripley'
Hades 'Ripley' skeleton heel open toe spike platform pumps, $135.99
7. 'Iron Punk'
Hades 'Iron Punk' screw studded metal screw heel platform pumps, $145.99
8. 'Orion'
Hades 'Orion' metal plate fringe skeleton heel platform booties, $144.99
9. 'Polaro'
Hades 'Polaro' fur-trimmed buckled platform booties, $272.99
10. 'IXX'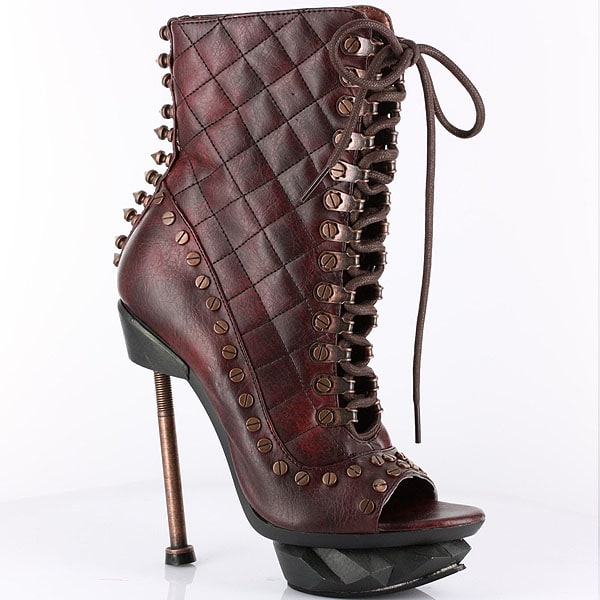 Hades 'IXX' quilted screw studded lace-up platform booties, $169.99