Call her crazy, over-the-top or an attention seeker but one thing Lady Gaga is for sure is that she's a great promoter.
Some of the things she's done for her new perfume "Fame" include using a horse-drawn carriage styled to look like her fragrance's bottle, shaving the back of her head and getting a tattoo. And on top of her usual bizarre outfits, she's also asked designers to create shoes especially for her and her perfume, one of which are these insanely high black platform boots with gold embellishments: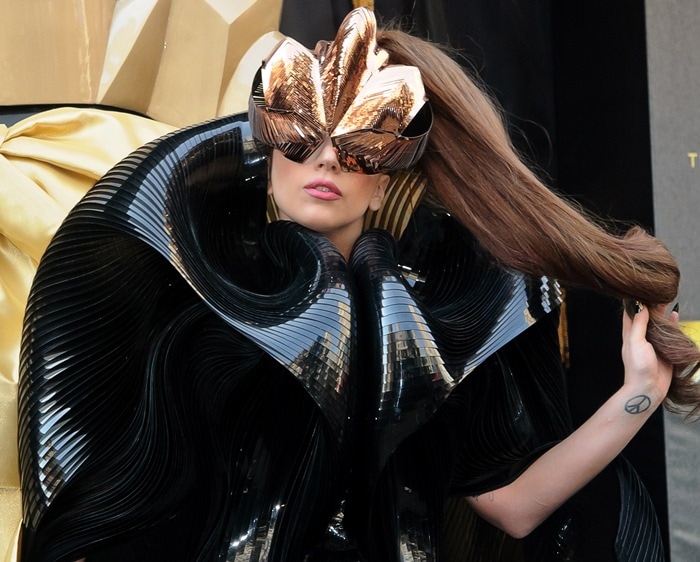 Lady Gaga arrives at Macy's Herald Square for her '"Fame" fragrance launch in a horse-drawn carriage, designed to resemble the perfume's bottle in New York City on September 14, 2012
Being so high, Lady Gaga almost tripped in them, but that has never stopped her from wearing high heels. Not surprisingly, the Dutch shoe label United Nude custom made this pair for Lady Gaga. They were specifically told to "make the shoes as high as possible", and it looks like they delivered. Check out the points on these stiletto heels! :
Rem  D. Koolhaas, United Nude's Creative Director, said that the concept behind this design is that Lady Gaga is a"naked giant and people are climbing on of her". The people as you can see are climbing gold men which are all nude for United Nude. You can browse the latest arrivals from this popular brand at Amazon.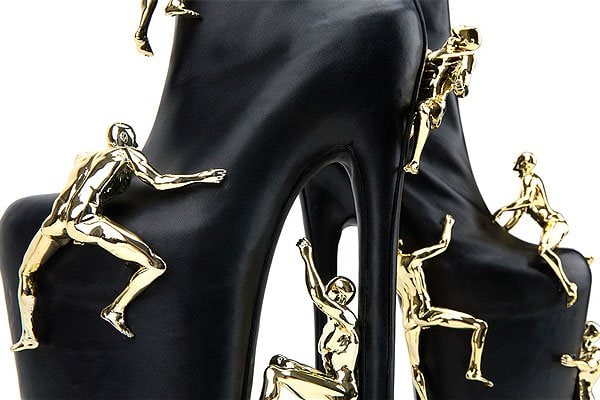 United Nude's custom made boots for Lady Gaga and her "Fame" perfume
They got Lady Gaga and her perfume's concept alright and now we want to know: do these shoes get YOU?
Credit: Diane L Cohen / C.Smith / WENN / PNP