Kendall Jenner and Hailey Baldwin are constantly spotted on runway after runway, rocking the latest trends from head-to-toe, but despite the high-fashion ensembles, the BFFs remain sneaker fans through and through.
The two have been spotted everywhere in sneakers: Leaving the gym (naturally), heading out to eat, strolling the streets. Heck, these ladies were even spotted wearing sneakers on a boating trip in Cannes.
So, naturally, we weren't surprised to see Kendall and Hailey wearing their favorite footwear choice while leaving Gotham Gym in New York.
Kendall shies away from the cameras as she emerged from Gotham Gym in New York on August 1, 2017.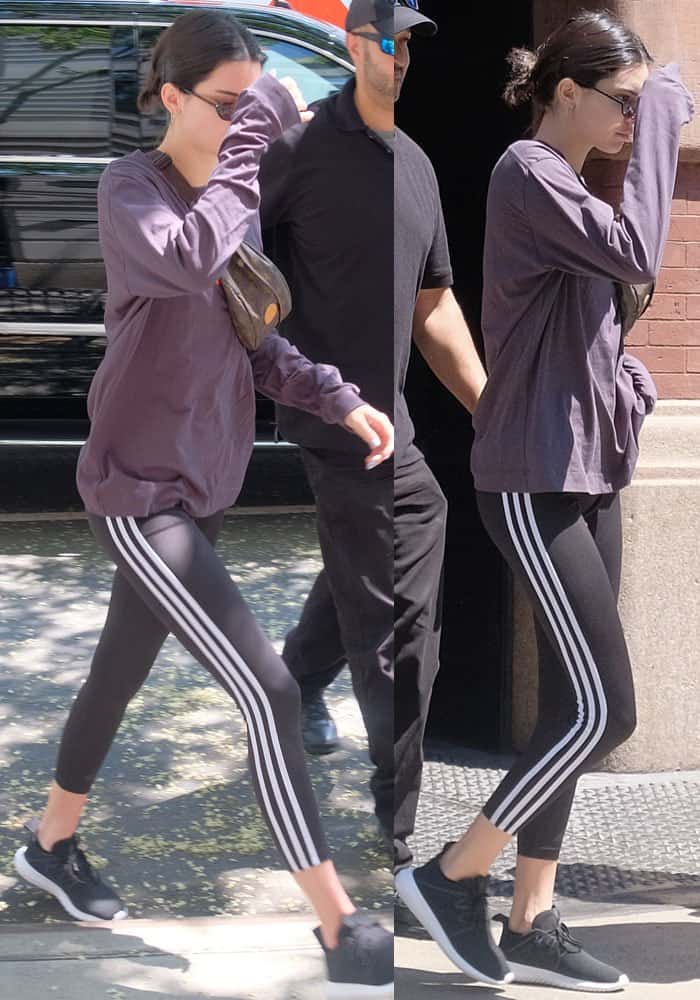 Kendall covered up her Adidas attire with a long sleeved top.
Kendall entered the gym in an Adidas bra top paired with the brand's signature three-striped leggings. Later on, the model covered up in a long-sleeved graphic print top.
The 21-year-old slung a Louis Vuitton across her torso to hold her belongings.
Kendall finished her look with earrings from Anita Ko, sunglasses, and a pair of Adidas "Tubular Viral 2.0" sneakers in Chrome.
Kendall takes her Adidas "Tubular Viral 2.0" sneakers out to the gym.
The model whizzes past the paparazzi as she disappeared into another door.
This definitely isn't Kendall's first time wearing a pair of shoes from the Adidas "Tubular" family. The model was previously spotted in the "Tubular Defiant" around the same time her younger sister Kylie released similar pairs under Reebok.
Check out the Adidas "Tubular Defiant" sneakers in different colors at Amazon.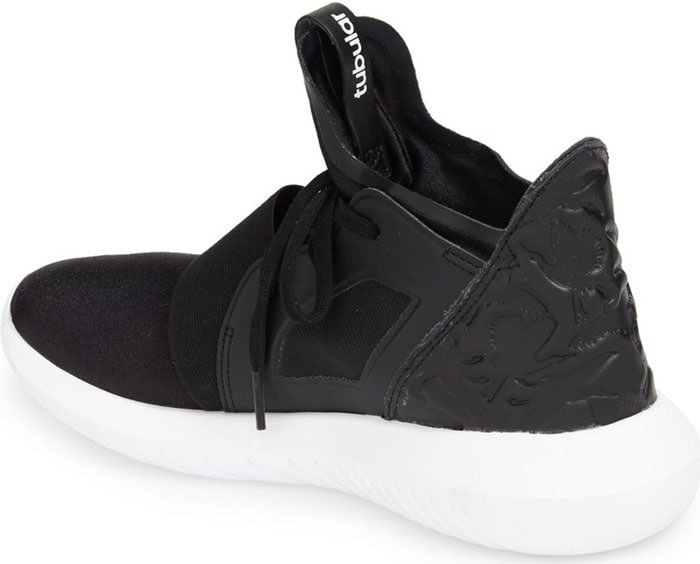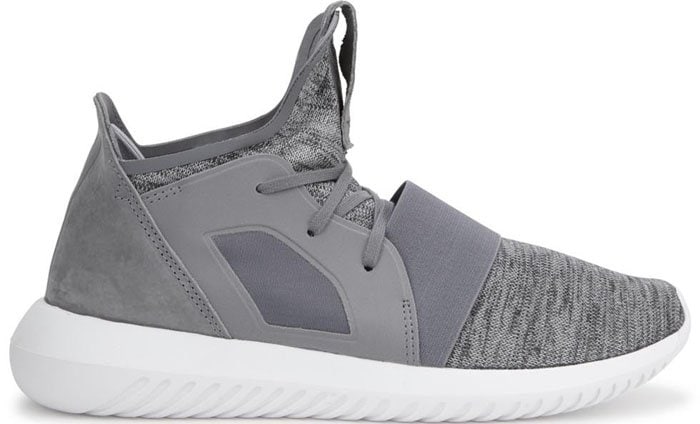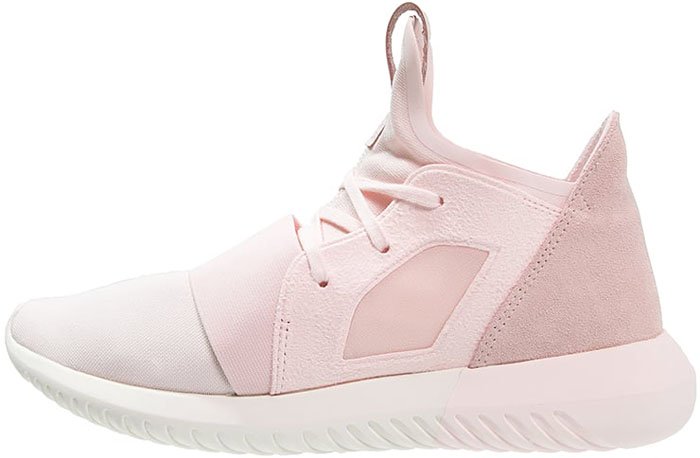 Adidas "Tubular Defiant" jersey & suede trainers, $109.95 – $128.86
While Kendall was feeling a little camera shy, her BFF Hailey was anything but. The denim model bared her toned abs as she stepped out of the gym with Kendall.
Hailey also showed her commitment to fitness by clutching a bottle of juice and some healthy-looking treats.
Hailey Baldwin trailed right behind Kendall as they left Gotham Gym.
Hailey showed off her taut abs in a gray workout ensemble.
Hailey matched Kendall's monochrome look, opting for grays instead of blacks. The Adidas fanatic matched her sports bra with a gray pair of striped leggings.
Despite her bare gym exit, Hailey was later spotted covering up with a long-sleeved top from Hillsong United.
Hailey finished her look with a quilted backpack, oversized sunglasses and a pair of Adidas Originals "NMD RX1" sneakers.
Hailey covered up with a Hillsong United top later on.
The model stayed fashionable in a pair of Adidas "NMD RX1" sneakers.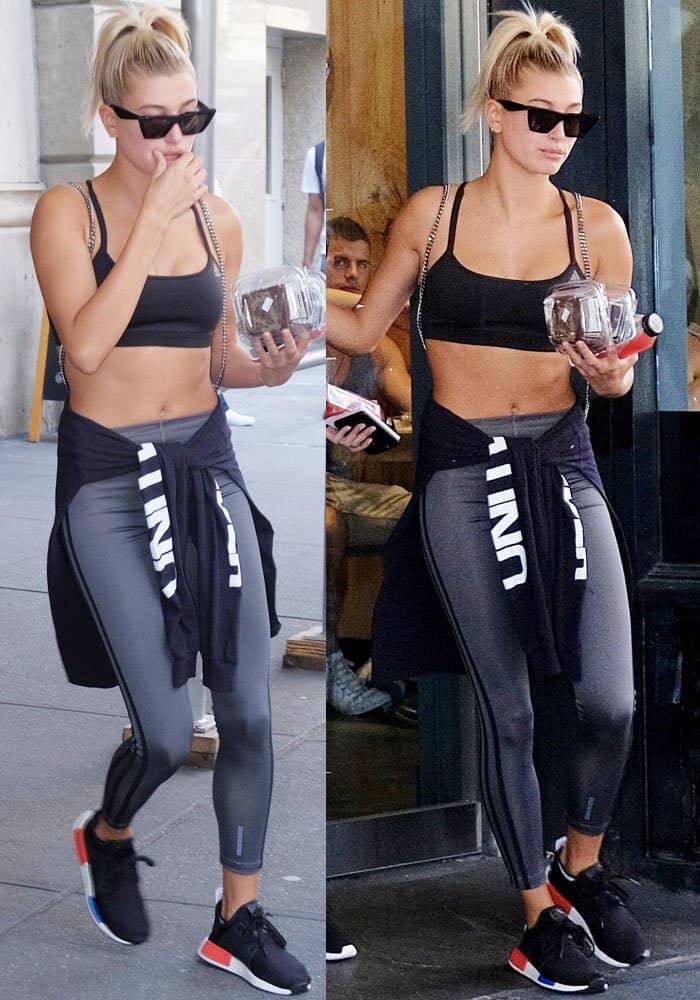 Hailey calmly exited the gym before enjoying the rest of her afternoon in New York.
Later that day, Kendall was spotted entering a thrift shop with her big sister Kim Kardashian. Hailey, on the other hand, kept a low profile until her flight back to Los Angeles.
Shop Hailey's Adidas sneakers in different colors at Harrods, Selfridges and ASOS.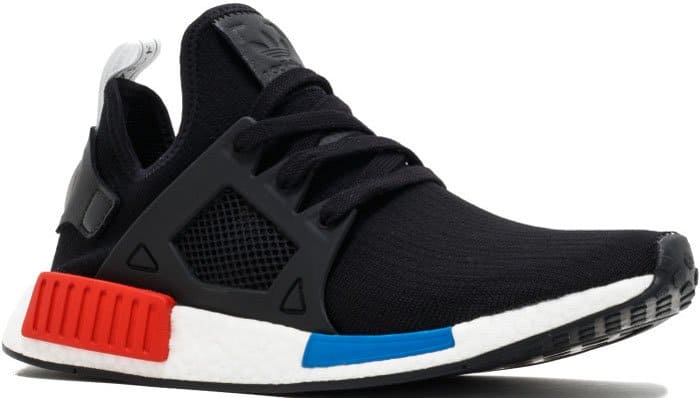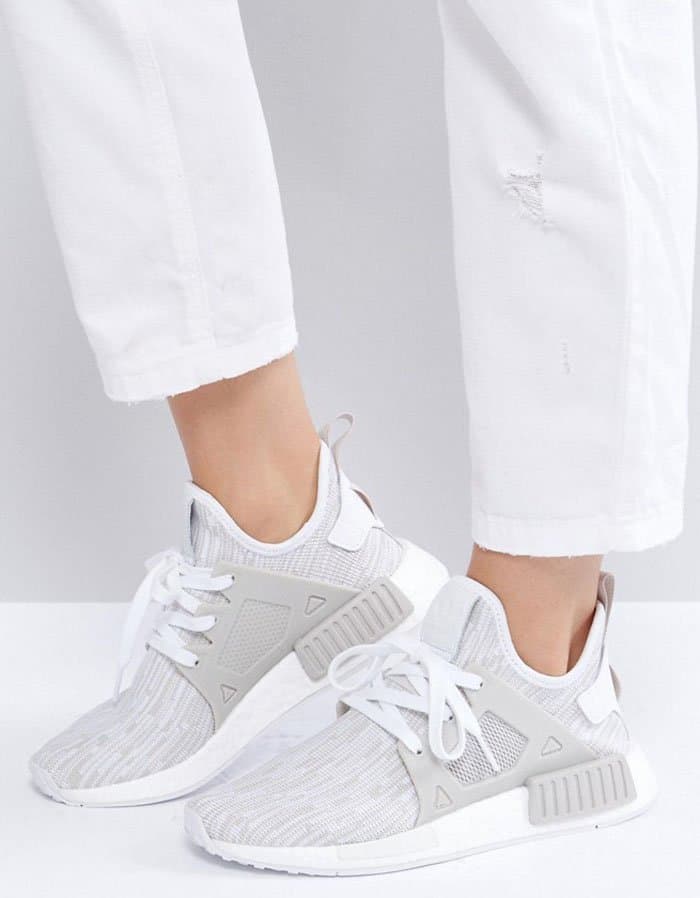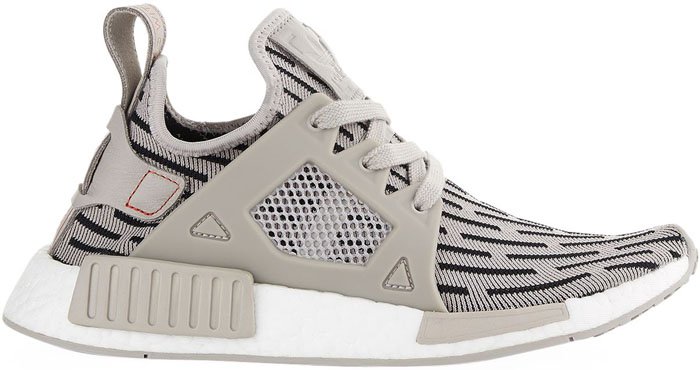 Adidas Originals "NMD RX1" sneakers, $130 – $189.49
Credit: TNYF / WENN