The year is 2006. With songs like SexyBack by Justin Timberlake being among the hottest hits of the year, the mid-2000s were a time where high-voltage, bombastic music was at its absolute peak.
It was also the era when the Disney Channel was arguably at its peak. Introduced in 1983, the Disney Channel was launched as a way for the American entertainment giant to capitalize on the increasingly popular television market.
High School Musical cast members Lucas Grabeel, Monique Coleman, Corbin Bleu, Ashley Tisdale, Zac Efron, and Vanessa Anne Hudgens attend the 2006 Teen Choice Awards held on August 20, 2006, at the Gibson Amphitheatre, Universal City, California (Credit: s_bukley / Shutterstock)
By 2006, the channel had a string of successful programs, including shows like That's So Raven, Hannah Montana, and The Suite Life of Zack & Cody.
To this day, an episode of That's So Raven remains the channel's 2nd highest viewed piece of work, right behind an episode of the popular animated show Phineas and Ferb.
During this period of time, The Disney Channel was also producing musical episodes of their most popular series, finding success with musical episodes of the shows Even Stevens and That's So Raven.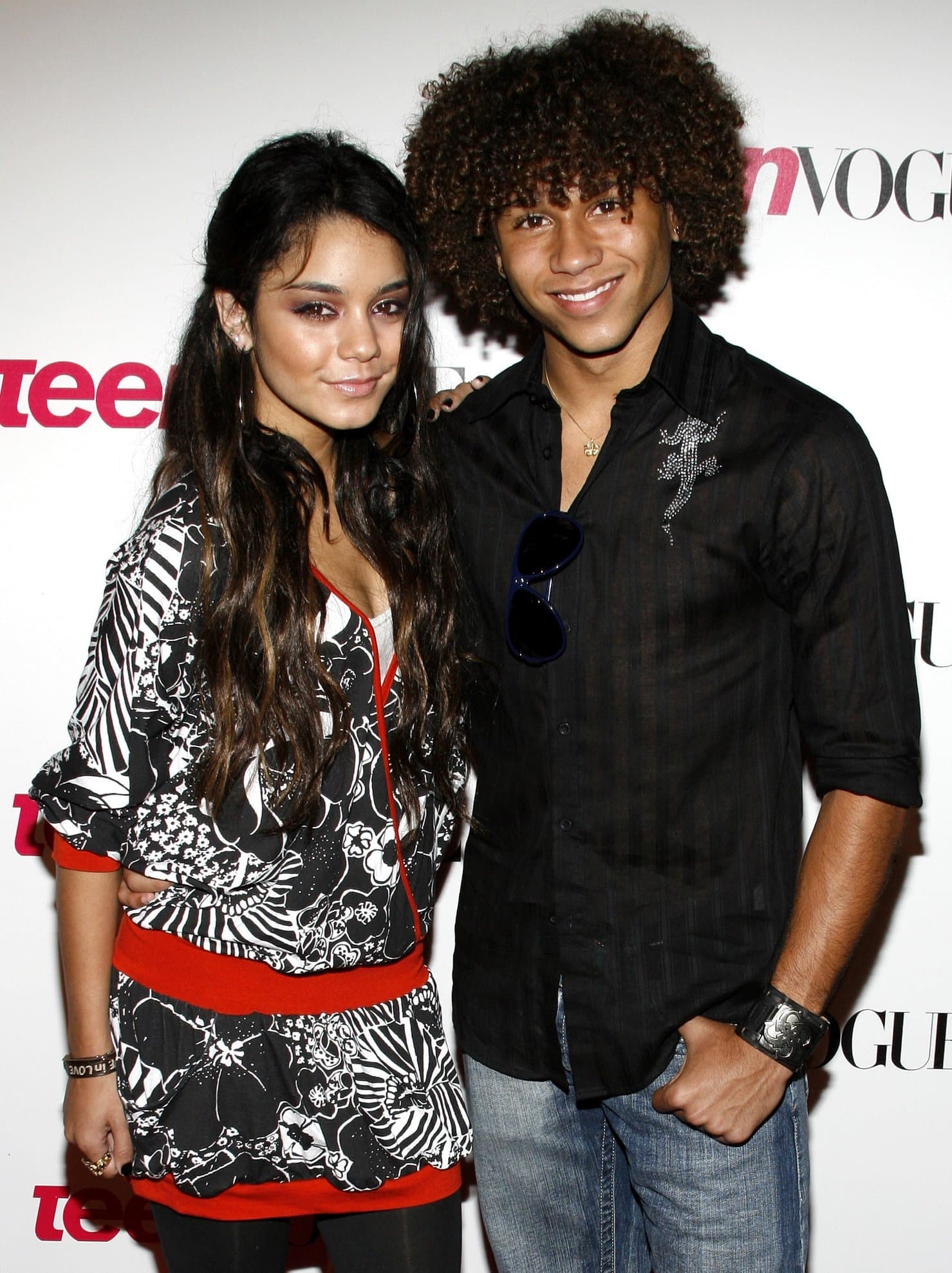 High School Musical stars Corbin Bleu and Vanessa Hudgens at the Teen Vogue Young Hollywood Issue Party held at the Sunset Tower in West Hollywood on September 20, 2006 (Credit: Tinseltown / Shutterstock)
Perhaps Disney noticed the potential of combining catchy music with a cast of young stars to produce films that would become popular with their target demographic.
Whatever the case may be, this all lead to the creation of High School Musical, a film that would become a smash success right out of the gate of its TV release on January 20, 2006.
But what led to this film getting made, and what legacy has the film left behind?
The Start of Something Special – The Casting and Creation of High School Musical
The development of High School Musical began with screenwriter Peter Barsocchini, who drew influence from classical works of Shakespeare, including Romeo and Juliet.
Remarking on the development process of the script, Barsocchini noted, "We did what everyone does when you need an idea…you rip off Shakespeare."
Vanessa Hudgens and Ashley Tisdale make their way to a Selena Gomez concert at Staple Center in Los Angeles on July 8, 2016 (Credit: Vince Flores / Startraksphoto)
While "Romeo and Juliet" deals with two rival families, High School Musical instead takes that drama and applies it to high school sports, with two rival schools competing against one another.
After Barsocchini wrote the script, it was immediately greenlighted to be produced. However, Disney desired to have the stars of the film be younger, something that Barsocchini disagreed with.
Eventually, Barsocchini's stance won out, and High School Musical stayed in high school, where it always belonged.
Zac Efron as varsity basketball team captain Troy Bolton and Vanessa Hudgens as transfer student Gabriella Montez in the 2006 American musical television film High School Musical (Credit: Disney Channel)
Casting directors Natalie Hart and Jason La Padura immediately began scouring Hollywood for fresh talent that could act and dance and sing. They knew the potential that the script had, and ensured that they cast stars that could carry the musical side of the film as well.
Their extensive search led them to Zac Efron and Vanessa Hudgens, two young stars who had potential to be the next big thing for Disney.
During their initial auditions, Hudgens struggled to work with Efron because she developed a crush on the handsome young actor.
Young Disney stars Vanessa Hudgens and Miley Cyrus during the Los Angeles premiere of "Over The Hedge" held at the Mann Village Theatre in Westwood on April 30, 2006 (Credit: Tinseltown / Shutterstock)
Despite casting Efron for his looks and voice, his voice was not used in the final film as Zac Efron couldn't hit the high notes. Instead, Disney used the voice of actor Drew Seeley – someone whom they initially considered for the role of Troy.
However, Zac did all his own singing in the second and third movies.
Drew Seeley, who sang most of Zac Efron's part in High School Musical while Zac lip synced, and his wife Amy Paffrath attend Michael Muller's HEAVEN, presented by The Art of Elysium, on January 5, 2019, in Los Angeles, California (Credit: Jennifer Graylock / INSTARimages)
Hudgens had no issues in that department, and her voice was the voice of Gabriella in the film.
The rest of the cast was filled with actors Corbin Bleu as Troy's friend Chad and Lucas Grabeel and Disney-mainstay Ashley Tisdale as Ryan and Sharpay – two siblings who run the school's drama club.
The film was shot at a handful of locations around the United States, mainly in Salt Lake City, Utah. During the production of the film, the cast bonded over their rigorous vocal and dance training.
By the time the film wrapped production however, the Disney executives were unsure if their investment of $4.2 million USD would pay off, as the musical genre was tricky to get right. However, their expectations were about to be wildly exceeded.
The Success and Legacy of High School Musical
The film was finally released in January of 2006, and instantly shot up to the No. 1 timeslot in all of cable television for women ages 18-49.
Needless to say, the film was a success, and launched the High School Musical franchise, with multiple sequels being produced after the fanfare of the original was solidified.
The film also had an impact on the popularity of musicals, as musicals such as Hairspray, Enchanted, and Sweeny Todd premiered shortly after High School Musical's success.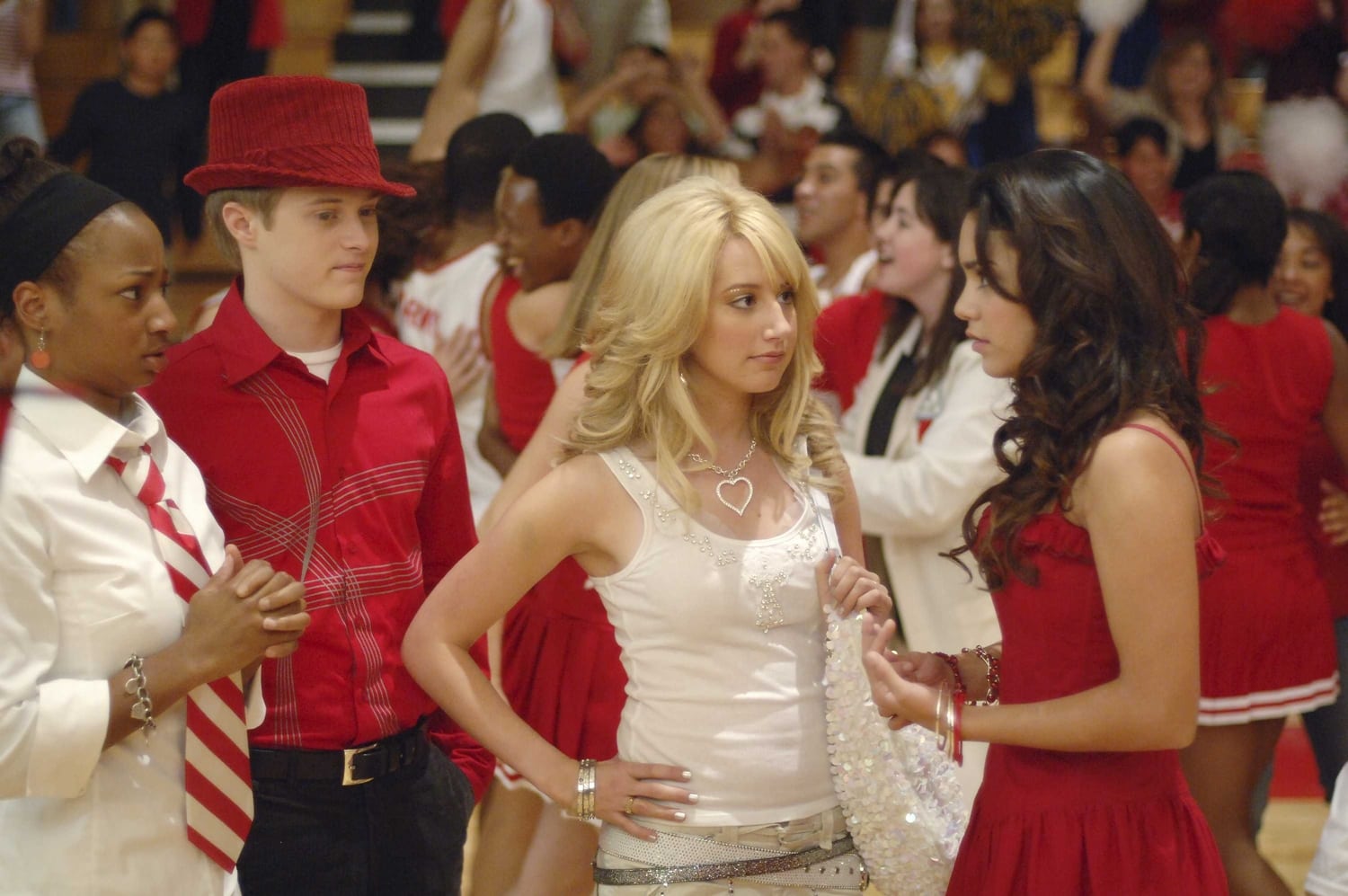 Ashley Tisdale as Sharpay Evans, Monique Coleman as Taylor McKessie, Lucas Grabeel as Ryan Evans, and Vanessa Hudgens as Gabriella Montez in High School Musical (Credit: High School Musical)
While the film was successful, did the career of its stars fare the same? It's tough to say.
Lead actor Zac Efron has enjoyed the most success of his High School Musical co-stars, landing roles in several mature and successful films, including films like Parkland (2013), The Greatest Showman (2017), and Extremely Wicked, Shockingly Evil and Vile (2019).
Although Efron was only 18 years old at the time of the film's release, he managed to sustain a career built on the quality of his handsome charm and legitimate acting abilities.
Lily Collins and Zac Efron, who dated casually in 2012, attend the screening of "Extremely Wicked, Shockingly Evil and Vile" during the 2019 Tribeca Film Festival at BMCC Tribeca PAC on May 2, 2019, in New York City (Credit: John Nacion / Startraksphoto)
Vanessa Hudgens continued her acting career as well, perhaps to more limited success compared to Efron.
Regardless, she has managed to land roles in films such as Sucker Punch (2011), Spring Breakers (2012), and more recently in Tick, Tick… Boom! (2021), a musical that generated Oscar buzz.
Despite her rather limited success in Hollywood, we still admire the career Hudgens managed to build for herself, as it is still much more impressive than many of her Disney co-stars could muster. We're also glad to see that she is still singing and acting in musicals!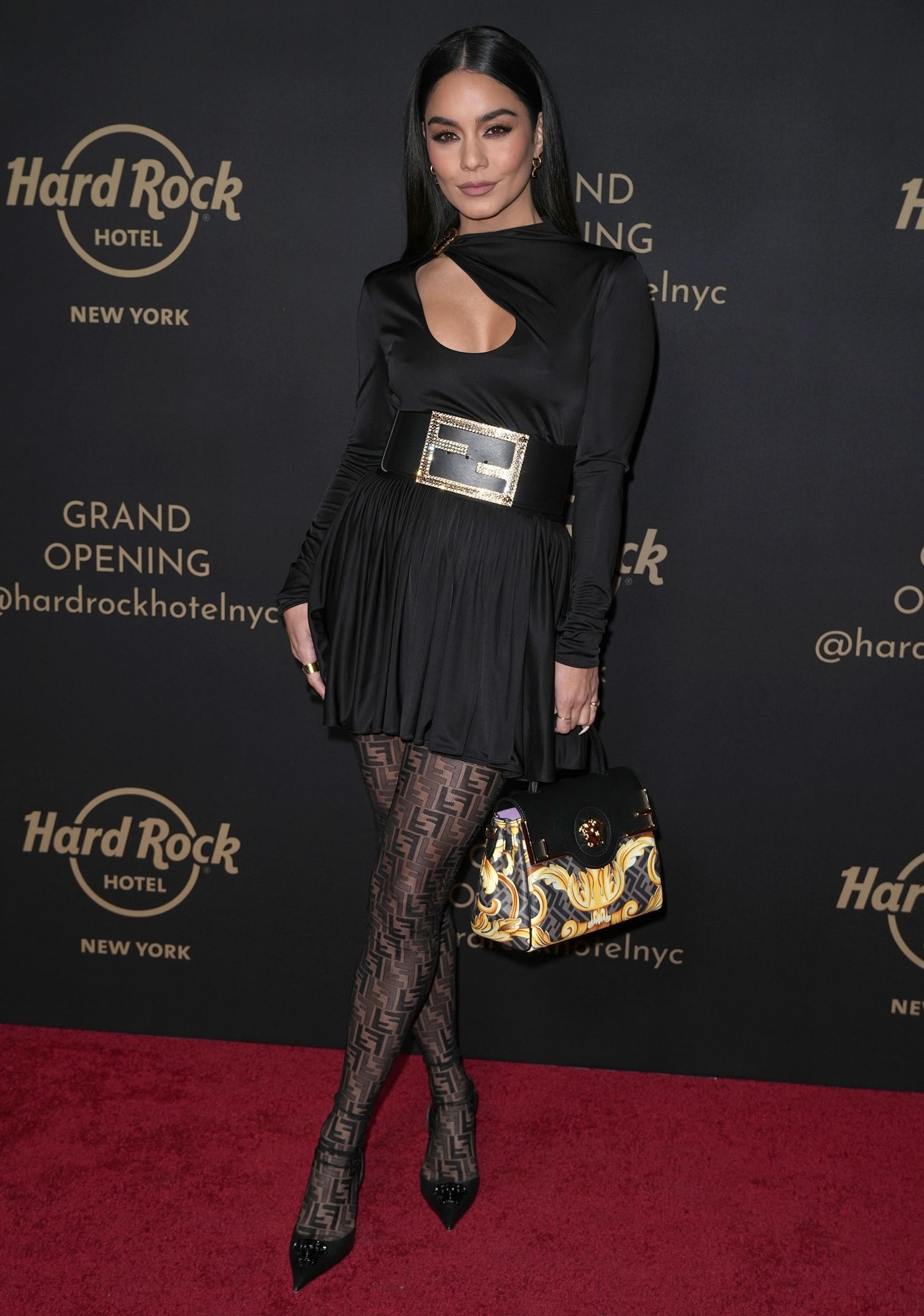 Vanessa Hudgens in a Fendace cutout mini dress paired with Versace x Fendi Fendace Ff tulle tights, a Fendace buckle wide belt, Versace La Medusa slingback pumps, and a Fendace 'La Medusa' bag for the Pass The Mic Concert held at Hard Rock Hotel in Times Square, New York City on May 12, 2022 (Credit: John Nacion / Startraksphoto)
The rest of the film's stars have found only limited success in their following works. After the successes of High School Musical 2 and 3, Corbin Bleu tried his hand at a music career and continues to act in a variety of smaller-budget productions.
Ashley Tisdale's career trajectory has followed a similar pattern, although she did enjoy success with her voice-acting performance as Candace Flynn, the annoying sister of Phineas and Ferb.
Despite the success (or lack thereof) of the star's careers post-High School Musical, the High School Musical series will always be remembered as one of the most popular productions that the Disney Channel has ever made.
Ashley Tisdale, Zac Efron, and Vanessa Hudgens at the DVD release premiere of "High School Musical 2: Extended Edition" held at the El Capitan Theater in Hollywood on November 19, 2007 (Credit: Tinseltown / Shutterstock)
High School Musical 2 is still the most commercially successful Disney Channel Original Movie ever produced, drawing 17 million viewers in its premiere.
The soundtrack for the film was also certified double platinum within its first week and launched at number one in the United States.
All this is to say it's clear that High School Musical was a very impactful film during its heyday and still manages to be a film that many remember fondly, associating the film with their childhood during the early to mid-2000s.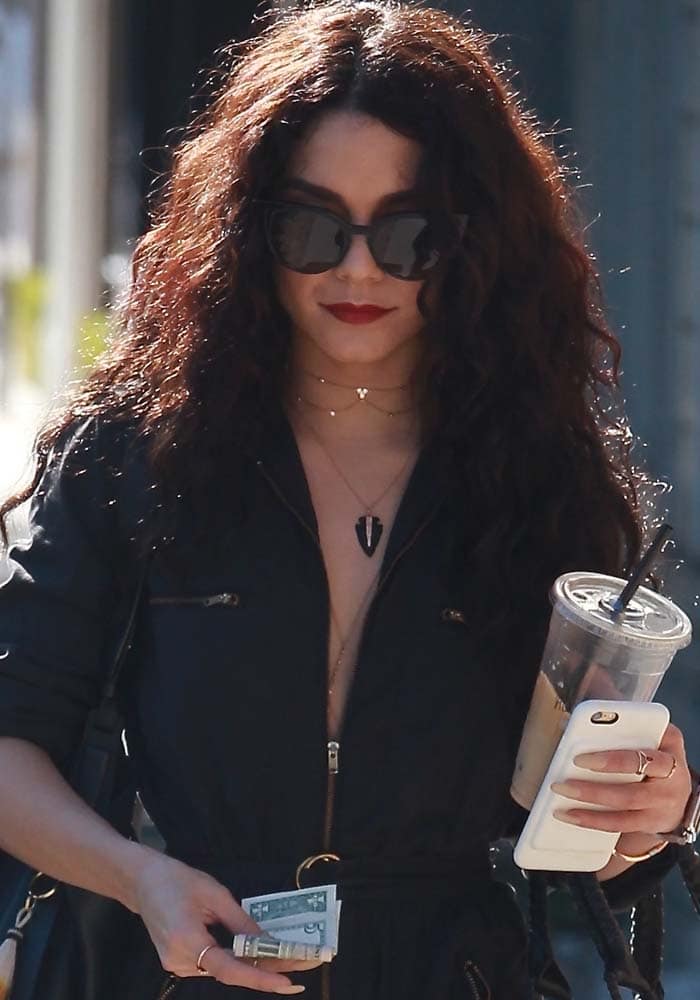 Vanessa Hudgens debuts her new hairstyle as she leaves a Beverly Hills hair salon on April 2, 2016 (Credit: WENN)
In April 2016, Vanessa Hudgens debuted her latest hairstyle. The former Disney star sported her long, curly, wild hair while leaving 901 Salon in Beverly Hills.
Vanessa wore a zip-up plunging jumpsuit from Akris Punto, which she styled with a leather bag from All Saints, a printed bag from Cleobella, Jacquie Aiche jewelry, and a pair of Wildfox Couture sunglasses.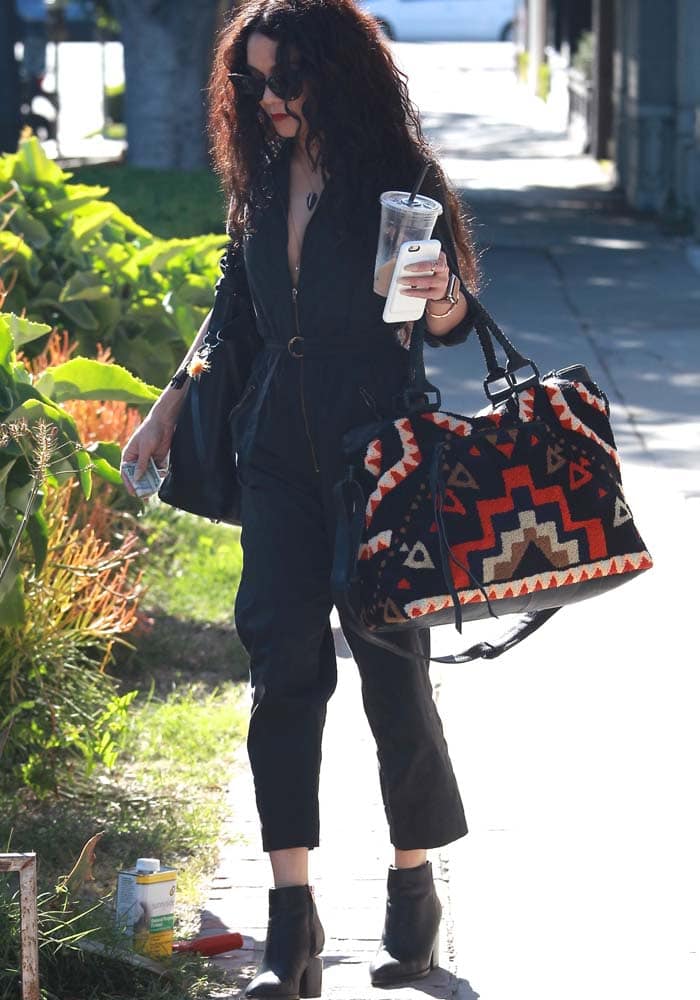 Vanessa Hudgens wears an Akris Punto jumpsuit to a salon appointment (Credit: WENN)
She finished her casual errand look with a pair of Alexander Wang "Gabi" boots.
Vanessa Hudgens shows off her long, curly locks in a jumpsuit (Credit: WENN)
We loved the longer hairstyle on Baby V. Then again, Vanessa is one of those love-to-hate women who can pull off any hairstyle.
Vanessa Hudgens wears a pair of Alexander Wang boots to the salon (Credit: WENN)
We assume she changed up her hairstyle for Coachella since she also reportedly had a $190 Swarovski manicure in anticipation of the music festival.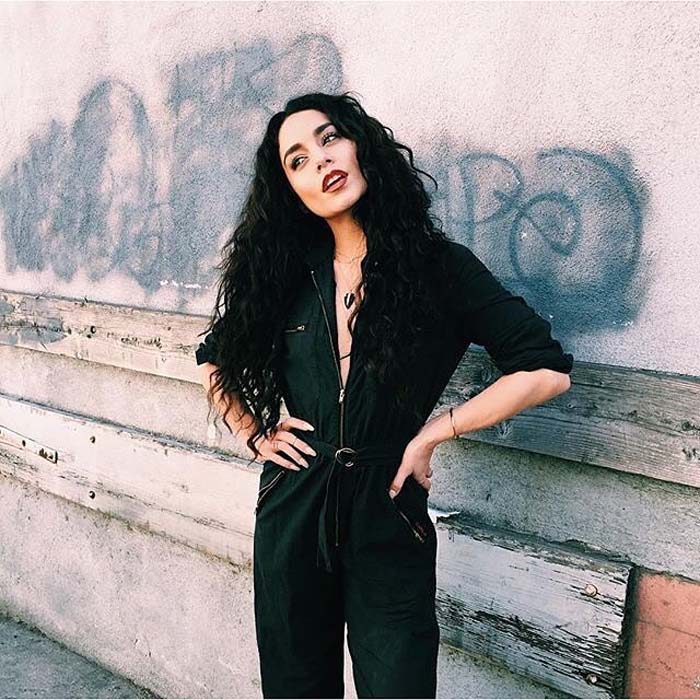 Vanessa Hudgens's Instagram captioned, "Annnnnd I can't help myself. When the weather heats up, my hair gets long. Thanks to @ninezeroone @riawnacapri and @nikkilee901 I can be a lioness " (Credit: Vanessa Hudgens' Instagram)
You can check out Vanessa's Alexander Wang "Gabi" boots at Farfetch and Shopbop.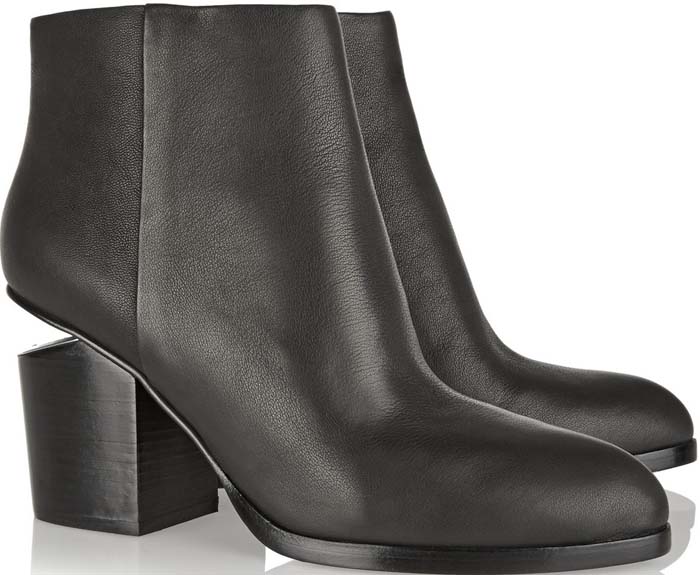 Alexander Wang "Gabi" Tilt-Heel Leather Boot in Black, $650 – $887