Alexander Wang, the American fashion designer renowned for his minimalist designs and urban chic aesthetic, catapulted to fame when his eponymous brand secured the prestigious CFDA/Vogue Fashion Fund award in 2008, just three years after its inception in 2005.
With an estimated net worth of $50 million as of 2023, Wang not only helmed his own label but also held the position of Creative Director at Balenciaga from 2010 to 2015.
Celebrity fans of Alexander Wang include Lily Aldridge, Olivia Rodrigo, Gabrielle Union, Gigi Hadid, Tinashe, Bella Hadid, and Vanessa Hudgens.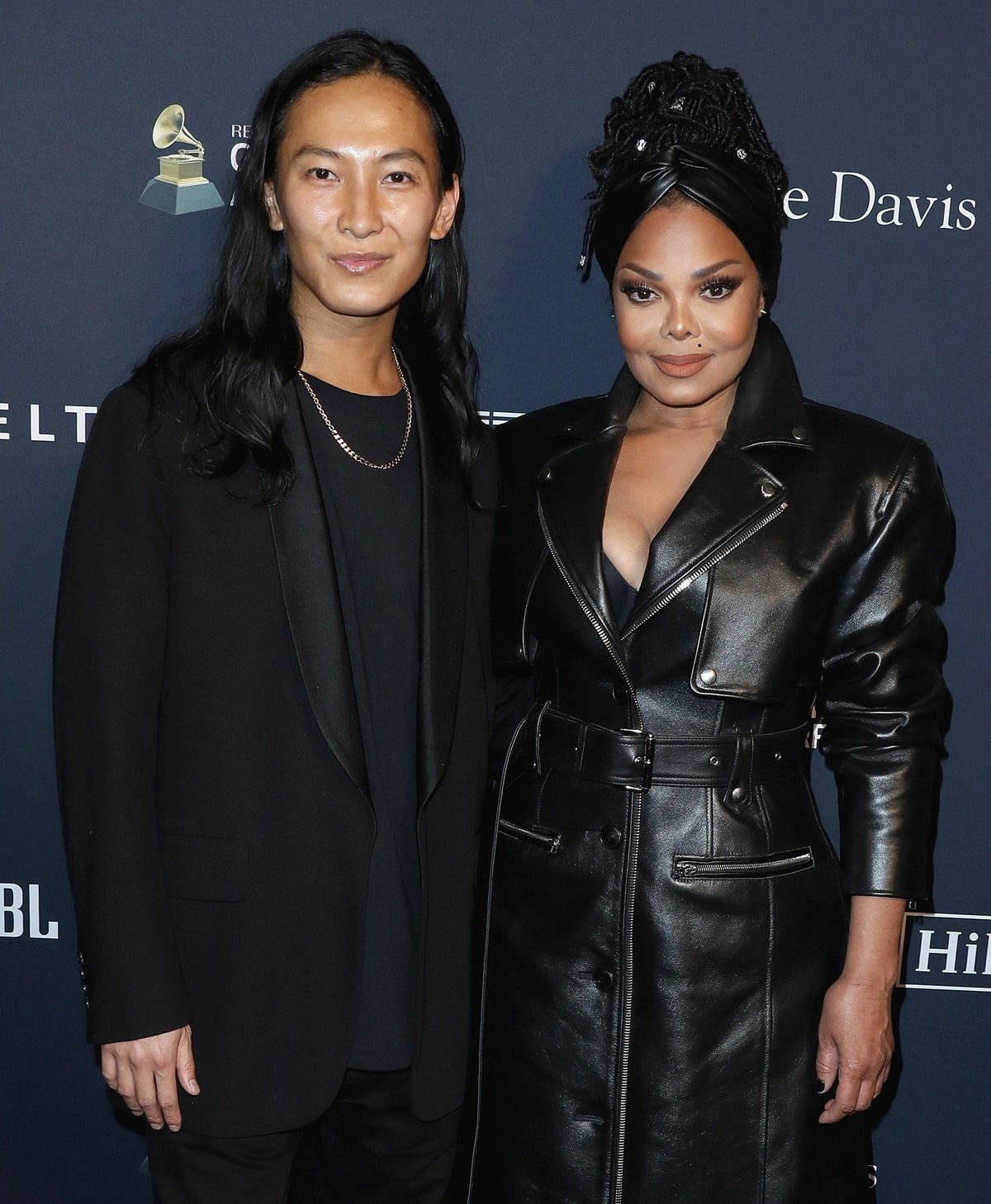 Alexander Wang and Janet Jackson arrive at The Recording Academy And Clive Davis' 2020 Pre-GRAMMY Gala held at The Beverly Hilton Hotel on January 25, 2020, in Beverly Hills, Los Angeles, California (Credit: Avalon / WENN)
Recognized as one of the most talented young designers in the country, Alexander Wang is a leader in American fashion.
His fashion brand became successful due to the early streetwear trends and his contemporary designs. Considered a Vogue staple, Alexander Wang is a designer that every designer shoe lover will be familiar with.
We're rounding up everything you need to know about Alexander Wang, from the brand's headquarters to their best-known products and where you can purchase their shoes.
Why is Alexander Wang famous?
After growing up in San Francisco and attending school in California, Alexander Wang moved to New York City at the age of 18 to enroll in the prestigious Parsons School of Design.
The designer dropped out after two years to begin his professional design career and did not graduate. Wang dropped out of Parsons School of Design to pursue his eponymous fashion brand, starting with a focus on knitwear.
Within two years, his first complete womenswear ready-to-wear appeared at New York Fashion Week to instant acclaim.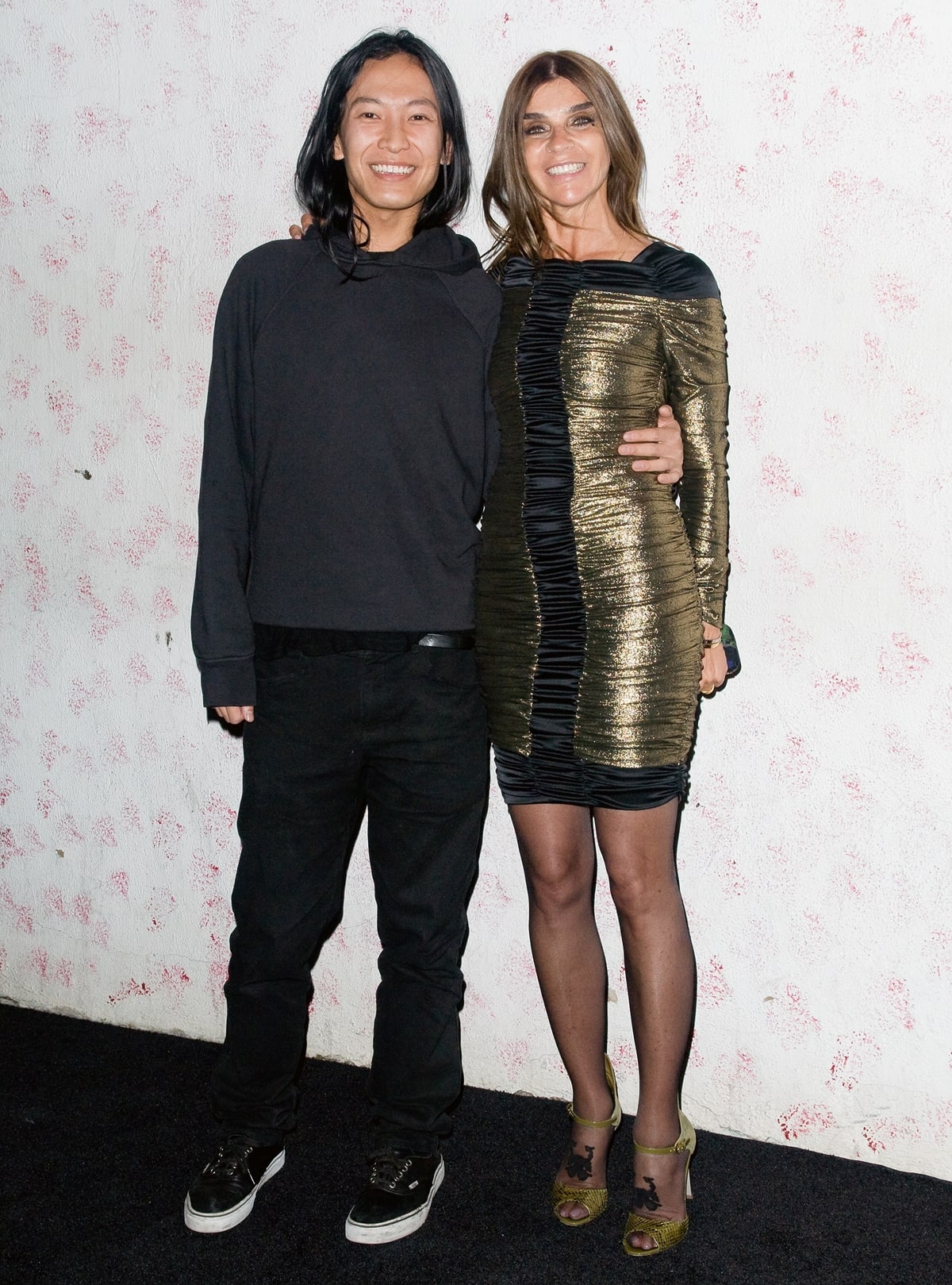 Alexander Wang and French fashion editor Carine Roitfeld attend the Barneys New York Fete In Honor Of Carine Roitfeld at The Westway on September 10, 2011, in New York City (Credit: Ivan Nikolov / WENN)
The following year, Wang won the CFDA/Vogue Fashion Fund 2008 award, the same year as the launch of his original handbag collection.
In 2011, Wang launched his diffusion brand 'T by Alexander Wang,' an early industry leader in athleisure. After opening his first flagship store, Wang was announced as the Creative Director of the French fashion house Balenciaga.
With responsibility for womenswear, menswear, and accessories, Wang's debut collection was the Fall/Winter 2013 show.
In 2014, Wang oversaw a collaboration with Swedish fashion retailer H&M, including menswear, womenswear, and accessories. He left his role at Balenciaga the following year in a move described as a mutual decision between Wang and the fashion house.
Alexander Wang and Dree Hemingway attend CFDA AWARDS 2009 – INSIDE at Alice Tully Hall on June 15, 2009, in New York City (Credit: Andres Otero / WENN)
The following year, he became CEO and chairman of the Alexander Wang label and hosted a show at New York Fashion Week.
Wang collaborated with Trojan in 2018 to launch a limited-edition capsule collection, 'Protect Your Wang,' to support the LGBTQ community and celebrate Pride.
In late 2020, British model Owen Mooney accused Alexander Wang of sexual misconduct, sparking further allegations from anonymous sources on social media. Wang denied these claims but retreated from the public eye.
Despite a public apology, his profits remained largely unaffected. Backed by Chinese conglomerates, Wang made a comeback with an AW22 collection in Los Angeles, receiving support from celebrities like Rihanna and the Kardashian-Jenners.
Some critics expressed concern about fashion's apparent amnesia regarding the allegations.
What Alexander Wang is best known for
Alexander Wang is best known for his urban-inspired designs and focuses on muted black color palettes. His fall 2008 collection that won him the CFDA/Vogue Fashion Fund focused predominantly on black.
Although he experimented with bold hues in his Spring 2009 collection, Wang quickly returned to his signature color palette.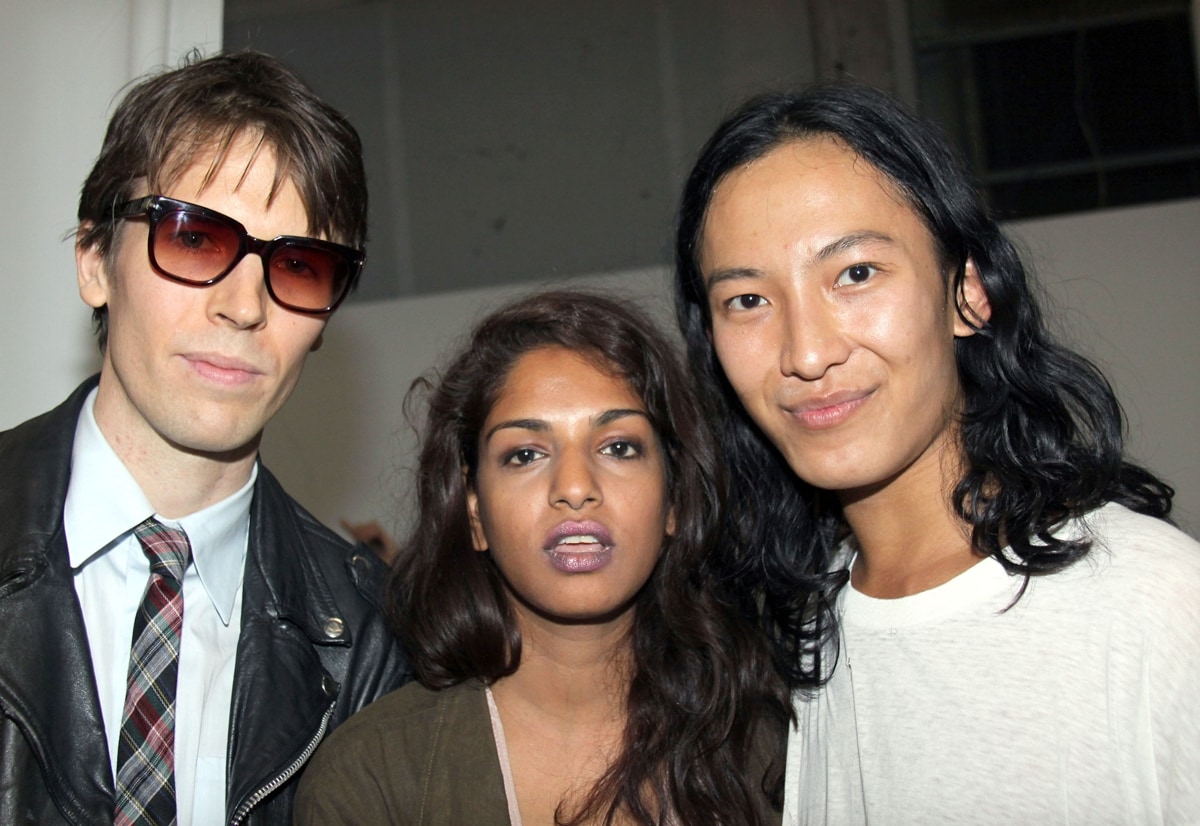 Mathangi "Maya" Arulpragasam MBE, known by her stage name M.I.A., Ryan McGinley, and American fashion designer Alexander Wang attend the Alexander Wang Spring 2011 fashion show during Mercedes-Benz Fashion Week at Pier 94 on September 11, 2010, in New York City (Credit: Flashpoint / WENN)
Wang is amongst the most acclaimed contemporary American designers. He was the 2009 winner of the Swarovski Womenswear Designer of the Year Award and the Swiss Textiles Award.
He once again won the Swarovski Designer of the Year Away in 2010, but within the accessories category. In 2011, Wang was named the Best Menswear Designer of the Year by GQ US and the GFDA's Best Accessory Designer.
2013 saw Wang being honored with a 'fashion star' by Fashion Group International, presented by the European Editor-at-Large for Vogue US, Hamish Bowles.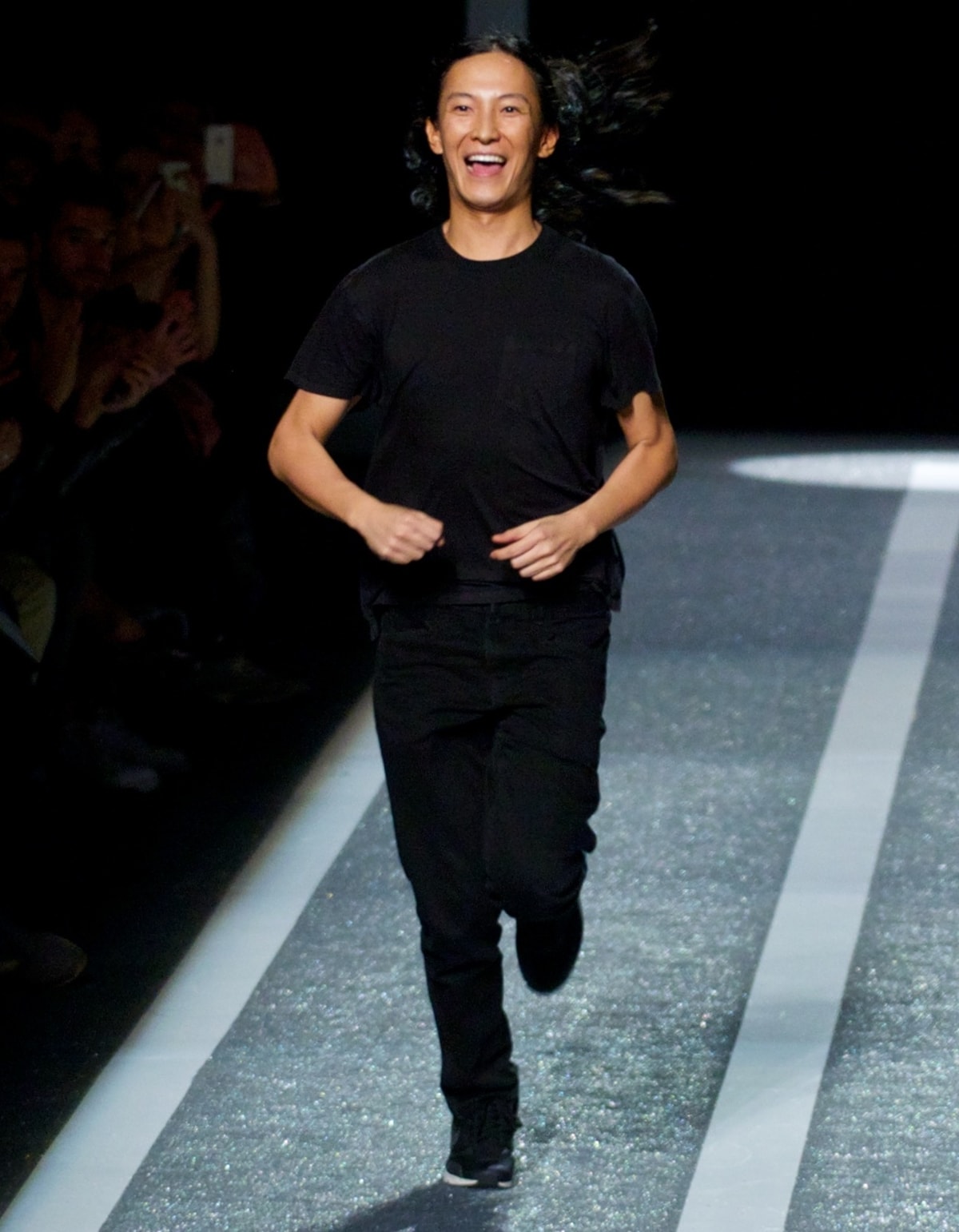 Fashion designer Alexander Wang looking excited on the runway at the Alexander Wang x H&M Collection Launch at the Armory on the Hudson on October 16, 2014, in New York City (Credit: Alberto Reyes / WENN)
Considered a fashion icon in his own right, Alexander Wang was named one of the top 100 influencers in the fashion industry on the HypeBeast HB100 list for consecutive years from 2013 to 2017.
Alexander Wang's designs are a favorite amongst a-list celebrities, such as Kanye West, Rihanna, and the Kardashian sisters.
With a reputation of his own within the streetwear community, Wang has become an integral part of American fashion and pop culture.
Where are Alexander Wang's products manufactured?
Although famous for being an American brand, Alexander Wang's eponymous fashion brand has most of its manufacturing located in Asia and Europe.
In 2014, the brand had 90% of its manufacturing in Asia. By 2016, 30% of its total manufacturing had relocated to Europe, focusing on using factories in Spain, Portugal, Italy, and Turkey.
The move from Asia to Europe came when Alexander Wang climbed the ranks from a contemporary designer to a fully-fledged 'designer' brand.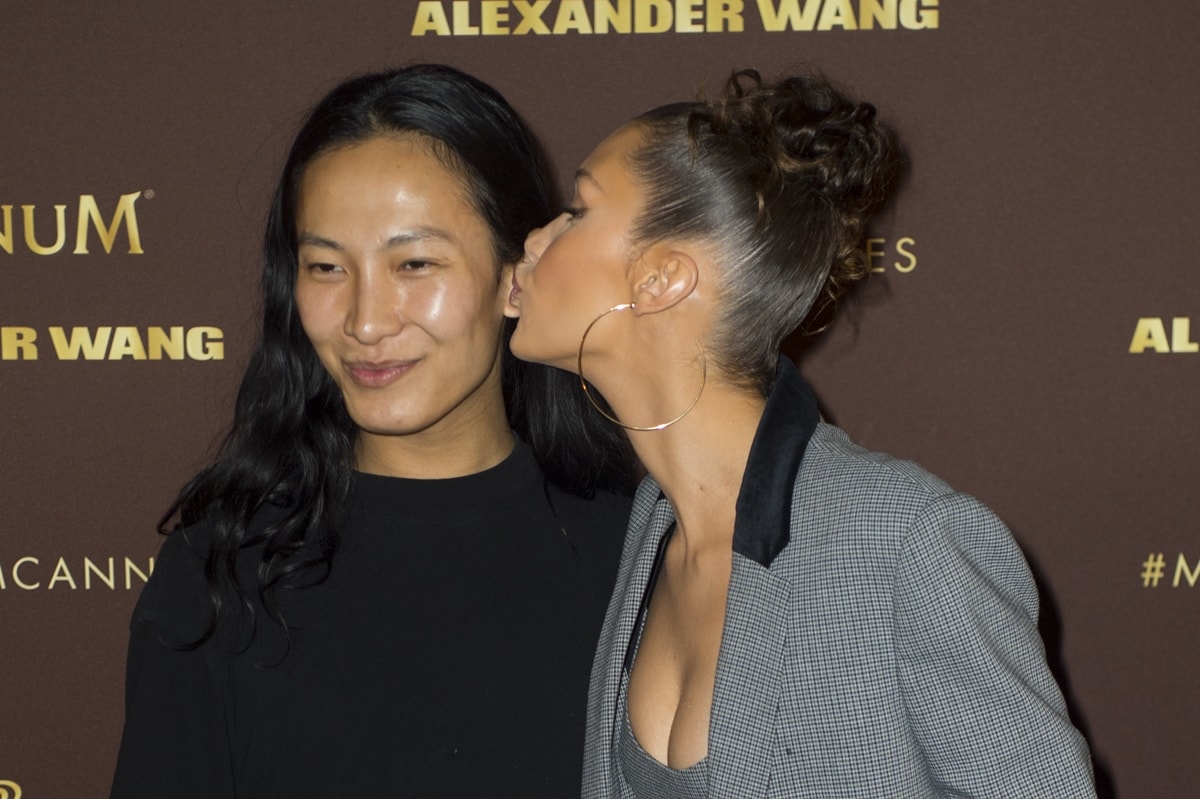 Designer Alexander Wang gets kissed by model Bella Hadid at the Magnum VIP Party during the 71st annual Cannes Film Festival at Magnum Beach on May 10, 2018, in Cannes, France (Credit: Euan Cherry / WENN)
With the synonymous luxury from a 'made in Europe' design, it's no surprise that Europe was prioritized as the new base for their product manufacturing.
Alexander Wang's accessories and its T by Alexander range are being manufactured in Europe, along with its tailored items coming from Italy.
The focus on their manufacturing in Asia remains the brand's knitwear, particularly silk.
Where is the Alexander Wang headquarters?
Alexander Wang's flagship store opened in Lower Manhattan's SoHo area in February 2011, with Wang credited for helping restore the fashion credentials of Lower Manhattan.
The Alexander Wang headquarters are located in New York on Broadway.
The best places to buy Alexander Wang
You'll find Alexander Wang products anywhere that offers contemporary luxury brands.
As a contemporary designer brand with a presence internationally, you'll find Alexander Wang at some of the most famous department stores in the world, including Nordstrom. Alexander Wang is also a staple of e-commerce luxury stores.
The brand – and its T by Alexander sister brand – is available at Saks OFF 5TH, Farfetch, and Bloomingdale's. You can also purchase Alexander Wang through the brand's official website.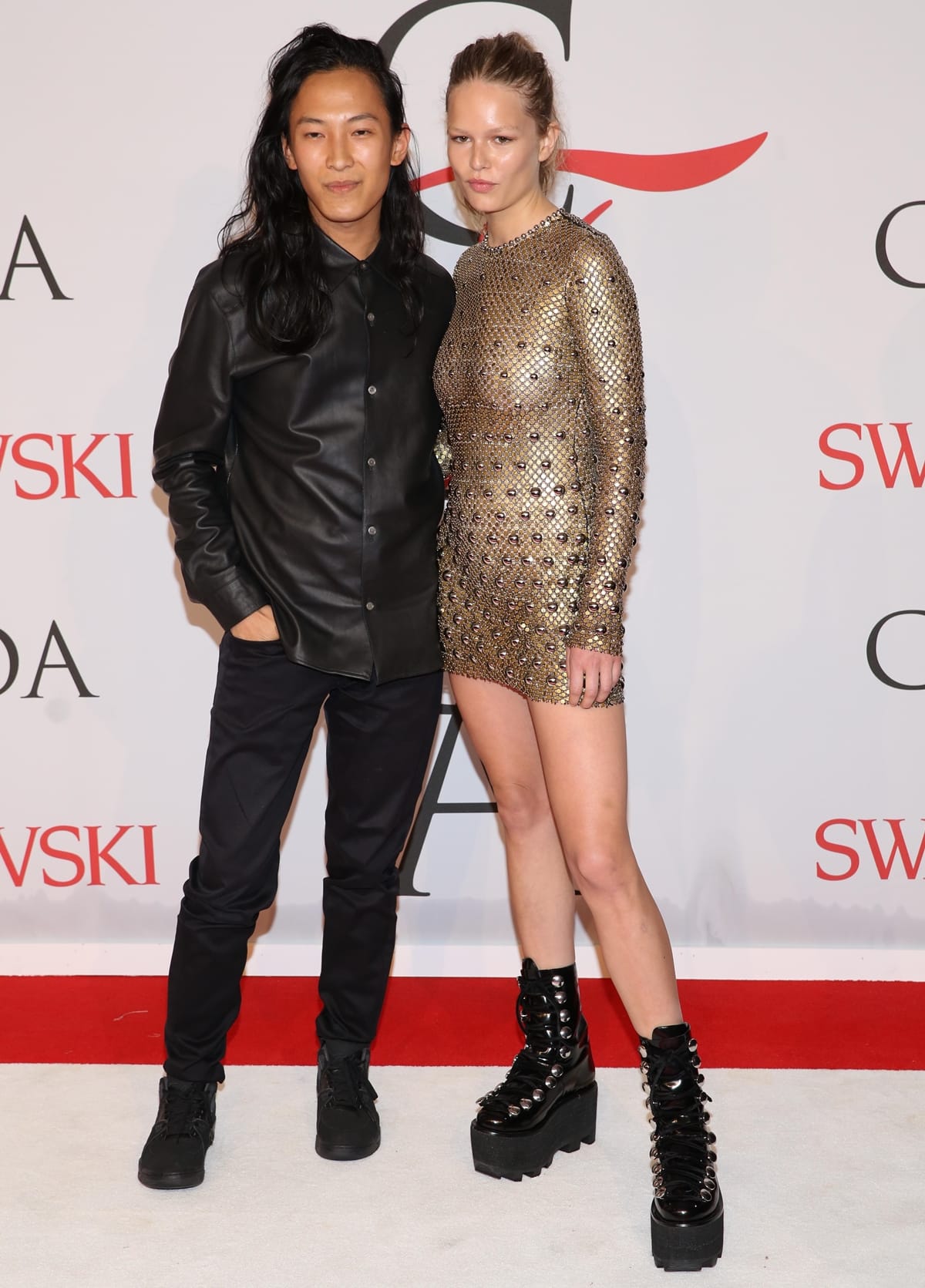 Alexander Wang and Anna Ewers attend the 2015 CFDA Awards at Alice Tully Hall at Lincoln Center on June 1, 2015, in New York City (Credit: Andres Otero / WENN)
Alexander Wang has several standalone stores throughout the world, including two in the United States and over 30 in Asia. They have five stores in Europe, including the London flagship store.
As one of the most popular American designers, it's not unusual to find staple Alexander Wang pieces for sale pre-loved.
Websites like Vestiaire Collective have an extensive collection of pre-owned Alexander Wang clothing and accessories, including the famous Rockie bag.
What do you think of Alexander Wang and his synonymous black designs?