Tinashe was absolutely killing it on the 2016 TIME 100 Gala's red carpet in the beginning. She was channeling a sexy bondage slash retro '90s vibe in a black satin spaghetti-strap slip dress with multiple ring piercings. Her accessories were hardcore metal ring link earrings, a BDSM-ish leather choker, and fully studded ankle-strap pumps.
The American singer-songwriter, dancer, record producer, actress, and model even got to pose for pictures together with designer Alexander Wang, who is the fashion genius behind her entire head-to-toe ensemble.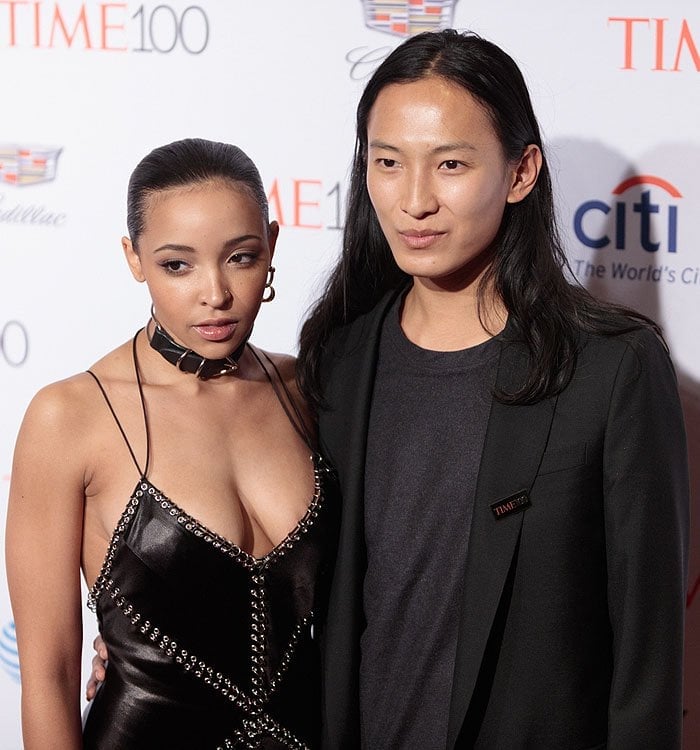 Tinashe Jorgensen Kachingwe got to pose for pictures together with designer Alexander Wang
Tinashe and Alexander Wang at the 2016 TIME 100 Gala held at the Time Warner Center in New York City on April 26, 2016
Tinashe wearing an Alexander Wang Fall 2016 black satin slip dress with ring piercings, mixed-link earrings, a buckle leather choker, GIRLS tights, and Alexander Wang 'Elise' studded pumps at the 2016 Time 10 Gala
Tinashe would've been slaying the whole time that evening if it weren't for a small — yet major! — wardrobe malfunction. When the 23-year-old singer-songwriter turned to the side, she pulled on her top a little too much and she exposed the tape that was holding her dress to her boob. Oops!
Tinashe suffering a wardrobe malfunction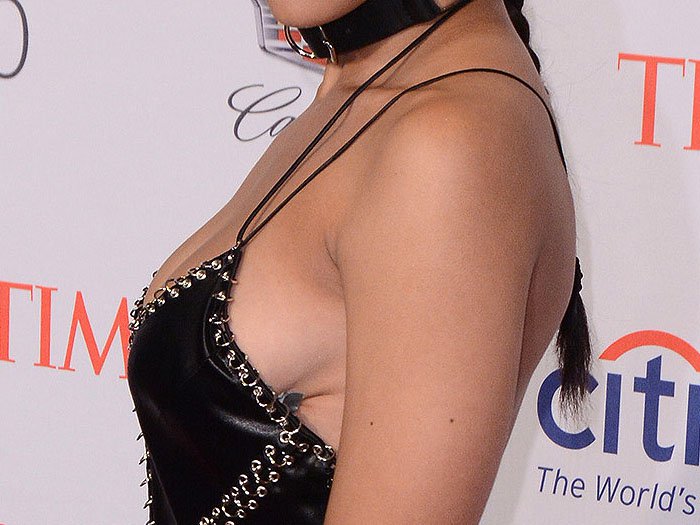 The duct tape holding Tinashe's Alexander Wang dress to her boob starting to peel off
You can see that she even used duct tape, which should've had extra-strength holding power. Alas, duct tape failed in fashion and the "2 On" singer. How baffling that something that can hold airplane wings together can't hold flesh and fabric together.
If it weren't for the wardrobe malfunction, we would be all over the studded shoes in this post. The studs that we don't like so much on the Alexander Wang "Amelia" slides look fierce on these ankle-strap heels.
Closeup of the Alexander Wang 'Elise' studded ankle-strap pumps on Tinashe
We expect these "Elise" studded ankle-strap pumps to sell out as fast as the slides. Keep an eye out for them at Saks Fifth Avenue, Neiman Marcus and Nordstrom!
Credit: Dennis Van Tine / Future Image / WENN