5 years after the airing of the final The Suite Life of Zack & Cody episode, Ashley Tisdale was spotted wearing an interesting ensemble while doing some Christmas shopping in Beverly Hills.
Ashley Tisdale wears her hair down as she goes Christmas shopping on December 12, 2013, at Planet Blue in Beverly Hills, California
She achieved mainstream success as the hotel's candy counter girl Maddie Fitzpatrick in the Disney Channel teen sitcom that aired on Disney Channel from March 18, 2005, to September 1, 2008.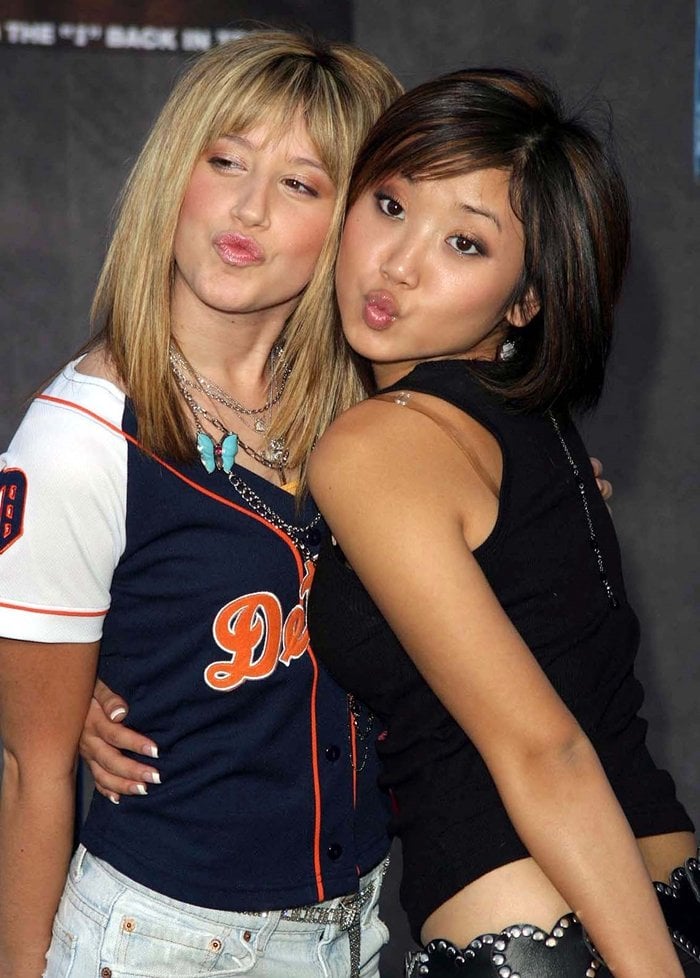 Ashley Tisdale and Brenda Song post for photos at the premiere of the movie Mr. 3000 at the El Capitan Theater in Los Angeles on September 8, 2004
Brenda Song portrayed the Tipton hotel's heiress London Tipton and also reprised her role on the spin-off series The Suite Life on Deck.
Ashley was cast as Sharpay Evans in the High School Musical film series and only made a guest appearance in the sequel/spin-off.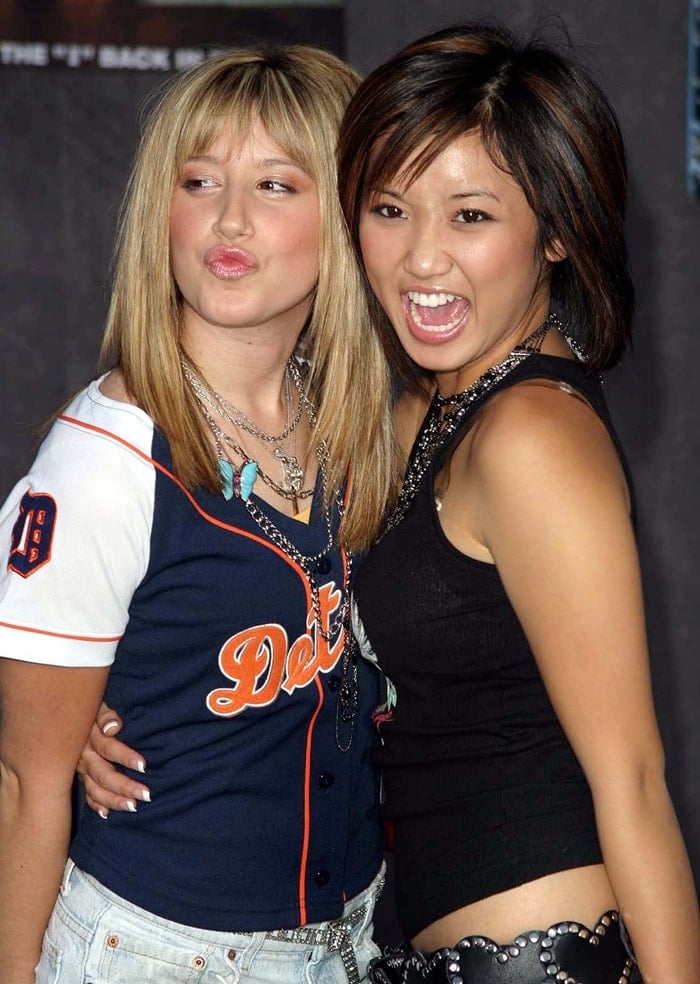 Ashley Tisdale and Brenda Song played polar opposites Maddie Fitzpatrick and London Tipton on Disney Channel's The Suite Life of Zack & Cody
Born on July 2, 1985, in Monmouth County, New Jersey, Ashley Tisdale was 19 when the first episode of The Suite Life of Zack & Cody aired on March 18, 2005.
3 years younger than Ashley, Brenda Song was born on March 27, 1988, and turned 17 on March 27, 2005.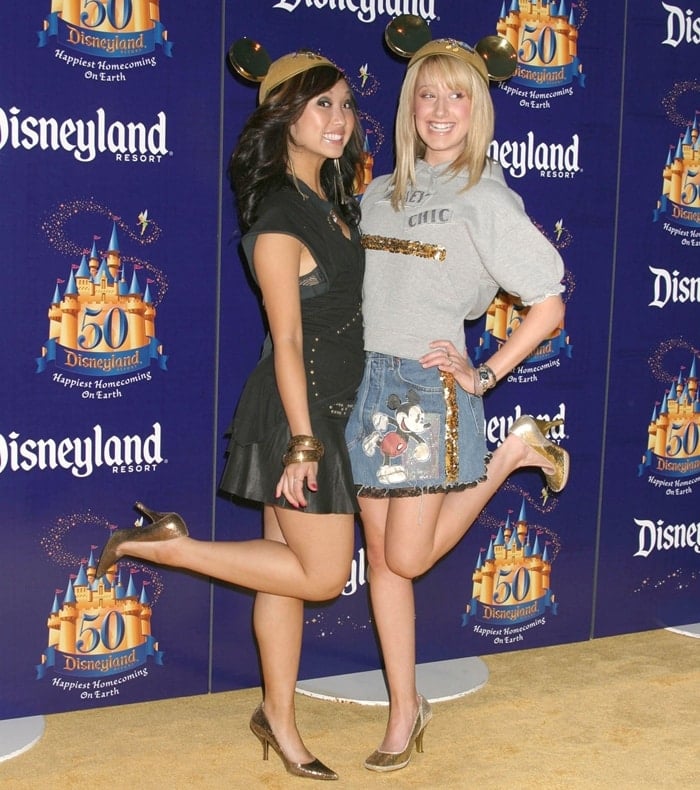 Brenda Song and Ashley Tisdale are seen attending the "Gold Carpet" arrivals on Main Street U.S.A. during the Disneyland 50th Anniversary Celebration at Disneyland Park on May 4, 2005, in Anaheim, California
"I was really nervous when I saw the script. I thought, 'Oh my gosh, I get to be Maddie again.' Dylan and Cole were just totally there like hugging me and they're both so excited," Ashley Tisdale said in 2009 about a guest appearance she was making on The Suite Life on Deck.
"I ran first to get my hug because I was like, 'I'm most important,' so I deserve my hug first," Brenda Song added.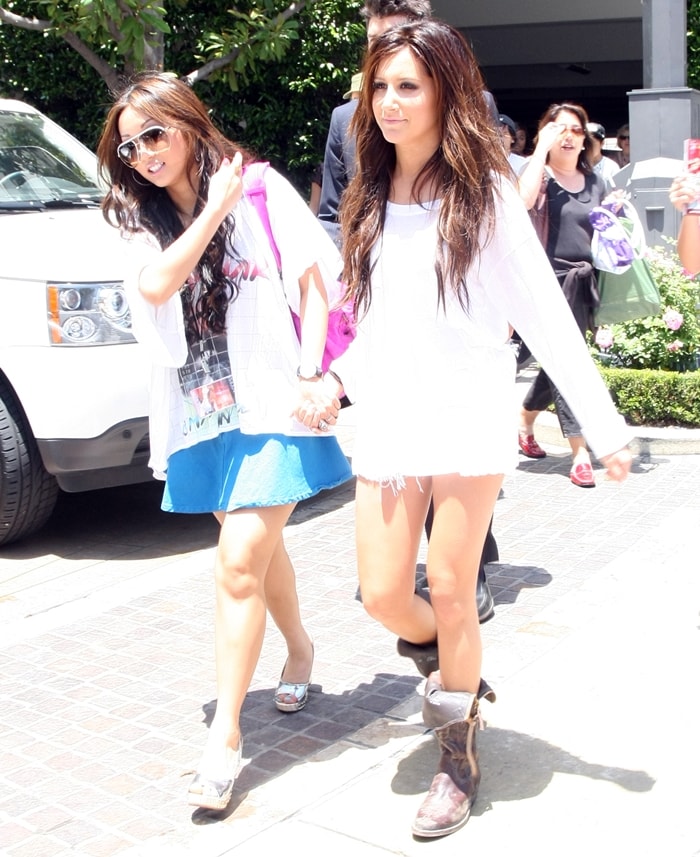 Best friends Ashley Tisdale and Brenda Song leave The Grove in Hollywood on June 27, 2009
In November 2019, Song told W Magazine about her new streaming television series Dollface and her relationship with Ashley Tisdale and her former Disney co-stars.
"Ashley [Tisdale] lives like 10 minutes from me, and I see her maybe once a year," she said about being in touch with Ashley.
Ashley Tisdale and Brenda Song are still friends and see each other once a year
Getting ready for Christmas, the starlet rocked a pleated leather skirt with House of Holland garter tights and a varsity jacket that featured python-print sleeves.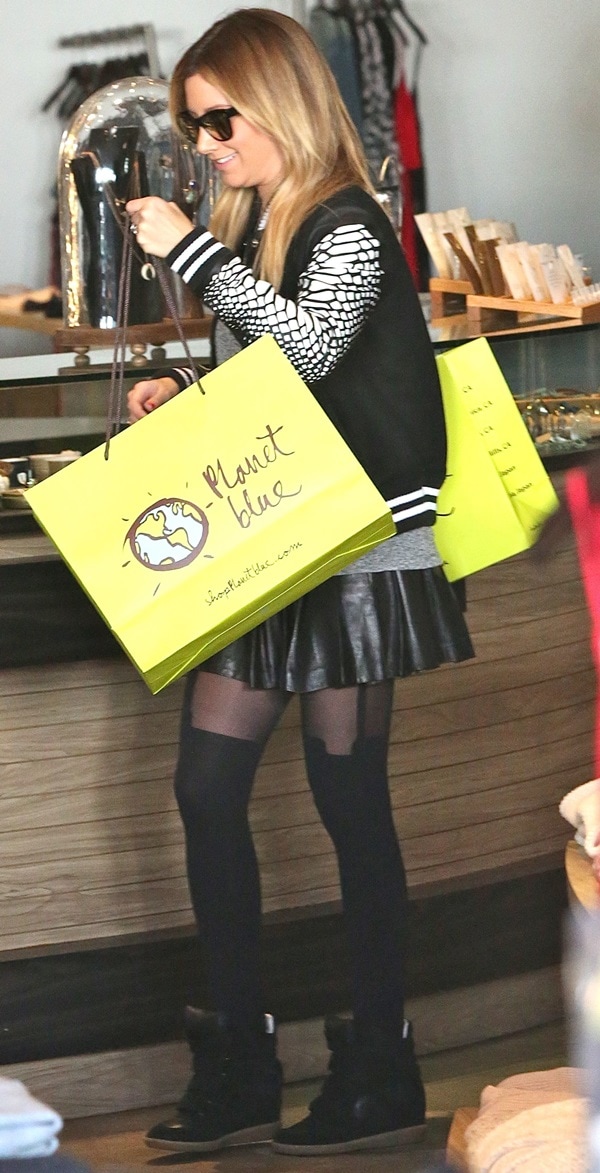 Ashley Tisdale wears a python-print varsity jacket while shopping at Planet Blue
She also sported a pair of Isabel Marant "Bekket" wedge sneakers and reflective Ray-Ban sunglasses. The mix seems a bit much for a shopping trip, but Ashley pulled it off well enough.
Planet Blue is a trendy clothing store, and we can't help but wonder who the lucky gift recipient is!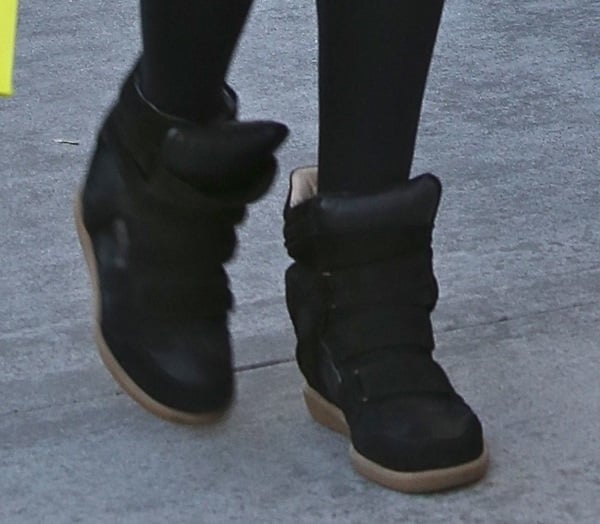 Ashley Tisdale wears a pair of black Isabel Marant wedge sneakers
What do you think of Ashley's shopping outfit?
These Isabel Marant wedge sneakers have been seen on both Nicky Hilton and Jessica Alba, and they're still hot sellers. They've even been redesigned for winter!
What do you think of the wedge sneaker trend? You can order a pair at Farfetch and Nordstrom.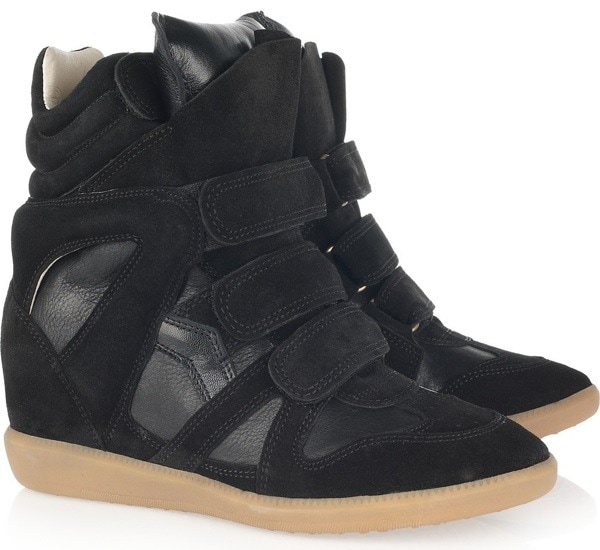 Isabel Marant "Bekket" Hi-Top Wedge Sneakers, $695
Credit: WENN / Adriana M. Barraza / Nikki Nelson / Jody Cortes