They are one of the most fashionable couples in the business. And on Sunday, Olivia Palermo and husband Johannes Huebl made stylish sartorial statements as they stepped out in New York City.
Turning the streets of Dumbo, Brooklyn into their own runway, the power couple bundled up in thick but chic contrasting winter outfits.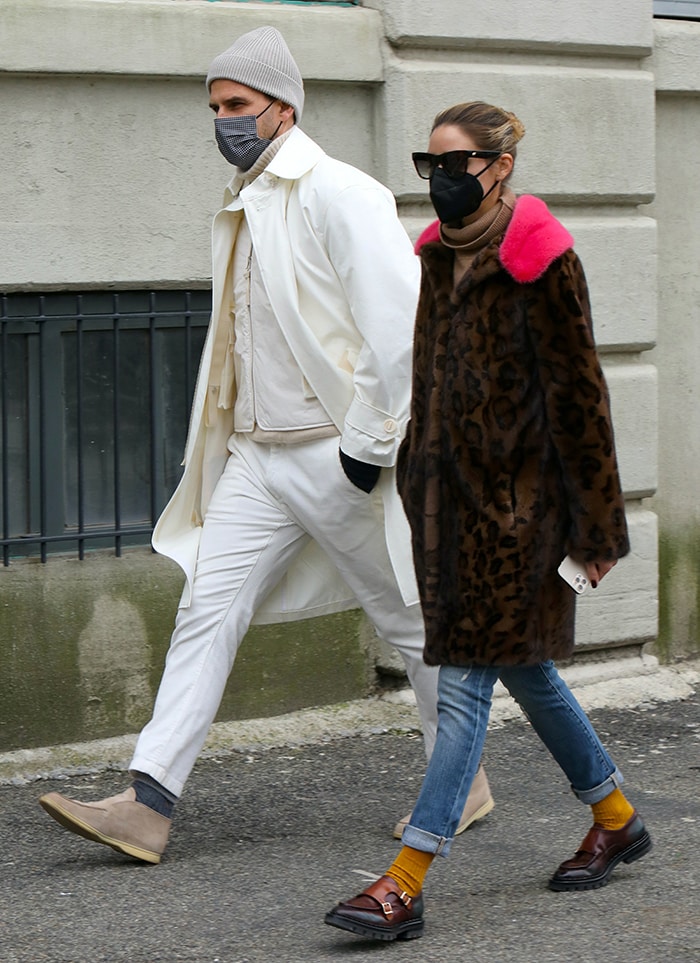 Johannes Huebl and Olivia Palermo out for lunch in Dumbo, Brooklyn on January 31, 2021
German model slash photographer Johannes Huebl opted for an all-white look, wearing a long coat over a zipped-up waistcoat and a beige rib-knit turtleneck sweater. He also rocked white corduroy pants and a pair of light brown shoes.
Keeping a neat and trendy look, the German model accessorized with a gray knit beanie, black gloves, and a patterned fabric face mask.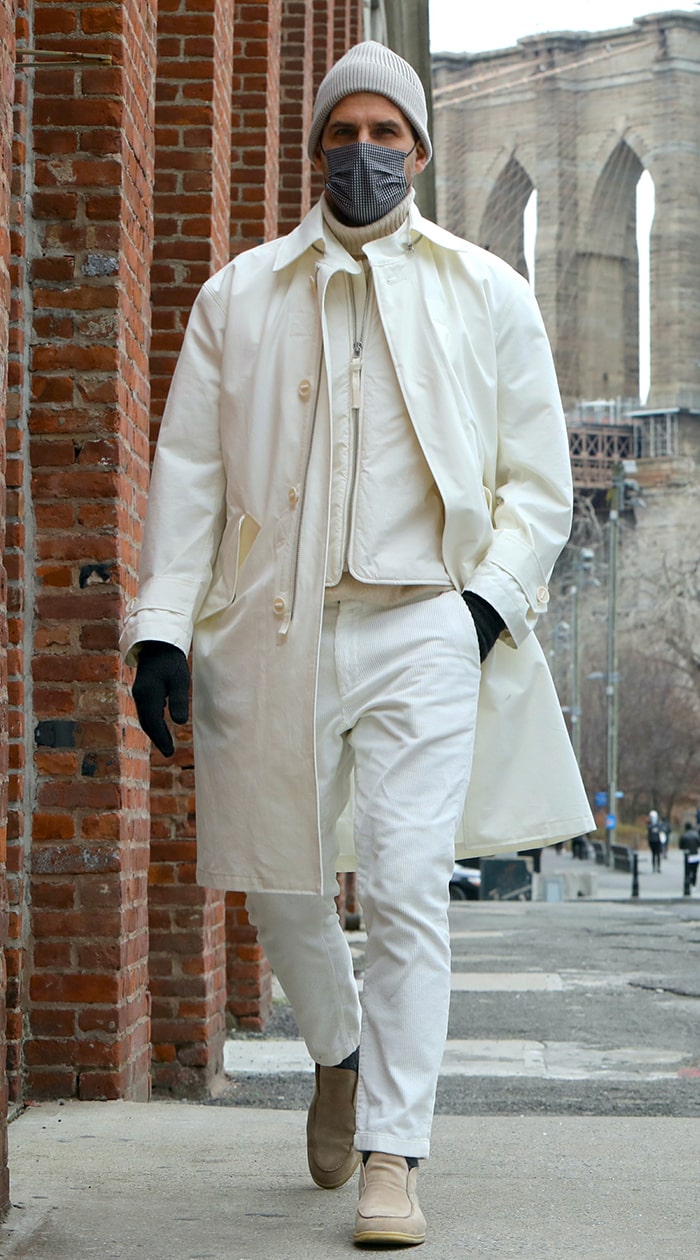 Johannes Huebl opts for an all-white winter outfit with a gray beanie and a pair of light brown shoes
On the other hand, his fashion influencer wife, Olivia Palermo, chose a leopard-printed coat with a hot pink fur collar from Cara Mila. It's the same coat she wore while on a stroll with her husband two weeks ago.
This time, she wore it over a brown ribbed turtleneck sweater and a pair of light blue cuffed ripped jeans.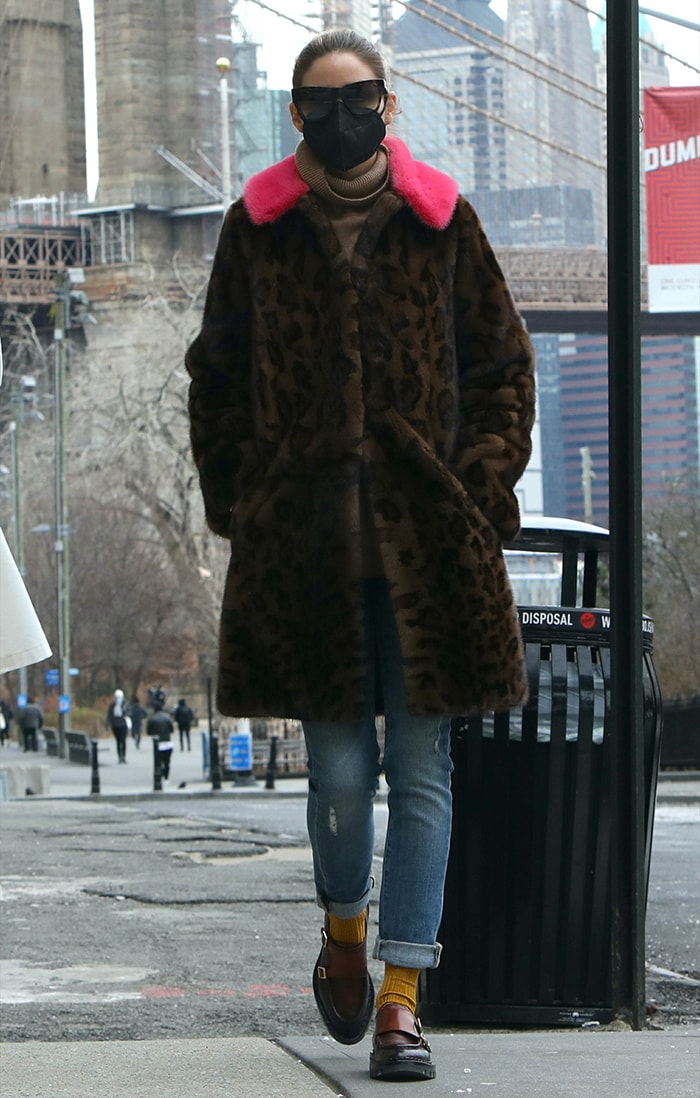 Olivia Palermo wears a leopard coat with a pink fur trim over a brown sweater and a pair of jeans
Pulling her hair back into a neat, slick bun, Olivia styled her look with a simple pair of stud earrings.
She tried to keep a low profile with Le Specs Liar Liar cat-eye tortoiseshell sunglasses, which you can buy for $60 at Net-A-Porter.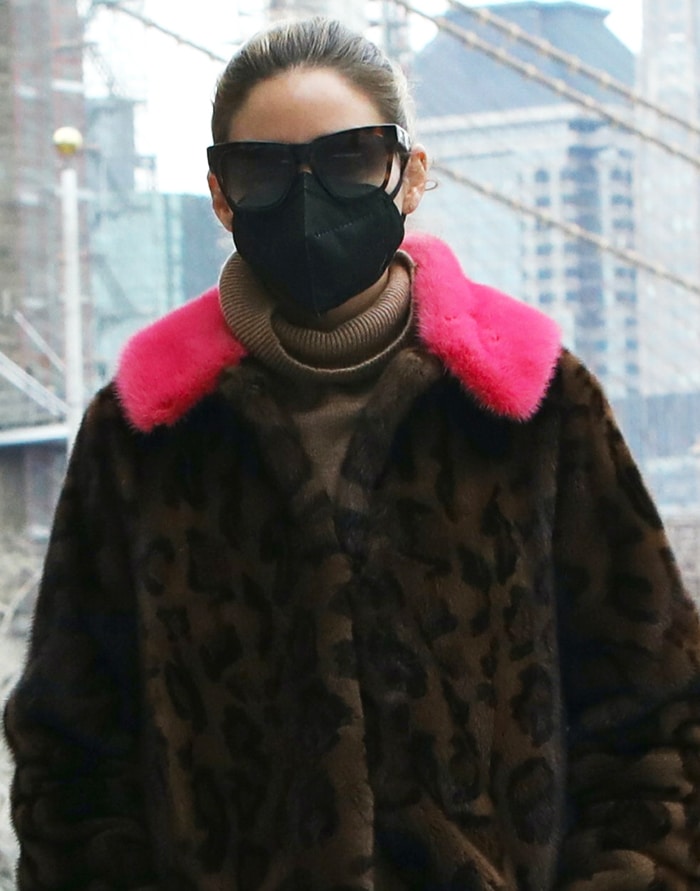 Olivia Palermo wears Le Specs' tortoiseshell 'Liar Lair' sunglasses inspired by '90s California
With her blue jeans rolled up, Olivia revealed her orange socks, which complemented her two-tone shoes.
She wore a pair of leather loafers from the luxury handmade Italian shoe label, Santoni. Similar to their classic shoe designs, Olivia's loafers feature a double-buckled monk strap. They also have a two-tone look and lugged soles.
You can find Santoni shoes at Farfetch, Saks Fifth Avenue, and Nordstrom.
Olivia Palermo completes her look with Santoni loafer shoes
Last week, the 34-year-old socialite was spotted on a solo stroll around her neighborhood.
Olivia Palermo goes for a solo stroll in Dumbo, Brooklyn on January 27, 2021
Never one to play it safe with her sartorial choices, Olivia teamed a black structured, long-sleeved coat dress with feather details with a pair of ripped jeans.
She also wore a cream-colored rib-knit sweater underneath her quirky knee-length dress.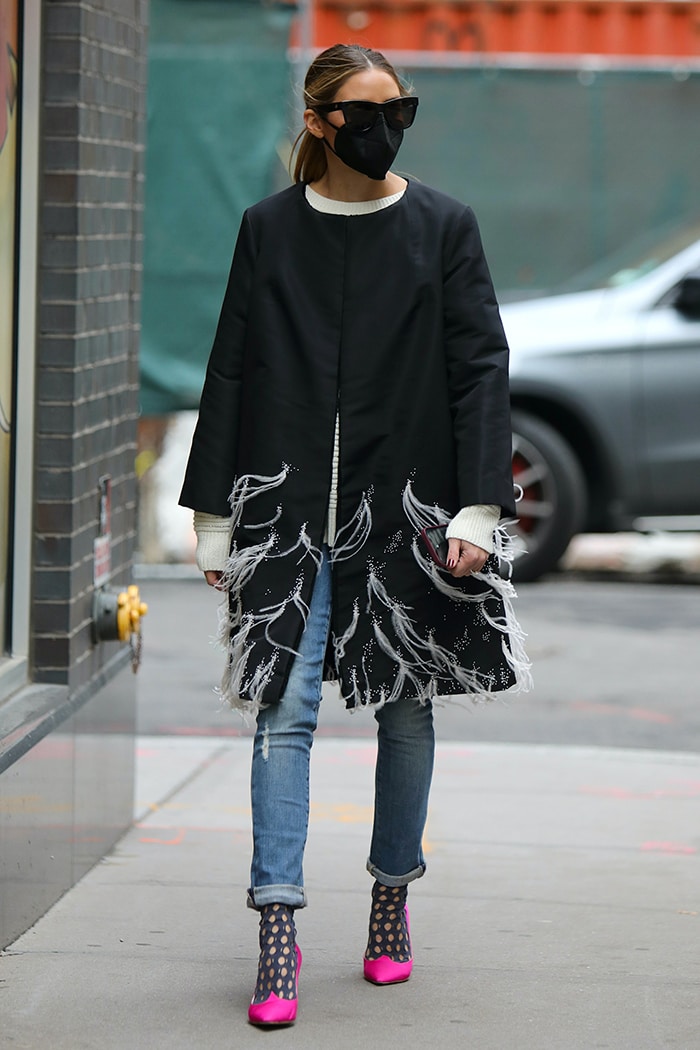 Olivia Palermo layers a feathered coat dress over a sweater and a pair of jeans
With her hair pulled back into a ponytail, Olivia shielded her eyes with a pair of oversized sunglasses. She also stayed safe with a black face mask, in accordance with the COVID-19 regulations.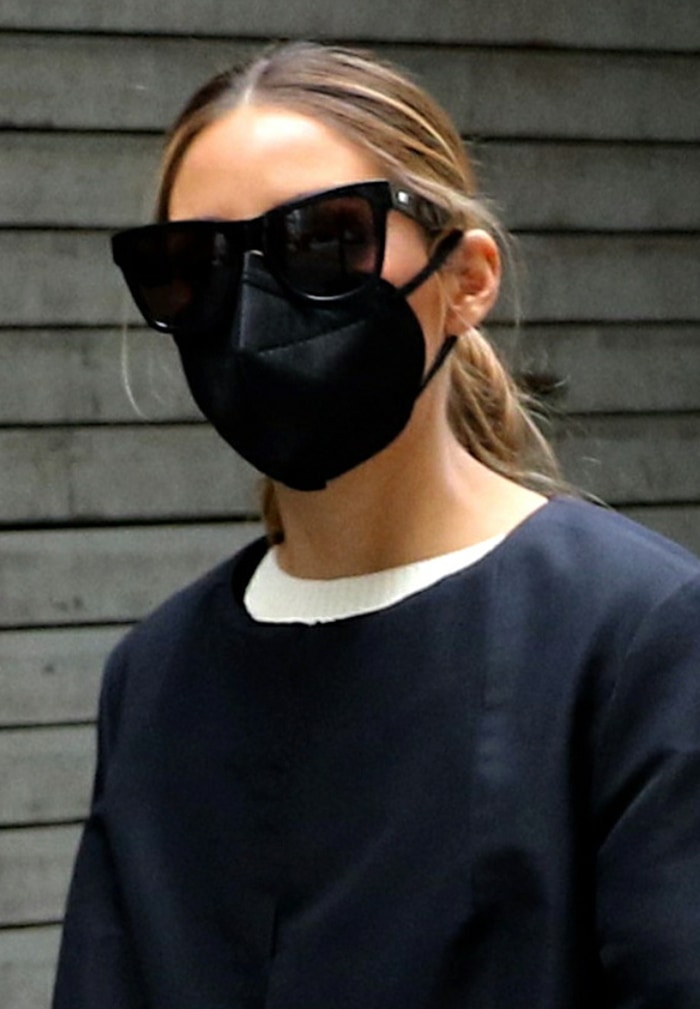 Olivia Palermo ties her hair back and stays safe with a black face mask
To ramp up the quirkiness, Olivia wore a pair of dark purple cutout socks before slipping into a pair of hot pink Roger Vivier Love Vivi pumps.
These satin pumps feature cutout vamps, pointed toes, and about 4-inch lacquered heels.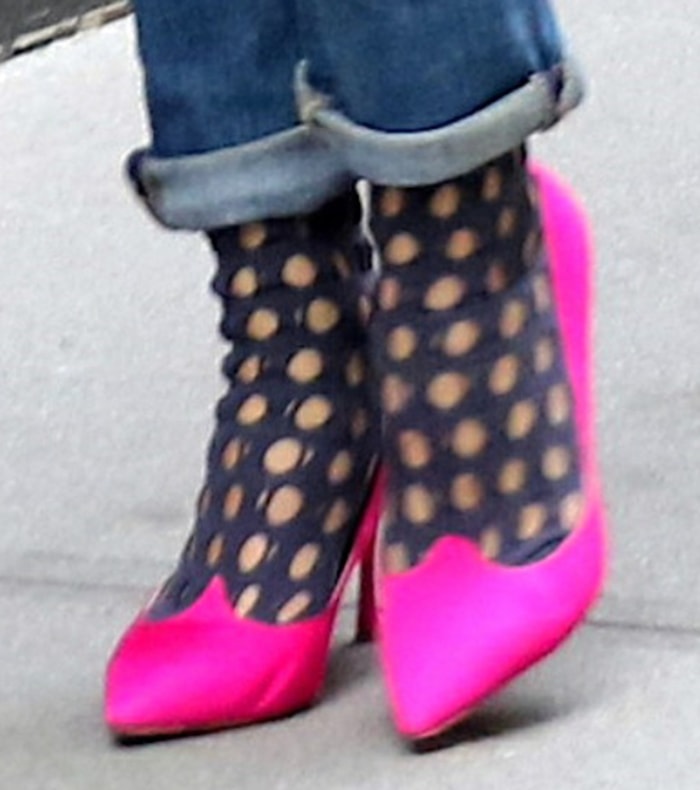 Olivia Palermo pairs cutout socks with hot pink Roger Vivier pumps
Roger Vivier Love Vivi Satin Pumps, $695
Credit: Instar / WENN