While she can go by many titles, Olivia Palermo is perhaps best known for being a style icon.
On Saturday, the 34-year-old socialite lived up to her stylish reputation while on a stroll with her husband Johannes Huebl in Downtown Brooklyn.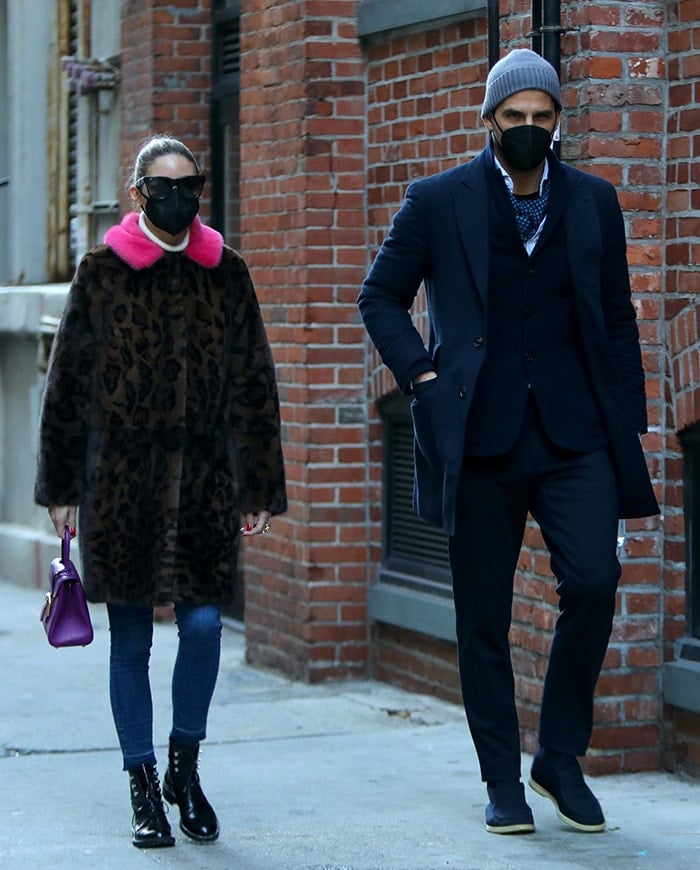 Olivia Palermo and her husband Johannes Huebl go out for a stroll in Brooklyn on January 23, 2021
Looking warm and chic, the style maven bundled up in a leopard-print coat worn over a ribbed cream-colored turtleneck sweater.
Her bright pink fur collar upgraded the look as it made a chic contrast to the rather neutral dark outfit.
Olivia Palermo teams a pink fur-trimmed leopard-print coat with slim-fit blue jeans
Olivia wore a pair of blue slim-fit jeans tucked into a pair of patent leather combat boots from Dior.
The Rebelle Army boots have a shiny finish with silver metal studs and chunky soles.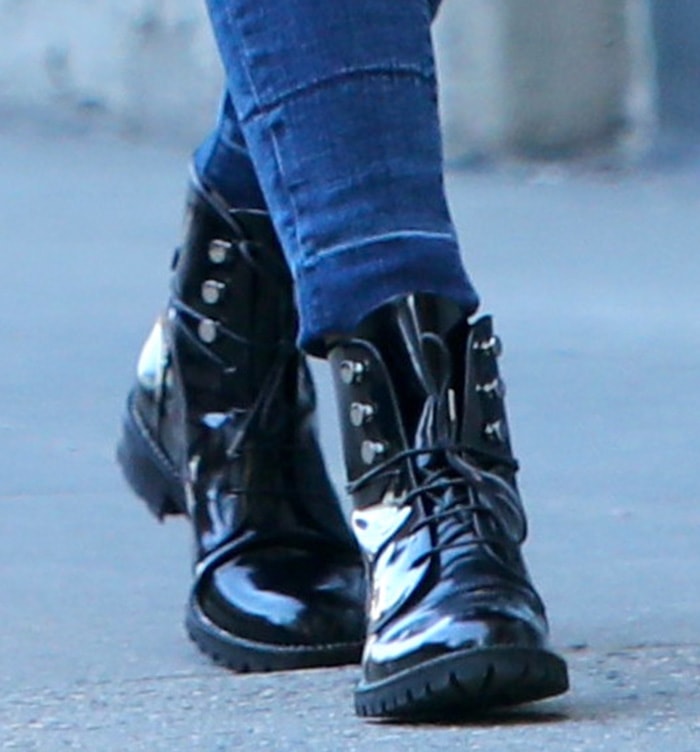 Olivia Palermo adds a hint of tough-chic vibe to her look with Dior Rebelle Army boots
Olivia further accessorized her winter outfit with a Delvaux Brilliant bag that added a pop of purple to her look.
The rich socialite styled her brown locks in a tight, sleek bun, showcasing a couple of her gold stud earrings.
In an attempt to keep a low profile, she wore a pair of oversized tortoise-framed sunglasses and stayed safe with a black face mask.
Olivia Palermo adds a purple Delvaux Brilliant bag and tortoise-framed sunglasses to her look
Her 43-year-old German husband looked handsome in a navy suit paired with a matching coat, a white shirt underneath, and a printed ascot tie.
Wearing a black face mask, Johannes Huebl dressed down the look a bit with the addition of a gray ski cap and a pair of suede loafers.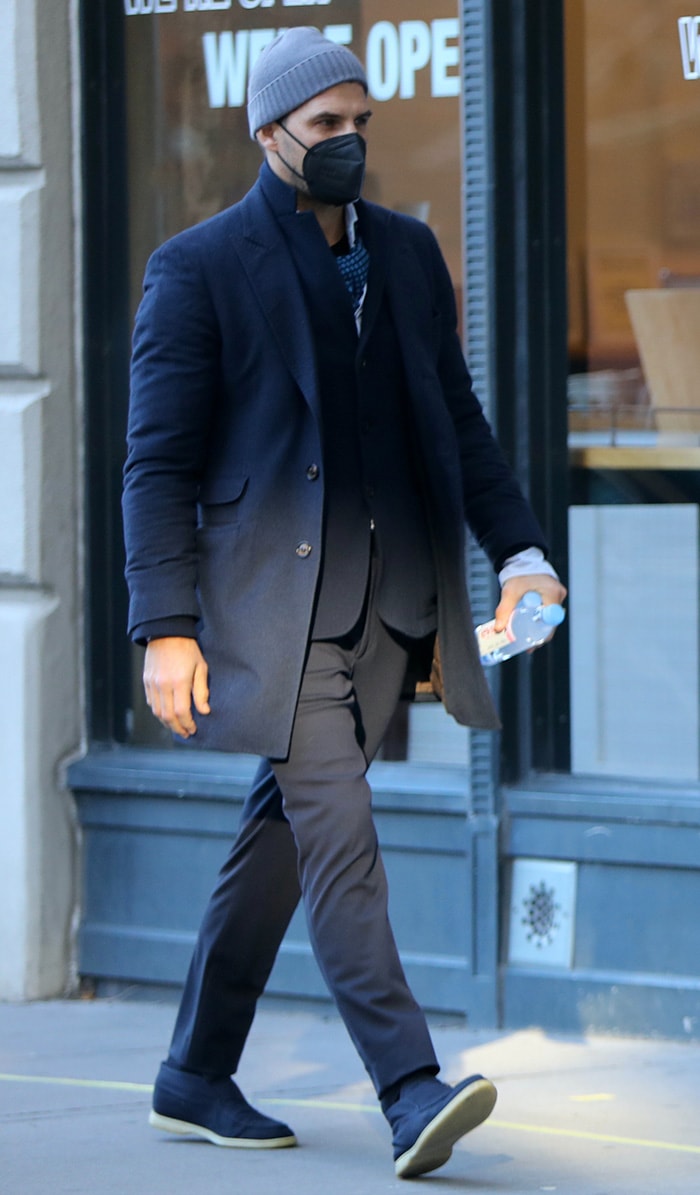 Olivia Palermo's German husband Johannes Huebl look equally stylish in a navy suit and suede loafers
Known to set fashion trends, Olivia put another chic display while out and about in her Brooklyn neighborhood last week.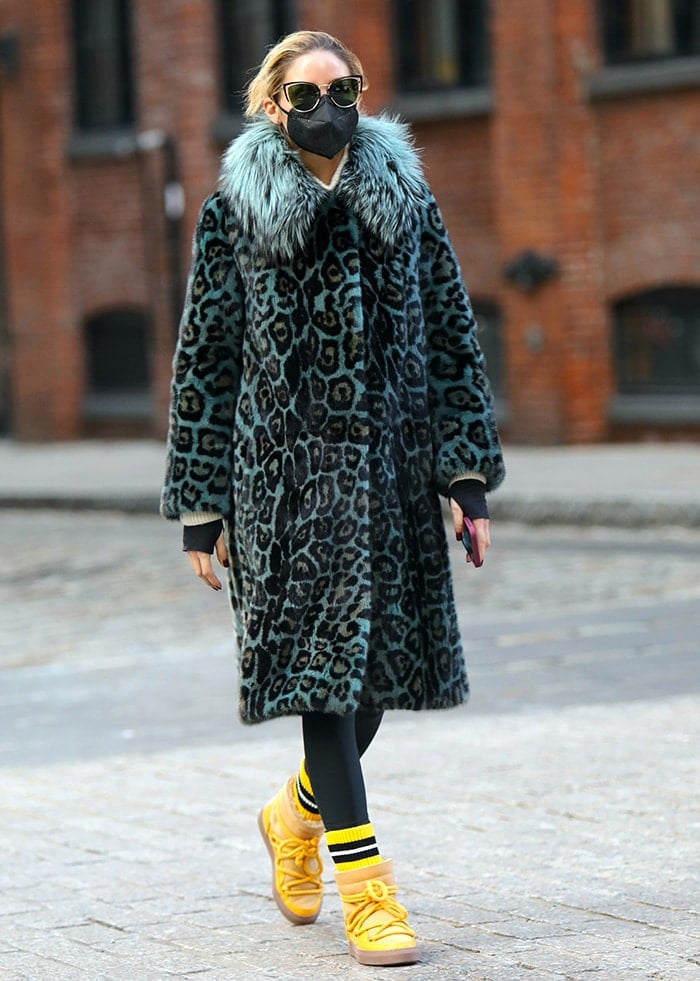 Olivia Palermo steps out for a solo stroll in Brooklyn on January 19, 2021
She turned heads in a teal-colored leopard-print coat from luxury fur coat and jacket brand Cara Mila.
The $6,806-Bianca Kopenhagen soft mink fur coat features a swing silhouette elevated with a Saga silver fox fur collar.
She wore her striking coat over a neutral-colored outfit, which included a ribbed sweater and a pair of black leggings.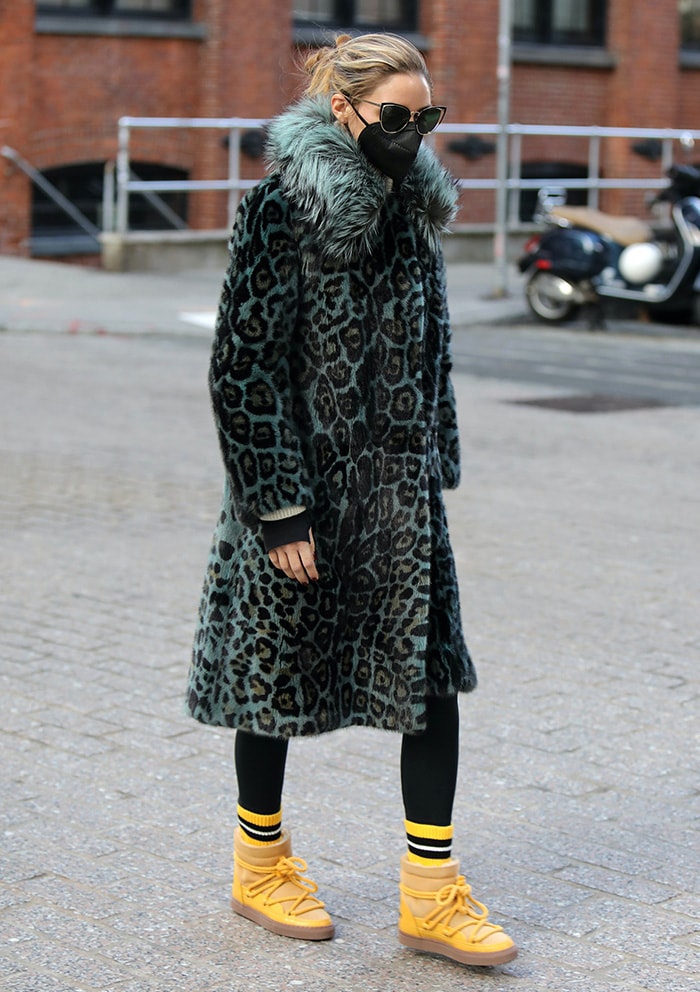 Olivia Palermo turns heads in a teal Cara Mila leopard mink fur coat and yellow boots
With her light brown hair pulled back, Olivia accessorized the look with a pair of Salvatore Ferragamo colorblock cutout cat-eye sunglasses.
She also wore a black face mask to keep her safe and prevent the spread of COVID-19.
Olivia Palermo styles her look with Salvatore Ferragamo cat-eye sunglasses
Not one to shy away from a fashion risk, Olivia rounded out her look with a vibrant pair of striped yellow socks to match her equally vibrant yellow boots from Inuikii, a footwear label which name derives from the Eskimo-Aleut language.
Founded in 2012, the Zurich-based footwear label specializes in fashionable winter shoes and boots.
Olivia opted for their iconic yellow classic sneaker-style ankle boots, which "represent Inuikii's commitment to combining practical form and function with timeless style."
The handcrafted Inuikii boots feature a suede upper with soft shearling lining, water-resistant quality, snowproof properties, and anti-slip rubber soles.
Olivia Palermo adds color to her look with Inuikii yellow sneaker boots
Inuikii Classic Yellow Shearling Sneaker Ankle Boots, $281.82 at Atterley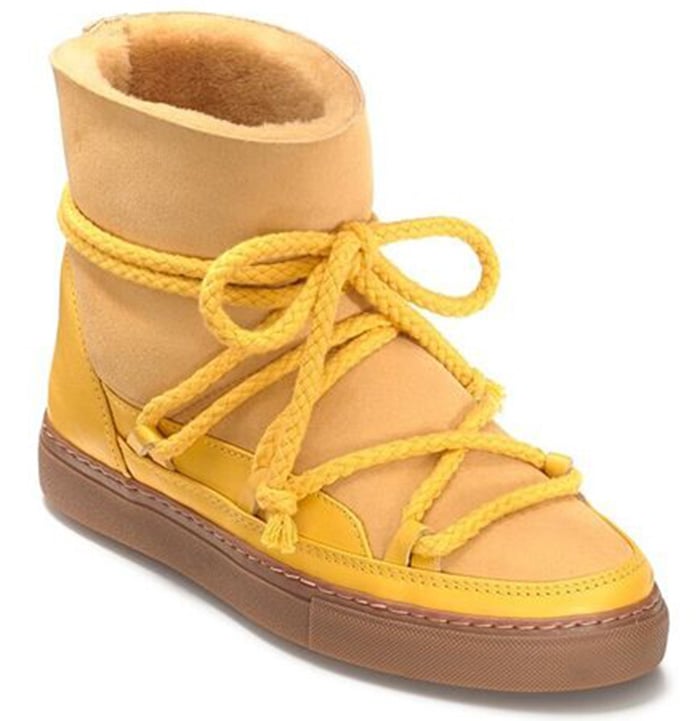 This yellow winter sneaker features shearling that will keep you warm and comfortable
Proving her high-street fashion credentials, Olivia was spotted looking elegant in an all-black ensemble while strolling around Brooklyn.
Olivia Palermo goes solo shopping in Brooklyn on January 11, 2021
The former reality TV star simply wore her thick, ribbed high-neck cream sweater with the winter staple pleather leggings.
Adding luxe to her all-black look was her shaggy black fur jacket from luxury fur coat and jacket label Pologeorgis.
Olivia Palermo teams a black Pologeorgis shaggy jacket with black pleather pants
She then styled her honey tresses straight with a thick black headband. For protection, the tall model wore a leopard-print face mask and kept a low-profile with Salvatore Ferragamo cat-eye sunglasses.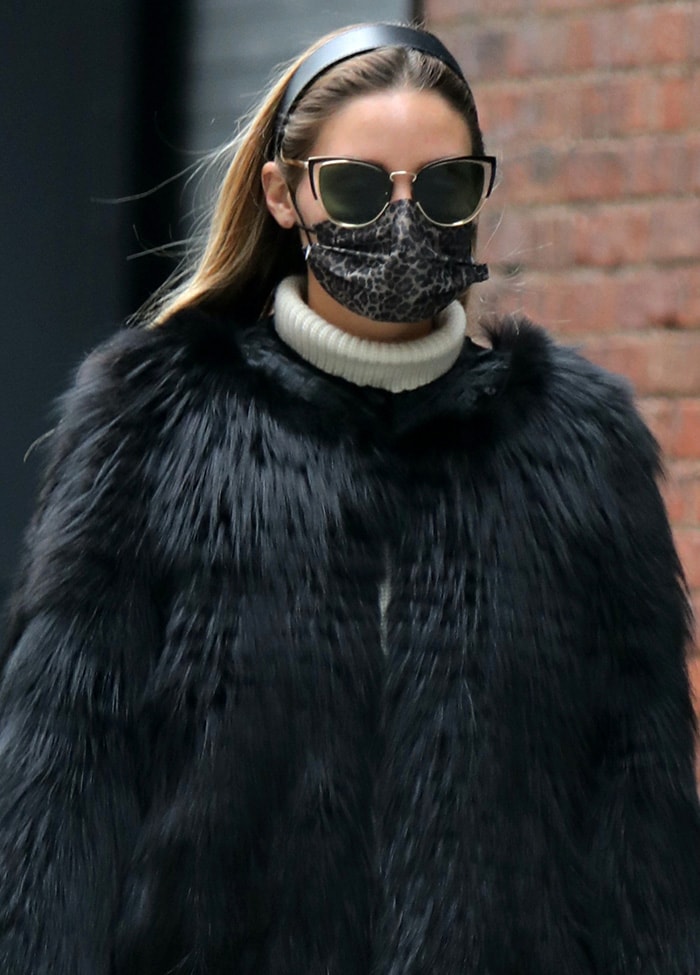 Olivia Palermo keeps it chic with a black headband, cat-eye sunnies, and leopard-print face mask
A pair of her favorite Gianvito Rossi combat boots rounded out her chic street-style look.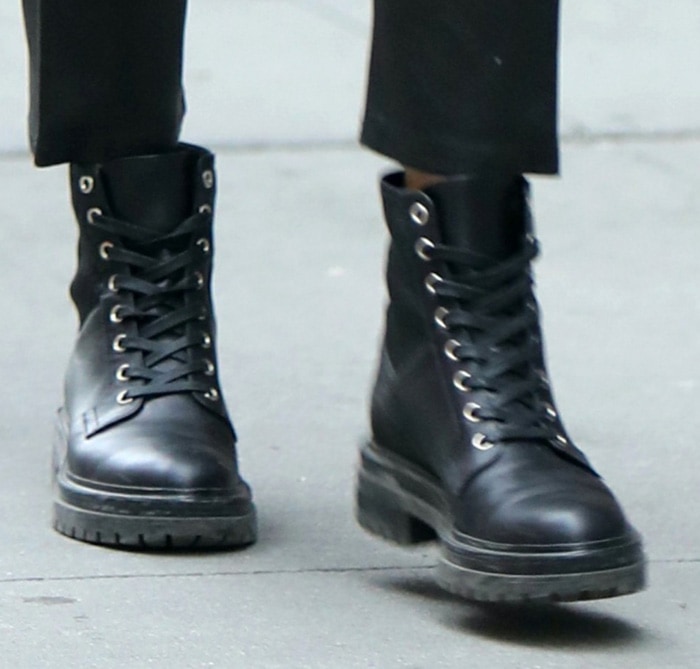 Olivia Palermo opts for her favorite Gianvito Rossi Combat boots
Gianvito Rossi Combat Boots, $1,195 at Nordstrom
Elevate your street-storming style with this black Italian-made boot of fine leather with a classic lug sole and a ribbed panel wrapping the back
Credit: Instar / WENN