In March 2019, Lemony Snicket's A Series of Unfortunate Events actress Emily Browning attended the season two premiere of her series American Gods held at the Ace Hotel in Los Angeles.
She styled a Miu Miu soft pink tulle and chiffon dress with glittering open-toe sandals. In the fantasy drama television series, Emily portrays Laura Moon, Shadow Moon's (Ricky Whittle) wife and a revenant.
Emily Browning in a pink Miu Miu gown at the premiere of STARZ's "American Gods" season 2 at Ace Hotel on March 5, 2019 in Los Angeles, California
15 years earlier, the Australian actress won the Australian Film Institute International Award for Best Actress for her portrayal of the brilliant inventor Violet Baudelaire in the film Lemony Snicket's A Series of Unfortunate Events.
She co-starred in the 2004 American gothic black comedy film with Jim Carrey, Liam Aiken, Timothy Spall, Catherine O'Hara, Billy Connolly, Cedric the Entertainer, Luis Guzmán, Jennifer Coolidge, Meryl Streep, and Jude Law.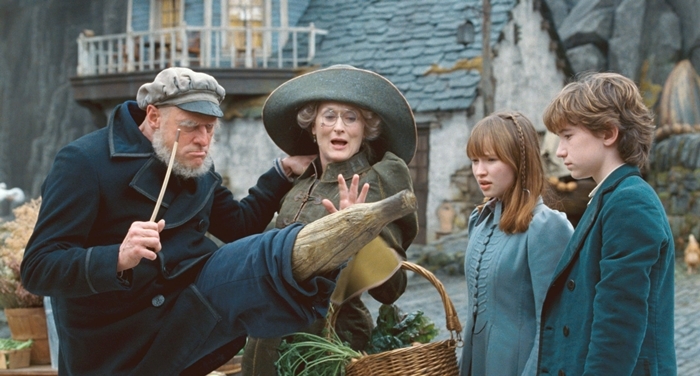 Jim Carrey (as Captain Sham/Count Olaf), Meryl Streep (as Aunt Josephine), Emily Browning (as Violet Baudelaire) and Liam Aiken (as Klaus Baudelaire) in 'Lemony Snicket's A Series of Unfortunate Events' directed by Brad Silberling
When principal photography began on November 10, 2003, Emily Browning was 14-years-old. Born on December 7, 1988, in Melbourne, Australia, she turned 15 on December 7, 2003.
Liam Aiken, who starred as the intelligent and kind-hearted bibliophile Klaus Baudelaire, was born on January 7, 1990, in New York, and turned 13 on January 7, 2003.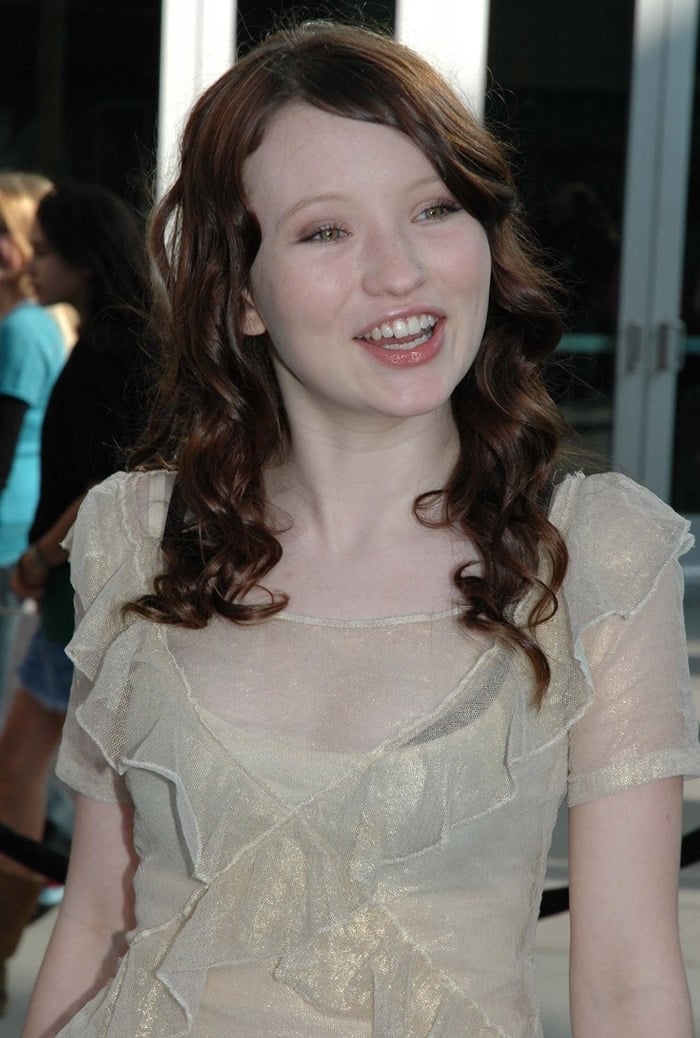 Emily Browning at the premiere for Lemony Snicket's A Series of Unfortunate Events held at the Cinerama Dome Theatre in Hollywood on December 13, 2004
In an interview with Australian website Girl Magazine, she talked about reading the script for Lemony Snicket's A Series of Unfortunate Events.
I read the first script and then after I read that, I read the book and I fell in love with them but the original script was very different tothe script that was actually used for the film. When I first read the script it was like, "hmm", I don't know because it was kinda like a musical to begin with lots of singing, and I would have had to sing in it. I was like, yeah, I don't think I really want to do this. But then I read the books and I was like, OK, these are fantastic.
Emily Browning was 14 years old when attending the premiere of Lemony Snicket's A Series of Unfortunate Events
Making her film debut in the 1998 Australian family drama movie The Echo of Thunder, she has a net worth of $8 million dollars and wears shoe size 6 (US).
Emily Browning shows off her size 6 (US) feet in high heels at the "Sucker Punch" Los Angeles Premiere at Grauman's Chinese Theatre on March 23, 2011, in Hollywood, California
While the rest of Hollywood opted for glittery, metallic, or classic black clutches at the annual fundraising gala for the benefit of the Metropolitan Museum of Art's Costume Institute in New York City, one young starlet chose to be a little different by using the unexpected – a polka-dotted red and black purse.
Emily Browning and her then-boyfriend Max Irons attend the "Alexander McQueen: Savage Beauty" Costume Institute Gala at The Metropolitan Museum of Art on May 2, 2011, in New York City
It shouldn't come as a big surprise that it was Sucker Punch star Emily Browning.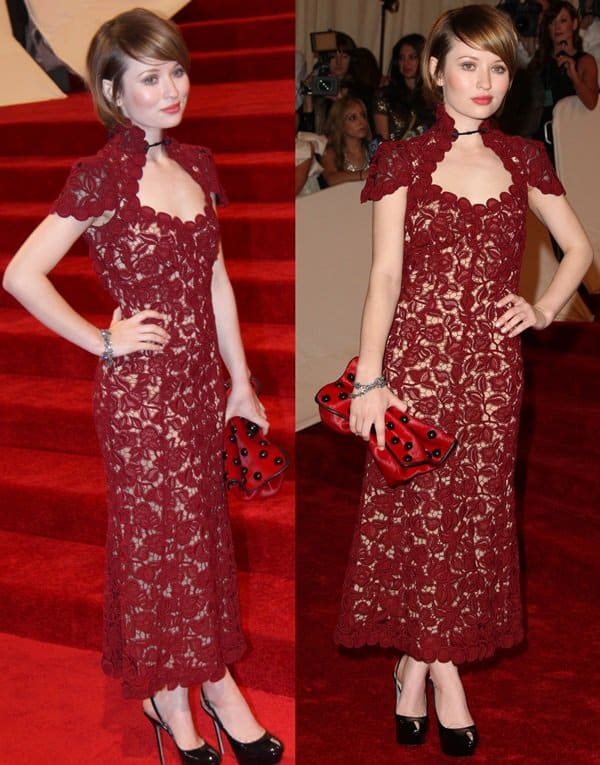 Emily Browning paired a burgundy lace dress from Marc Jacobs' Fall 2011 collection with Sergio Rossi black patent pumps
Emily paired her burgundy lace dress from Marc Jacobs with a red polka-dotted flap purse that clearly did not match her look:
Emily Browning toted a red and black polka dot clutch

What do you think of the purse? And do you think she should have used something else instead? Would you consider this a fashion misstep?
If it were up to us, we would probably have asked Emily to go for a classic black hard case, like this one from Alexander McQueen for instance. An event such as the MET is not exactly an ideal place to be playful:
Alexander McQueen Clutch, $1350
Now if you're curious about that polka-dotted purse, we're speculating that it's from Marc Jacob's Fall 2011 Collection.
If you look at the collection's runway shots, you'll notice a lot of polka dots happening so we're pretty confident with this hunch. That said, we highly recommend that you DON'T wear it to a formal event. It's a rather casual-looking piece.
Now if you want your own polka-dotted purse and you don't want to wait 'til fall, feel free to shop for substitutes instead. Here are three styles from Zappos you can try: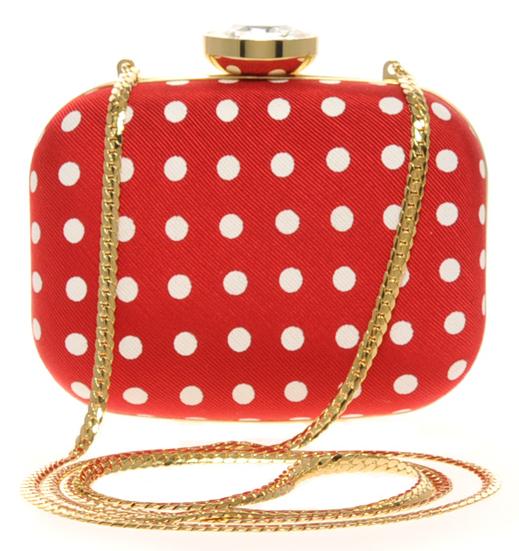 LOVE Moschino Red and White Polka Dotted Hardcase, $228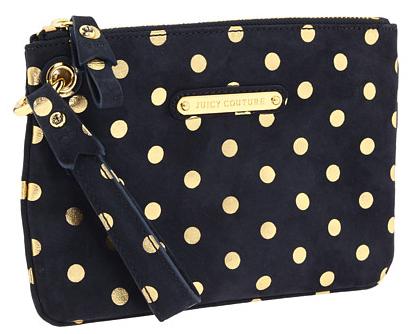 Juicy Couture Polka Dotted Suede Wristlet, $98
Harveys Seatbelt Bag Minnie Clutch, $114
Credit: Ivan Nikolov / WENN / Flashpoint / FayesVision / Dimitri Halkidis / Adriana M. Barraza