Kendall Jenner seems to be the only Kardashian/Jenner with a tomboy side to her, so we're not at all surprised to see that she's taken up an interest in frequenting NBA games. However, rumor has it that she's not only hanging around the court for a love of the game, but maybe for a certain player, as well.
The Victoria's Secret model was spotted courtside with her BFF Hailey Baldwin at the recent LA Lakers game in Los Angeles.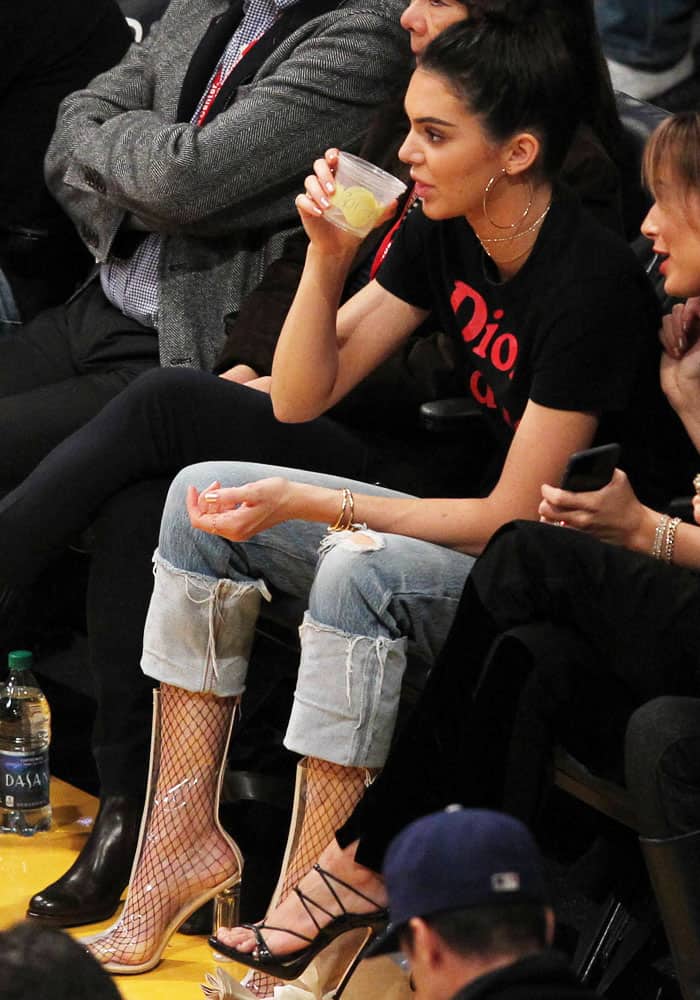 Kendall Jenner at the LA Lakers game in Los Angeles on January 3, 2017.
Kendall expressed her love for Dior by wearing a "Dior Addict" statement shirt from the brand. The model casually paired the graphic tee with denim jeans featuring dramatically folded hems from Re/Done.
It seems like there's a good reason those hems were rolled the way they were: Kendall brought all the attention to the Yeezys on her feet.  The 21-year-old interestingly slipped into a pair of fishnet stockings to give a bit of texture to her favorite pair of PVC ankle boots. Do you know how to stop clear shoes from fogging up?
Kendall wore fishnet stockings inside her Yeezy PVC ankle boot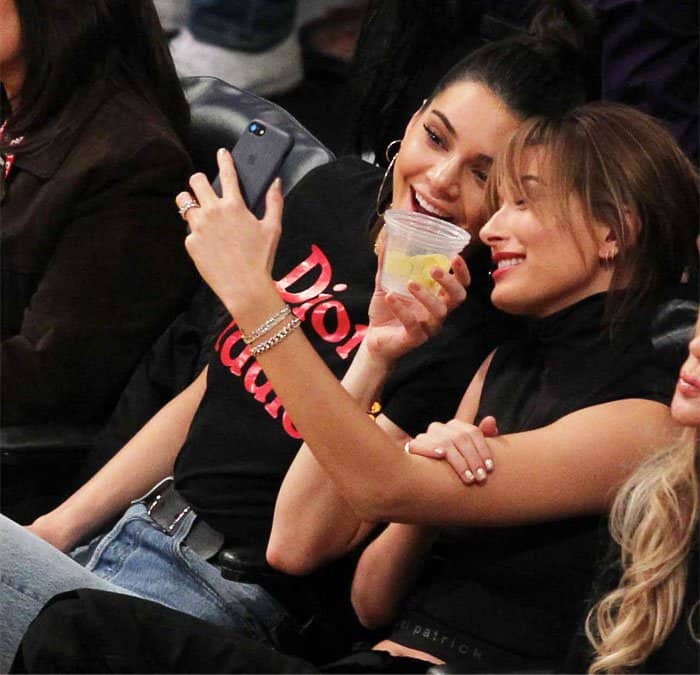 Kendall shares a selfie with her BFF Hailey Baldwin.
Even though Kendall was spotted kissing Jordan Clarkson on New Year's Eve, the rumor mill says she's back in the arms of Chandler Parsons, though we can't confirm that they ever actually were a couple. After the game, the two were spotted going out to the same restaurant.
Maybe Kendall is still with Jordan and it's really Hailey dating Chandler? Only time and the eagle-eyed paparazzi will tell.
Shop Yeezys similar to Kendall's PVC ankle boot at Farfetch and Revolve.
Yeezy Season 3 PVC Ankle Boots, $983 – $995 at Farfetch and Revolve
Credit: WENN