Earlier this year we showed you 10 amazing new shoes from Sophia Webster, and now we're excited to show you 11 more shoes just in time for fall.
Sophia Webster cites Winona Ryder's character Lydia Deetz from the 1988 motion picture 'Beetlejuice' as her muse for Fall '16.
"It's about daring to be strange or unusual but most of all beautifully unique," she commented.
Do you think Nicholas Kirkwood's former assistant has outdone herself this time? You can find these shoes at Net-A-Porter, Farfetch, and Saks Fifth Avenue.
1. Chiara Suede Ankle Boots With Butterfly Wings, $850
These whimsical ankle boots are designed with the label's signature butterfly wings made from iridescent patent-leather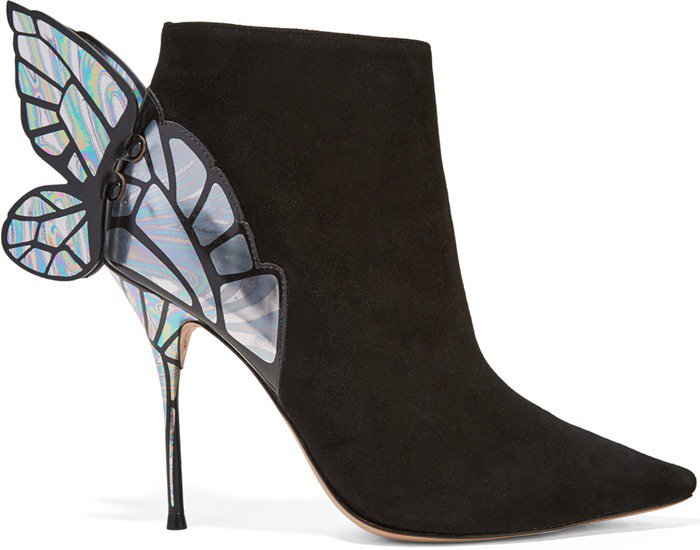 Supple black suede ankle boots with butterfly wings
2. Karina Butterfly Studded Leather Ankle Boots, $650
A studded version of the brand's iconic butterfly wing appliqué stands out at the vamp of an almond-toe ankle bootie crafted from supple calfskin
This pair is embellished with gleaming rose gold studs to form the signature butterfly motif
Sophia Webster's butterfly motif was first used by the designer for her final collection at the Royal College of Art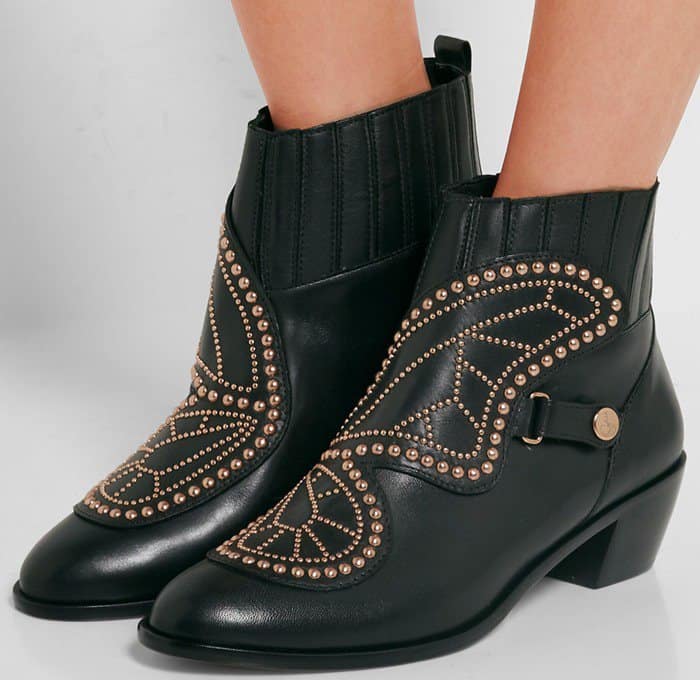 These ankle boots are flawlessly made from glossy black leather
3. Kendra Jacquard-Effect Leather and Suede Ankle Boots, $750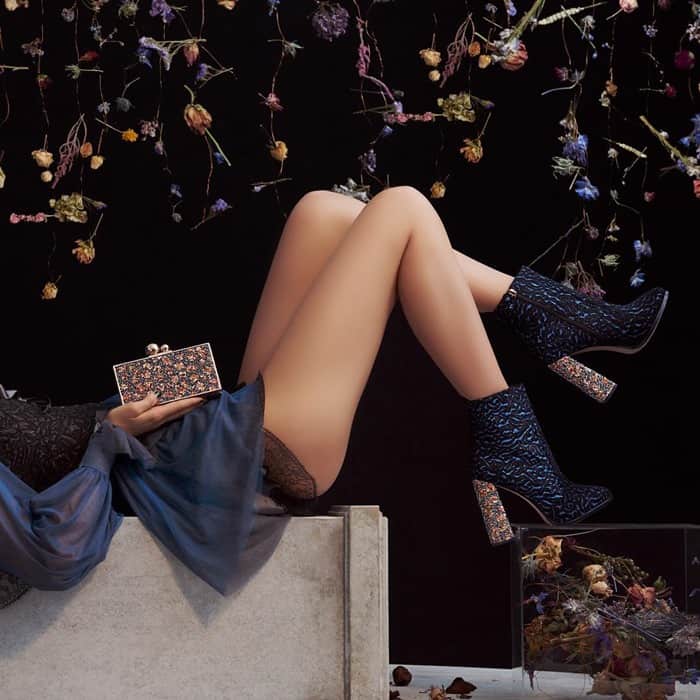 These ankle boots are perfect for enhancing simple outfits
These ankle boots are cut from blue and black suede and leather intricately worked to look like jacquard and finished with a heel encrusted with scores of colorful crystals and resin beads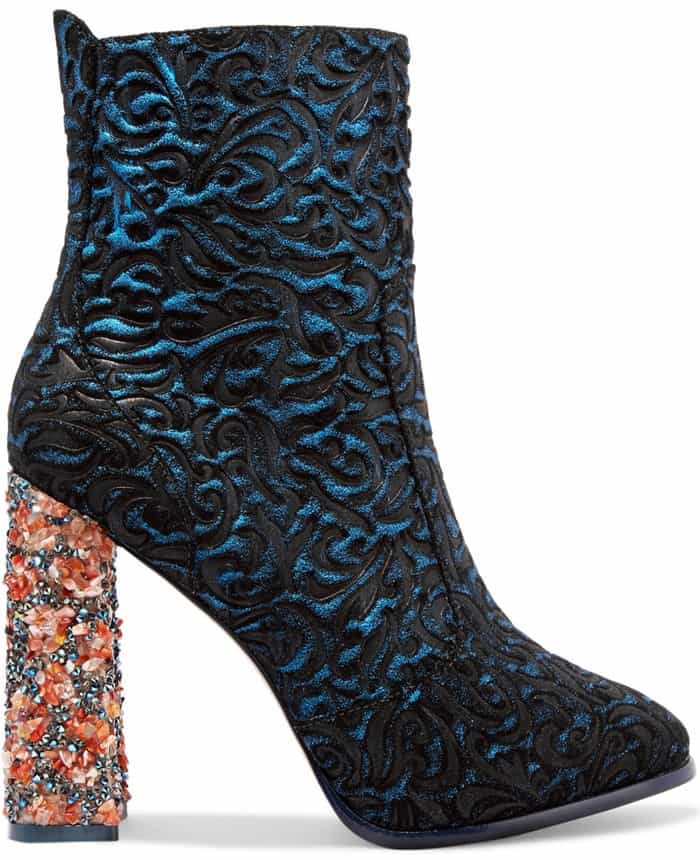 The zip fastening ensures you can easily slip them on and off
4. Madame Butterfly Mirrored-Leather Sandals, $595
Sophia Webster's high-shine sandals are made from silver mirrored-leather
These sandals are intricately cut out in the label's signature butterfly shape and punctuated with contrasting rose gold hardware
Sophia Webster's Madame Butterfly mirrored-leather sandals
5. Mila Studded Leather Sandals, $550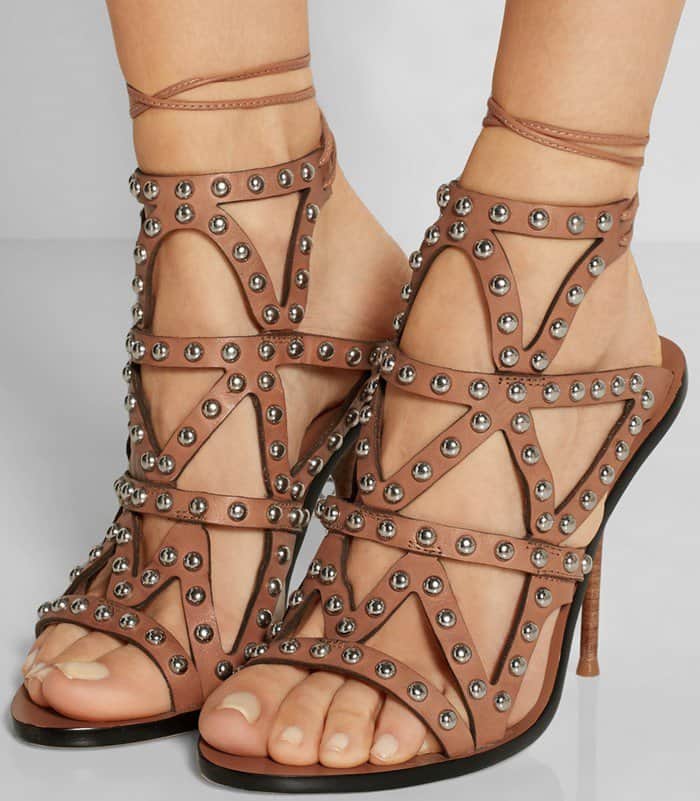 Sophia Webster is loved for taking classic silhouettes and updating them with statement-making embellishments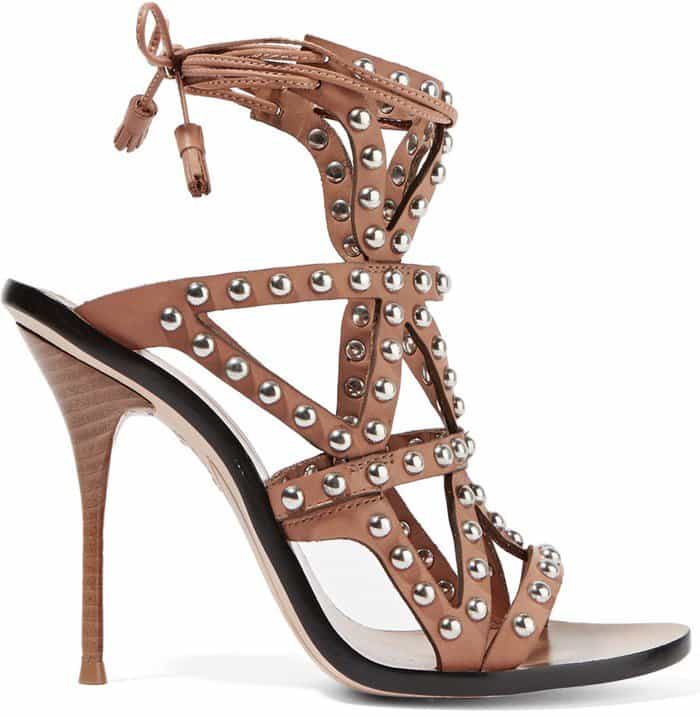 Crafted from tan leather, these 'Mila' sandals have a caged silhouette that's covered in polished silver studs
6. Mitsy Velvet-Trimmed Polka-Dot Tulle and Leather Boots, $875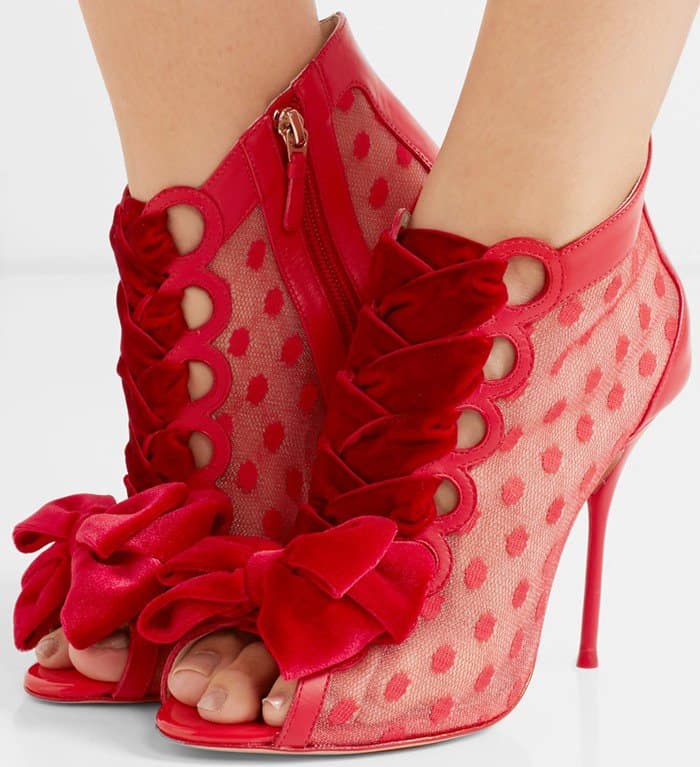 These bold red boots are made from sheer polka-dot tulle reinforced with smooth leather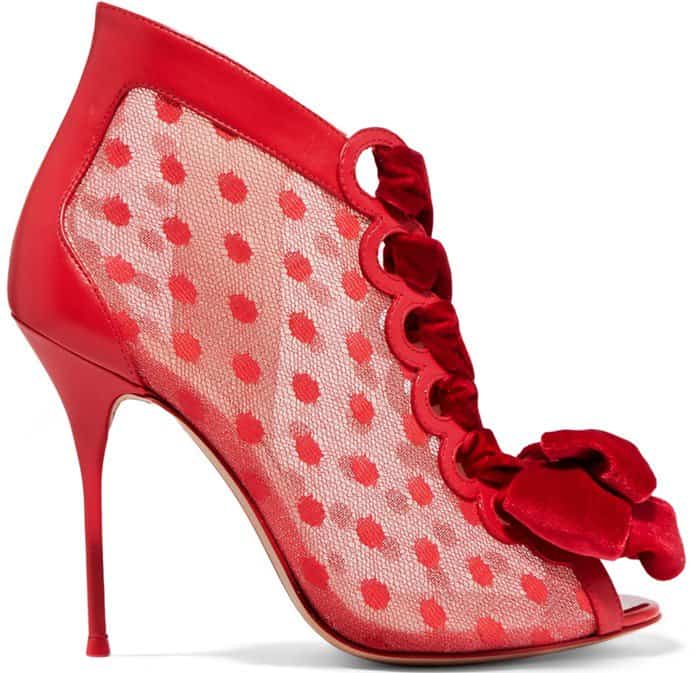 Lustrous velvet lace-up detailing adds to their decadent Victoriana feel
7. Pip Embellished Velvet Platform Sandals, $625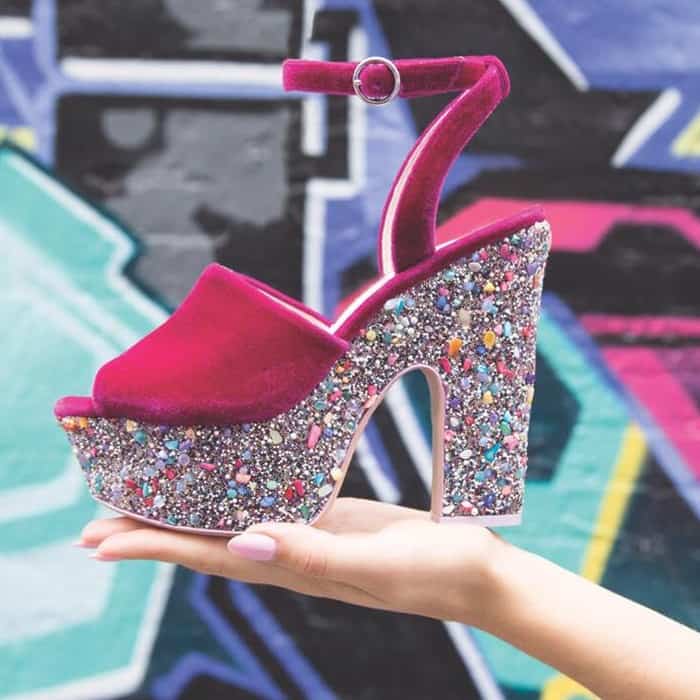 These 'Havisham' sandals are crafted from plush cherry velvet lined in smooth leather
These velvet platform sandals are set on a chunky platform encrusted with kaleidoscopic crystals, resin pebbles and beads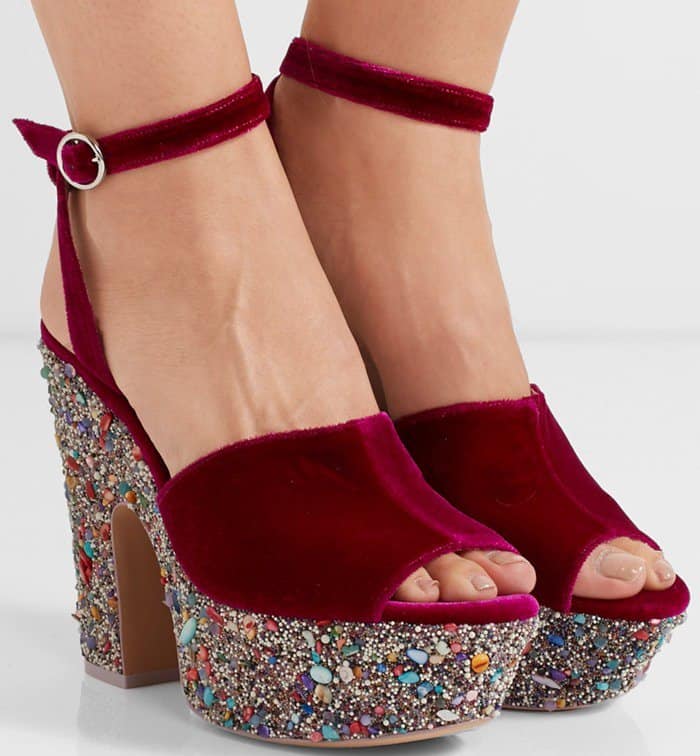 Sophia Webster's Havisham embellished velvet platform sandals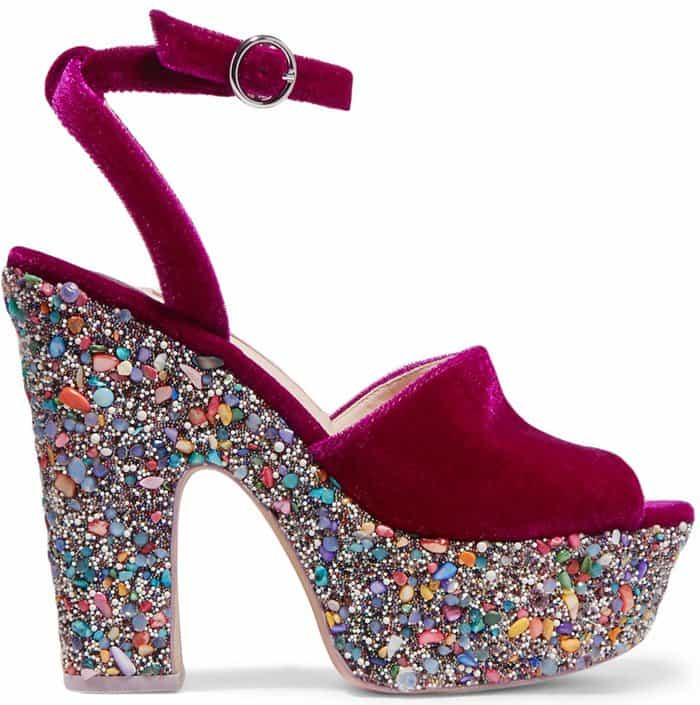 These shoes are inspired by Winona Ryder's character Lydia Deetz from Beetlejuice
8. Red Renee Suede Mary Jane Pumps, $495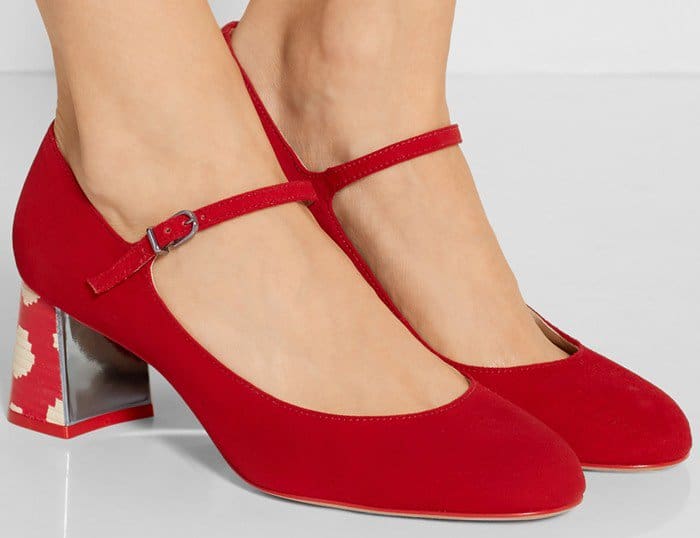 Sophia Webster's 'Renee' pumps are crafted in a ladylike Mary Jane silhouette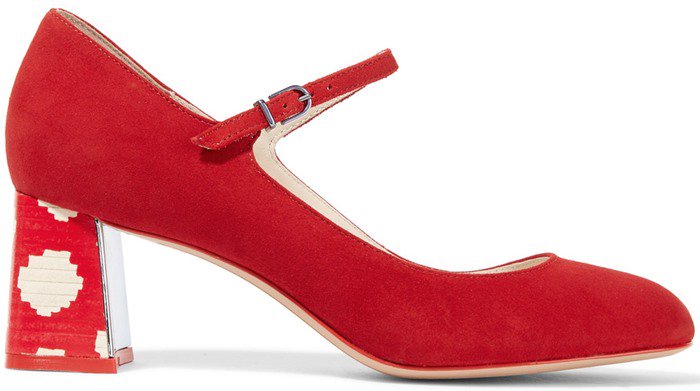 Made from rich suede, this pair is finished with a painted stacked block heel that makes them as comfortable as they are stylish
9. Stacey Suede Platform Pumps, $550
Sophia Webster's 'Stacey' pumps are made from soft suede contrasted with a geometric-print leather-coated heel
Metallic lavender hardware adds a touch of the designer's signature whimsical detailing
Sophia Webster's black and cream Stacey suede platform pumps
10. Yasmina Pom Pom Embellished Mirrored-Leather Sandals, $1,150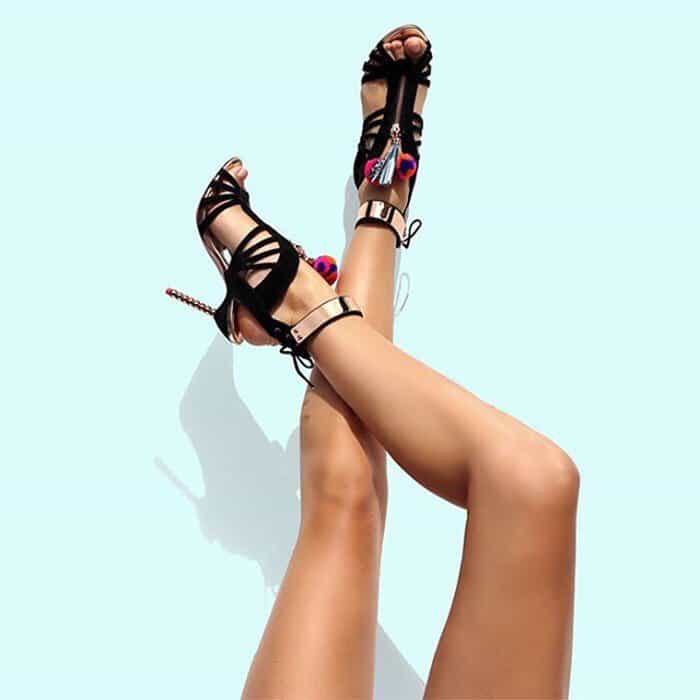 Sophia Webster's 'Yasmina' sandals are crafted from high-shine mirrored-leather in a caged silhouette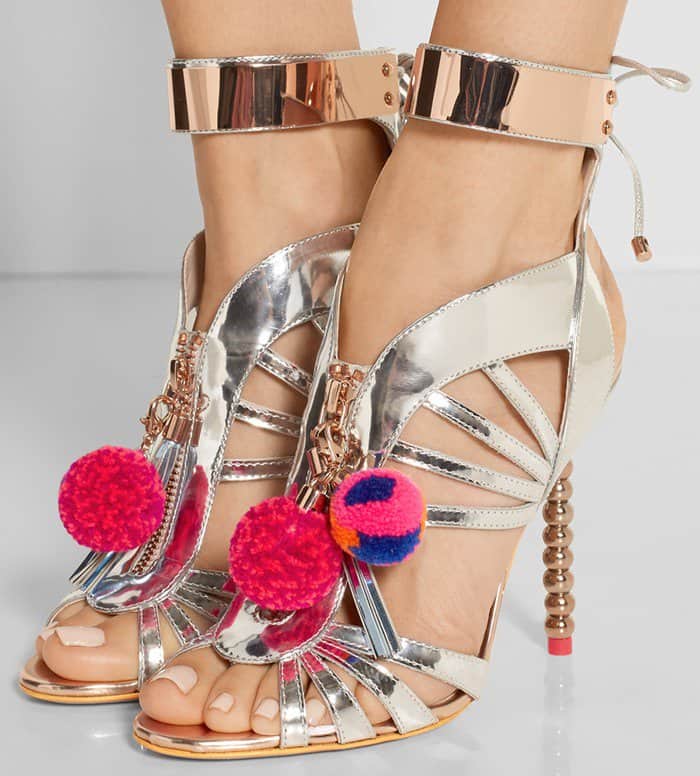 Detailed with rose gold hardware, this playful pair has an ankle bar and sculptural beaded heel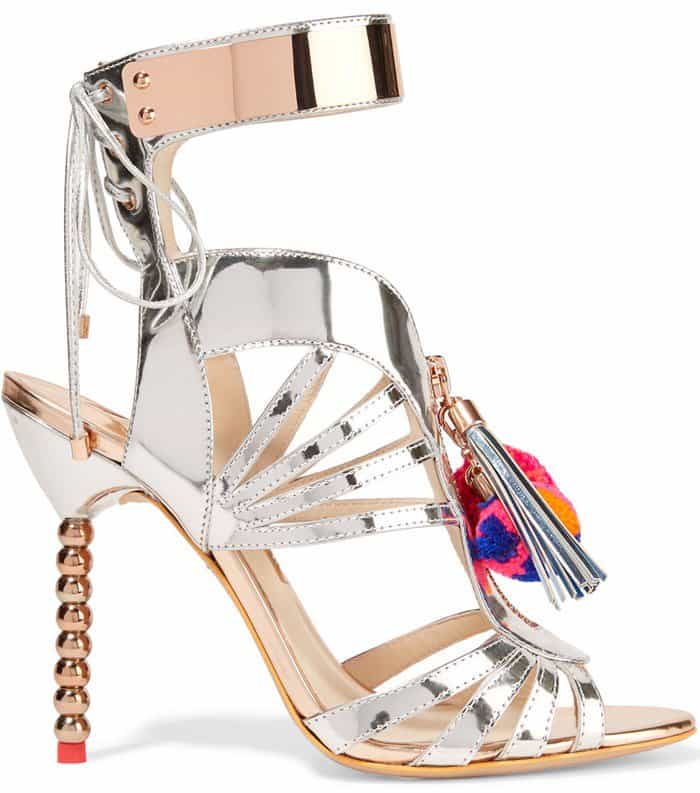 The tassels and brightly colored pompoms can be removed and used as a keychain or bag charm
11. Harmony Suede and Leather-Trimmed Appliquéd Mesh Ankle Boots, $995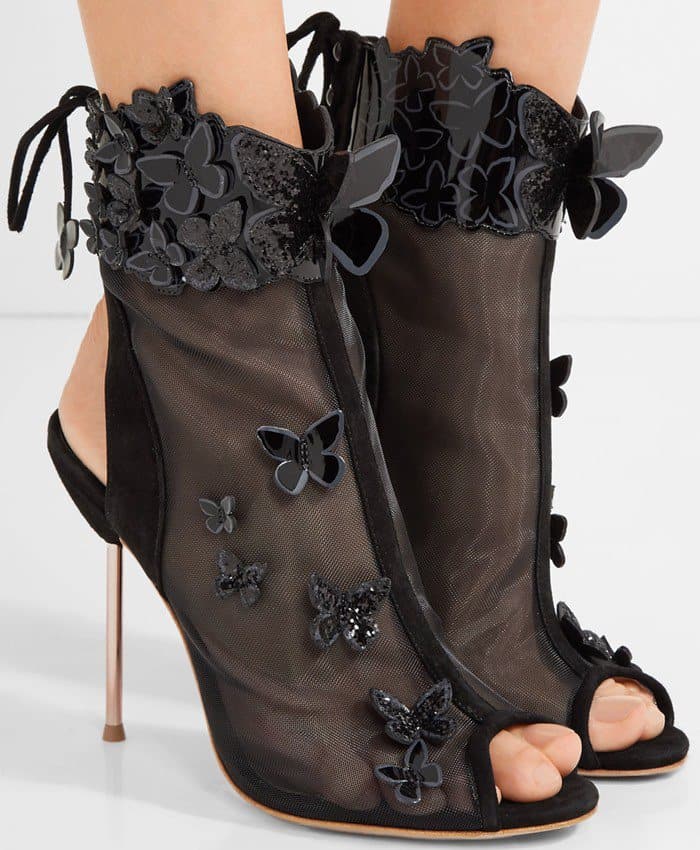 Appliquéd with fluttering patent-leather butterflies and trimmed in suede, this pair has a mesh upper and an adjustable lace-up back
The rose gold heel adds a gilded finish – keep the rest of your look pared-back with an LBD