Purple Hearts debuted on Netflix on July 29 and quickly became one of the most popular movies on the streaming service, topping the charts in multiple countries across the world.
Within the first week of release, the romance drama landed at No.2 on the Netflix Weekly Chart with 48,230,000 watch hours, making it the second most watched movie on the platform for the week of July 25-31.
In its second week, the film had 102,590,000 hours of viewership, ending The Gray Man's two-week reign atop the chart.
View this post on Instagram
Although the Netflix Original film dropped nearly two weeks ago, Sofia Carson still continues to promote her latest project on the talk show circuit.
On Monday, the 29-year-old actress made her first-ever guesting on The Tonight Show Starring Jimmy Fallon, and she made sure to show up in her signature white color.
She looked elegant in the dreamy Giambattista Valli Pre-Fall 2022 white lace number, featuring a high neck, long sleeves, a waist-enhancing scalloped overlay, and a ruffled hemline. It also has an A-line silhouette with a fitted bodice, highlighting the actress' figure.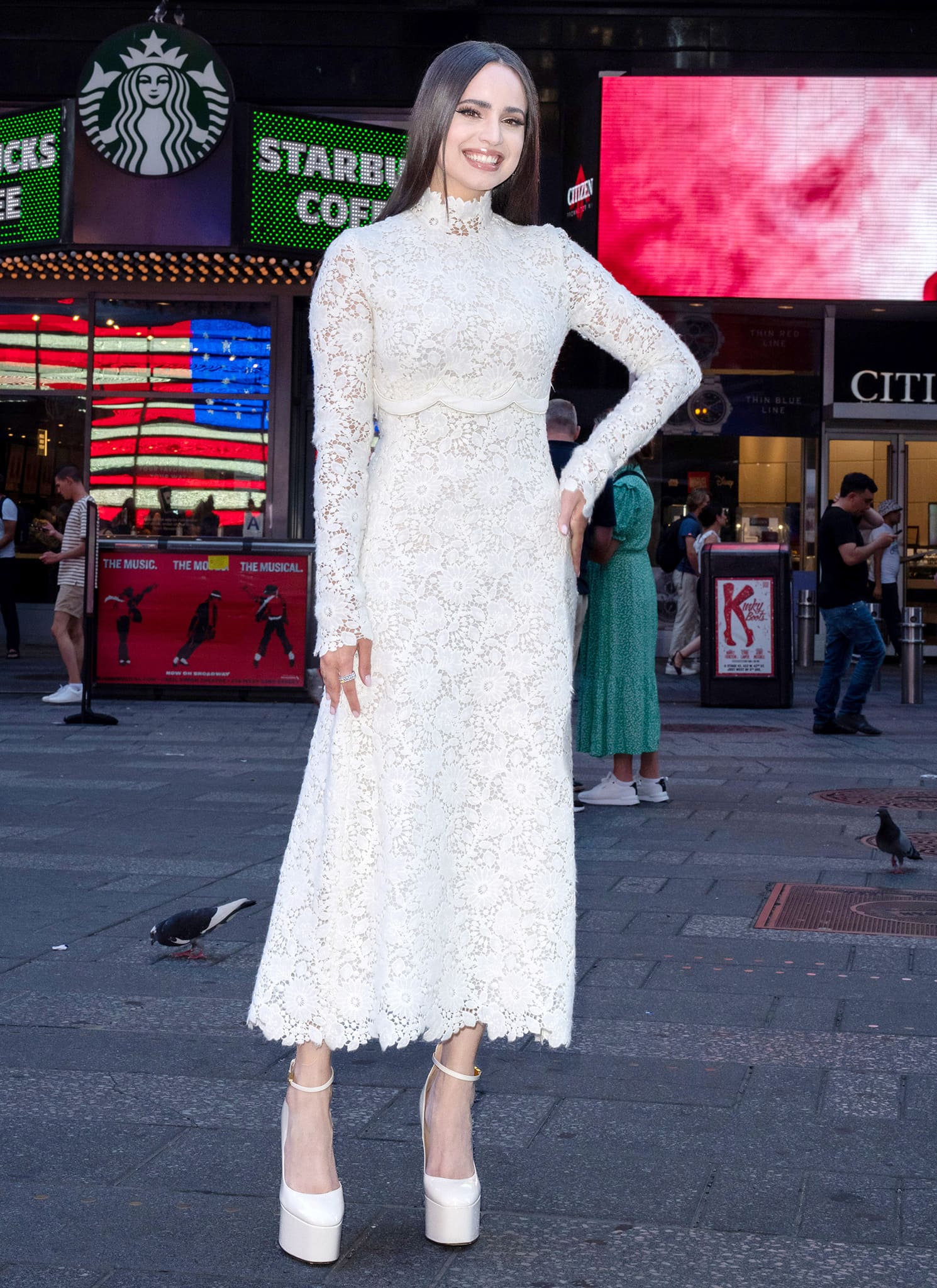 Sofia Carson looks elegant in a white lace Giambattista Valli dress for her debut appearance on The Tonight Show Starring Jimmy Fallon on August 8, 2022 (Credit: Joey Andrew / startraksphoto / Cover Images)
Boosting her 5'4" height by several inches, Sofia wore a pair of Valentino Garavani's Tan-Go pumps with 2.2-inch platforms and 6.1-inch block heels.
Sofia Carson boosts her height in Valentino Tan-Go white leather platform pumps (Credit: Joey Andrew / startraksphoto / Cover Images)
Also available in gold and pink at Mytheresa, they have slim ankle straps with the V-Logo signature buckle fastenings, almond toes, and leather insoles.
Valentino Garavani 'Tan-Go' Platform Pumps, $1,150 at Farfetch
Valentino's Tan-Go pumps boast thick platforms and towering block heels
To give emphasis to her outfit, Sofia simply wore her dark tresses straight with a center parting and accentuated her features with her signature winged eyeliner, fluttery lashes, and nude lipstick with the help of hair and makeup artist Alexa Rodulfo.
She then kept her accessories to a minimum, wearing just a pair of diamond dangling earrings and a statement diamond ring, curated by her stylist Nicolas Bru.
View this post on Instagram
After talking about her new film, Carson sang Come Back Home, her original song for Purple Hearts, with Jimmy Fallon.
Earlier in the day, the Descendants star once again made an appearance on Good Morning America to talk about her hit movie.
Sporting her signature look, Sofia opted for a simple yet modern white dress from Maticevski, a Melbourne-based contemporary evening wear designer whose clients also include Heidi Klum and Eva Longoria.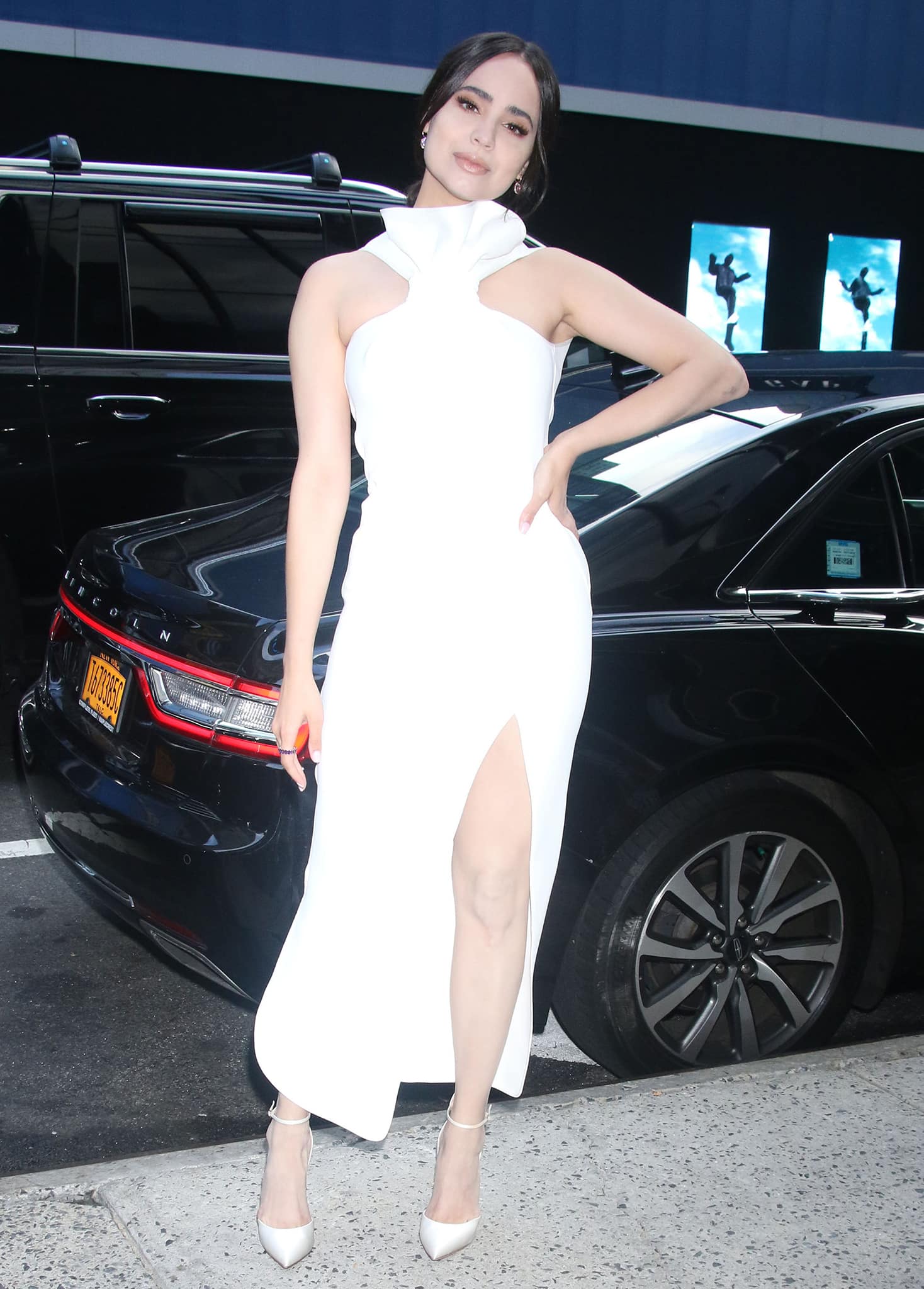 Sofia Carson drops by Good Morning America in a sculptural Maticevski white dress (Credit: ROGER WONG / INSTARimages / Cover Images)
Tailored from fluid crepe, the $1,985 "Lyubov" dress features a sleek, sculptural silhouette with a flirty thigh-high slit and a high-cut bow that gathers on the front.
Sofia Carson keeps the look classy with a ponytail and nude makeup (Credit: ROGER WONG / INSTARimages / Cover Images)
Pulling her tresses back into a loose ponytail, the multilingual actress rounded out her look with a pair of Casadei "Blade" pumps in white satin with slim ankle straps.
She added a pop of color to the look with pink drop earrings and a matching ring.
Sofia Carson finishes off her monochromatic white look with Casadei Blade pumps (Credit: ROGER WONG / INSTARimages / Cover Images)
Sofia Carson Shares How She Landed the Role in Purple Hearts
Carson told Fallon that director Liz Allen gave her the script five years ago when she was shooting for Pretty Little Liars: The Perfectionist in Portland. Allen also directed the PLL spinoff, which was canceled after one season.
"My incredible director Liz Allen—she approached me around Christmas time with a script—and she said, 'Merry early Christmas.' And it said 'Purple Hearts.' And it was a rough draft of this movie. And she said that she wanted to embark on this journey as more than just actor and director but as partners and producers. And that's how the journey began."
View this post on Instagram
She added that she "was in the middle of the woods in Portland, shooting a dramatic scene" when Liz Allen approached her.
"Before I did my dramatic scenes at the time, I had to sing a song. And Star Is Born had just come out. And I was belting—and I thought no one could hear me—the ending song, I'll Never Love Again."
Carson continued, "And she was like—she overheard this crazy girl in the middle of the woods belting I'll Never Love Again, and she's like 'I have to work with her.'"
"Five years later, after shooting the film, writing the soundtrack, producing it, here we are. And it's just been the most incredible journey."
Director Liz Allen gave Sofia Carson the Purple Hearts script five years ago while filming for Pretty Little Liars: The Perfectionist in Portland (Credit: Netflix)
Sofia said she was "just so overjoyed and overwhelmed and grateful" over the film's reception.
"I poured my heart and soul into this film, and for it to be loved by the world as deeply as I loved making it is just incredible," she told Fallon.
Sofia Carson On Finding Instant Chemistry with Nicholas Galitzine
Although Purple Hearts received mixed reviews from critics, it has clearly taken the world by storm, thanks to Sofia Carson and Nicholas Galitzine's chemistry, which Carson described as "immediate."
Carson told People that she and Galitzine only met the night before the shooting day of Purple Hearts, "and so we literally did not know each other."
Sofia Carson believes she had instant chemistry with co-star Nicholas Galitzine (Credit: Netflix)
"The next day, our characters got married. The day after, they professed their love for each other. The day after, he got deployed to Iraq. And then the next day was the love scene in the motel. So we really dove into this film, and we had to build pretty immediate trust with one another."