American singer Kelly Clarkson first became famous after winning the first season of American Idol, back in 2002. Since then, she became one of the biggest pop stars of her generation.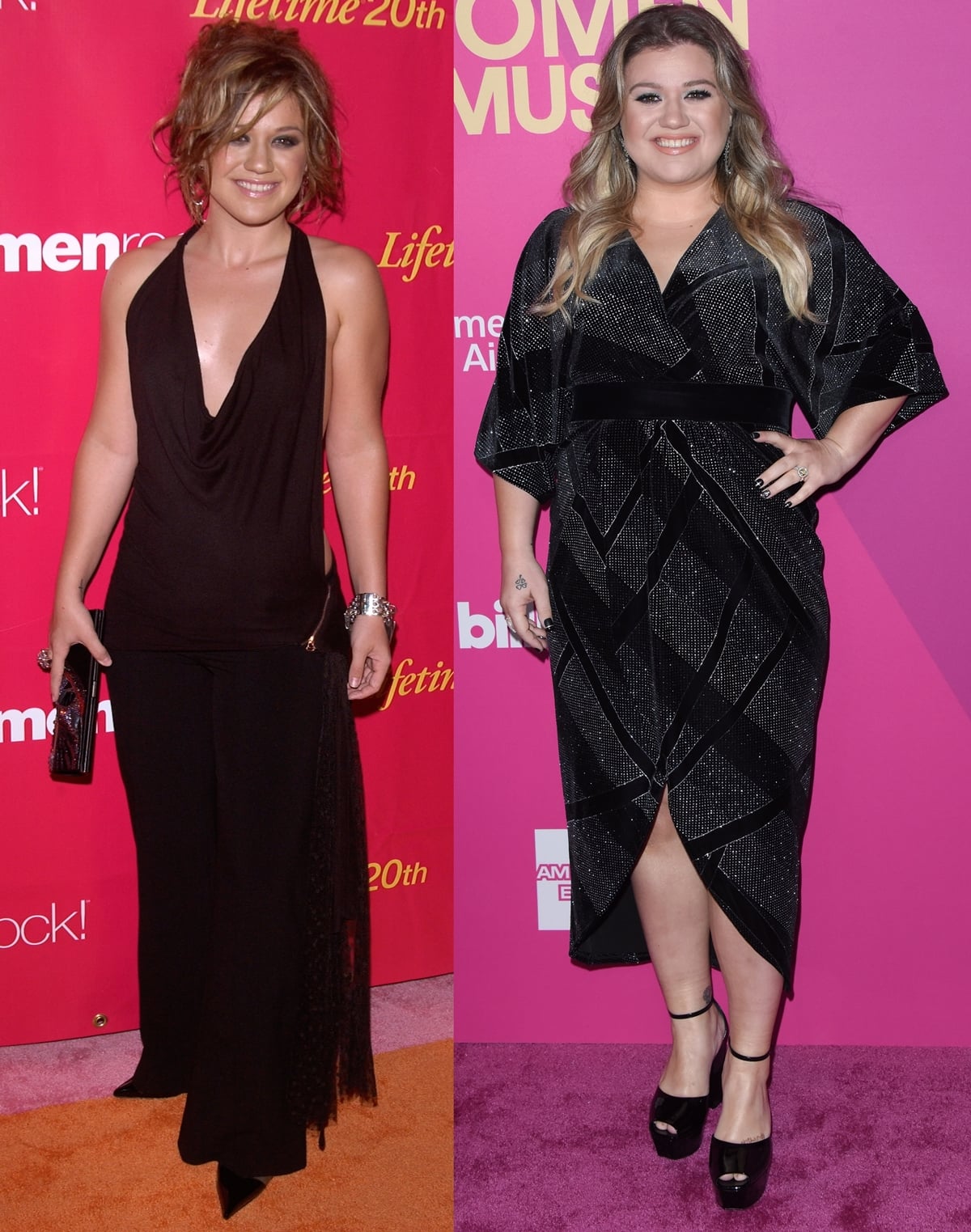 Singer Kelly Clarkson gained a lot of weight between 2004 (L) and 2017 (Credit: Featureflash Photo Agency / Shutterstock / DFree)
Sadly, for years the singer has been victim to endless hurtful comments about her weight. Because of this, her weight has changed multiple times throughout her impressive pop career.
Pressure to Fit In
Clarkson said that early on in her career, she felt immense pressure to look like other, thinner women. She explained to Glamour UK how she was shown magazines featuring smaller models and told "This is what you're competing with, and we've got to compete with it."
As a young woman in the spotlight, Kelly felt like she had to look the same as these other women, and as a result, she rejected her own body for many years.
Before and After Weight Loss: Kelly Clarkson at the 2009 American Music Awards (L) and the 2020 Critics' Choice Awards (Credit: Tinseltown / Shutterstock / DFree)
In 2015, she explained on the Ellen DeGeneres Show that she had struggled with hate comments for a long time. She explained "I was the biggest girl in the American Idol cast…I wasn't big, but people would call me big. I've always kind of gotten that."
Some haters have cruelly speculated that her larger size must mean that she is not okay. But Clarkson surprised people by claiming "It's when I'm fat that I'm happy." For her, being as thin as she was in the past, was an indicator that she was unhappy.
In 2017, Kelly joined the judges on The Voice and happily reported back that she felt no pressure to look thinner on the show.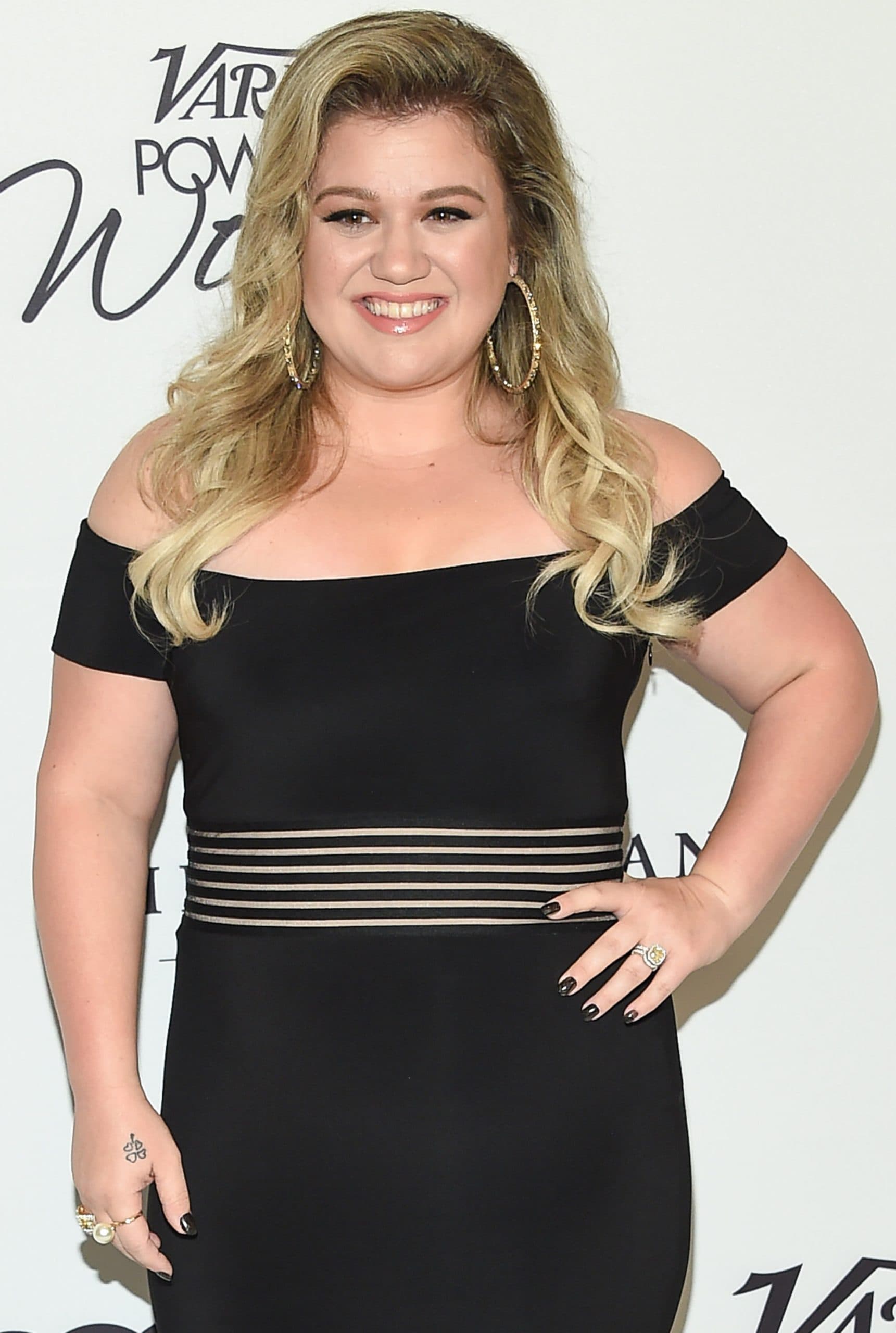 Kelly Clarkson was at her heaviest when she was named a judge on The Voice in 2017 (Credit: DFree / Shutterstock)
She told Glamour magazine, "I got on the number one television show at my heaviest point…it was right after I had kids and it was like they didn't care." She went on to say that being cast wasn't about her weight, it was because "I connect with people and I'm raw."
In the same year, however, one person jumped on Twitter to tell Kelly "You're fat." To which she hilariously replied, "and still f**cking awesome."
Kelly Clarkson's Weight Loss Journey
But by 2018, Clarkson fans were thrilled to notice her thinner appearance. People assumed that she had been working out, but she quickly corrected them via an interview with Extra.
Kelly Clarkson proudly showed off her weight loss in a pink dress at the STX Entertainment's "UglyDolls" photocall at The Four Seasons Hotel on April 13, 2019, in Beverly Hills, California (Credit: DFree / Shutterstock)
Rather than following an intense workout plan, Clarkson said that she read a book called The Plant Paradox that you can buy on Amazon.
The popular book by cardiologist and heart surgeon Dr. Steven Gundry stresses the importance of eating raw food which is unprocessed and free from chemicals. She accredits her weight loss entirely to the wisdom of this book.
Kelly Clarkson follows a diet advocated by Steven R. Gundry, the author of The Plant Paradox: The Hidden Dangers in "Healthy" Foods That Cause Disease and Weight Gain (Credit: MED Studio / Shutterstock)
As well as a switch to a plant-based diet, Clarkson revealed that she has also been suffering from an autoimmune disease and a thyroid condition ever since 2006, which forced her to lose weight. When asked about it, Clarkson said "I know the industry loves the weight gone…for me [I'm just happy] I'm not on my medicine anymore."
As well as continuing to be a coach on The Voice, Clarkson also has her own talk show called The Kelly Clarkson Show. This talk show seems to be the ultimate showcase for Clarkson's bubbly, honest personality, and it has been a huge success.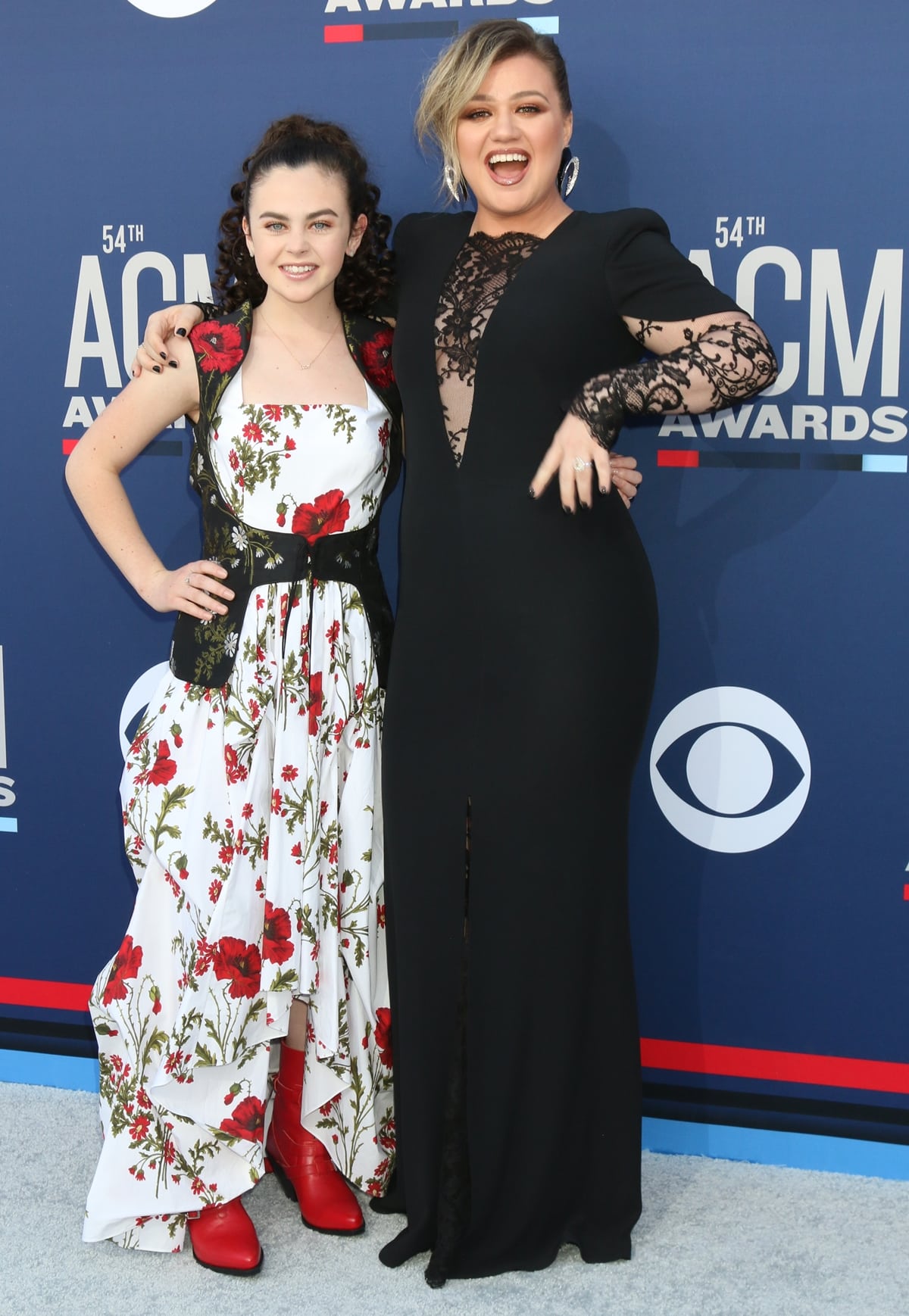 Kelly Clarkson in an Alexander McQueen dress, Yves Saint Laurent earrings, and Balmain shoes with The Voice winner Chevel Shepherd at the 2019 Academy of Country Music Awards on April 7, 2019, at the MGM Grand Garden Arena in Las Vegas (Credit: Kathy Hutchins / Shutterstock)
Clarkson's most recent single 'I Dare You' contains beautiful lyrics promoting body confidence and self-love, which has inspired fans all around the world.
Final Thoughts
After years of scrutiny and bullying, Kelly Clarkson is thankfully at a place where she is comfortable with her own body. It can be easy for females to lose their identity in showbiz, but Clarkson has done a remarkable job at staying true to herself.
In an interview with Redbook, she explained, "If you gauge your life on what other people think, you're going to be in a constant state of panic trying to please everyone. People should just concentrate on their own lives and their own health and their own happiness, and whatever that looks like for you, be happy with it."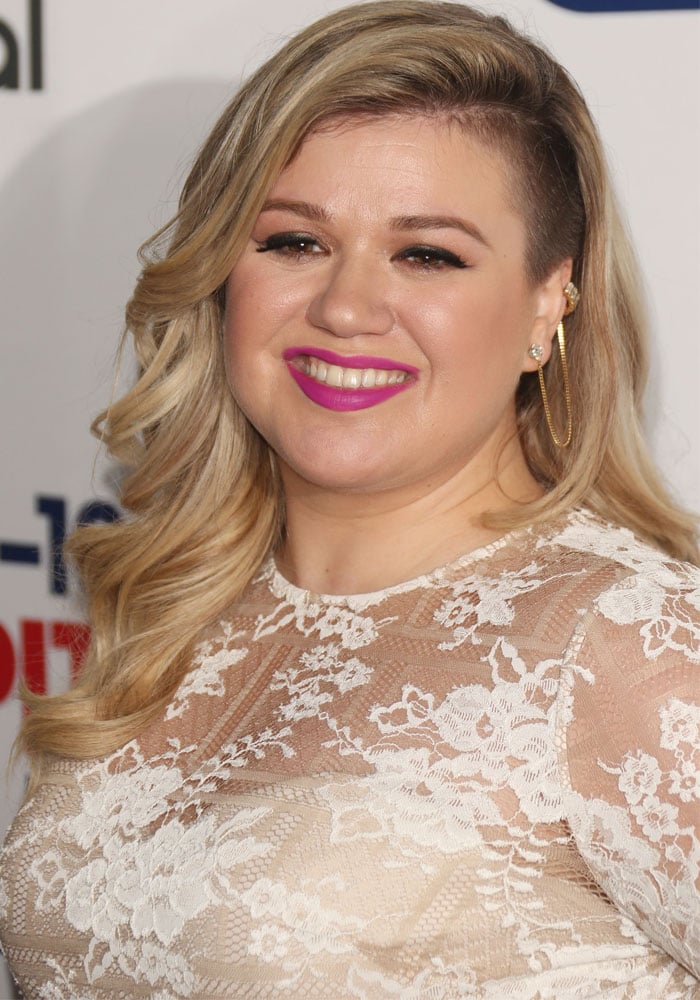 Kelly Clarkson showed off her impressive ear jewelry (Credit: WENN)
Aww. Why can't all stepmoms be as nice as the lovely Kelly Clarkson?
Kelly Clarkson styled her white lace dress with a metallic belt (Credit: WENN)
In June 2015, the singer stepped onto the red carpet of the 2015 Capital FM Summertime Ball and shared how she arranged for her stepson Seth Blackstock to meet Ariana Grande, even gushing that her little boy is madly in love with the young pop star.
Kelly Clarkson happily stepped in front of all the cameras (Credit: WENN)
Kelly later on uploaded a picture of cute little Seth with Ariana to Instagram and thanked the 'sweet' pop princess and her crew for accommodating their request.
Kelly Clarkson has proclaimed that her weight does not define her (Credit: Lia Toby / WENN / FayesVision)
Kelly happily stepped in front of all the cameras, despite slamming recent fat-shaming episodes about her post-baby body on her recent Ellen appearance.
Kelly Clarkson flashed her legs in a white lace dress (Credit: WENN)
The then 33-year-old proclaimed that she is who she is and that her weight does not define her (to that, we say kudos).
Kelly Clarkson has been fat-shamed after showing off her post-baby body (Credit: WENN)
Kelly wore a white lace dress, which she paired with metallic platform heels from American fashion designer Tom Ford.
Kelly Clarkson arrives at the Capital FM Summertime Ball in London on June 6, 2015 (Credit: WENN)
The singer showed off a bit of bling on her ear, wrists, and nails, as well.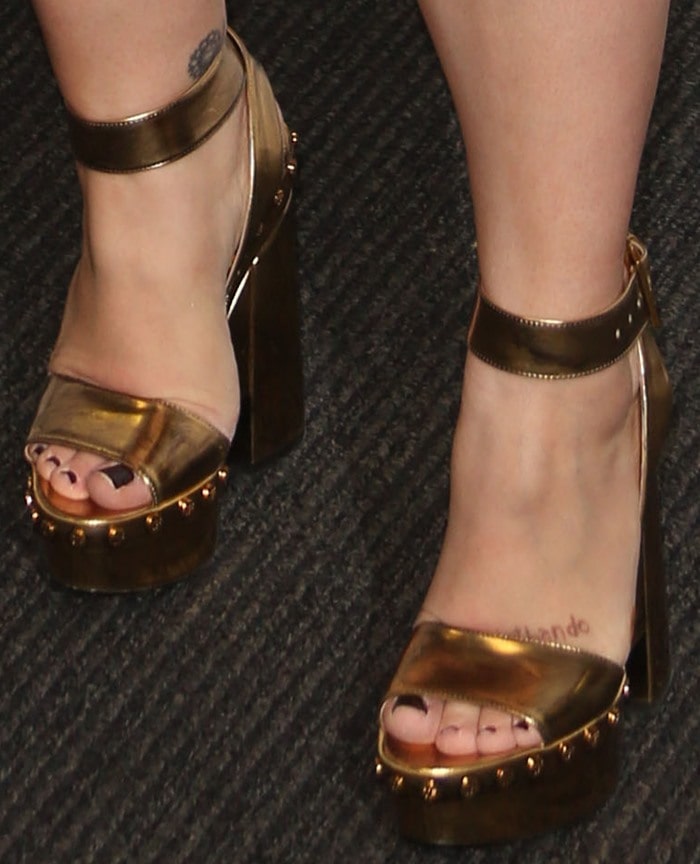 Kelly Clarkson shows off her feet in Tom Ford heels (Credit: WENN)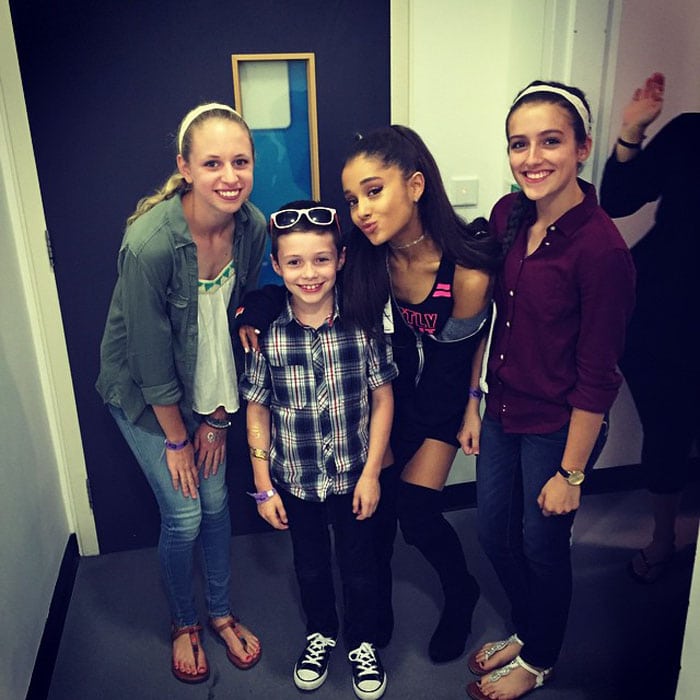 Kelly Clarkson arranged a meet-and-greet between Ariana Grande and her stepson Seth Blackstock at the Capital FM Summertime Ball in London on June 6, 2015 (Credit: Kelly Clarkson's Instagram)
A golden shoe for a girl with a golden heart. Grab your own metallic pair over at Farfetch.
Tom Ford Metallic Ankle-Wrap Platform Sandal in Gold, $1,690
Seth Blackstock, who is the son of Brandon Blackstock and his ex-wife Melissa Ashworth, was born on November 21, 2006.
He joined his older sister, Savannah Blackstock, his half-sister River Rose Blackstock and his half-brother Remington Alexander Blackstock at the UglyDolls premiere at the Regal Cinemas L.A. Live in Los Angeles.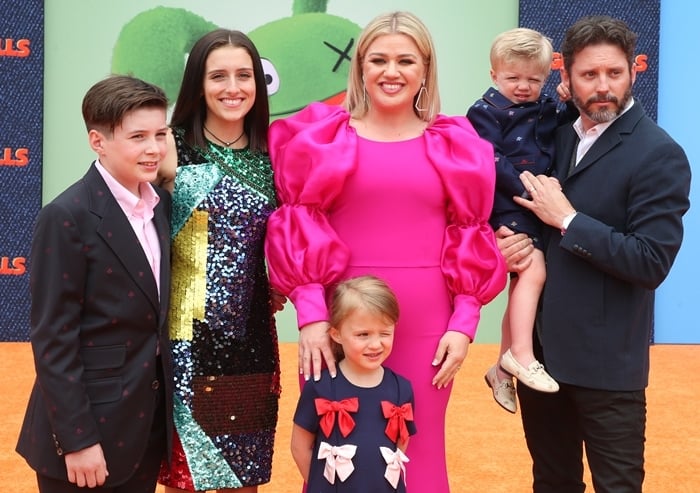 Remington Alexander Blackstock, Savannah Blackstock, Kelly Clarkson, River Rose Blackstock, Brandon Blackstock, Seth Blackstock at the UglyDolls premiere at the Regal Cinemas L.A. Live in Los Angeles on April 27, 2019 (Credit: WENN)
Kelly Clarkson, who lends her voice to the main character Moxy in the American computer-animated musical adventure comedy film, looked radiant in a pink Christian Siriano Resort 2019 dress styled with white triangle diamond earrings from Dena Kemp.
Seth Blackstock posing with his father, Brandon Blackstock, his stepmom Kelly Clarkson, and his brothers and sisters (Credit: WENN)